HOUSTON — Although the summer started off wet, this past month has been extremely hot and dry, leading to an increase in fire danger in parts of Texas.
When there is a fire hazard, the county judge or county commissioners will typically issue a burn ban, including the burning of trash, campfires, burn barrels and other open flame devices, to prevent outdoor fires.
There are dozens of counties in Texas that are under a burn ban, including a few in the Houston area.
Burn bans in Houston-area counties
Austin
Brazoria
Chambers
Colorado
Galveston - No longer in effect for unincorporated areas
Harris County- Unincorporated areas
Liberty
Montgomery - No longer in effect for unincorporated areas
Polk
San Jacinto
Wharton
Walker
Waller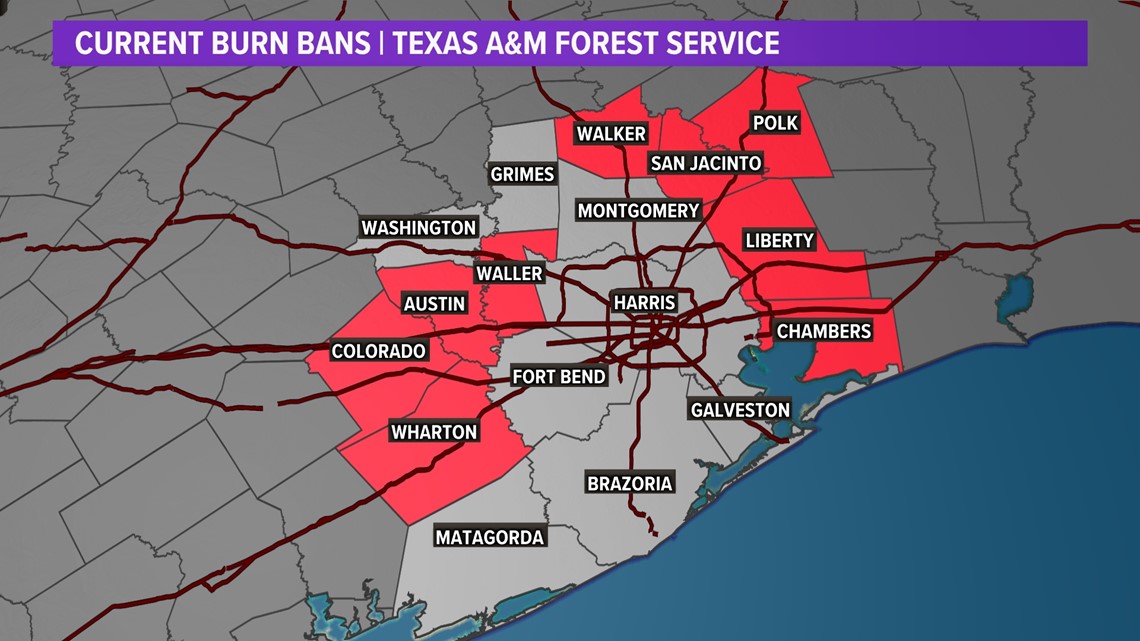 Heat safety tips
Prevent heat-related illnesses
If you have to be outside during the heat, wear light-colored, loose clothing.
Do not leave children, senior citizens, or pets in an unattended vehicle.
Wear a wide-brimmed hat and use sunscreen.
Seek air conditioning. If you're not at home, consider visiting malls, movie theaters or libraries.
Symptoms of dehydration
Thirst
Dry mouth
Dark yellow urine
Dry, cool skin
Headache
Muscle cramps
How to treat dehydration
Move inside if possible
Drink water or sports drinks with electrolytes
Eat regular meals to replace salt lost in sweat
Steer clear of alcohol
Symptoms of heat exhaustion
Heavy sweating
Cold, pale and clammy skin
Headache
Nausea and vomiting
Muscle cramps
Dizziness
Fainting
Fast, weak pulse
How to treat heat exhaustion
Move to a cool place
Loosen or remove your clothing
Use cool, wet cloths or take a cool bath
Sip water or drinks containing electrolytes
If you're throwing up or can't cool down, get medical help