'We want this to go on and on' | Hitch a ride with 2023 trail riders
KHOU 11 tagged along with some of the 10 Houston Livestock Show & Rodeo trail rides for a week before the Downtown Rodeo Parade.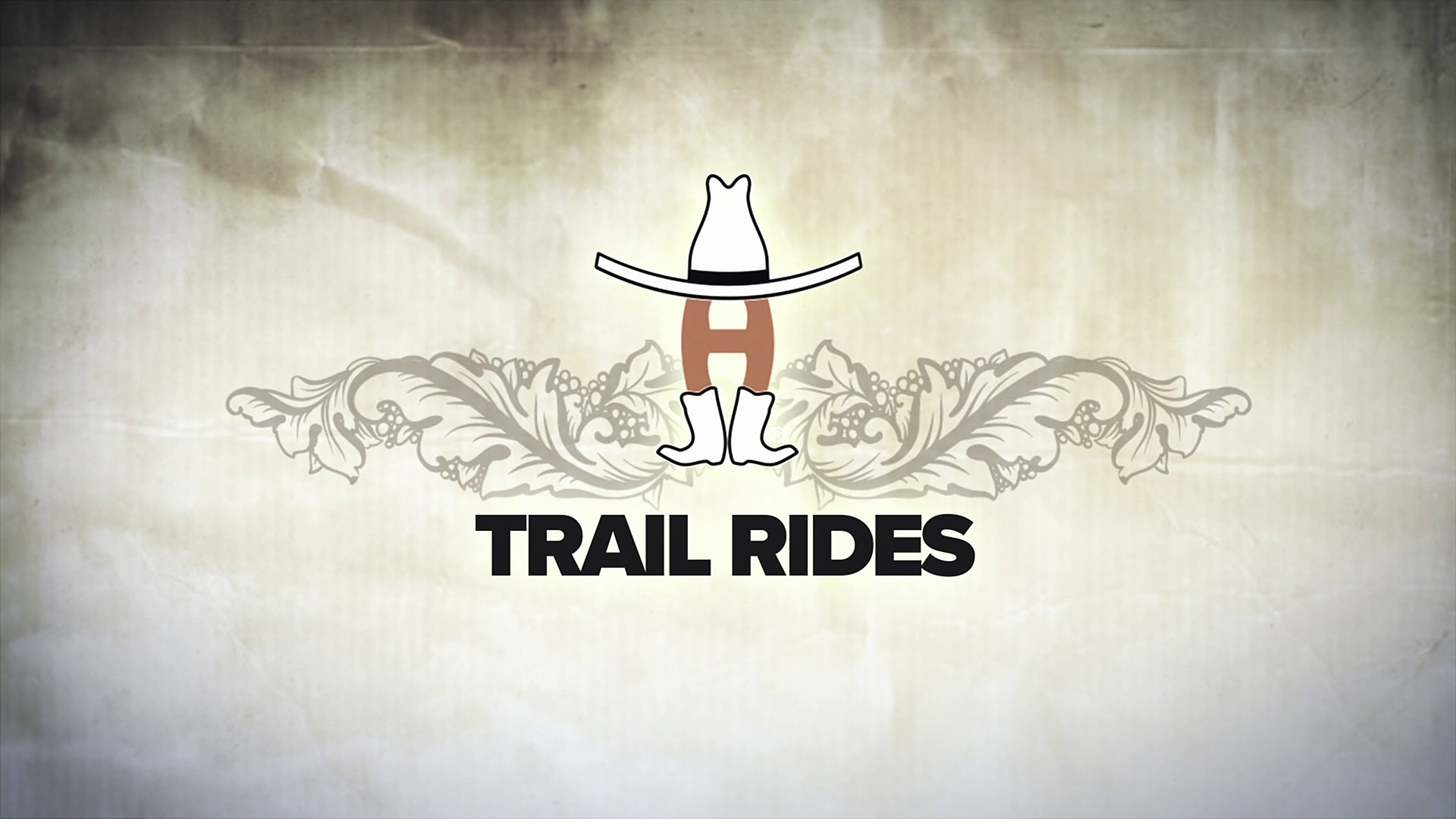 It's been a Houston tradition for decades: horses, wagons and cowboys traveling from all over the area to let people know the Houston Livestock Show & Rodeo is about to get kickin'.
Ten rides and 2,000 riders strong
:
Meet the 2023 HLSR trail rides
Back in 1953, four guys on horseback set off from Brenham, riding to Houston to let people know about what was then called the Houston Fat Stock Show. A year later, 80 people went with them. Within a couple years, groups split off and started their own rides, coming into Houston from all over the state.
The Mission Trail Ride, for example, started in San Antonio, while the Los Vaqueros Trail Ride came up from the Rio Grande Valley. The Old Spanish Trail Ride made the trek from Timpson, not far from Shreveport.
Not all rides happen every year. In fact, in 2021, they were canceled all together due to the pandemic. But in 2023, 10 groups totaling about 2,000 people took part and rolled into Memorial Park on Feb. 24.
Salt Grass is the oldest of the trail rides, established with the first ride in 1952. It's also the largest with more than 1,000 riders and 22 wagons, which all traveled 105 miles from Cat Spring.
Next came the Sam Houston. The 70-mile ride, which started in Montgomery, was made up of 100 riders and 10 wagons.
"My father and my brother started this ride in 1954," said Linda Dyess, who rode with the Sam Houston Trail Ride. "They rode to Houston with a group of 10 men. They camped in pup tents and tents. Nothing but horses. They didn't take a wagon that year."
The oldest Black trail ride connected to the Houston Livestock Show & Rodeo made its first 78-mile trip from Hempstead in 1957. More than 300 riders and nine wagons were part of the Prairie View Trail Ride.
"My dad is Myrtis Dightman Sr. He was one of the founders," explained Prairie View trail boss Myrtis Dightman Jr. "He brought me out here with him when I was two years old. I didn't know what was going on. All I did was come out, played and had fun as a kid and even as an adult the older I got. This is a family thing here. These are the friendliest people you ever want to meet. They invite you over to eat, clank, all day long. This is the best that you ever want to see."
Valley Lodge got its start in 1959. Its 74 riders and four wagons ventured 75 miles from Brookshire.
Two new trail rides started in 1961. The Spanish traveled 109 miles from Shepherd with its 125 riders and nine wagons.
"A couple of days are 18-mile days, but average is probably 15 or 16 miles a day," said Spanish rider Steve Young.
Texas Independence, also launched in 1961, set out from La Marque with about 50 riders and a couple of wagons hoofing it 75 miles.
"Everybody's a big family. Everybody works together," said Texas Independence trail boss Edward Valles. "Finding everybody to help out, to do this, do that, it's really great. Really great."
The Southwestern Trail Ride celebrated 50 years in 2023. Established in 1973, it had 250 riders and 11 wagons, rolling 100 miles from West Columbia.
"It's different families, but we've been together for years," said Southwestern trail boss Rosetta Gray.
Then the Texas Cattlemen's ride came online in 1985, loading up 35 riders and three wagons to come in from Magnolia, a 60-mile trip.
"It was a lot of fun along the way because we got to see a lot of people who don't normally get to see horses," said Texas Cattlemen's Niki Henson.
The youngest ride of the 10: the Southwest Trail Ride. It got its start in 1993. Almost 300 riders and seven wagons trotted 120 miles from Rosenberg.
'My mind is clear'
:
Riders share why they join the trail every year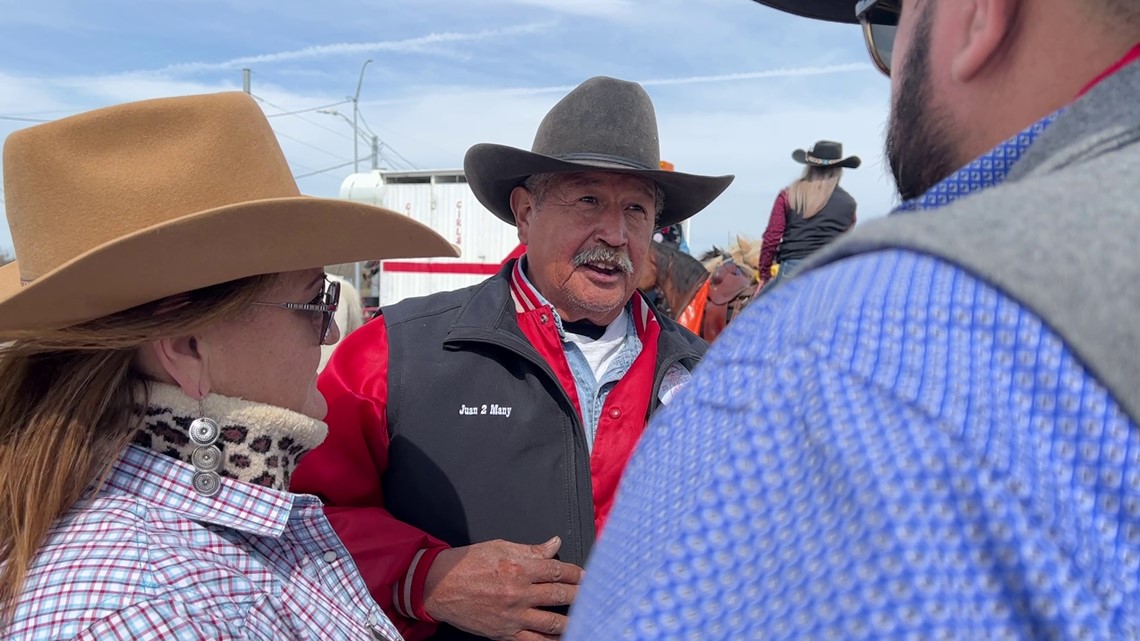 A huge part of the trail rides is the men, women and children who opt to spend a week being part of this Rodeo tradition -- a week sitting on a horse or maybe on a wood plank in a 150-year-old wagon, a week of camping and a week of cooking on the road.
Juan Ochoa knew he wanted to do a trail ride when he saw the Salt Grass on TV back in the '50s.
"I told my dad that I was gonna do that one year," remembered Ochoa. "He just looked at me and said, 'Well, you've got your uncle who has a horse. Go talk to him.' I was dropped off."
That was in 1961. He's been a part of the Texas Independence ride every year since.
"I enjoy my horseback riding. I enjoy the people. I have a lot of respect for all the riders and they all respect me," Ochoa said. "They call me Grand Poopah because I'm the oldest rider on the ride."
At 70, "Grand Poopah" describes the ride as relaxing.
"My mind is clear. Don't think of nothing about work, bills or nothing," said Ochoa. "All I know is they'll be there when I get there."
The ride is a little more stressful for Gray. KHOU 11 caught up with her in the early hours before the ride officially began as riders got their horses ready, packed up camp and loaded up their wagons.
"They just be so excited," Gray laughed.
Hers was a huge group to manage. The official number of riders was 250, but the number of people at camp was a little higher.
"We've got some official members who are here all the time and some unofficial members, but all together when we get together, it's 300 or 350, something like this," said Gray. "It just grows and grows and grows."
She knows because she's been there to witness it for 42 years.
"The first time I rode, I rode on a wagon. After that, I said, 'MmMm. Mama, I hate that wagon, I need to ride," Gray said. "The next year, I was on a horse and I've been horseback ever since then."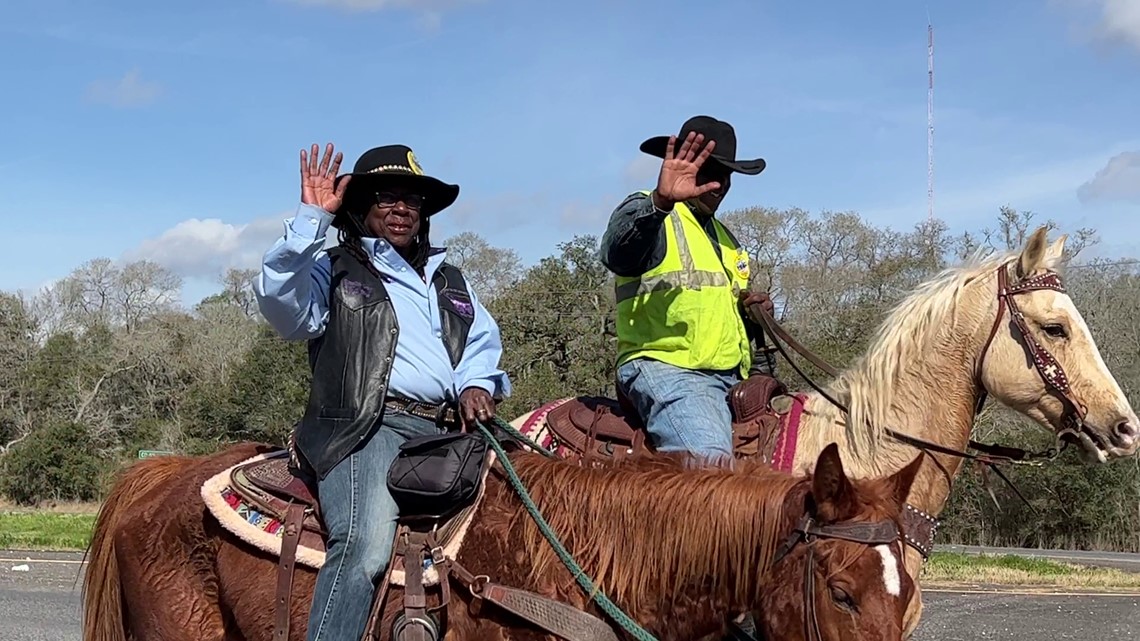 Ever since 2007, she served as trail boss. She was the only woman trail boss in 2023, joined by Elizabeth Cook as assistant trail boss, something in which the Southwestern crew takes considerable pride.
"The only two female trailbosses in the Houston Livestock Show & Rodeo," shared rider Kevin Tricuit.
"Most trail riders are men," added rider Vonda Davidson. "Some are beginning to bring in women, but we're the first one having women leading us from point A to point B."
Trail bossin' runs in Dightman's blood. His father was one of the founding members of the Prairie View Trail Ride.
"We're the first African-American trail ride to join the Houston Livestock Show and Rodeo," he said. "My dad was called the Jackie Robinson of Rodeo. He was the first Black to qualify for the national finals rodeo, so he was rodeoing and trail riding."
For more than a decade, Junior led the ride his dad started all those years ago, serving as trail boss.
"My main thing is making sure that we are keeping a safe route, have a safe place to stay at each night," Dightman explained.
That was his personal mission. The goal of the Prairie View ride is to draw attention to its namesake, Prairie View A&M University, and promote agricultural education. That mission brought Dightman back year after year, as did his fellow riders.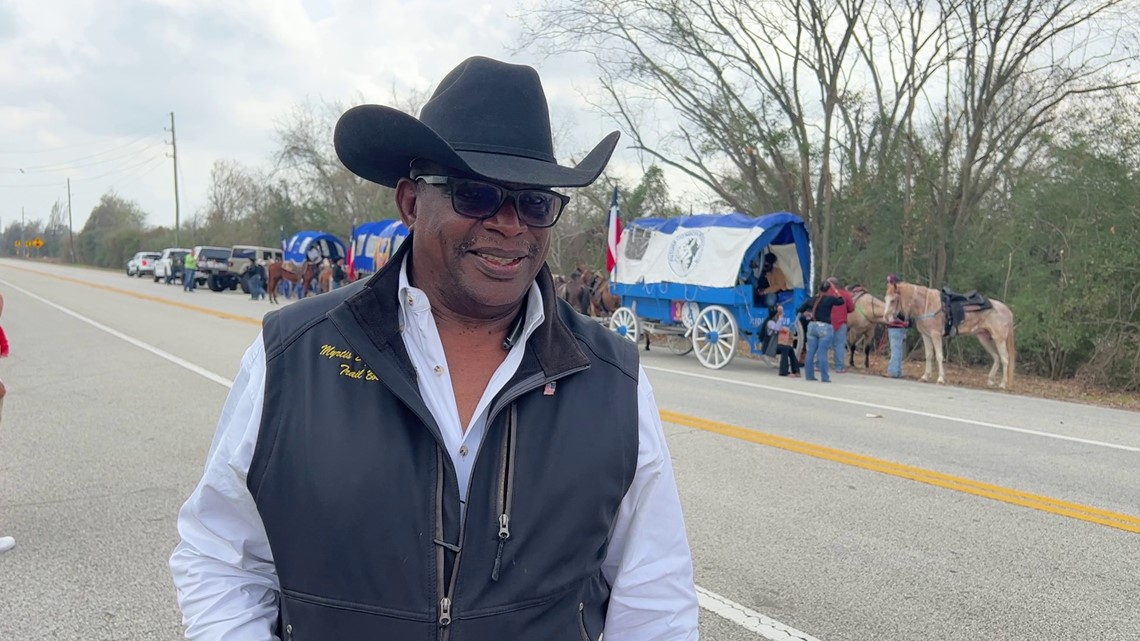 "We only see these people mostly once a year," he said. "It's like a big family reunion, yes. These are trail riders. These are cowboys."
So were the men and women of one of the first rides to hit the road around 8 a.m. on Feb. 18.
"We camp here with our horse trailers. Get up around 5 a.m., 5:30 a.m. A little earlier," detailed Valles. "Get our things prepared for the day, you know our coolers, our lunches. Then we start moving our rigs to the next camp and get a shuttle back."
He's been riding horses all his life and even did the 386-mile Los Vaqueros Trail Ride.
"I started down in the Valley and worked my way this way. Three weeks," Valles said. "It was a journey."
In 2009, he began a new journey when friends convinced him to try out the Texas Independence Trail Ride.
"I gave it a shot and never left. The people here are so great," said Valles.
The people kept David Supak coming back to the Sam Houston Trail Ride too.
"Between assistant trail boss and trail boss, off and on for the last 20 years, I've been doing this," said Supak. "I always tell myself I'm going to stop, but … this is family. And when I say family, I mean we go to weddings for our kids. Our kids all grew up with each other on this ride. It's just … I take care of my family."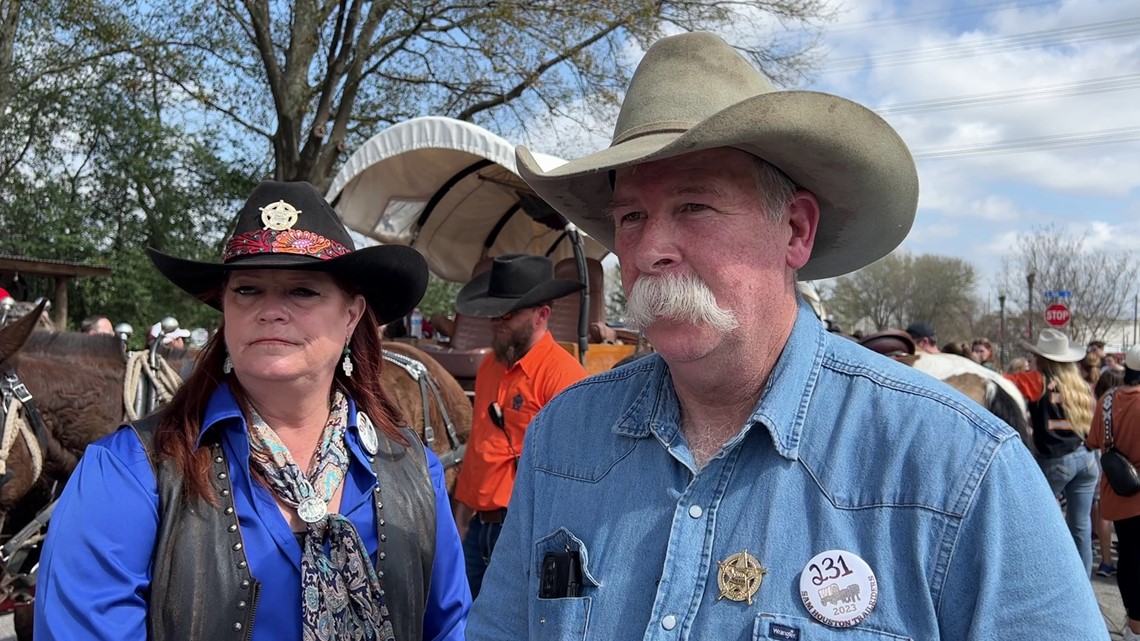 His family - blood and otherwise - started their ride in Montgomery, where they're treated like family.
"When we camp in Montgomery at Corey Ranch, we have another subdivision that feeds us. Then Ms. Corey, who owns the ranch, has a band come out and play for us," Supak explained. "Then to wake up in the morning, not worry about breakfast, not worry about anything, knowing that Woodtrace (subdivision in Pinehurst) is there, it's really touching to all of us. It means a lot to all of us."
Cindy Briseno, who lives in Pinehurst, brought her daughter Helga and grandson Karl out to green the trail riders as they rode through Woodtrace.
"I come every year because I live in the neighborhood," she explained.
"He loved it," Helga said, referring to young Karl. "He got to sit on a big horse and he didn't want to get off. He was sitting there forever."
Woodtrace was the ride's first stop on Day Two, even as a crowd started to gather at its next break point: the Tomball Train Depot.
"This is something Tomball does every year," said resident Roseanne Brumley. "It's a great family event. I'm glad to be a part of it and be a part of Tomball."
Greeted by cheers, claps, waves and so many smiles, the trail riders did a quick parade before pulling back the reins. For the next two hours, curious kids got to see horses up close, pet them and even ride them.
"It's awesome. It's awesome," said Dyess. "The public's been awesome. It means a lot. It means a lot."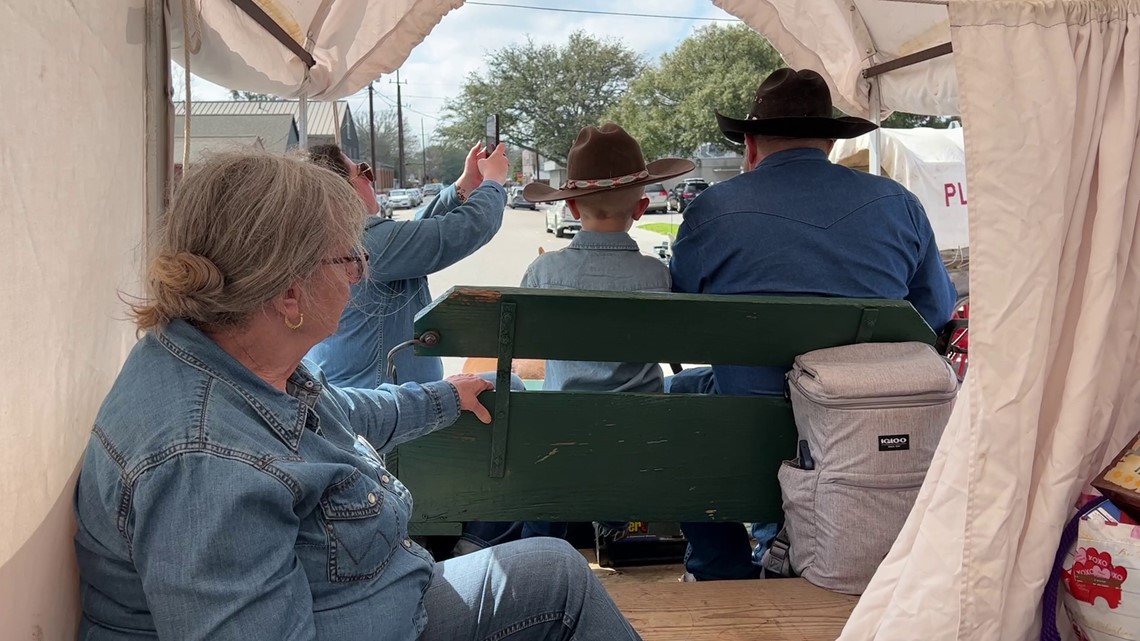 'What keeps us going'
:
Adult riders hope young riders will carry tradition into the future
That reaction is really what trail riding is about, not just to the trail bosses, but to so many others on the rides.
"Kids love us coming down the road," said Valles. "They see us and they're just running out to us. It's pretty exciting. That's probably what keeps us going."
The rides sparked interest and opened doors some kids might not know existed. They brought the country to the city and history to life.
"We went by two schools. The principal let the kids come out," said David L. Castro, a rider with the Texas Independence Trail Ride. "They weren't close to the horses, but they got to wave. They got to see cowboys. They got to see horses. Something they see just in books or TV."
Kenyah Butler witnessed the trail ride for the first time on Feb. 18 in La Marque.
"It was nice for my first time seeing it. I would like to see it again," she smiled, as her little sister jumped up to exclaim "Beautiful!"
It might be extra impactful to see kids their age up on those horses and in the wagons.
"I ride horses," said 7-year-old Skye Miller.
She'd been part of the Southwestern Trail Ride for as long as she can remember, while her friend Daneel Paul just started a year ago. Paul is already hooked.
"My favorite thing is getting on the party wagon and we're moving," she shared. "I like to dance on the party wagon."
There were plenty of kids riding with the Southwestern ride, including Phillip Woodworth, who says he's been out here nine of his nine years, and J'de Stewart, who's also been riding since she was a baby.
"It's really fun because I get to play with my friends," she said.
Her friends Skye, Daneel, Phillip and others will become the next generation of trail ride leaders.
"It's tradition. I mean, it's like one big happy family and most of the people who are here have been here for many years, so we grew up with each other," said Gray. "Our children grow up with each other."
"If they're doing it young, that means they'll continue doing it," Dightman added. "It'll never be lost if we continue with these kids."
'Used to be just trail riding'
:
Costs increase for riders, horses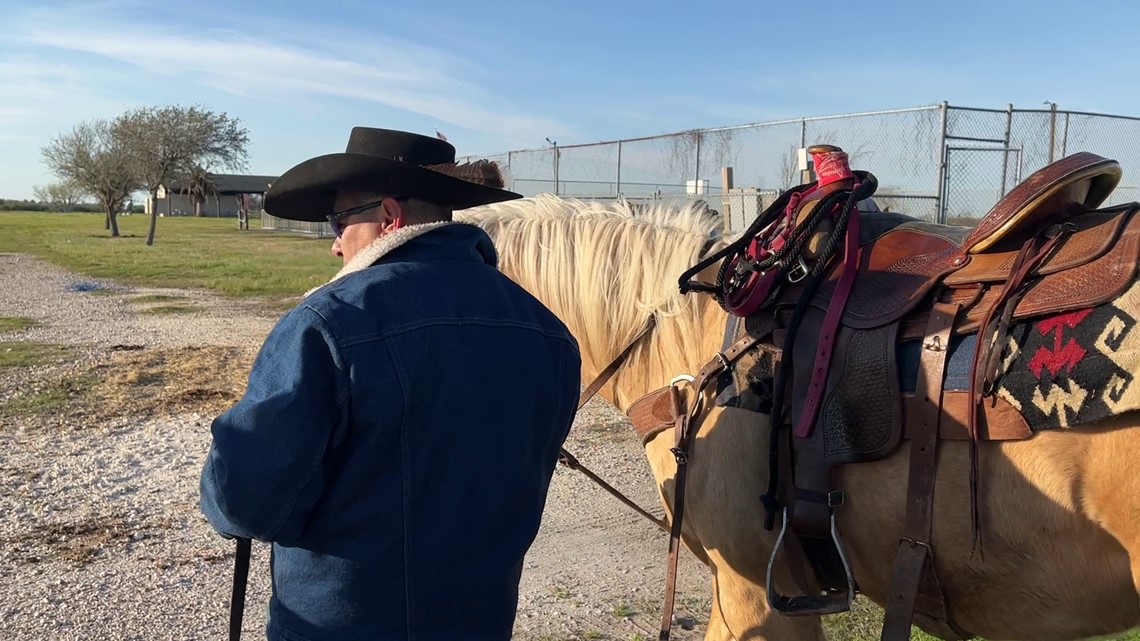 The love and passion for riding, specifically trail riding, has to be there, whether it's instilled early or later in life.
"If it's not in your blood, you're not going to do it," said Valles.
Because there are challenges. Perhaps the biggest one is the cost.
"They're getting expensive," said longtime Southwestern rider Henry Davidson. "Used to be just trail riding and having a good time. Now it's big money."
Riders have to have a horse and food to feed the horse, along with a trailer to haul the horse and its feed, plus a truck to haul the trailer.
"When it comes to trail riding season, there's a lot of stuff you have to have. You have to have negative coggins, a health certificate and after all that, you come over here and sign up for a group. That costs money there," said Castro. "About a week before the ride, you have to have the horseshoes on. Right there, you already spent $500 and you haven't even put the saddle on the horse yet."
After the trail ...
:
KHOU 11 hung out at camp
At camp after a long day on the trail, it was clear who got priority.
"Horses come before people in every respect," stressed Henson.
Riders untacked the horses, got them water and fed them, all before riders changed, showered or ate themselves.
But no worry. The cowboys and cowgirls ate just fine.
"You have some of the best cooks out there. Some of the best cooks," said Tircuit.
They also party at night just as hard as they work during the day, busting out the accordion or firing up the karaoke machine.
Whatever is cooked or played had to have been meticulously planned for and packed in the weeks leading up to the ride.
"You go grocery shopping. You go shopping to get warmer clothes," said Vonda Davidson. "Sometimes in Houston, you don't know what the temperature is going to be, so you have to bring all seasons: summer, winter, fall, everything. You've got to be prepared. It's warm today. The last two days, we were freezing. So we have to be prepared."
These days, all of that gets loaded into RVs, a big change from when the rides began.
"Used to just live on the ground, make a big fort, we all sleep on the ground," recalled Henry Davidson. But they got away from that now."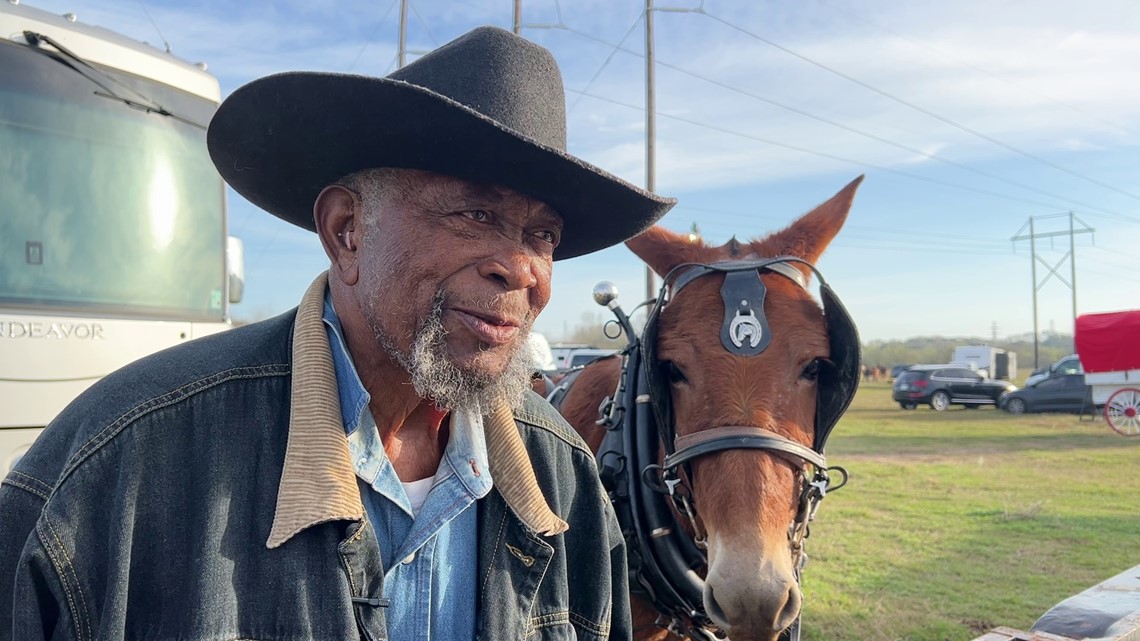 The size difference between tents and RVs means most rides need more space.
"It makes it very hard. We're lucky today, we camped out at Zube Park, which is a park, a public park, but as we keep growing, we would outgrow the park also. Our next stop is Trader Village, which is really big," said Dightman. "But up in the Prairie View and Hempstead area, there's a limited amount of space and it's really hard in that area."
Ochoa explained that another issue is people are buying up rural properties, making it harder to find spots all together.
"It's truly hard to find a place to even stop and take a break because everything is developed," echoed Dyess. "We used to just stop along the road in the woods and now all those woods are homes. But we have a lot of people who are really good to us on our trip and have been for years, who make it a lot easier. So we make our way to Houston."
'Family fun'
:
Riders look forward to 'reunion' at Memorial Park
As they do, inevitably, the trail rides generate traffic delays - sometimes because of the lane they're taking up, sometimes because drivers take their time to process the contrast they're witnessing along the freeway.
"Once we get out of Tomball and start getting into Houston, things get a tad more serious," said Supak. "You've got to have a heads up with traffic and everything."
Generally, he said, people treated them well on the 2023 trail. That's something Vonda Davidson hoped for before the Southwestern riders set off.
"If we could just get the cars to respect us," she said. "We try to come through town as quickly as possible to get out of their way."
Tradition dictates that on the Friday before the Houston Livestock Show & Rodeo starts, all the trail rides must roll into Memorial Park. They start at 12 p.m. and just keep coming. As much fun as they've had on the trail, this is where the real party got going.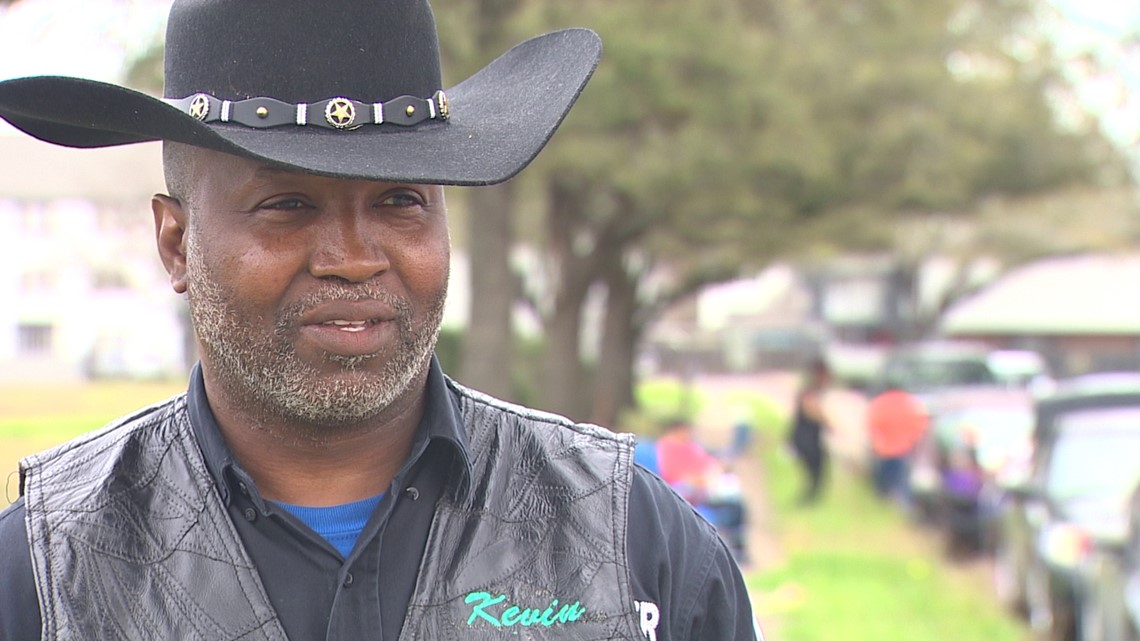 "For me, to see the people coming together and having fun, enjoying life," said Tircuit. "Doing like what we were supposed to do back in the day: camping out, cooking, eating, some folks drink. Just fun. Family fun."
The next morning, these families got up early - again - to greet the Houston-area families who lined the route of the Downtown Rodeo Parade.
"The enjoyment of the people is just beautiful," said Vonda Davidson. "The people are just like, 'They made it. They made it safely. They're home.'"
Without fail, when asked what their favorite part of the parade was, kids answered: "the horses."
"This has been absolutely fantastic. This feels like an authentic Texas experience," said Allison Cook, who brought her to the parade for the first time. "You can tell everybody takes a lot of pride in getting ready for this."
The 2023 trail riders do take pride in their history, but also in the legacy they're creating.
"We sacrifice it because we want this to go on and on and on," said Supak. "We don't want it to die."