Hurricane Dorian has begun lashing parts of Florida's east coast with tropical storm force winds.
The hurricane was downgraded to a Category 2 on Tuesday morning, but it's gotten bigger with hurricane-force winds extending outward up to 60 miles from the center. Tropical storm-force winds extend outward up to 175 miles.
The latest computer models continue to show the storm moving even further east than what the data showed on Monday. This leaves us optimistic for the eastern U.S. coast.
That said, we've lowered the storm surge forecast from 4-7 feet to 3-5 feet and 2-3 feet along rivers and creeks in Florida.
Winds, mainly along the coast, will be sustained between 25-35 mph with gusts to 45 mph inland and possibly topping hurricane force at the beach.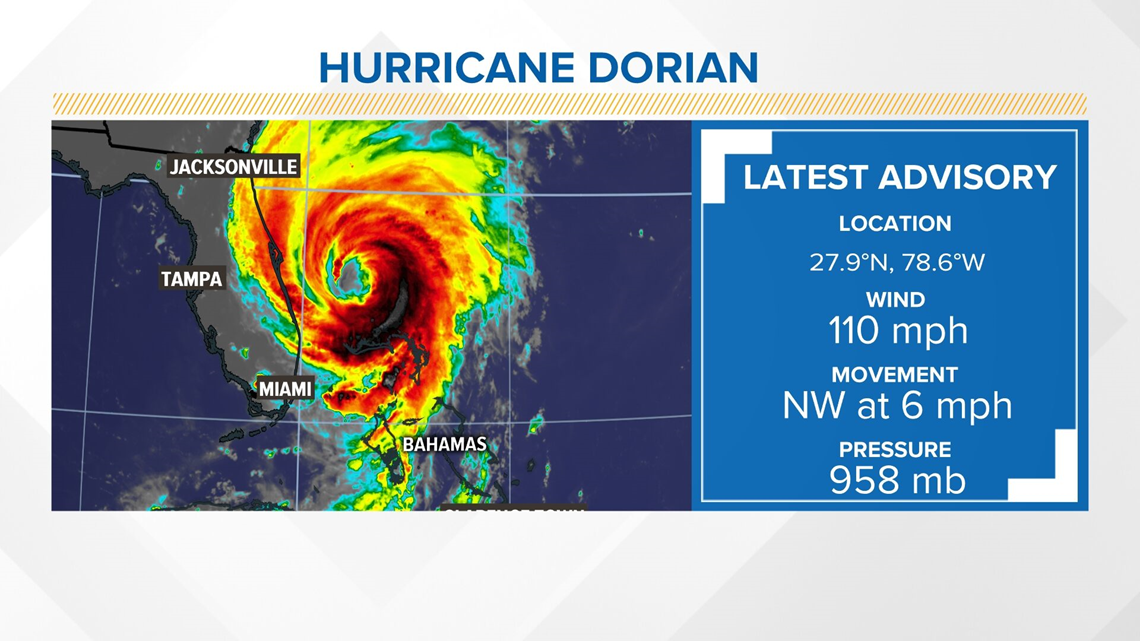 The Federal Emergency Management Agency says the storm is still expected to bring life-threatening storm surges even as it was downgraded to a category 2 hurricane.
FEMA Associate Administrator Carlos Castillo said Tuesday that residents along the U.S. East Coast should be prepared to evacuate if necessary and should heed evacuation orders from local officials.
"Don't tough it out, get out," Castillo warned.
Castillo said FEMA has over 1,600 employees deployed or on the way to Florida, Georgia, North Carolina and South Carolina.
The American Red Cross says they've already opened 170 shelters and evacuation centers. Over 13,000 people are already at those facilities.
The National Guard and U.S. Coast Guard say they have also readied troops and are ready to respond once the storm hits.
Dorian was the strongest hurricane in modern history for the northwest Bahamas. Widespread devastation and multiple deaths have been confirmed there.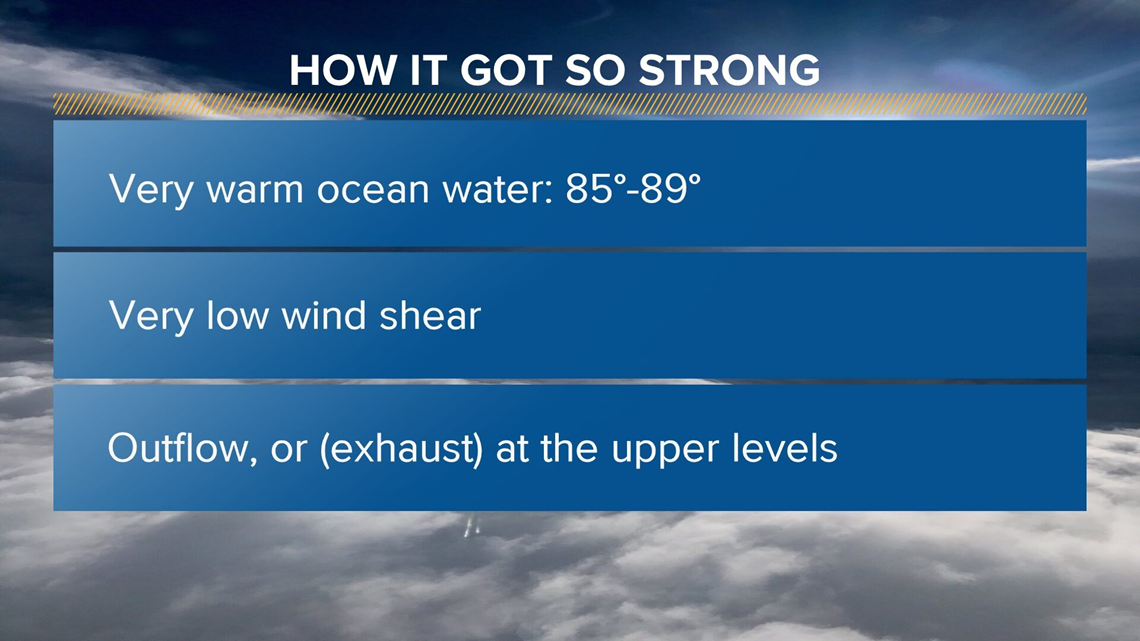 What category is Hurricane Dorian?
As of 4 p.m., Dorian is a top end Category 2 hurricane with winds of 110 mph, just mph away from a Cat 3.
Where is Hurricane Dorian?
As of 5 p.m. Central time Tuesday, Dorian finally started to move away from the Grand Bahamas at five miles per hour.
Dorian made landfall on the Abaco Islands in the Bahamas on Sunday and is slowly churning toward the US.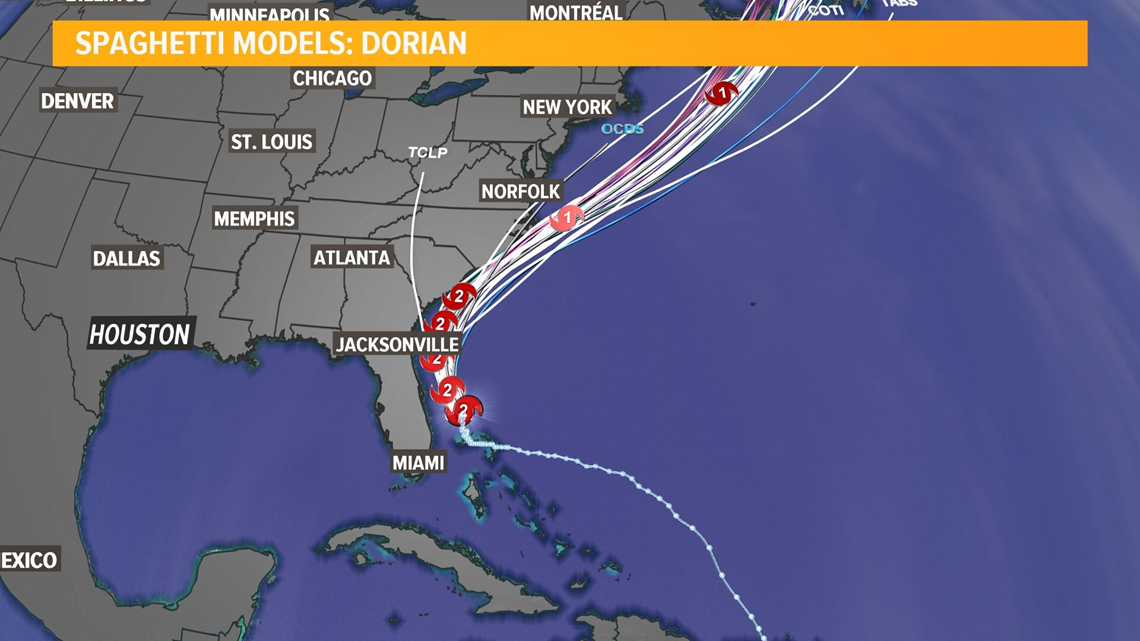 Watches and warnings
The Storm Surge Warning has been extended northward to Surf City, North Carolina.
The Storm Surge Watch has been extended northward to Duck, North Carolina, including the Pamlico and Albemarle Sounds and the Neuse and Pamlico Rivers.
A Hurricane Warning has been issued from Savannah River to Edisto Beach, South Carolina, and from South Santee River, South Carolina, to Surf City, North Carolina.
The Hurricane Watch has been extended north of Duck, North Carolina to the North Carolina/Virginia border.
A Tropical Storm Watch has been issued from the North Carolina/Virginia border northward to Chincoteague, Virginia, and for the Chesapeake Bay from Smith Point southward.
The Hurricane Warning has been changed to a Tropical Storm Warning from Sebastian Inlet to Jupiter Inlet, Florida.
The Tropical Storm Warning has been discontinued south of Jupiter Inlet.
Outlook and Discussion
At 4 p.m. Central Time (2100 UTC), the center of Hurricane Dorian was located near latitude 27.7 North, longitude 78.7 West. Dorian is moving toward the northwest near 6 mph (9 km/h), and a slightly faster motion toward the northwest or north-northwest is expected tonight.
A turn toward the north is forecast by Wednesday evening, followed by a turn toward the north-northeast Thursday morning. On this track, the core of Hurricane Dorian will move dangerously close to the Florida east coast and the Georgia coast tonight through Wednesday night. The center of Dorian is forecast to move near or over the coast of South Carolina and North Carolina Thursday through Friday morning.
Maximum sustained winds are near 110 mph (175 km/h) with higher gusts. Dorian is expected to remain a powerful hurricane during the next couple of days.
Dorian has become a larger hurricane. Hurricane-force winds extend outward up to 60 miles (95 km) from the center and tropical-storm- force winds extend outward up to 175 miles (280 km).
The latest minimum central pressure based on Air Force Reserve reconnaissance data is 959 mb (28.32 inches).