HOUSTON — Tropical Storm Fernand made landfall in Mexico at about 11:35 a.m. Wednesday, according to the National Weather Service.
Fernand is now a tropical depression and expected to dissipate Thursday. Impacts to southeast Texas are expected to be minimal.
Current forecast track for Fernand in the Gulf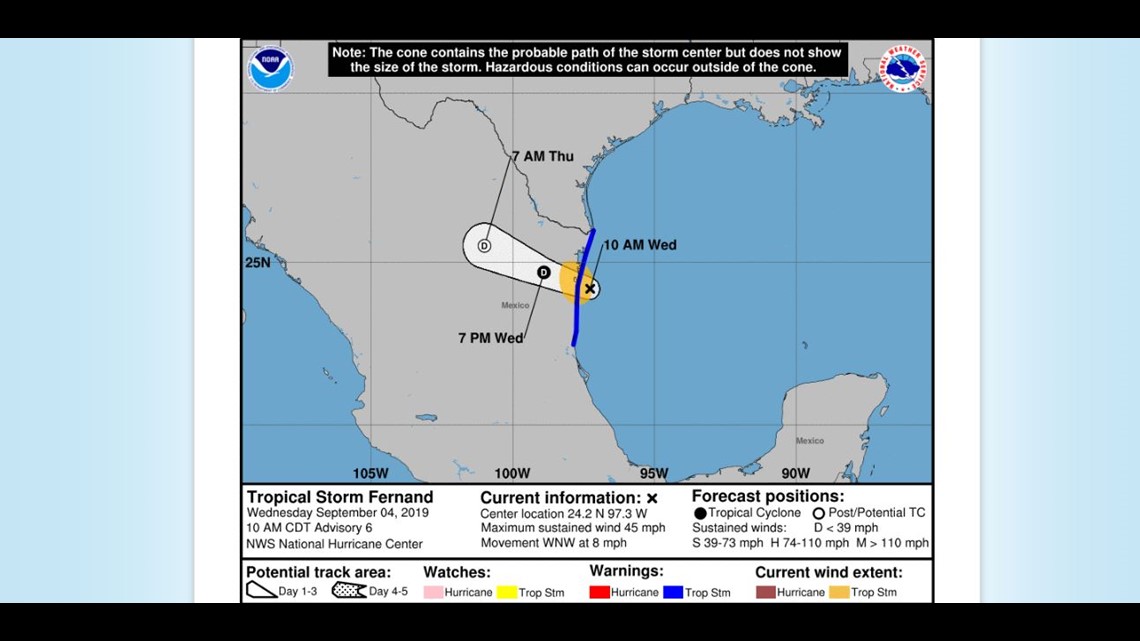 The government of Mexico has discontinued the Tropical Storm Warning from Puerto Altamira to the Mouth of the Rio Grande River.
What are the hazards for Northeast Mexico and South Texas?
RAINFALL: As of 4 p.m., Wednesday, Fernand is producing heavy rains over portions of northeastern Mexico. The threat of flash flooding and mudslides will continue overnight.
Northeast Mexico: Tamaulipas and Central/Southern Nuevo Leon: 6 to 12 inches with isolated 18 inches, highest along the immediate Gulf Coast and in the Sierra Madre Oriental. This rainfall may cause life-threatening flash floods and mudslides.
Northern Nuevo Leon and Southern Coahuila: 2 to 5 inches.
South Texas and the Lower Texas Coast: 1 to 3 inches, isolated 6 inches.
WIND: Gusty winds are still possible along the northeast Mexico and southern Texas coast through the night.
TORNADOES: A tornado or two are possible across far South Texas through this evening.
The next updates will come at 10 p.m.