SAN JACINTO, Texas — A Texas man accused of killing five people -- a young boy, an 18-year-old and three women - was indicted on capital murder Friday by a grand jury.
Francisco Oropeza was charged with five counts of capital murder in May after allegedly shooting the victims to death and then hiding from law enforcement for nearly four days before being caught.
What happened
Investigators said Oropeza was shooting guns on his property when he was confronted by neighbors who asked him to stop shooting because they had a young child who was trying to sleep.
One of those neighbors, Wilson Garcia, called the police after Oropeza refused to stop.
"He told us he was on his property, and he could do what he wanted," Garcia said.
Twenty minutes later, Oropeza allegedly began his deadly rampage.
"The next thing they know, he's walking up the driveway with a rifle in hand," said San Jacinto County Sheriff Greg Capers.
"I told my wife, 'Get inside. This man has loaded his weapon," Garcia said. "My wife told me to go inside because 'he won't fire at me, I'm a woman.'"
Garcia's wife, Sonia Guzmán, was at the front door, and the first to die.
The home on Walter Drive had 15 people inside, several of them friends who had been there to join Garcia's wife on a church retreat. Oropeza seemed intent on killing everyone, Garcia said.
Oropeza was able to escape after killing five of the 15 people inside the house. The victims were:
Daniel Enrique Lazo, 9
Jonathan Cáceres, 18
Diana Velásquez, 21
Sonia Guzmán, 28
Obdulia Molina, 31
The arrest
An FBI tip led to the arrest of Oropeza after he was on the run for nearly four days.
Officials said Oropeza was arrested without incident at his aunt's home on Summer Hollow Drive, which is about 20 minutes away from where the shooting took place.
"He was caught hiding in a closet underneath some laundry," Capers said.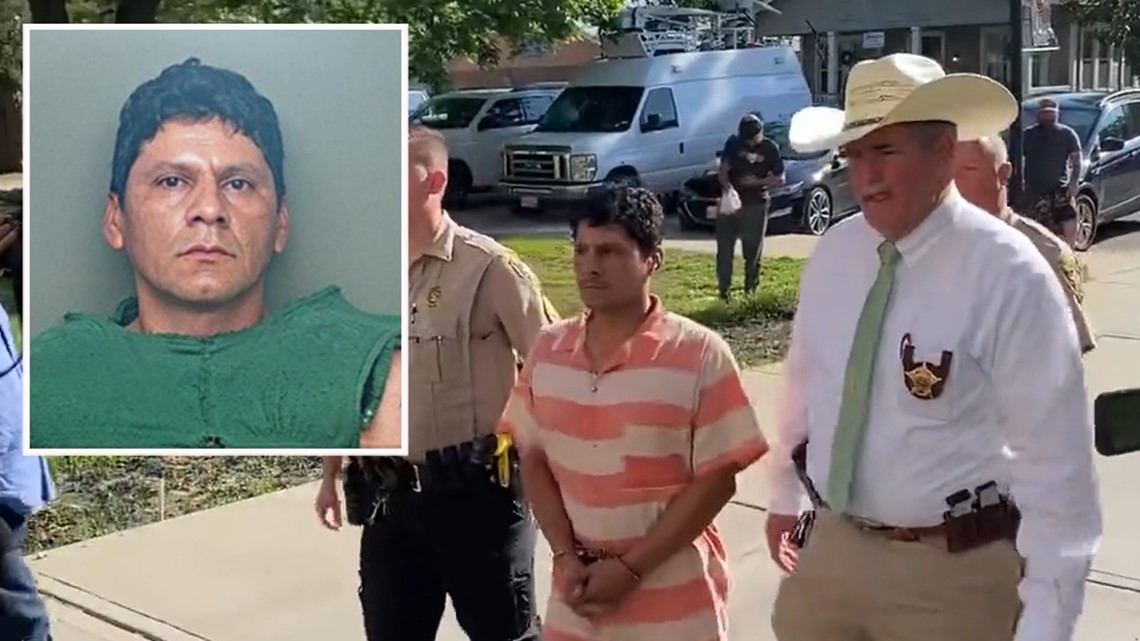 Two other people have been arrested and charged in connection with this case, including Oropeza's wife, Divimara Nava.
She's accused of giving Oropeza food and clothes and also arranging a ride to the house where he was eventually arrested. Officials also said she was communicating with investigators throughout the entire four-day manhunt.
'Not really going to be accurate'
According to Oropeza's defense team, the details of what happened on the night of the shooting are "probably not going to prove to be accurate."
They said Oropeza was an extremely well-liked person and neighbor, and that he helped almost everyone that lived around him, including the family next door that he is accused of killing.
"Anyone in the neighborhood who needed electrical work, trade work, Francisco always made himself available," attorney Anthony Osso said. "We're learning a lot more every day about that evening. The initial story about them asking him not to shoot his gun in the backyard because a baby was sleeping is probably not going to prove to be accurate."
Lisa Andrews, another one of his attorneys, explained further that they think the events of that evening were not as simple as initially reported.
"Nothing is ever quite that simple," she said. "I think we can use our common sense and know, that as a reason, is not really going to be accurate."
Anthony added that the relationship went downhill when the victims' dogs got into Oropeza's yard. They said the dogs killed his wife's sheep. He said there was another incident where the dogs got out again and killed his client's chickens.
Watch Oropeza's defense team's full comments following his first hearing: