HOUSTON — The Dallas Zoo announced that a clouded leopard that had been missing since Friday morning was found near her original habitat later that afternoon.
The zoo posted that it was closed "due to a serious situation" Friday morning. Zoo officials said they issued a "code blue" for a "non-dangerous animal that is out of its habitat."
"One of our clouded leopards was not in its habitat when the team arrived this morning," the zoo said in a statement on Facebook.
The zoo later gave another update on Twitter at 5:34 p.m. saying, "We are thrilled to report we located clouded leopard Nova on-grounds at the Zoo this afternoon at approximated 4:40 p.m. She was located very near the original habitat, and teams were able to safely secure her just before 5:15 p.m."
The clouded leopard, who was born at the Houston Zoo in 2019, turned 3 in November. She and her twin sister Luna spent their first year in Houston before being moved up north.
Harrison Edell, the executive vice president of animal care at the zoo, said when zoologists discovered that Nova was missing, they noticed a tear in a mesh enclosure. Luna was still inside.
Nova is about 20-25 pounds and does not pose a danger to people, Edell said.
Nova, when scared, is likely to climb a tree, "hunt some squirrels and birds and hope not to be noticed," Edell said. "Thinking like a cat, she likely went straight up to the trees and has not come down."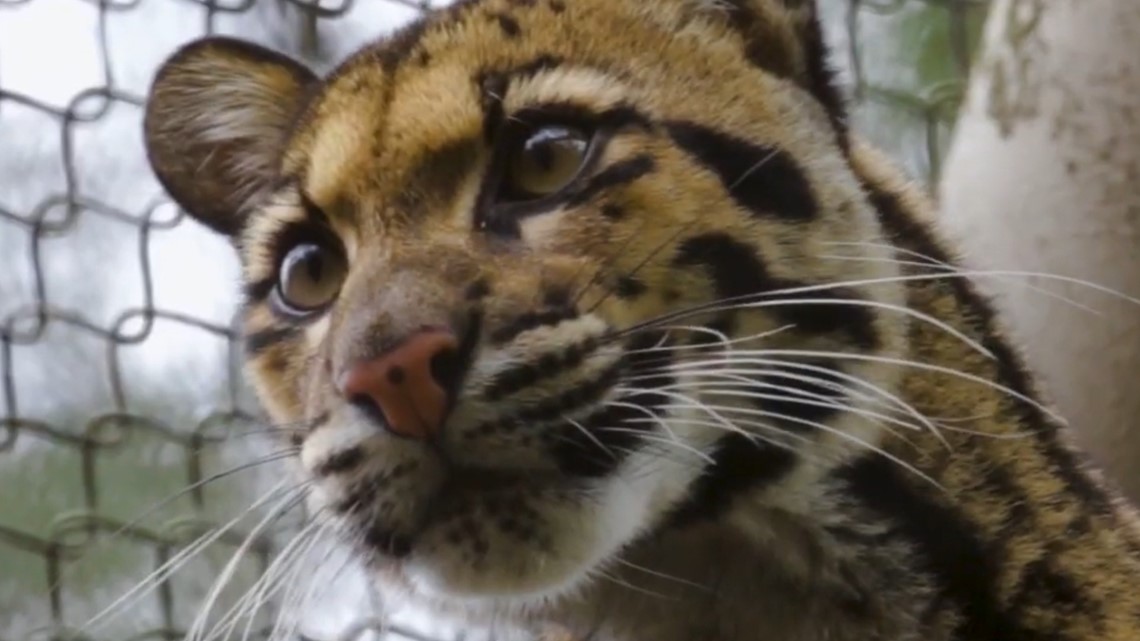 Houston natives
Nova and Luna, rare clouded leopard twins, were born at the Houston Zoo in November of 2019.
"Nova and Luna have transformed from wobbly little balls of fluff last November, to graceful ambassadors for their species today," the zoo posted on its blog on their first birthday. "It has been an adventure watching them grow."
The twins received 24-hour care for their first few months before making their public debut in 2020.
"While they have a lot in common, Nova and Luna have their own distinct personalities. Luna is more outgoing and spends more time with keepers," the zoo shared. "Nova is a little more cautious, keeping an eye on her surroundings."
Their parents, Suksn and Tarak, arrived at the zoo six years earlier and it was love at first sight. They were hand-reared by zoo staffers and quickly became inseparable.
About clouded leopards
This information is provided by the Houston Zoo
The clouded leopard is unusual among the world's cat species. They are the smallest of the large cats, have the largest canine teeth in proportion to their body size of any other cat species, and their coat is striking, yet so well blended for their habitat, that they are extremely difficult to see.
Named for its spotted coat, the clouded leopard and its habitat have remained a mystery. They live in an area ranging from the foothills of the Himalayas down to the islands of Sumatra and Borneo in Southeast Asia. They are under pressure from habitat loss, poaching for their attractive coats and even the pet trade in several countries throughout Asia.
Clouded leopards excel at climbing; there are few cats in the world that can run up a tree, rotate their ankles to run down a tree headfirst or hang upside down from a tree limb.