HOUSTON — Astros fans stuck by the team through the 2017 cheating scandal but a lot of fans in other cities were downright nasty.
Six seasons, another championship and three more division titles later, some fans, players and managers from opposing teams are still whining about it. The Yankees, who've also been caught cheating, and Dodgers are probably on the top of that list.
So, you can't blame Astros fans for enjoying the results of an analysis of Twitter trends over the last two months by betonline.ag.
Based on negative tweets, hashtags and keyword phrases about each team, the Dodgers are now No. 1 most hated followed by the Yankees and then the Astros.
Over 100,000 tweets were tracked.
The keyword phrases included things like "I hate the Yankees," "Dodgers suck," "Yankees are garbage," "Dodgers are overrated," or Yankees are horrible." Others we can't include because of words like f---k.
The top 3 teams have been the perennial "most hated" for several years in a row, according to betonline.ag but the 2023 order changed.
Even a slow start by the reigning champions, who struggled for a while to get above .500, wasn't enough to change the outcome. That might be because Astros fans have proven to be loyal while a lot of the negative tweets about the Yankees and Dodgers probably came from their own ruthless fans!
2023 most hated teams in baseball

1. Los Angeles Dodgers - 9016
2. New York Yankees - 8712
3. Houston Astros - 7658
4. New York Mets - 6326
5. Atlanta Braves - 5822
6. St. Louis Cardinals - 4692
7. Philadelphia Phillies - 4552
8. Boston Red Sox - 4270
9. San Diego Padres - 4124
10. Kansas City Royals - 3642
Here's how all the teams ranked.
The Arizona Diamondbacks were the "least hated" as only 846 negative tweets were tracked.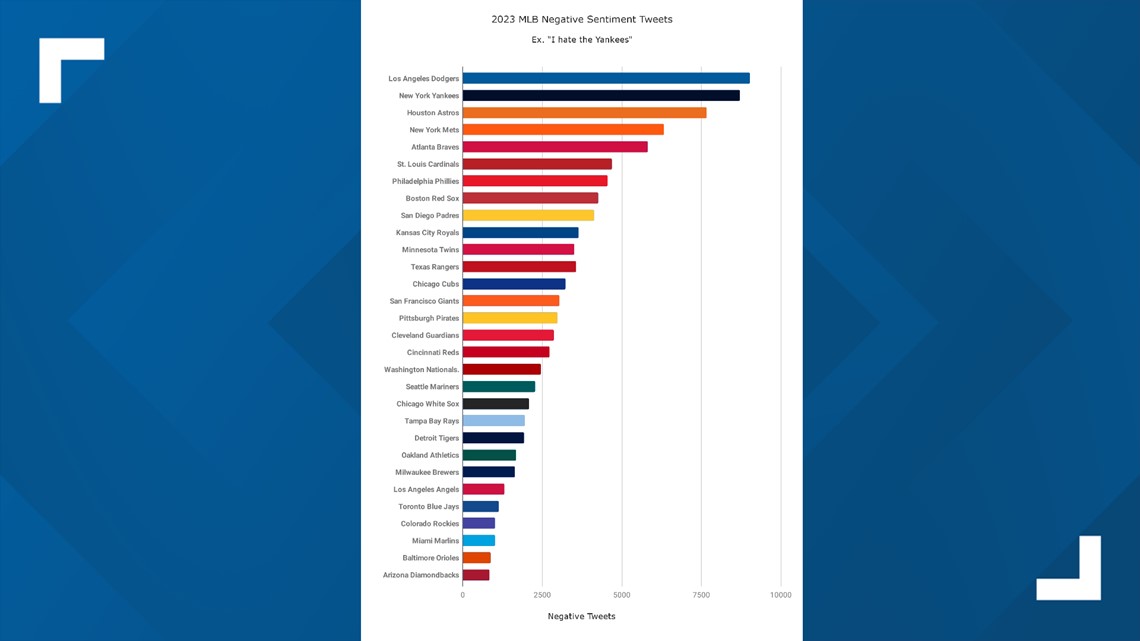 Los Angeles Dodgers
New York Yankees
Houston Astros
New York Mets
Atlanta Braves
St. Louis Cardinals
Philadelphia Phillies
Boston Red Sox
San Diego Padres
Kansas City Royals
Minnesota Twins
Texas Rangers
Chicago Cubs
San Francisco Giants
Pittsburgh Pirates
Cleveland Guardians
Cincinnati Reds
Washington Nationals
Seattle Mariners
Chicago White Sox
Tampa Bay Rays
Detroit Tigers
Oakland Athletics
Milwaukee Brewers
Los Angeles Angels
Toronto Blue Jays
Colorado Rockies
Miami Marlins
Baltimore Orioles
Arizona Diamondbacks