AUSTIN, Texas — If the Texas House votes to impeach Attorney General Ken Paxton with a simple majority, it would then go to the Senate for trial.
One of the senators who could help determine Paxton's fate is his own wife, Texas Senator Angela Paxton, a Republican from McKinney in her second term.
According to the Associated Press, it's unclear if she'll take part in a vote if it gets to the Senate, which would require two-thirds support to remove Paxton from office.
Also of note, one of the articles of impeachment is tied to an extramarital affair that Paxton reportedly acknowledged to his staff years ago. The impeachment charges include bribery for one of Paxton's donors, Austin real estate developer Nate Paul, allegedly employing the woman with whom Paxton had the affair in exchange for legal help.
The House is set to vote on impeachment at 1 p.m. Saturday.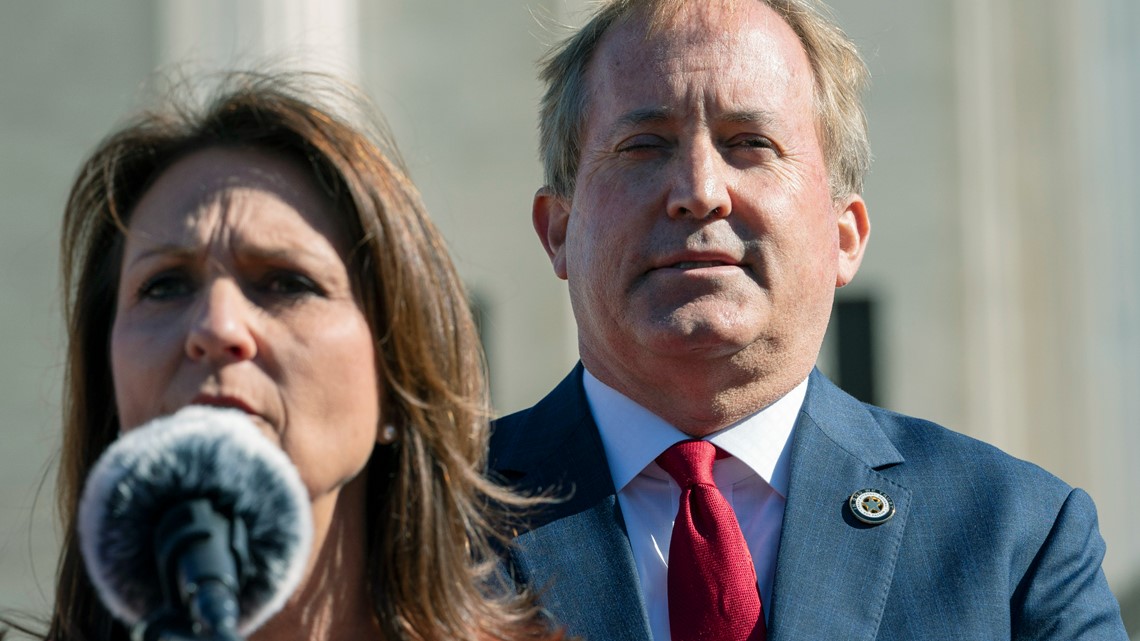 If the House votes to impeach Paxton, he would be immediately suspended as it goes to the Senate.
"The moment a single article of impeachment is approved in the House, then the attorney general is suspended and therefore no longer able to serve as attorney general until such time as they're either convicted or exonerated in the Senate," said Mark Jones with the Baker Institute at Rice University.
Jones noted that Paxton just won re-election last November and still has strong Republican support.
THE PROCESS
Under the Texas Constitution and law, impeaching a state official is similar to the process on the federal level: the action starts in the state House.
In this case, the five-member House General Investigating Committee voted unanimously Thursday to send 20 articles of impeachment to the full chamber. The next step is a vote by the 149-member House, where Paxton faces grim math.
A simple majority is needed to impeach. That means only a fraction of the House's 85 Republican members would need to vote against Paxton, if all 64 Democrats did.
The House can call witnesses to testify, but the investigating committee already did that prior to recommending impeachment. The panel met for several hours Wednesday, listening to investigators deliver an extraordinary public airing of Paxton's years of scandal and alleged lawbreaking.
If the full House impeaches Paxton, everything shifts to the state Senate for a "trial" to decide whether to permanently remove Paxton from office, or acquit him. Removal requires a two-thirds majority vote.
A SUDDEN THREAT
But there is a major difference between Texas and the federal system: If the House votes to impeach, Paxton is immediately suspended from office until the outcome of the Senate trial. Republican Gov. Greg Abbott would appoint an interim replacement.
The GOP in Texas controls every branch of state government. Republican lawmakers and leaders alike have until this week taken a muted posture toward the myriad examples of Paxton's misconduct and alleged lawbreaking that emerged in legal filings and news reports over the years.
It's unclear when and why exactly that changed.
In February, Paxton agreed to settle a whistleblower lawsuit brought by former aides who accused him of corruption. The $3.3 million payout must be approved by the House and Republican Speaker Dade Phelan has said he doesn't think taxpayers should foot the bill.
Shortly after the settlement was reached, the House investigation into Paxton began.
REPUBLICAN ON REPUBLICAN
The five-member committee that mounted the investigation of Paxton is led by his fellow Republicans, contrasting America's most prominent recent examples of impeachment.
Trump's federal impeachments in 2020 and 2021 were driven by Democrats who had majority control of the U.S. House of Representatives. In both cases, the impeachment charges approved by the House failed in the Senate, where Republicans had enough votes to block the conviction.
In Texas, Republicans control both chambers by large majorities and the state's GOP leaders hold all levers of influence. That hasn't stopped Paxton from seeking to rally a partisan defense.
When the House investigation emerged Tuesday, Paxton suggested it was a political attack by Phelan. He called for the "liberal" speaker's resignation and accused him of being drunk during a marathon session last Friday.
Phelan's office brushed off the accusation as Paxton attempting to "save face." None of the state's other top Republicans have voiced support for Paxton since.
Paxton issued a statement Thursday, portraying the impeachment proceedings as an effort to disenfranchise the voters who elected him to a third term in November. He said that by moving against him "the RINOs in the Texas Legislature are now on the same side as Joe Biden."
YEARS IN THE MAKING
The impeachment reaches back to 2015 when Paxton was indicted on securities fraud charges for which he still has not stood trial. The lawmakers charged Paxton with making false statements to state securities regulators.
But most of the articles stem from Paxton's connections to Paul and a remarkable revolt by the attorney general's top deputies in 2020.
That fall, eight senior Paxton aides reported their boss to the FBI, accusing him of bribery and abusing his office to help Paul. Four of them later brought the whistleblower lawsuit. The report prompted a federal criminal investigation that in February was taken over by the U.S. Justice Department's Washington-based Public Integrity Section.
The impeachment charges cover myriad accusations related to Paxton's dealings with Paul. The allegations include attempts to interfere in foreclosure lawsuits and improperly issuing legal opinions to benefit Paul, and firing, harassing and interfering with staff who reported what was going on. The bribery charges stem from the affair, as well as Paul allegedly paying for expensive renovations to Paxton's Austin home.
In the years since Paxton's staff went to the FBI, his agency has become unmoored by disarray behind the scenes, with seasoned lawyers quitting over practices they say aim to slant legal work, reward loyalists and drum out dissent.
TEXAS HISTORY
Paxton was already likely to be noted in history books for his unprecedented request that the U.S. Supreme Court overturn Biden's defeat of Trump in the 2020 presidential election. He may now make history in another way.
Only twice has the Texas House impeached a sitting official.
Gov. James "Pa" Ferguson was removed from office in 1917 for misapplication of public funds, embezzlement and the diversion of a special fund. State Judge O.P. Carrillo was forced out of office in 1975 for using public money and equipment for his own use and filing false financial statements.