SANTA FE, Texas - Families and students returned to Santa Fe High School on Saturday to collect vehicles and personal belongings.
The Santa Fe Independent School District announced the time for car pickup was extended to 4 p.m.
Walter Braun, the school district's chief of police, said at a news conference Saturday that the students will be allowed inside Santa Fe High School in groups of no more than 10 and would be accompanied by officers. He said about 50 students had been admitted as of Saturday afternoon and that others would be allowed in for about three more hours.
Braun and other officials declined to answer questions about the investigation into Friday's shooting, deferring to the FBI, which has taken the lead.
Authorities say it was carried out by a 17-year-old student, Dmitrios Pagourtzis, who is charged with capital murder and aggravated assault of a peace officer.
Time has stood still at the high school since the shooting. Dozens of vehicles remained parked outside where students left them to go to class Friday morning. Inside the school backpacks and books remain behind, left in classrooms the moment gunfire rang out.
Here is the latest on what we know about the mass shooting:
What happened
Witnesses described the gunman firing inside a classroom about 7:40 a.m. CT, sending students running out of the building, hopping over fences and taking shelter in a nearby car wash.
Texas Gov. Greg Abbott said the gunman used a shotgun and .38 revolver in the attack.
When gunshots broke out in the art hallway of Santa Fe High School, most of the students and staff were in classrooms on the other side of the building.
Photos: Victims of the Santa Fe High School shooting
"We clearly heard the first shot and probably 20 more shots," Zach said.
Zach said his teacher ran into the hallway and pulled the fire alarm to alert everyone on the other side of the building. That quick-thinking teacher may have saved lives.
His girlfriend, Lauren Little, was in math class on the opposite side of the school when they heard the fire alarm. Her teacher said there wasn't a drill scheduled and she immediately began ushering them out of the building.
"One minute we're sitting there doing math problems and then we're being told to run for our lives," Lauren described.
Two school district officers were on campus at the time of the shooting in accordance to the district's policy. They confronted the shooter early on, according to Texas Governor Greg Abbott. He said cameras in the school will provide more information, but that footage has not yet been released.
Another student described how he and his friends had to jump over a wall to escape and didn't realize at first that he had been shot.
Who are the victims?
Ten people were killed in the shooting, according to Gov. Greg Abbott. Seven of the victims have been identified. They include: Sabika Sheikh, a foreign exchange student from Pakistan, Angelique Ramirez, substitute teacher Cynthia Tisdale, teacher Ann Perkins, Chris Stone, Shana Fisher and Kimberly Jessica Vaughan.
Abbott also said that 10 people were injured and at least two people were in critical condition. A police officer is in the hospital in critical condition, according to Santa Fe Police Chief Jeff Powell. The wounded officer is identified as John Barnes, who is a retired Houston Police Department officer. Barnes was hit in the elbow and lost a lot of blood on his way to the hospital, medical staff said.
TV aerial footage showed groups of students being taken out of the rear of the school and a sheet believed to be covering a body on the lawn outside. Students described bloodied students fleeing the school and several stretchers of injured students ferried to ambulances.
Three people from the school have been admitted to the University of Texas Medical Branch, according to spokesman Christopher Smith Gonzalez.
Hospital staff also described another patient as a woman in her 50's who suffered a leg bone fracture and a minor who was being treated in the pediatric unit.
Police and the Santa Fe Independent School District announced that explosives were found at the school and off campus, so they urged people to report any suspicious items found around town.
Various kinds of explosive devices have already been detected by authorities, including a CO2 device and a Molotov cocktail, according to Texas Gov. Abbott.
"There have been confirmed reports of explosives found on the campus and off the campus," Santa Fe Police Chief Jeff Powell said. "That's our main concern is to keep our community safe."
Authorities have warrants to search two residences and a vehicle. There are concerns that explosives may be found inside, said Gov. Abbott.
Who is the shooter?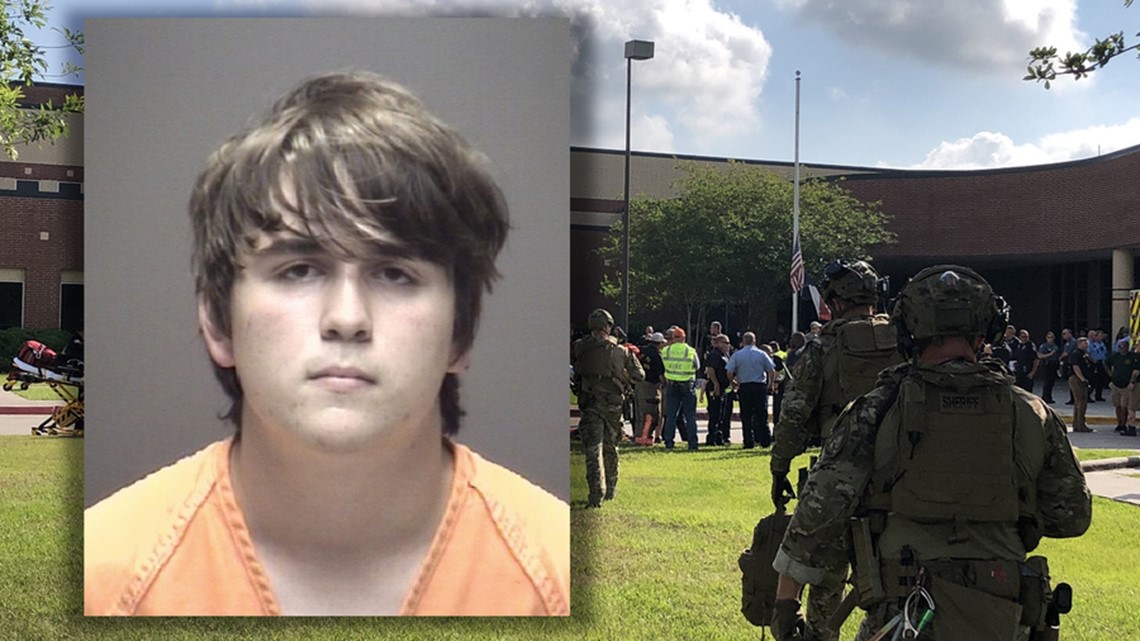 Police have identified the suspected shooter as 17-year-old Dimitrios Pagourtzis. He has been charged with capital murder and aggravated assault of a police officer.
Several law enforcement agencies are searching a mobile home where records show the teen lived. Pagourtzis recently posted a photo on social media wearing a t-shirt that said "Born to Kill." There were also photos of Nazi regalia.
According to Gov. Abbott, the suspect kept notes on journals, a computer and cellphone where he said that he wanted to carryout the shooting and die by suicide. But the suspect gave himself up to police, said Gov. Abbott. He is being held at the Santa Fe Police Department.
The suspect, who had no criminal history, used two weapons: a shotgun and a .38 revolver. Both were obtained from his father who legally owned the weapons. In an interview with police, Pagourtzis said he did not shoot students he liked "so he could have his story told," according to court documents.
At least one other person was in custody, but the official believed the person was not believed to be a suspect.
How did students react?
Megan Hunter came out of her classroom and followed the rush of students fleeing the school. "I was shaking, my anxiety was bad," she told a local news station. "I don't even know what to think."
Another student said she isn't surprised that the shooting was unfolding at her school.
"It's been happening everywhere," she said. "I always felt eventually it would happen here, too."