HOUSTON - There's an animal emergency at the Harris County Animal Shelter after over 200 pets were dropped off during the Memorial Day weekend.
The facility, located at 612 Canino Rd. in Houston, is housing more than double the number of dogs and cats is was designed to hold.
One reason is an overwhelming number of surrenders that came in over the Memorial Day weekend.
A St. Bernard named Cujo was one of them, but unlike his namesake character, this Cujo couldn't be sweeter.
"His owner's living situation changed and, unfortunately, her landlord wouldn't allow her to keep her dog," said shelter spokesperson Kerry McKeel. "She was very tearful, very upset, emotional about leaving her dog."
This shelter took in more animals during this past weekend than any other period so far this year. It doubled the shelter's capacity in a matter of days.
"The building was constructed to comfortably accommodate about 150 to 200 animals," said McKeel. "We're now at 407."
The intake includes adults dogs and puppies to fully grown cats and kittens.
But KHOU's coverage, along with social media pleas and discounted adoption rates, have already had an impact.
Marcy Trzecinski came in for one dog and ended up with two puppies.
"Come get them, there are a bunch here and they're so cute," said Trzecinski. "Look at the cuteness, lots of love right here."
The shelter hopes dozens of other animals, including Cujo, aren't left behind for long.
In addition to adoption, the shelter is pushing fostering as well.
You can help ease overcrowding by taking an animal for a couple of weeks.
In some cases, those dogs and cats eventually end up in parts of the country where overpopulation isn't such a problem.
For more information on adopting a pet from the shelter, click here.
Photos: Dogs & cats available at the Harris County Animal Shelter (May 29, 2018)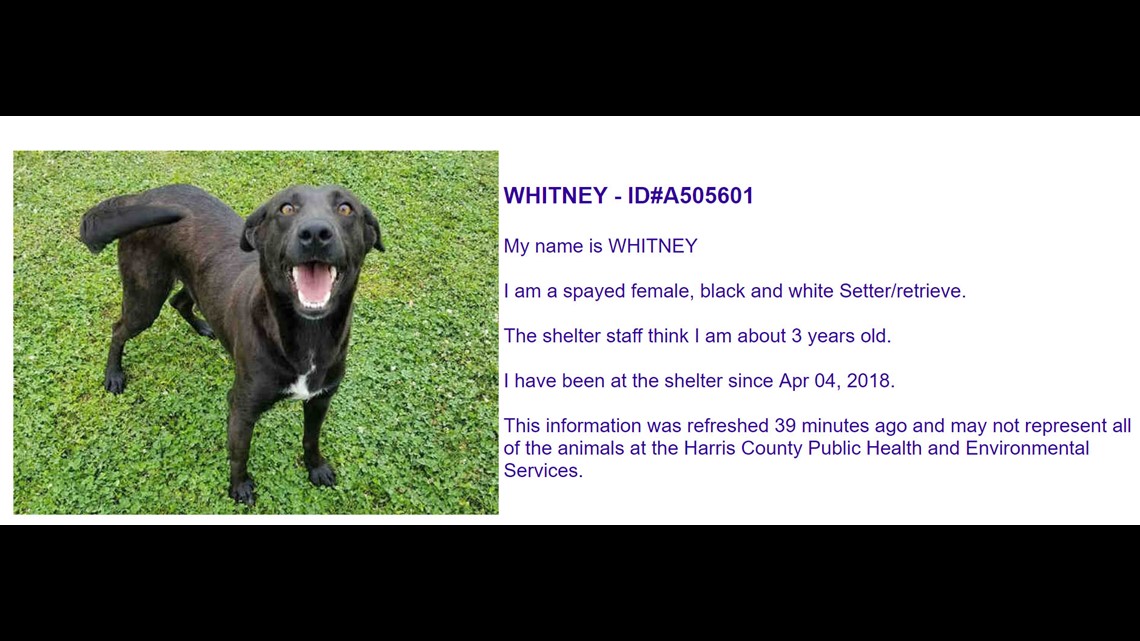 Photos: Dogs & cats available at the Harris County Animal Shelter