#KHOUStronger: Harvey destroyed our building, not our spirit
Looking back at Hurricane Harvey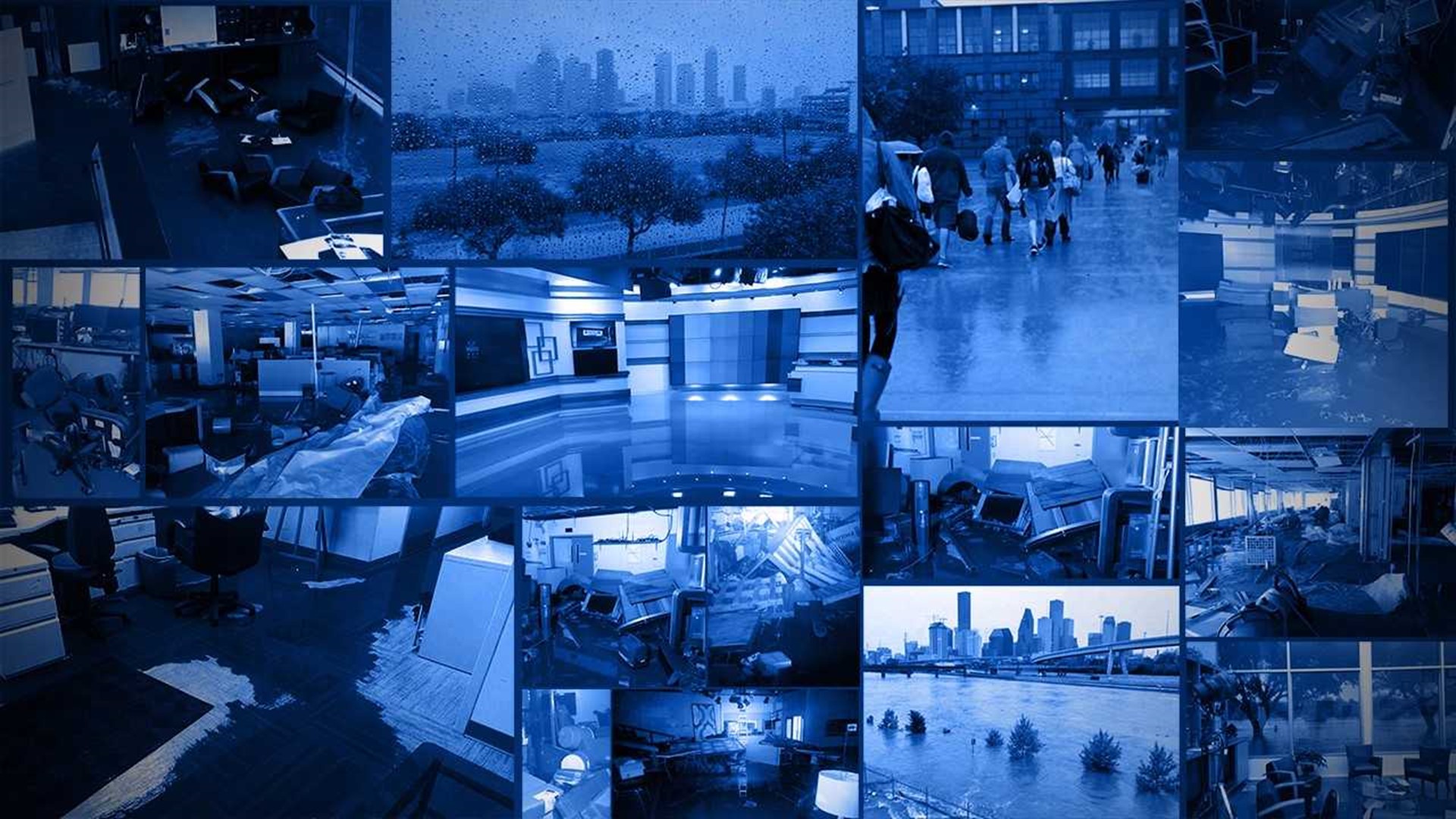 Like tens of thousands of Houstonians, KHOU 11 employees were forced to evacuate during Hurricane Harvey. Despite requests to share our story from all over the country, we made a conscious decision not to, because so many people were suffering and we didn't want to make it about us. One year after Harvey, it's time to share our memories of the dramatic last hours at 1945 Allen Parkway.
The beginning of the end
:
As Hurricane Harvey roared up the Texas coastline on Friday, August 25, dozens of KHOU employees packed our bags, hugged our loved ones and headed to our studios at 1945 Allen Parkway. With the potential for catastrophic flooding in our area, we were prepared to spend the next few days and nights at the station to keep our viewers informed around the clock. Little did we know, Harvey would force us to leave the station -- never to return.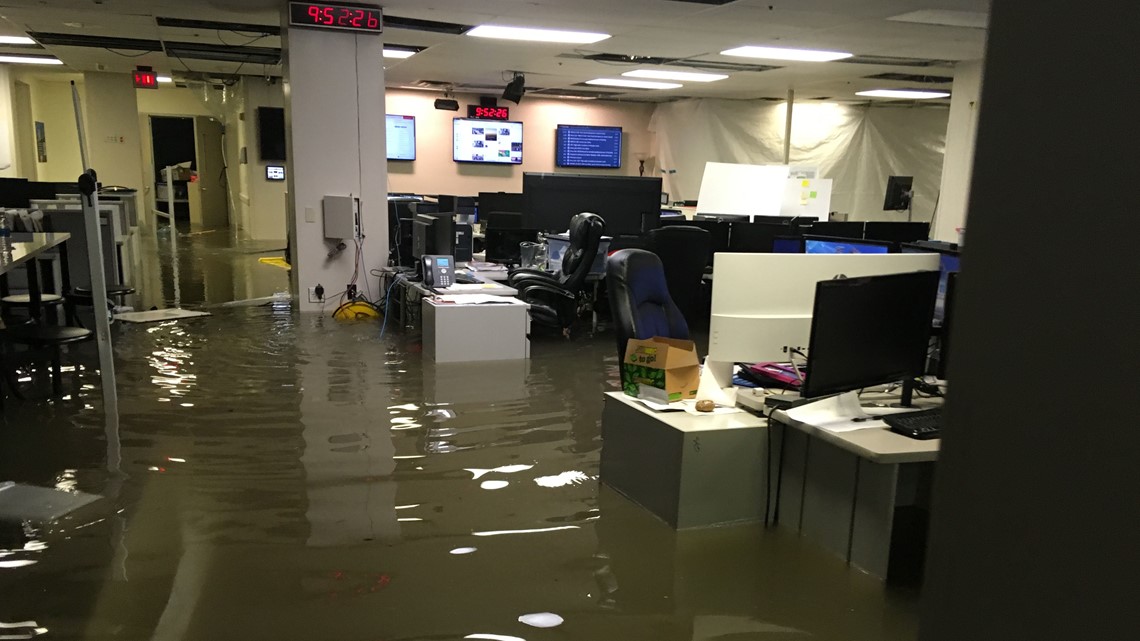 "On Tuesday, David Paul said he was worried about how the storm was developing. He talked about the potential for 50 inches of rain. At that very moment, none of us thought that would happen. Unfortunately, he was right."
Friday evening, Harvey made landfall as a Category 4 storm, battering Rockport, Port Aransas and other coastal communities.
Saturday, as it continued north on its path of destruction, the outer bands whipped up dozens of powerful tornadoes all over the greater Houston area.
But the worst was yet to come.
The Cries for Help
:
Saturday afternoon and evening would be busy with a flurry of flood warnings and tornado warnings all over our viewing area. The information was coming in fast and furious.
KHOU.COM MANAGING EDITOR MICHELLE HOMER:
"After covering Harvey non-stop for the last few days, the digital team had developed a well-oiled system of getting information to our viewers online, on our app and on our social media pages. But with only two of us on duty late Saturday afternoon, the constant blare of warnings became a little overwhelming. Then Saturday night, all hell broke loose and the skies opened up."
ASSIGNMENT EDITOR CHLOE ALEXANDER:
"I was working at the assignments desk the minute rain took over our beloved city. I remember the scanners going off like never before with officers alerting dispatch of high water locations. And this was just about one hour into the rainfall."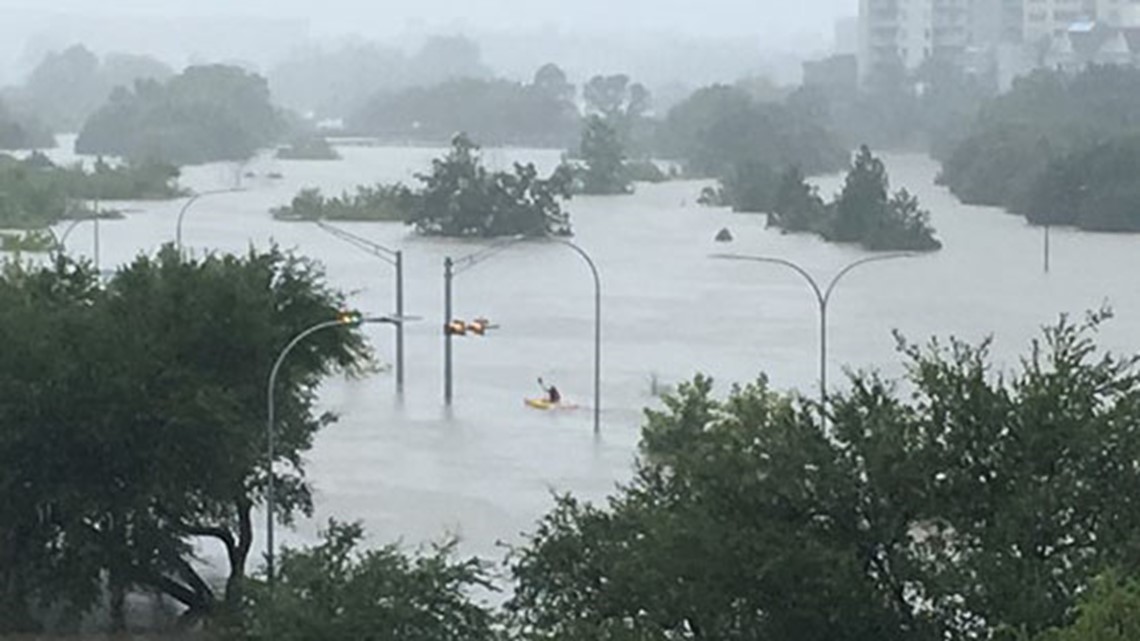 DIGITAL PRODUCER DOUG DELONY:
"I knew Harvey was different when we started getting flood photos from all over our area. Unlike previous flood events, the flooding wasn't isolated to just one or two counties that 'got the worst of it.' We all got the worst of it."
PRESIDENT AND GENERAL MANAGER SUSAN MCELDOON:
"The forecast for the rainfall was exceeding everyone's original prediction and I knew we would be in for the long haul. I lived a short 5 miles from the station and I decided that I wanted to run home to pick up some additional clothes since I knew we'd be hunkered down for several more days. While out I got a frantic call from the station telling me to come back right away, the roads and intersections were flooding and the water from the Buffalo Bayou were already threatening our front steps. We had installed our flood gates earlier that day and the pumps were working on over-drive. I told our security guard that if the water got up to the top step he should come and find me. I went inside and went to work."
News Director Sally Ramirez made the call to go on the air at 8:45 p.m. In a matter of minutes, the anchors were on the set and the producer and director were in the booth to begin what would be non-stop coverage.
The reporters and photojournalists in the field were ready to go with live reports from Rockport, Corpus, Galveston and all over the Greater Houston Area.
We had done this many times before. But we quickly realized Harvey was a monster storm, the likes of which Houston had never seen.
"It seemed like another Houston flooding event. But then came frantic calls from residents with horror stories. We were putting people on the air by phone, telling us the water had forced them to the second floor. Some were even forced into the attic. 911 was being inundated with calls."
I distinctly remember a woman telling me she and her children were on the kitchen counters with the water rising in her home. She had been calling 911 for hours to be rescued. She asked me what to do? Should I go outside? Should I go to the attic?' These are such serious questions. No time for the voice on the other end to hesitate or waiver. I wanted to reassure her and every other Houstonian who was scared that they would be okay, help would come and remain calm.
Behind the scenes, news managers and other employees were also answering calls from terrified viewers.
NEWS DIRECTOR SALLY RAMIREZ:
The desperation in their voice and the panic… they needed our help. And when they couldn't reach 911… they dialed us. I just felt like we were their only connection to any hope. We gave them hope. And I didn't want to let anybody down, you know, I really wanted to help these people.
"What if this is it? We're the only lifeline for them. I remember the sound of their voices and their stories… People in the attic, people on the roof, there was nowhere else for them to go but up."
Sally had Houston Police Chief Art Acevedo's cell phone number so she reached out to him for help.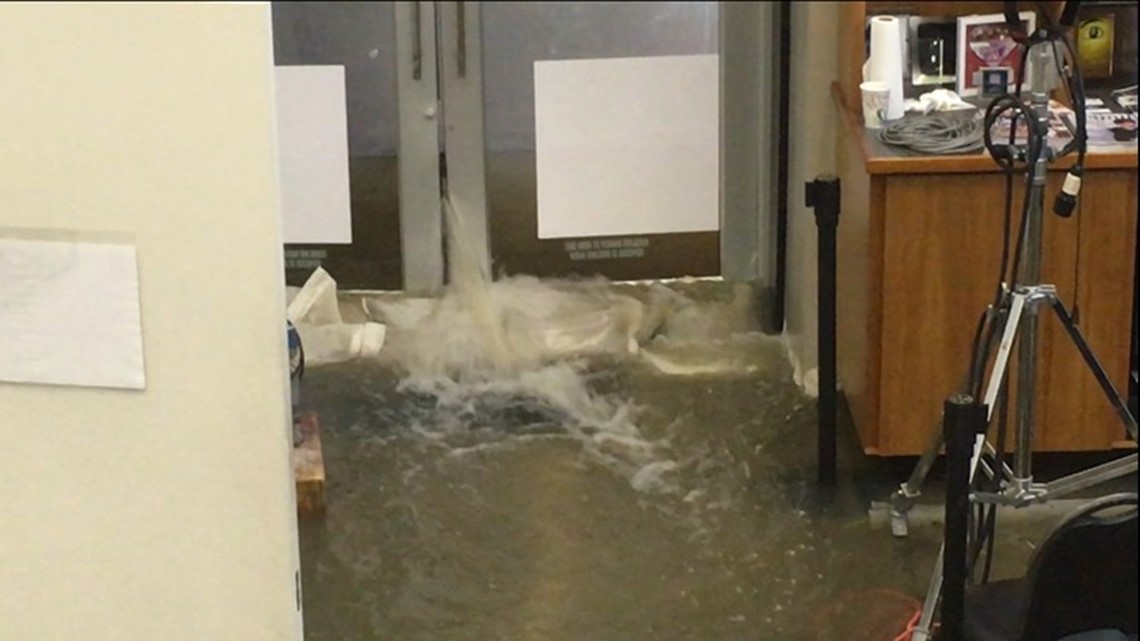 "I'd say 'Stay on the phone with me' and I literally had him in the other ear and I'd give him the information. and he answered. He answered all the calls. 'This woman is pregnant and having a a baby and they can't get to the hospital and he'd say 'What's the address?' and I'd repeat it."
Chief Acevedo would then broadcast the information over the police radio to dispatchers, who would send help.
"And I just kept calling him and he kept answering. But I don't know if he realized all he did for us that night."
"I remember hearing Sally speaking Spanish and trying to calm down the person on the other end of the phone. Desperate people were also reaching out to us on Twitter and Facebook. There were pregnant women in labor, elderly people who needed medical attention, families with small children – all surrounded by rising water and terrified. No one could get through to 911. I began retweeting their information to Chief Acevedo, Sheriff Ed Gonzales and HFD. Many of the calls for help came from other counties that weren't active on Twitter. But Sheriff Gonzalez, God bless him, would retweet to the agencies in those counties who could help.
Sally came up with the idea to write down their names and contact information on Post-It notes. We put them on a white board with plans to reach out to them as soon as possible to make sure they had been rescued. Until then, all we could do was pray.
ASSISTANT NEWS DIRECTOR JOSH HUBBARD:
"The fear in the voices of these folks will never leave my mind. The worst one was from someone who said a large family was on their roof in Dickinson, and needed help. I found out a week later they were ok. My news director Sally had to kick me out of the newsroom filling with water, all I wanted to do was be on the other end of the phone for those people who couldn't get through to 911. I just wanted to help them, talk to them."
"I remember, at one point, thinking that hundreds of people were going to drown in their homes. It was such a helpless feeling."
The Storm That Wouldn't Stop
:
LEN CANNON:
"By 11 p.m., it was clear we were facing a storm like no other. Harvey parked 200 miles southwest of us and kept dumping rain."
Sometime after midnight, David Paul came into the newsroom to tell us the National Weather Service had just issued a never-before used Flood Emergency Warning. "Life threatening flash flooding is ongoing. Additional catastrophic, unprecedented and life-threatening flooding continues into next week ..."
Even as we reported on the relentless rain and historic flooding everywhere else, Buffalo Bayou had spilled out of its banks and crept across Allen Parkway and toward KHOU.
"When I went to our porch to do a live shot, I watched a torrent rising at the corner of Stanford and Allen Parkway. It was violent and rising fast. I said on the air, 'We may witness something we have never seen before.'"
Photos: KHOU 11 studios flood during Harvey
"I documented the thunder, lightning and intense rainfall for the KHOU 11 Facebook page for a couple of hours out on the station porch. I had broadcast from the porch before but it had never looked like it did that night."
"The water had begun lapping over our front steps. And the rain was still falling. It was just a matter of time before it would seep into our building."
ENGINEERING MAINTENANCE SUPERVISOR RICK BUFFOLANO:
"Every precaution had been taken earlier in the week. Pallets of Sandbags had been pulled out of the building and deployed at all entrances and low spots. Floodgates, designed and built after Allison in 2001, were pulled out of storage and set up on Thursday by the technical crew. Pumps were tested and drains cleared of debris before the deluge. And then it came: For 90 minutes, the heavens emptied on our studio. Pumps ran, floodgates held, but nature (and slow draining storm sewers) conspired against us."
"At about 3 a.m., the security guard came to find me and told me the water was up to the top step. I figured it was time to move into high gear and start to activate our hurricane/flood plan. At 6 a.m., when the water started seeping into the floors, we made the decision to move our studio and newsroom operations up to the second floor. Our engineering/IT staff is incredible and got everything going just in time before the water started coming into our studio. We switched over to the 2nd floor studio/control room and began broadcasting from there while the water was pouring into the doors, making our beautiful first floor a swimming pool."
"I still can't believe how quickly the water rose. I knew this was history in the making, so I got out my phone and started recording video, taking photos and I even went live on Facebook a few times."
"I remember Len looking down and here comes the water slowly coming into the studio, and Len looks at me funny and he says 'That's it, right?' And I said, 'Yeah, that's it, Len. That's the bayou."
"That torrent was now coming into the station and water was slowly creeping into the studio itself. It was surreal, but we just rolled with it."
"And we're still on the air and we're talking about how water is coming into the studio and our technical director Jason comes into the studio with a shop vacuum and is going to try to clean up the water and I turned to Jason and I said, 'Jason, that's not gonna do it. That's Buffalo Bayou and you can't shop vac Buffalo Bayou."
"When I walked through the studio and was sloshing around in the water and I could see the water coming up from the ground. And it just wouldn't stop raining. And then it hit me, 'Our studio is going to be ruined.'
PRODUCER BRITTANY AUCION:
"It was a surreal experience. I felt helpless. The news station was flooding, my family members' homes were flooding. Face-timing with my 2-year-old was heartbreaking. I couldn't do it without crying. I just wanted to be home but, at the same time, I wanted to be at work, helping keep the community informed."
"I went to sleep under my desk on the floor with a sleeping bag. Around 4:20 a.m., James Gonzalez woke me with the words I never wanted to hear: 'Susan wants to go to the second floor.' The Bayou was creeping closer and we needed to move to higher ground. No one had really planned for this, but years earlier the engineers set up some video and audio in the 2nd floor Conference Room and we had to make it work. By 7 a.m., with a lot of luck we were ready for the anchors to move upstairs. We thought we would be there until the water receeded. Again, we were wrong."
PROMOTIONS MANAGER BOBBY RIGG:
"I walked into the main studio to help get some equipment and was shocked to see standing water. It seemed like everywhere I went, there was water creeping in. It was a panic of trying to get as much of the expensive equipment upstairs as possible. Dale, Jason, Ben, Rob and I scrambled to detach the studio cameras and race them up the elevator before it stopped working (since the elevator motor was at ground level. We made the last trip with the last cameras, and when I came back someone had placed a "DO NOT USE" sign on the elevator door. You could hear water just pouring into the elevator shaft behind those doors."
"I remember checking all the bathroom stalls and I remember going in the men's room and going through every room. I didn't want anybody to be left behind because some people were sleeping."
"I had worked a long shift on Saturday. I went to sleep somewhere in the building. I don't know for how long. Sally called me and said, ''Wherever you are, we're evacuating to the second floor.' I grabbed all my stuff and got it upstairs. Then I went back down to help clear personal items off the floor and put them on top of the desks. That ended up being futile as the water rose."
ASSISTANT NEWS DIRECTOR JOSH HUBBARD:
"When we moved to the second floor, my first thought as a manager was survival and making sure we had enough food and water for the staff in case we ended up getting stranded. We had a GREAT stash of water bottles/snacks, Gatorade, but they were all on the first floor. So I take it upon myself to get a hand cart and load it up. This is the stupid thing I did, I took it to the elevator. Yes, I know, really dumb. Water is coming into the building, the power was about to go out, Josh gets in an elevator with food and water. 5 minutes after I get out of that elevator, the power goes out, and the elevator is no longer functional. If I'm in the elevator on the first floor when that happens, I may not be here today. Really stupid, I know. Besides all of the alarms going off, the other sound that will never leave me is water filling the elevator."
"Some coworkers moved things from the floors to the top of desks. How naive we were. We had no idea water would go over the tops of the desks. One thing I regret not grabbing was a photo of my wife at my desk, although I was later able to recover and decontaminate it."
"I sent Emily upstairs to get set up but Doug and I kept working downstairs while everyone else scurried around us to move equipment and personal belongings. We were determined to keep our website and social media pages updated for as long as possible. I was still trying to keep up with the tweets and emails from people begging for help. When the IT guys told us we had to go, I grabbed my laptop, purse and suitcase and headed upstairs. I never dreamed that everything in my desk would soon be underwater. If I'd known, I would have packed a few sentimental items from my 25-year career at KHOU."
Supermen and Wonder Women
:
MICHELLE HOMER
"Our rock star team somehow managed to keep us on the air, as we evacuated to the second floor. They quickly converted our conference room into a makeshift news studio. Len, Mia and David didn't miss a beat. Neither did the producers or directors in the booth.
"With great team effort from engineers, IT, production and news photographers, we stayed on the air."
"Ben ran the camera in there as Dale, Tony and I continued to run up and down the stairs grabbing food, technology, cameras, whatever we could. I grabbed our production cameras and brought them up to my office, where I noticed that the carpet in my doorway was completely soaked. The wall had become compromised somewhere and water was just pouring down the inside of it from the roof. We went around waking up people who were in the edit bays and firing up the computers, preparing for the EDR folks to have a place to work."
Behind the scenes, the news and digital teams set up in the Great Day Houston area. The IT guys had the computers ready to go -- but before we had a chance to log in, Susan called an emergency staff meeting. She got a little choked up when she told us how proud she was of the way we had handled the emergency move upstairs. She assured us we had plenty of food and water to last a few days. She and Sally were our rocks.
"When Chief Engineer Frank Peterman warned us the toilets wouldn't be working much longer and we might have to "hold it," I didn't know whether to laugh or cry. Hold it? For how long? I envisioned a room with a bunch of buckets in it and felt a little queasy. I was relieved when Susan promised she would find a way to get port-a-potties delivered."
"Then David Paul stepped into the meeting and said that this was like no event he had ever seen. It was much worse than anticipated, and we needed to seriously think about how we wanted to proceed. He said that he predicted waist high water on the bottom floor, and if the reservoirs were released then chest high or maybe even head high."
"The most shocking part of that long night was when David Paul warned us the water could get as high as our chests on the first floor and we would have to evacuate at some point. I was so surprised and scared, I couldn't hold back the tears... knowing we have to stay on the air, and not knowing how we would handle our safety at the same time."
Managers began working on our hurricane plan in May, before the season even started. But no one could have prepared for what came next. Thankfully, Susan knows a lot of people through her involvement with the Greater Houston Parternship, and one of them would be a Godsend.
"David Paul said the rain wasn't going to stop for many hours, and while we were safe and dry on the second floor, we became concerned that we'd become an island and not be able to leave the building. I called our next-door neighbor, my colleague Daron Peschel who is head of the Houston Branch of the Federal Reserve Bank. I explained our need to evacuate the building and to have a safe place to shelter while we got our operations up and going at PBS. He said "Yes, come over."
DIGITAL PRODUCER EMILY REAUX:
"At one point, I think Sally could see I was getting nervous and she came over to me. She hugged me and told me we were all going to be fine, she said we were going to stay safe, no matter what. Our safety came first. It really meant a lot."
"We were probably all a little scared at that point. My biggest concern was that all of the equipment and wiring on the first floor would catch fire. Somehow, Susan and Sally managed to appear calm and I think that helped keep the rest of us from panicking."
"A few minutes later, someone got on the overhead and shouted 'If you're in the upper lot you need to move your car NOW!' You could actually see the water rising in the parking lot."
The cars in the lower lot were already underwater. Employees at the station had tried to move as many as possible on Saturday, but most of them belonged to reporters and photographers who were out in the field.
The upper lot had never flooded before so we all thought our cars would be safe there. We were wrong.
"A kind woman from nearby Lamar Street saw our coverage and called to let us know we were welcome to park on their street because it had never flooded. As Doug and I walked through the rain to move our cars, I told him I would be grateful to get through this with my life, my pets and my house. I had already accepted the fact that my little Mini Cooper would flood."
"At some point someone asked for the keys to the grip truck, which was about to go underwater in the upper lot. We realized no one had gotten the keys out of the lockup! I had rubber boots on, so I ran down there to get them. It was surreal. No one anywhere downstairs. The sound of running water everywhere. The studio doors wide open and the studio just inundated with water. I grabbed the keys and we went and moved the production truck and GDH van to the sales door so we could load them with supplies if needed."
"After moving my car, I was soaked from head to toe. I decided to change into dry clothes and try to get a little sleep. At that point, most of us had been up for 24 hours straight -- or longer. But while I was changing in the bathroom, the fire alarms went off. Seriously? Surely it's a false alarm, right? But then I heard people running in the hallway. Fire or no fire, I wasn't leaving that bathroom naked, so I got dressed as quickly as I could."
Fire and Rain?
:
RICK BUFFOLANO:
"At about 9:15 a.m., the fire alarms were sounding on the first floor. Water was coming in at every door, every seam in the building and something in the fire system had shorted. Susan made the call to evacuate."
"When I walked into the hallway, several people rushed past me and told me to get my stuff, we were evacuating. I ran back to GDH and grabbed my laptop and purse and headed to the only exit we could still use. All of the other exits were blocked by high water. I remember seeing Len and Mia still broadcasting in the conference room as everyone else rushed by. They handled the whole thing like the pros they are."
REPORTER SHERRY WILLIAMS:
"All of us knew the water would get high but we never imagined it would reach record levels and destroy everything it touched—cars, cameras, equipment, studios, furniture, memories, plans."
"I couldn't leave without getting one last look at the station. I quickly ran to the stairs that led to the lobby area and started recording video. Water was gushing through the closed doors of our station like a waterfall. Our lobby area was already filled with about 2 feet of water brown water. I've never seen anything like this in my life and I was terrified."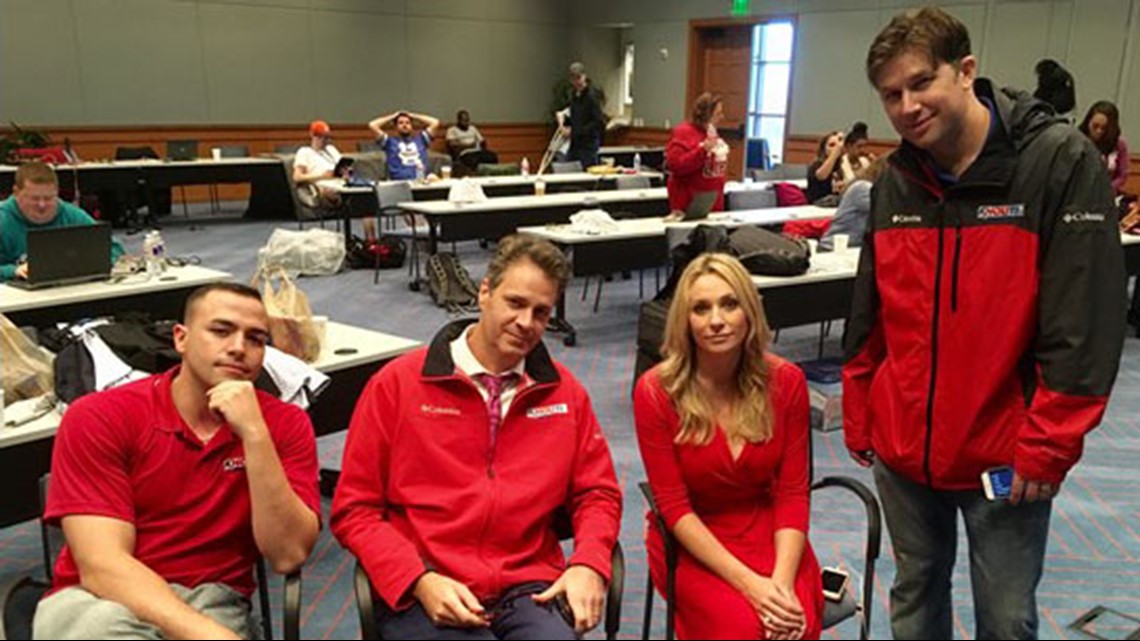 PRODUCER BRITTANY AUCION:
"On the way out, I looked at the downstairs area from the stairs and it was like a river in our lobby. Chairs were floating. I was panicking inside , but the fact that all the managers and everyone around me were calm... helped calm my nerves. It surprised me how fast things escalated but how calm all of our coworkers and managers stayed during the whole ordeal. No one panicked."
"I will never, ever forget the walk from the station to the federal reserve building. Just as we passed by the generator there was a loud "BOOM." A transformer blowing up. This triggered the generator, which sounded like a jet engine. We continued walking and residents were out and about, all of them realizing what had happened. I have to say, the support from those people, their apologies to us for losing the building, their offer of support and thanks for covering the storm, it was amazing."
PUBLIC RELATIONS SPECIALIST ALEXANDRIA WILLIAMS:
"Bobby was wearing a t-shirt and no jacket but had an umbrella. He offered to hold the umbrella over me the entire way as we walked in the rain to the Federal Reserve building. That touched my heart so much because in the midst of chaos, he was so selfless."
"I had already preset in my mind that if we had to evacuate the building, my code word would be "Alamo." A word taken from "Saving Private Ryan." The last man standing uses the code word Alamo to blow the bridge and stop the enemy from advancing. I tweeted "Alamo, we are evacuating KHOU" at an unknown time on Aug 27.
The anchors -- along with Producer Polly Smith and Master Control Operator Jason Roach-- were among the last to leave.
"We continued broadcasting for as long as we could until it was no longer safe for us to be in our station home."
"Things went from surreal to dangerous. Our news director and general manager suddenly said we need to evacuate the building. I didn't panic. Things were high and dry on the second floor. I put on my rain gear and boots and went downstairs to get some clothes I left in our Green Room. That's when I realized how bad it was. There was about 18 inches of water in the hallways I have walked for 11 years. I posted the moment on Facebook. I think my words were, 'It's just horrible.' I grabbed my clothes and headed back upstairs. Before I left, my boss Sally Ramirez told me to look at the water in the lobby. I was stunned. It was coming in like Niagara Falls. And there was water outside as far as the eye could see."
"I remember I was limping because I have a torn ligament in my foot, and I remember walking through the water with my slippers on, carrying what few belongings I had in the rain. I remember how strange it felt to be leaving the station, and also realizing that may be the last time I ever walk out the door of 1945 Allen Parkway."
"We were evacuating to the giant Federal Reserve building. It wasn't far, but I had to walk through water above my waist to get to higher ground on Taft Street."
Photos: KHOU employees evacuate to Federal Reserve
"Several of the technical crew stayed behind, working to shut down servers and other systems that were not needed. Air conditioning shut down and the generator started up. We were losing critical systems and time was running out. At about 9:47 a.m. the entire technical center lost power, like someone turned off a switch. We were off the air."
The managers also stayed behind to make sure everyone got out safely.
"My last memory of the building was me walking out. I was smelling smoke, I made it to the one staircase that wasn't underwater, I'm on the phone with a reporter and I hear an explosion. I can't even tell you how loud it was. I tell the reporter on the phone, I think there's been an explosion at the station. It was the generator flooding and exploding."
Angels among us
:
"The folks at the Federal Reserve were fantastic. They put the staff in a large room and we had sandwiches. It was like one big slumber party. The only problem is, we were now off the air, scrambling to get back on."
"The Federal Reserve opened up their doors and hearts to us. They took us in and cared for us like we were family."
"They were extraordinary. They welcomed us, gave us a large meeting room to regroup, prepared us lunch and provide comfort at a time when our world was completely upside down."
"Our backup plan was to take a live truck over to the Federal Reserve building. Art would set up the mast, and Rick would stay behind at the station to dial in the shot to our tower before evacuating himself. At some point that plan was scrapped because our transmitter went down."
Hell or High Water
:
But come hell or high water, we were going to fight to stay on the air for as long as possible.
Before leaving the station, Len and Mia had turned over our coverage to Reporter Brandi Smith in the field. Brandi was told to keep talking as long as had a live signal and, despite being cold and wet, she never missed a beat. Her now-famous live shot turned out to be one of the most dramatic and memorable moments of Hurricane Harvey. While they were on live, photojournalist Mario Sandoval spotted a truck stuck in several feet of water with driver Robert Roberson still inside. Brandi was telling viewers at home about the trucker when she spotted a Harris County truck rolling by with a boat attached. She flagged them down and pointed them in the direction of Robertson and his truck. Major Marty O'Brien and Deputy Richard Jue.put their boat in the water and rescued Robertson as Brandi, Mario and everyone watching held their breath.
Brandi continued to report non-stop for about 45 minutes before her signal was lost and the screen went dark.
As KHOU was about to go off the air, our sister station in Dallas was playing close attention. They came up with a plan to keep KHOU plugged into its viewers through Facebook Live. WFAA Reporter David Schechter anchored that coverage for seven hours.
While WFAA Meteorologists handled weather updates, News Director Carolyn Mungo and Assistant News Director Leslie McCardel – both former KHOU employees – began gathering breaking news information from Houston and routing it through Schechter.
Eventually, KHOU reporters were contributing live broadcasts from Houston and the feed was added to KHOU.com, our app and YouTube.
"Back at the Federal Reserve, the exhaustion from working non-stop began to set in. The kind employees there set up a large sleeping room for us and several people took advantage of the down time to grab some shut-eye."
"I don't know when the last time was I had slept. I think I slept for an hour under a table at the bank."
"Being an easy sleeper. I rolled out my sleeping bag on a couch in a hallway and slept about four hours."
But there would be no rest for our managers. Susan and Sally were busy working the phones to get us back on the air as soon as possible. Fortunately, a plan had already been in place to broadcast from PBS if we ever had to leave our building. Houston Public Media General Manager Lisa Shumate helped make it happen.
"I remember watching Susan and Sally on the phone constantly as they are trying to relaunch our newscast and get us back on the air and get us back to communicating information to the people. And by golly, they did it and off we went, driving our cars to the campus of U-of-H."
Somehow, Rick Buffolano and Jason Barnett managed to drive through the floodwaters to our tower in Missouri City where they set up a satellite downlink so we could broadcast from PBS.
"Thanks to fast thinking leadership, we made some moves and got back on-air as soon as possible at Houston Public Media.
"And then we got to the PBS studio, we had a glass-top table – it looked like my table in my living room – and we had a camera pointed at us. I don't remember exactly what time it was, but the camera light went on and we got back on the air. And we had no way of communicating so we had our phones. So we sat there for hours on end, just looking at our phones for information and sharing it with people."
"It was not always pretty and we had all kinds of technical challenges, but we went back on the air.
"I remember the miracle when the radar showed back up on the screen. It was being piped in from Dallas. Sally and Susan had arranged that so we had a radar. Someone in Dallas was following along and listening as I talked about what radars I wanted. That was wonderful. It was like Christmas morning after having all of your toys taken away."
ASSIGNMENT DESK EDITOR DANNY HERMOSILLO
"Slowly but surely, we made the place our own. A computer here. monitor there. Some comfort food, dry clothes and a hug. Lots of hugs. "How's your family?" "Did you get flooded?" You heard it over and over. Tales of water raging into homes, no way to get to work through the flooded streets and submerged highways. Those that did make it in kept a duct tape and bailing wire TV station on the air around the clock. Work 12 hours. Find an empty office to sleep in. Then up and at it again. So many co-workers soldiering on, many not even knowing what condition their own homes were in. But the news must go on. This is when our community needs us most."
"The marathon was on, the city was under seige and life would never be the same for all of us at KHOU."
"We got back to our friends, neighbors and family who needed us to inform and reassure them. It's our purpose and was never more clear than that day. We stood together, so we could stand for Houston."
One Year Later ...
:
Like many of you, we've spent the last year in our temporary home. And like many of you, we are determined not to let Harvey hold us back. Our Tegna sister stations around the country sent employees to help us get through those challenging first few weeks. Since then, we've turned a large, dark, mostly empty room into a busy, bustling newsroom full of journalists working hard and standing for Houston. Our anchors have graduated from that glass-top coffee table to a real studio.
"I have seen miracles happen every day since the flood. People coming through for us, crews from our TEGNA nation showing up to get us back on our feet, food being delivered to our crews in the field and at the station, office space offered for our non-news departments, I could go on. What I'm most proud of and touched by has been the KHOU staff. These individuals have more heart than anyone can imagine. They worked selflessly for days with no rest even though many of them lost homes, cars and personal items. They remain positive and are making the best out of a very difficult situation, working in seven different locations while we regroup. They all understand that a building does not make a station…the people do. Our coverage was and continues to be extraordinary and better than it has even been. We are proud to Stand for Houston and we are #KHOU Strong."
In February, the new owners took down the tower and those iconic red KHOU letters.
PHOTOS: Iconic KHOU letters removed from Allen Parkway tower
A few months later, the building that housed decades of memories was demolished.
One year after Harvey, we're looking ahead even as we look back with pride on the heart, grit and resilience Houstonians and all Gulf Coast residents showed during and after Harvey. And we are beyond grateful to all of you for standing with us through this unforgettable journey. We hope to be in our new home in early 2019. Stay tuned ...
Tap here for more on Harvey One Year Later