HOUSTON — The KHOU 11 Weather team is monitoring a cluster of thunderstorms near the Bahamas that is expected to develop into a tropical depression or tropical storm this weekend.
You can watch Chief Meteorologist David Paul's update on the storm above.
Right now the National Hurricane Center gives it a 80 percent chance for development over the next five days. Spaghetti models suggest the system will move across Florida on Saturday.
If this forecast verifies and the storm stays in the eastern Gulf of Mexico, the Houston area would have no direct impacts. However, forecasts can change and as with any storm that gets into the Gulf we must watch it very carefully.
The Hurricane Center has begun issuing advisories and a forecast cone for this disturbance. It suggests Florida will see the greatest impacts, possibly from a moderate tropical storm, on Saturday and Sunday.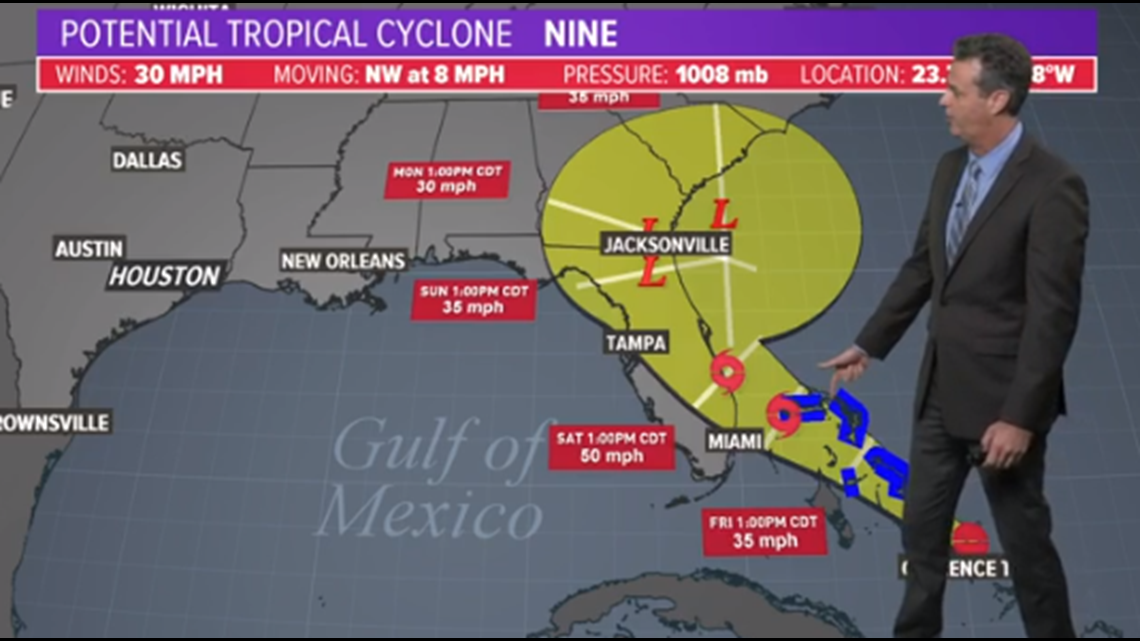 Here is the 7 p.m. Thursday Central update from the NHC:
At 800 PM EDT (0000 UTC), the poorly defined center of the disturbance was located by satellite, surface observations, and reconnaissance aircraft near latitude 23.7 North, longitude 74.8 West. The disturbance has been stationary over the southeastern Bahamas. The system is expected to move slowly toward the northwest by early Friday, and this motion is forecast to continue during the next 2 days. On this track, the system is anticipated to move across the central and northwestern Bahamas on Friday, and along or over the east coast of Florida on Saturday.
Maximum sustained winds are near 30 mph (45 km/h) with higher gusts. The disturbance is forecast to become a tropical depression or a tropical storm during the next day or so.
Environmental conditions are favorable for a tropical depression or tropical storm to form within the next day or two. * Formation chance through 48 hours...high...80 percent * Formation chance through 5 days...high...90 percent
The estimated minimum central pressure is 1008 mb (29.77 inches).

HAZARDS AFFECTING LAND ---------------------- WIND: Tropical storm conditions are expected within the warning area in the northwest Bahamas by late Friday.
RAINFALL: The system is expected to produce total rain accumulations of 2 to 4 inches through Sunday over the Bahamas and along the east coast of Florida north of West Palm Beach. Isolated maximum amounts of 7 inches are possible in the northwest and central Bahamas.
STORM SURGE: This system is not expected to product significant storm surge in the northwest Bahamas.

As always these forecast, especially for newly developing systems, can change and everyone on the Gulf coast should monitor the weather closely over the weekend.