People traveling domestically to Hawaii don't have to quarantine or undergo pre-travel testing if they provide proof of vaccination. People who are unvaccinated must still submit a negative COVID-19 test to avoid a 10-day quarantine.
Spain no longer requires Americans to be vaccinated to travel to the country.
Original story from June 21, 2021:
Data from the Transportation Security Agency (TSA) shows the number of people flying across the U.S. has continued to rise as summer begins. About 2.1 million people went through a TSA checkpoint on June 20, the most of any day since the onset of the pandemic.
The increase comes at a time when a majority of the U.S. adult population is fully vaccinated against COVID-19 and may be looking to explore after a year of lockdowns brought on by the pandemic. For many people, it may be their first time flying in over a year, which means learning new rules regarding flying amid a pandemic.
THE QUESTION
VERIFY viewer Frances H. asked: Do you have to be vaccinated to fly on a plane?
THE SOURCES
THE ANSWER
No, you don't have to be vaccinated to fly in the United States. For international travel, some countries may require visitors to be vaccinated against COVID-19.
WHAT WE FOUND
People in the U.S. are considered fully vaccinated two weeks after receiving their second dose of the Pfizer or Moderna COVID-19 vaccines, or two weeks after receiving the single-shot Johnson & Johnson vaccine. Nearly 53% of the U.S. population 12 years and older are considered fully vaccinated as of June 20, according to the CDC.
While being vaccinated isn't a requirement to fly on a plane in the U.S., wearing a mask is still required, regardless of vaccination status. The TSA's mask mandate is in effect through at least Sept. 13.
For people who are unvaccinated, the CDC has more recommendations about what to do when flying domestically. People who aren't fully vaccinated should get tested for COVID-19 one to three days before flying, according to the CDC. They should also physically distance when possible.
After traveling, the CDC recommends people who are unvaccinated get tested for COVID-19 three to five days after returning and stay home and self-quarantine for seven days, even if they test negative for COVID-19. If people who are unvaccinated don't get tested after traveling, the CDC recommends self-quarantining for 10 days. The guidance from the CDC is a recommendation, not a requirement.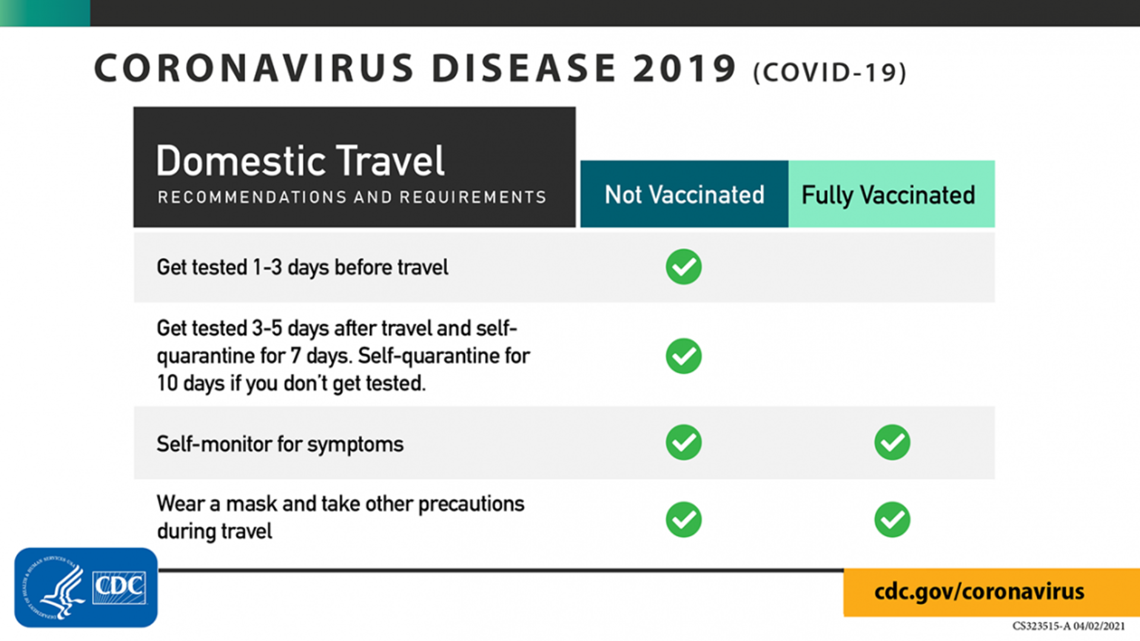 People should also research about state or local travel restrictions that may be in effect at their destination, even for domestic flights. For example, Hawaii still has some travel restrictions in place, including, as of June 21, needing a negative COVID-19 test to avoid a 10-day traveler quarantine.
For international travel, there are other factors to consider. Some countries still don't allow travelers from the US. Other countries, such as Spain, require vaccinations except in limited situations. There are also testing and quarantine requirements that vary by country.
Generally, many of the recommendations for people flying domestically also apply to people flying internationally. However, there is one major additional requirement. People entering the U.S. from a foreign country, regardless of vaccination status, are required to have a negative COVID-19 test that was taken no more than three days before traveling. Exceptions are made for those who show proof of recovery from COVID-19 within the last 90 days.