The moon will be closer than usual, a mere 222,043 miles away, on the night of Aug. 30, 2023, making it appear slightly brighter and bigger than normal, giving it the supermoon title.
But that's not the only special feature about this full moon. Because it's the second full moon in the same month, it will also be what's called a blue moon.
The last time two full supermoons graced the sky in the same month was in 2018. It won't happen again until 2037, according to Italian astronomer Gianluca Masi, founder of the Virtual Telescope Project.
This year's first supermoon was in July. The fourth and last will be in September. The two in August are closer than either of those.
When is the blue supermoon?
According to NASA, the full moon will be Wednesday night, Aug. 30, 2023, appearing opposite the Sun at 9:36 PM EDT.
What is a blue moon? Will the moon be blue this week?
Despite what the name may suggest, a blue moon has nothing to do with the color of the moon, so the moon won't actually look blue on Wednesday night.
According to NASA, the newer definition for a blue moon was introduced by Sky & Telescope magazine in 1946 and means when there is a second full moon in a month. The more traditional definition is the name for the third full moon during a season that has four moons.


What is a supermoon?
The moon's orbit around the earth is an ellipse, not a perfect circle. A full moon is considered a supermoon when it comes within 90% of perigee, its closest point to Earth.
According to NASA, the closest supermoons appear "about 17 percent bigger and 30 percent brighter" than the furthest, faintest moon of the year. That 17% isn't actually enough to make the moon look noticeably bigger, but NASA says supermoons are still a bit brighter than other full moons.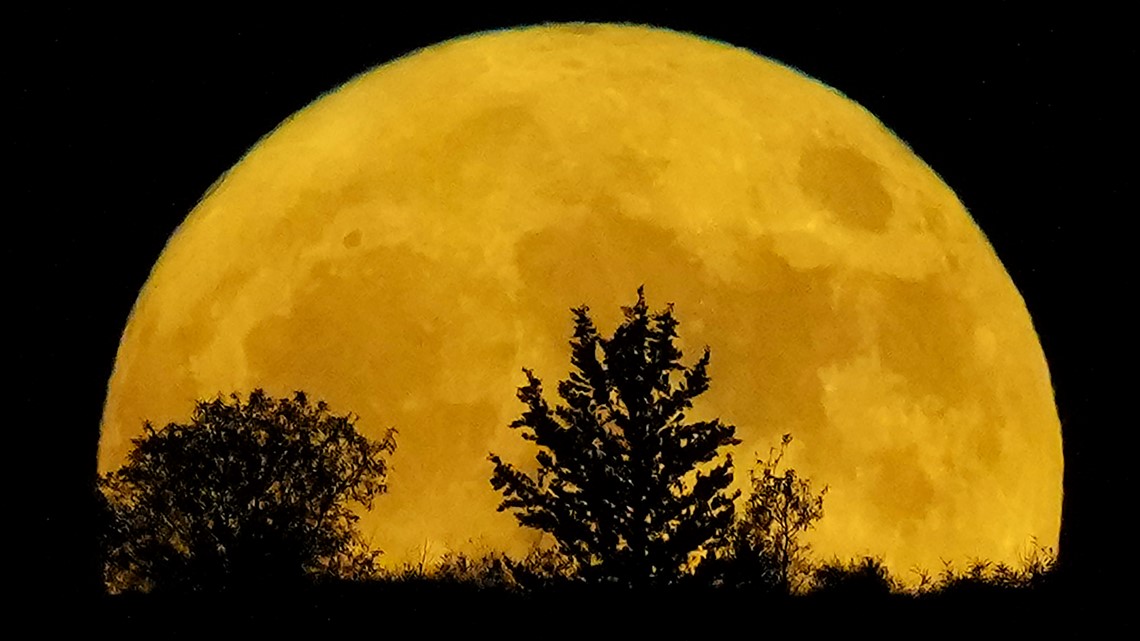 While it's popularly used to describe the closest full moons, "supermoon" isn't an official astronomical term. In fact, it was coined by an astrologer in 1979.