PERRYTON, Texas — (AP) — A tornado tore through the Texas Panhandle town of Perryton on Thursday, killing three people, injuring dozens more and causing widespread damage as another series of fierce storms carved its way through Southern states.
First responders from surrounding towns and cities and from neighboring Oklahoma descended on the town, which is home to more than 8,000 people and about 115 miles (185 kilometers) northeast of Amarillo, just south of the Oklahoma line.
The National Weather Service in Amarillo confirmed that a tornado hit the area shortly after 5 p.m. Thursday. Local officials said Thursday night that two people were missing. Ochiltree County Sheriff Terry Bouchard later told KVII-TV in Amarillo that missing people had been located.
On Saturday, authorities upgraded the intensity of the twister to EF-3, saying it packed winds of up to 140 mph (225 kph).
Perryton Fire Chief Paul Dutcher said three people were killed – two women and an 11-year-old boy – including at least one person who died in a mobile home park that took a "direct hit" from a tornado. Dutcher also said at least 30 trailers were damaged or destroyed.
The 11-year-old's name is Mathew Ramirez. Ramirez's family shared this photo of the boy with WFAA's Rebecca Lopez.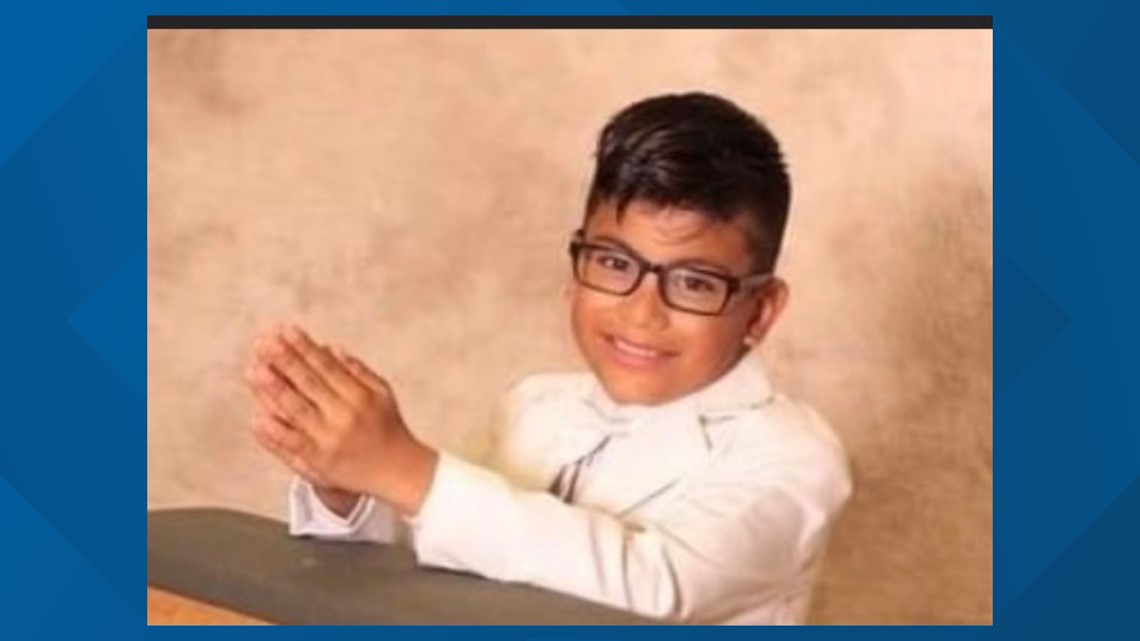 "At times of events like these, Texans come together," Abbott told reporters as he signed a disaster declaration that he said would "trigger all the resources the state can bring to bear … to accelerate the ability to rebuild."
The Republican governor said he was shocked to see how much of the town had been destroyed and praised what he called "non-stop heroic efforts by healthcare providers" who he said treated 160 injured people at the local hospital that has just 25 beds.
Mobile homes were ripped apart and pickup trucks with shattered windshields were slammed against mounds of rubble in residential areas.
"It dropped down right on top of Perryton," Bouchard said. "We've lost a lot of homes, businesses, rental properties. There's just a lot of damage to our community and it's going to take some time to get this cleaned up."
Storm-related power outages were also reported in East Texas late Friday, ahead of a weekend promising sweltering days of high temperatures and high humidity.
Storm chaser Brian Emfinger told Fox Weather that he watched the twister move through a mobile home park, mangling trailers and uprooting trees.
"I had seen the tornado do some pretty serious destruction to the industrial part of town," Emfinger said. "Unfortunately, just west of there, there is just mobile home, after mobile home, after mobile home that is completely destroyed."
"We have seen somewhere between 50 and 100 patients," said Kelly Judice, the hospital's interim CEO. Those include about 10 people in critical condition who were transferred to other hospitals.
Patients had minor to major trauma, ranging from "head injuries to collapsed lungs, lacerations, broken bones," Judice said.
The hospital also said an American Red Cross shelter had been set up at the Ochiltree County Expo Center.
Chris Samples of local radio station KXDJ-FM said the station was running on auxiliary power.
"The whole city is out of power," Samples said.
Texas Gov. Greg Abbott said Thursday he had directed the state Division of Emergency Management to help with everything from traffic control to restoring water and other utilities, if needed.