HOUSTON — Throughout the COVID-19 pandemic, the Texas Medical Center has been tracking ICU beds and the number of COVID-19 patients who are in them. On Thursday, according to records the Medical Center keeps online, they exceeded the ICU Phase 1 for just the second time since the pandemic began. Those numbers were as of Wednesday, December 9.
The Texas Medical Center is now in 'Phase 2' of its ICU occupancy plan. Phase 1 had 1,330 beds and as of Thursday, all of those had been taken, 26 percent of which are being used by COVID-19 patients.
Below is a screen grab from the Texas Medical Center's website, where they track the phases of ICU use. Here's a link where you can always track this and other local COVID measurements.
It's important to keep in mind - it's not unusual to hit 100 percent of Phase 1. They typically operate at between 80 and 90 percent of ICU capacity. Phase 2 allows them to make sure patients have a bet and appropriate treatment.
"We're not in danger at this point. We still have plenty of ICU capacity," said Dr. James McDeavitt, SVP and Dean of clinical affairs for Baylor College of Medicine.
McDeavitt also works on a team that plans for surge capacity for beds and staff.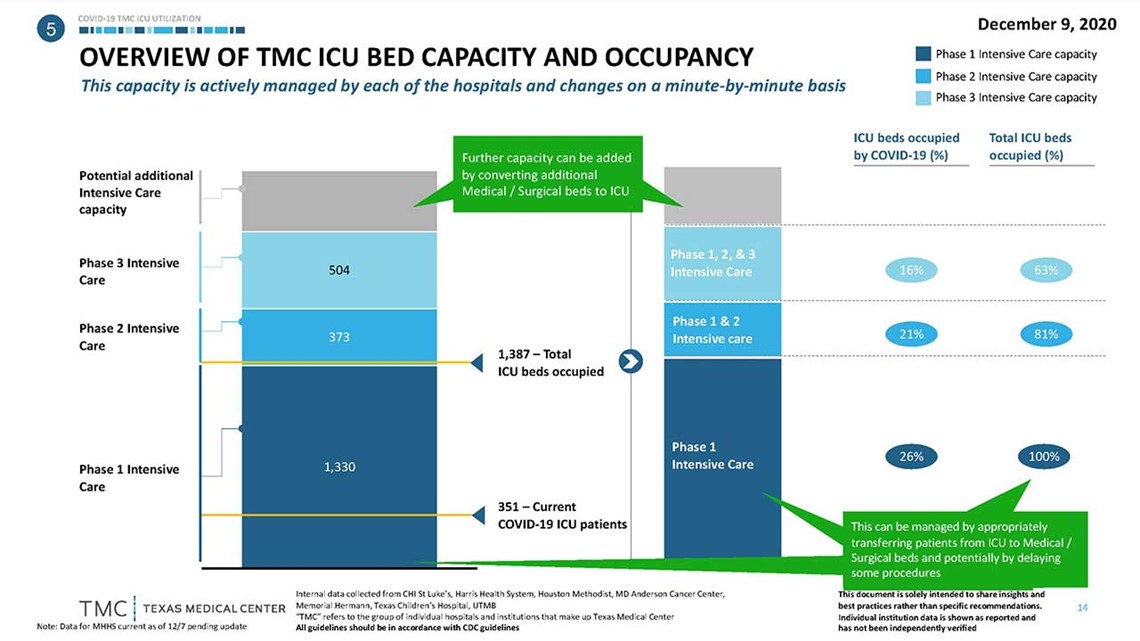 Houston's ICU was over 100 percent of Phase 1 capacity once before in the pandemic. It was back in the summer during the initial surge.
Hospitals in the Med Center still have more than 870 beds they can turn into ICU beds. McDeavitt said the total number of people in hospitals with the virus is about 50 percent of what it was in the summer.
McDeavitt said that is due, in part, to better treatments leading to shorter hospital stays.
Houston Mayor Sylvester Turner says we're seeing an increase in cases from the Thanksgiving holiday, but as long as the hospitalizations don't surge in the Houston area, our hospitals and staffs should be able to handle the increased cases.
"The good news if you compare now to the summer, in summer things went up quickly. Now what we're seeing is a gradual uptick which makes it better for us to manage the virus," said Mayor Turner.
"We have to be very concerned about the increase in number of cases" added Houston recovery czar Marvin Odum. "But there's quite a bit of expansion in our hospitals and our medical system can still employ."
That's where the second two phases of the Houston Medical Center ICU plan comes in.
What are 'Phases 2 and 3' of intensive care at the Medical Center?
We're now in Phase 2 of intensive care. Phase 2 allocates an extra 373 beds to handle an increase in patients, regardless of their diagnoses.
There is also a Phase 3, which doctors are prepared for. They hope we can stop spreading the virus so that the extra 504 beds allocated for Phase 3 do not have to be used.
McDeavitt said hospital staff can sustain Phase 3 for roughly 4 weeks, if necessary, but that longer than that would start to overwhelm healthcare workers, and affect patient treatment.
He also said that we cannot get the same help from traveling nurses that Houston received over the summer.
"The whole country's on fire. Everybody's surging. Everybody's stressed. There's not the same availability of providers to bring them into the community," said Dr. McDeavitt.
He said widespread vaccines for the general public should come in April, May, and June.
"This crisis we have right now, the vaccine's not going to save us," said McDeavitt, adding that masking, social distancing, and staying home will protect us best until then.
"Those are our weapons in this current surge."