HOUSTON — The "heat dome" that is leaving Houston with 100+ degree weather is expected to last another week, a reminder that when the power in a home during a heatwave or emergency disaster, the temperature inside can rise quickly. Going without air conditioning or electricity, especially during the summer months, can be troubling.
But for some 3,000,000 older and disabled Americans who rely on power for medical equipment, it is more than just an inconvenience. It can be life threatening.
Humble resident, Joseph Pannell, is one of those Medicare recipients. He's quick to say watching the latest episode of "Superman and Lois" is a guilty pleasure. Lately, he says, his favorite pastime has been interrupted by power outages.
"It's been horrible," Pannell said.
But during a power outage, getting behind on a series is the furthest thing from Pannell's mind.
"I was diagnosed with COPD (and) Emphysema," Pannell said.
Pannell is also a dialysis patient and needs an oxygen machine to breathe. So, when the power goes out, and the temperature rises, he panics.
"It's hell, trust me. If I can't breathe, and then I breathe hot air, it just exacerbates my chest and it makes it harder to breathe. So, I need cool air," Pannell said.
He says he lost power twice this summer. The first time was on June 8.
"I had to go to the hospital because I had no oxygen. I had to call 911," Pannell said.
When he lost power two weeks later, on June 21, he was without electricity for nearly five days. Pannell says he left home to stay with his son.
"The temperature outside was in the 90s and the 'feels like' was 113. I would not have made it if I had to stay here in this house," Pannell said.
Pannell is just one of 237,692 older and disabled Texans who rely on electricity-dependent medical equipment, according to the June 2023 U.S. Department of Health and Human Services Medicare data. The information gives insight into where people would be most vulnerable during a power outage.
Texas is second only to California.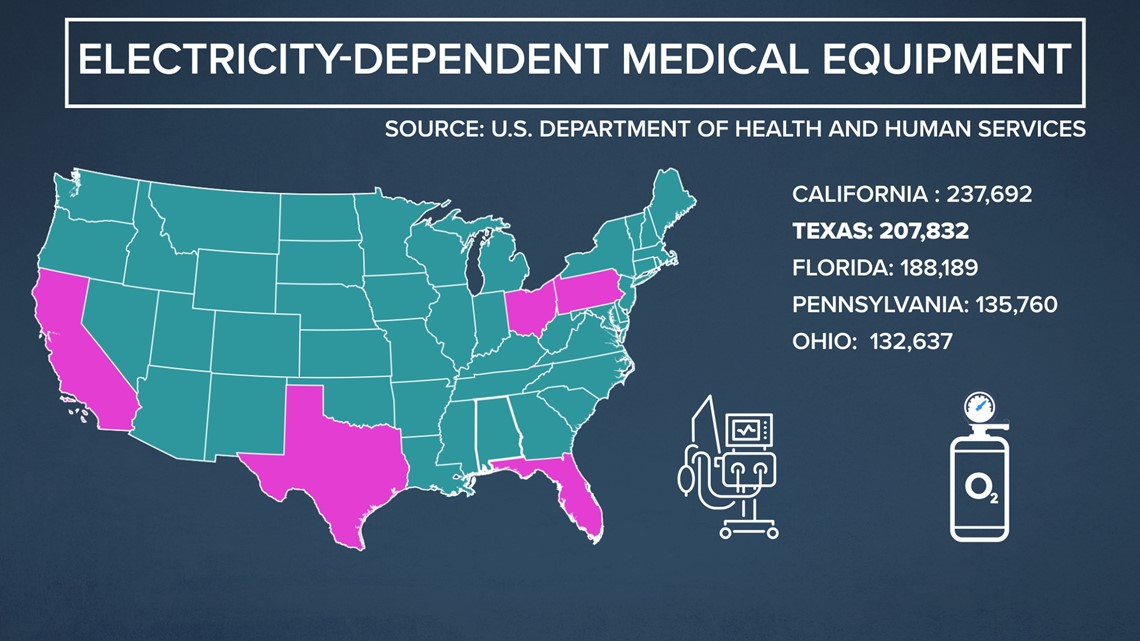 Harris County has the most power-dependent people in the state, and the fourth most in the country.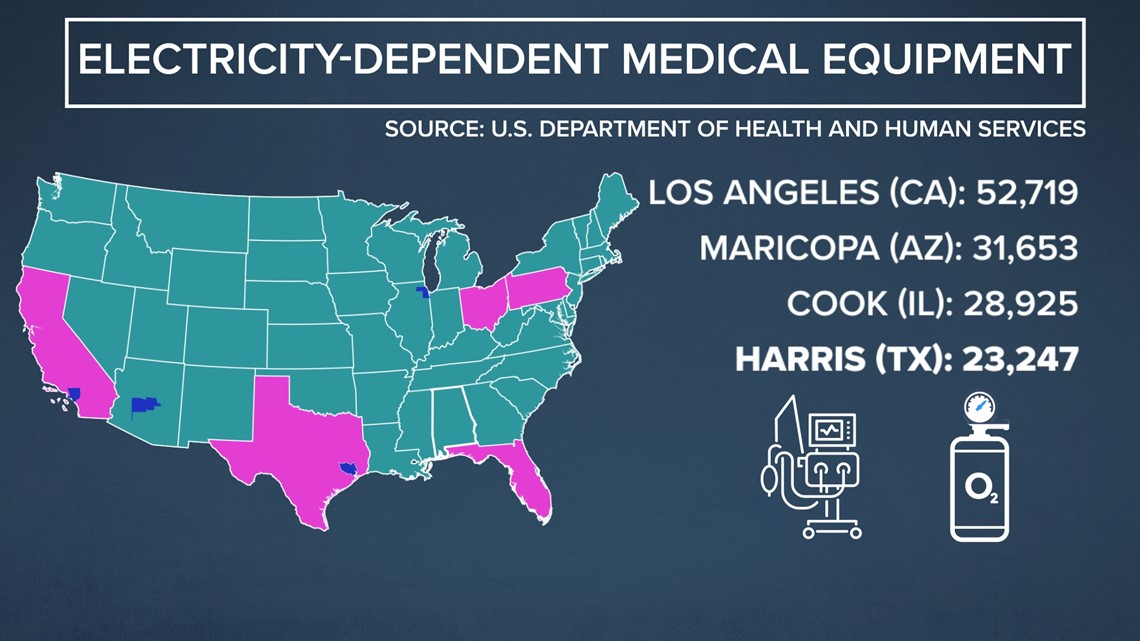 Pannell lives in Harris County.
"There are people who really need electricity. It's not just about air conditioning, or a refrigerator, they need it for their health and to survive," Pannell said.
KHOU also looked at which zip codes in Greater Houston to see where the most power-dependent people live. The 77573 zip code in League City, 77449 in Katy and 77379 in Spring-Klein all have about 500 as of June.
The Medicare data has been used during emergency outreach in some states to identify areas where prolonged power outages can be life threatening.
KHOU asked the Public Utility Commission of Texas if they use the data to decide where to restore power first, and they said that's up to utility providers.
Pannell gets his power from CenterPoint Energy.
CenterPoint Energy told KHOU it is not currently using Medicare data to identify the locations of customers who rely on electricity-dependent medical equipment.
"After a severe weather event, CenterPoint Energy crews begin restoring power to facilities vital to safety, health and welfare, such as hospitals, water treatment plants and public service facilities," a spokesperson said in a statement. "After key facilities, we follow our priority restoration process by making repairs to electrical facilities that will return power to the largest number of people first."
CenterPoint also encourages energy-dependent customers to apply for Critical Care Residential Customer Status with the Public Utility Commission of Texas. Parnell has done that in hopes of getting power restored faster when he loses electricity.
Once a customer has applied and been designated as critical care, their transmission and distribution utility tags the customer so that in the event of an emergency they will be aware of the customer's status and prioritize their restoration.
But neither program guarantees the lights will stay on. So, Pannell's doctor is also working on getting him oxygen storage tanks.
"I had to get it all over again, get a new prescription from my doctor for them to prescribe the tanks. I'll be able to use the tanks without electricity," Pannell said.
For Pannell, those can't arrive soon enough.
"It's not about, well, I want to feel better in my house, or I want to feel cool. I want to live," Pannell said.