HOUSTON — Harris County is still dealing with issues it faced during last November's election – late opening polls, ballot paper shortages and equipment failures -- but records newly released in April and May to KHOU 11 Investigates, shed some light on what went wrong.
The records come after months of fighting for their release, and they don't answer all questions like how many voters were turned away because of paper ballot shortages. They do reveal that in hindsight, the county concluded it undersupplied dozens of polling locations and its records and tracking systems were lacking.
The November election was the first major election that utilized paper ballots in Harris County. The county had some safeguards in place, including a real-time system to track the amount of ballot paper used, according to an "Allocations Methodology" report released as part of KHOU's records requests.
The system "was effectively unusable for (Election Day)," according to the "Allocations Methodology" report, authored by the Harris County Elections Administration a week after the election.
"For Election Day, the (system) runs at a fraction of its normal pace, due to an overloaded volume of queries being run and voter data being received. Therefore, real-time reporting … can become non-existing," the report reads. "Locations then rely solely on the initial allocation."
KHOU 11 Investigates examined that initial allocation for months, first reporting that dozens of poll locations started the day with less paper than voters.
An analysis released as part of KHOU's public records requests now shows that even more polling places may have started the day undersupplied, according to Harris County's own hypothetical analysis.
The analysis reads, "in a perfect world," polling places should have received 10% more ballot paper to account for "spoilage" or wasted paper from paper jams or a voter changing or abandoning their vote before scanning. The analysis shows that 157 voting locations should have started with more paper on Election Day.
Forty-seven of those locations received extra deliveries, according to a KHOU analysis of a delivery log spreadsheet and handwritten technician logs released by the county. Those logs don't include incidents where election workers got paper from other polling places, so it's unknown how many had an experience like Election Judge Cody McCubbin.
"I had to send (an election worker) to neighboring precincts that did have paper," McCubbin told KHOU the day after the election. "It basically became a game of survivor at that point."
McCubbin was the presiding judge at St. Mary's Episcopal Church last November. His location received a delivery, according to the log. KHOU 11 reviewed that log, but there was no timestamp to show when it was delivered.
Overall, of the 782 polling locations throughout the county, there are records of 97 locations receiving extra paper deliveries throughout the day, but the county admitted that some of its records are incomplete.
"There's not a ticket for every run as that was impossible to track with the amount of people/paper being delivered in a short amount of time," a public information officer for the Harris County Elections Administration told KHOU on May 11.
That county employee continued in an email on May 15: "Because of the rush of ballot paper during the 4 p.m. to 7 p.m. hour, we could not keep up with tickets … so they did not get entered into the sheet."
A chart in the county's "Allocation Methodology" report visualizes the spike in voting on Election Day at that time. The end-of-day rush was about 50% above the average for the day, according to the report.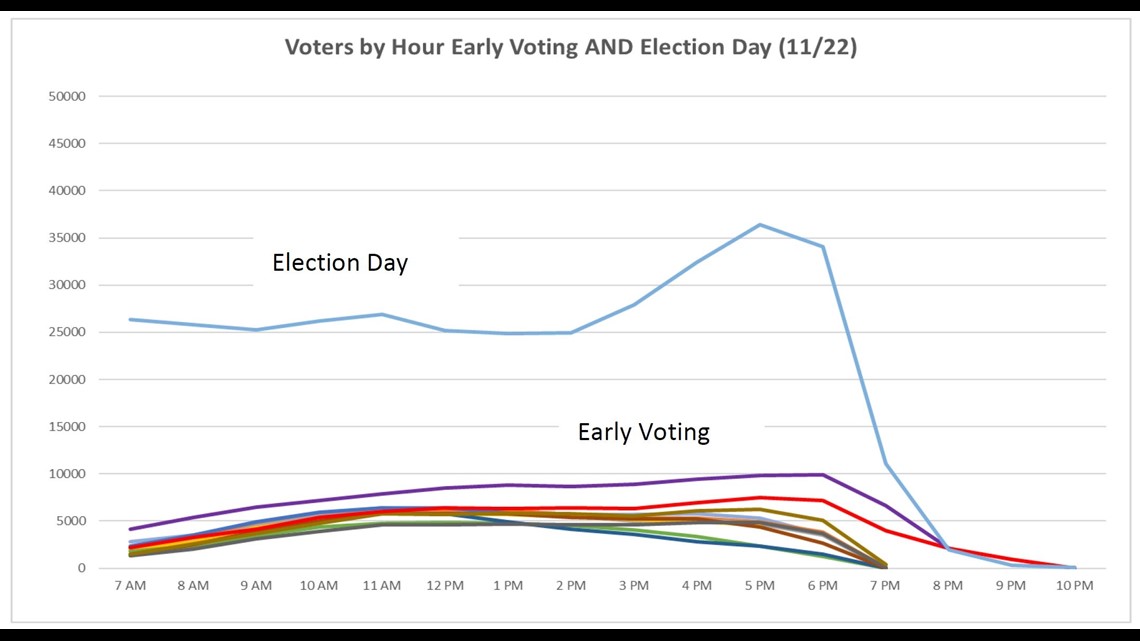 "The end-of-day rush is incredibly difficult to manage and troubleshoot with regards to ballot paper. A location can appear to be sufficiently supplied, for most of the day, and a last-minute rush can overwhelm it. It can become a logistical near-impossibility to make runs to locations which are overwhelmed by/after 5 p.m.," the report reads.
If most of the deliveries happened during that time is unknown. More than two-thirds of the deliveries listed in records released to KHOU don't include a timestamp. Some of the paper records are missing even more information. One technician hand-wrote that they arrived at 5:30 p.m. for more paper but wasn't dispatched out until 7:45 p.m. with eight boxes. By then there was, "no need at locations" and "some no access after 8:15," the tech wrote.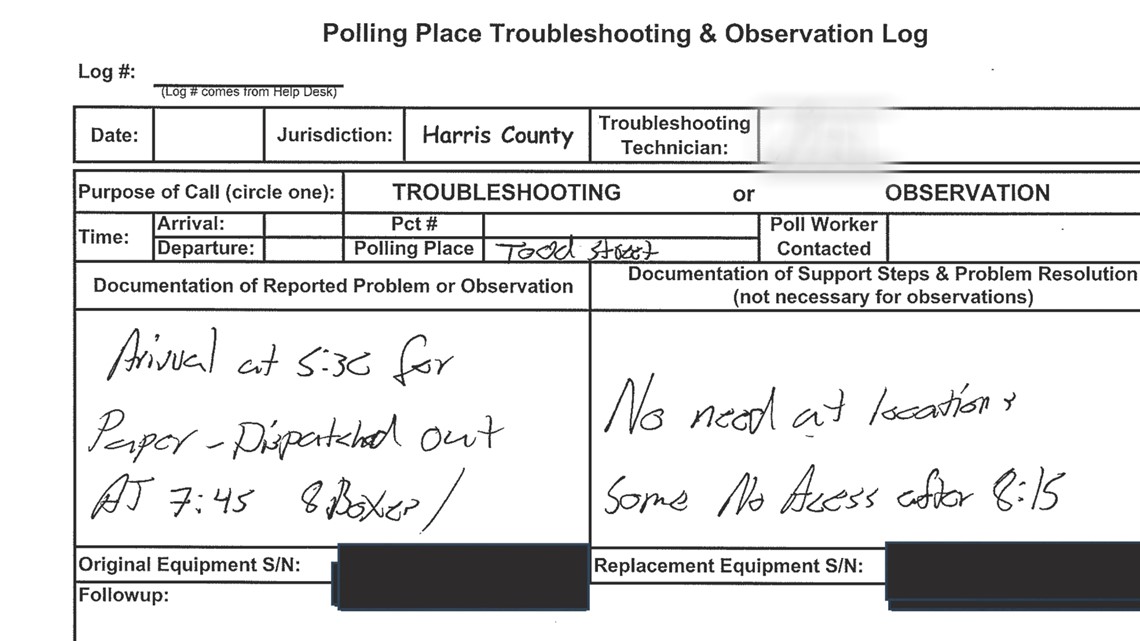 KHOU11 Investigates reached out to the Harris County Elections Administrator's Office to ask Administrator Clifford Tatum about all these issues, but his office declined an interview.
Instead, the county provided KHOU with a pair of news releases, one from April 17, that included an analysis of voter check-in times and concluded only 3% of voting centers experienced any gap in voting on Election Day. There's no way to know if those voters waited, left to vote elsewhere, or didn't vote at all.
Both news releases highlighted changes going forward and implemented during this month's joint elections. Tatum spoke about that last month in front of the Election Commission of Harris County.
"We are upgrading the election systems," he said on April 5, before discussing the upgrades.
Those include software updates, "improve ratios" of call center operators and field technicians, a digitized inventory system for paper and equipment, and a ticketing system to track calls and issues more efficiently.
"We're able to dispatch those tickets. We are able to see that ticket get closed and we're able to monitor the status of that ticket until it's closed," Tatum said during the April meeting.
KHOU11 Investigates will also continue to fight for more records. In October and November, eight public records requests for election information were filed by KHOU. Harris County asked the Texas Attorney General's Office to weigh in on the requests, and the state ruled they should be released. Instead, Harris County sued the AG and continued to withhold records.
KHOU intervened in that lawsuit to push for the release of all the records. In late April and early May, the county released six of those requests. Two have yet to be released -- emails and text messages from Tatum in the days before and after the election, and calls to the elections' security hotline before the election.