HOUSTON - Odds are you take your phone everywhere, and that means it's probably pretty dirty.
A gadget called PhoneSoap claims to zap the icky germs. It's a case that uses UV light to clean your phone. You plug it in, and the entire process takes a few minutes.
For this story, we went to a lab at Rice University. Biosciences professor Dr. Matt Bennett and graduate student Kathryn Beabout are in the lab helping us out.
"It's got a good selling point to it," Dr. Bennett explained. "Helping clean the world."
We collected three phones for this test.
One belongs to me, another to photojournalist Gregg Ramirez and the third phone is Jen Cobb's. She's the Executive Producer of Investigations at KHOU.
First, Kathryn swabbed all three of our phones before any cleaning.
"That one belongs to my manager," Tiffany explained. "So we're really going to need to find some funk on that phone."
Once we had those samples, it was time to run each phone through a cycle of PhoneSoap.
By now, Kathryn was fascinated.
"Yes, I am curious to see it will work or not," she said.
We placed a single phone inside, plugged it in and closed the top. A lightning bolt on the top changed colors when the cycle was complete.
You can also plug your phone in to charge at the same time.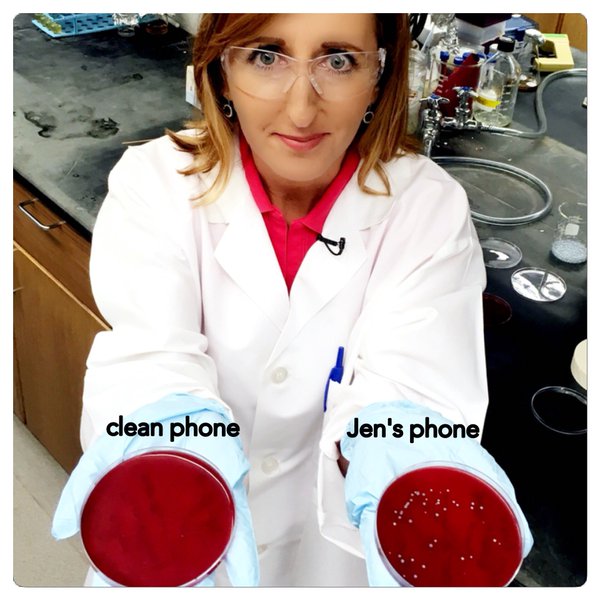 Dr. Bennett was confident that the device would work.
"UV radiation will break down DNA," he told us. "It's the same process that causes skin cancer, and so for bacteria, it will just kill it."
After using PhoneSoap on the three devices, we had six samples to leave overnight.
Kathryn placed them inside an incubator.
"They're going into this incubator at 37 degrees Celsius, which is the temperature of a human body," she said.
Then, we waited 24 hours to see what would grow on the test plates.
The next day, Kathryn pulled out the samples, and Jen's phone was the only one with visible bacteria and mold.
"You can hold that over your manager for a while," Dr. Bennett said, chuckling.
Next, Kathryn pulled out the samples after PhoneSoap was applied.
Guess what? The device worked!
"I don't see any colonies on any of these," she explained. "Looks pretty clean."
You'll still have to wipe off smudges and smears, but the product worked. A few minutes inside PhoneSoap, and there's no more fungus among us!
An online search shows PhoneSoap is available on numerous websites. We got ours from QVC for $39.98.
PhoneSoap passed along the following information about the product:
PhoneSoap Charger is the only cell phone charger that simultaneously sanitizes your phone.
Using UV- technology found in hospitals, PhoneSoap Charger has 2 powerful ultra-violet bulbs that kill household germs, salmonella, Staph, and E. Coli.
The PhoneSoap Charger is large enough to fit even the largest phones, the iPhone 6 Plus included.
The charger has a universal USB port, so you can charge any phone while the phone is being cleaned.
Anything that fits inside the device will be sanitized—credit cards, ear rings, money, etc.