HOUSTON — As former First Lady Barbara Bush continues to receive comfort care, the family has confirmed she has COPD and congestive heart failure. The COPD, or chronic obstructive pulmonary disease, is marked by chronic bronchitis and emphysema.
COPD causes long-term coughing, increased mucus and breathing difficulties as airways become inflamed and constricted. Once air supply is cut off, COPD symptoms often turn fatal.
Family spokesman Jim McGrath announced on Twitter Sunday that Mrs. Bush, 92, has made the decision to stop medical care after consulting with her family and friends:
"Following a recent series of hospitalizations, and after consulting her family and doctors, Mrs. Bush, now age 92, has decided not to seek additional medical treatment and will instead focus on comfort care.
Mrs. Bush has also been treated for decades for Graves' disease, which is a thyroid condition, had heart surgery in 2009 for a severe narrowing of her main heart valve and was hospitalized a year before that for surgery on a perforated ulcer.
Photos: Wedding of George H.W. Bush, Barbara Bush
Photos: Wedding of George H.W. Bush, Barbara Bush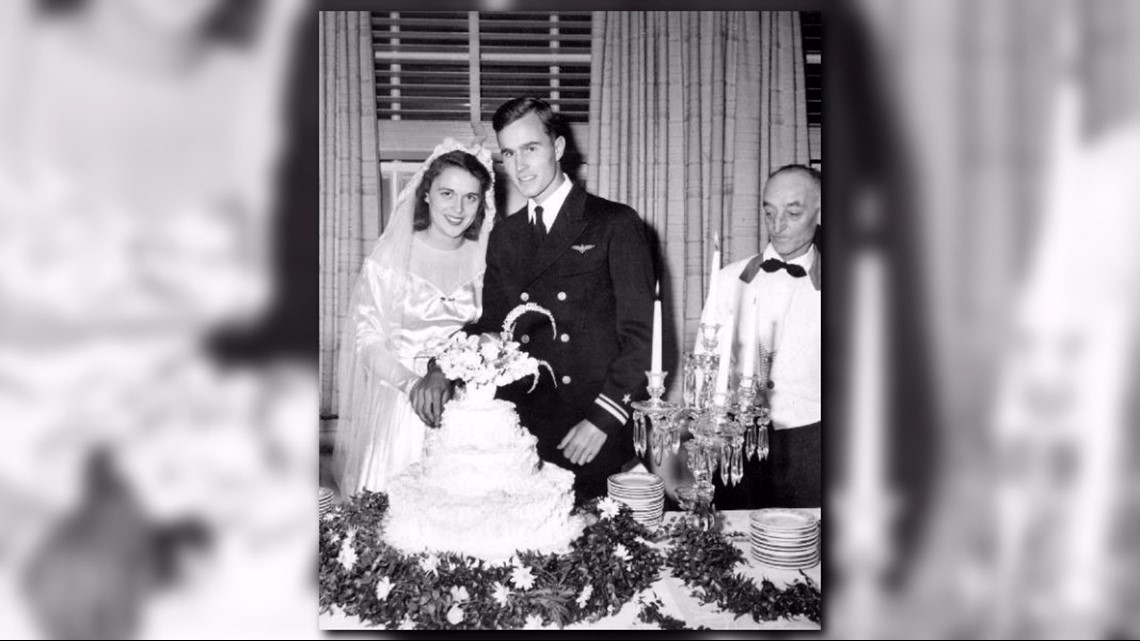 "It will not surprise those who know her that Barbara Bush has been a rock in the face of her failing health, worrying not for herself - thanks to her abiding faith - but for others," McGrath said. "She is surrounded by a family she adores, and appreciates the many kind messages and especially the prayers she is receiving."
McGrath said Mrs. Bush spent two days at Methodist Hospital earlier this month but decided not to return there when her health began to deteriorate.
RELATED: George and Barbara Bush, a love story for the ages
Husband George H.W. Bush is at her bedside and holding her hand, McGrath said.
Sons Neil and Marvin and daughter Doro are also by their mother's side at the Bush residence.
RELATED: Emotional Neil Bush talks about his mom's life and legacy
Neil told Great Day Houston's Deborah Duncan Monday that his mother is still able to enjoy one of her favorite past times: books.
"As my mom has become more and more frail – she's not able to walk anymore and take her dogs out and that kind of thing – we have quality time and we're sharing this quality time with other family members and friends that come by to read," Bush said.
Sons George and Jeb have also visited in the past week. McGrath said both are "calling constantly" for updates.
Photos: Bush family photos throughout the years
Photos: Bush family album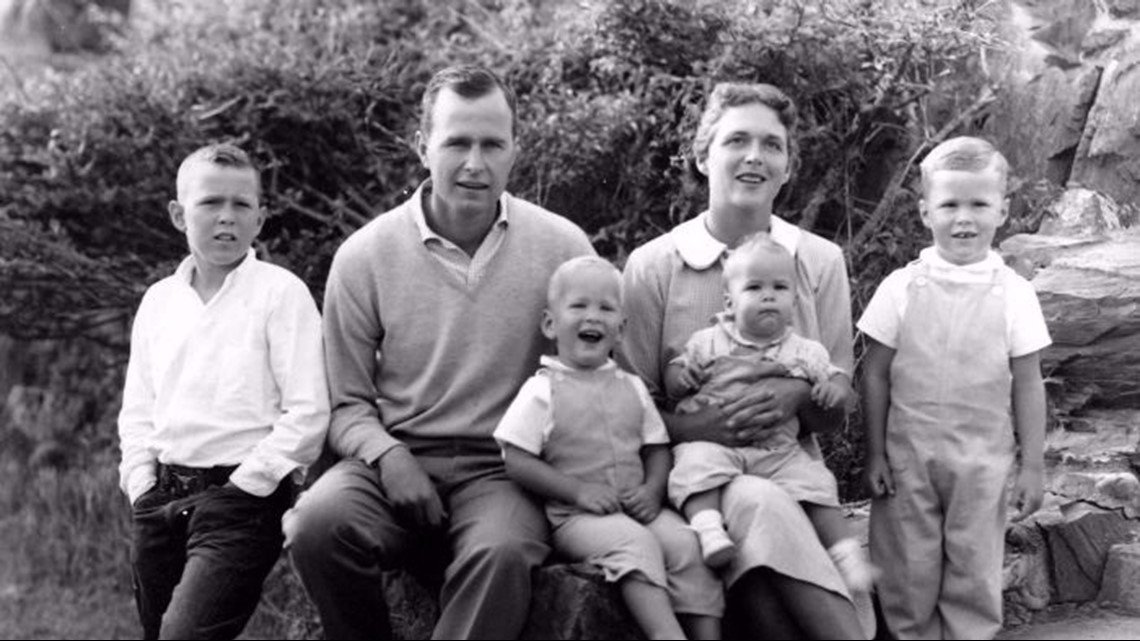 Mrs.Bush is one of only two first ladies who was also the mother of a president. The other was Abigail Adams, wife of John Adams, the nation's second president, and mother of John Quincy Adams, the sixth president.
Husband George, the nation's 41st president, is now 93 years old and struggling with a Parkinson's-like disease that forces him to use a wheelchair and makes it difficult for him to speak. But he has been well enough to make recent public appearances,including RodeoHouston.
George W. Bush, now 71 and the nation's 43rd president, served from 2001-09 and retired to Dallas.
RELATED: Social media reacts to news of Barbara Bush's 'failing health'
Throughout a long life in the public eye, Bush was a fierce advocate for her husband and sons, including former Florida governor and presidential candidate Jeb Bush.
Earlier this year, the former first lady wrote about her husband in a note for the spring edition of Smith College's alumnae magazine.
"I am still old and still in love with the man I married 72 years ago," she wrote in the life updates section for the magazine.
Photos: The Bushes in recent years
Photos: The Bushes in recent years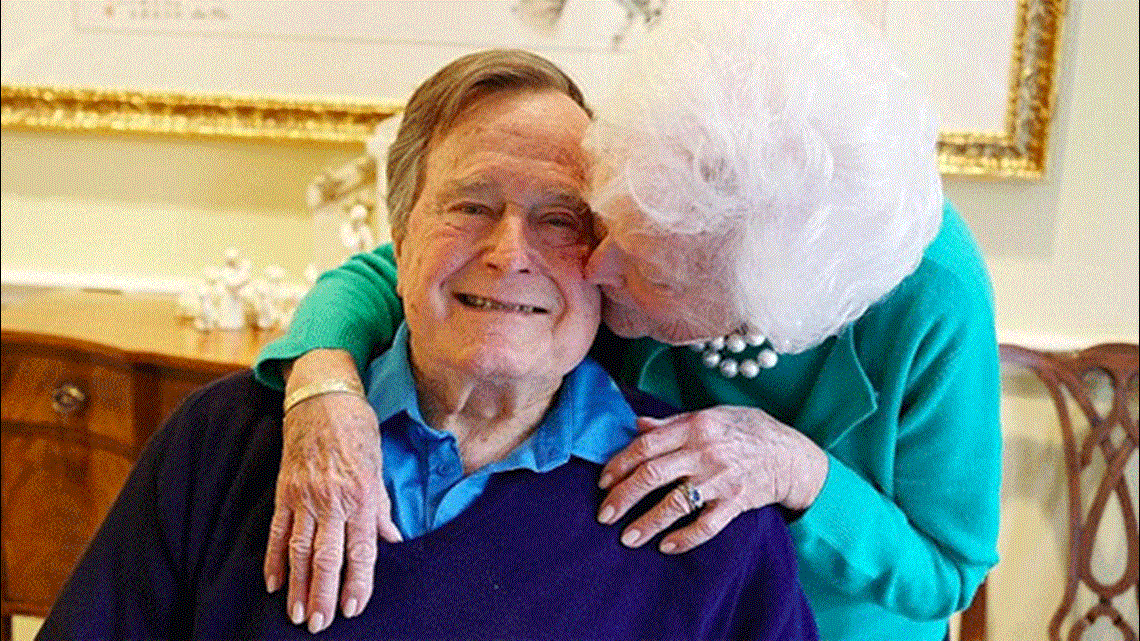 Bush also revealed her secret for a long life: good doctors and a great husband.
"I have had great medical care and more operations than you would believe," she told the magazine. "I'm not sure God will recognize me; I have so many new body parts!"
She continued: "Also, George Bush has given me the world. He is the best — thoughtful and loving."
Photos: First Lady Barbara Bush through the years
Photos: First Lady Barbara Bush through the years