There have been just 40 face transplants in the world. Katie Stubblefield, the youngest patient in the United States, was number 39.
The journey began on March 25, 2014. A then 18-year-old Katie reached a low point and tried to end her life with a rifle. She survived the attempt and a month later arrived at Cleveland Clinic with hope of becoming the facility's third face transplant recipient.
It took two years before Katie was placed on the waiting list as a transplant candidate. During that time, she went through an intense evaluation process. Because Cleveland Clinic has successfully performed face transplants, dozens of hopeful patients request to be evaluated. But it's very rare for one to be chosen.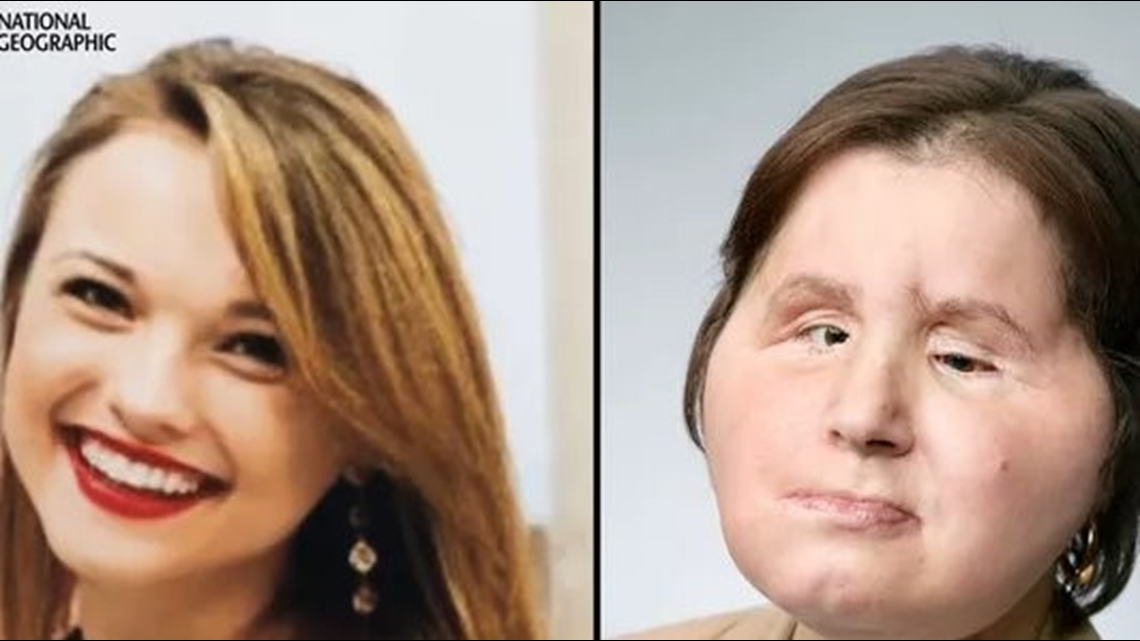 "Really there's only a few that are not only from an anatomic standpoint but also a physical, physiologic and psychologic stand point and Katie met all of those," said Dr. Brian Gastman, Cleveland Clinic plastic surgeon and lead surgeon on Katie's case.
As a suicide survivor, how did Katie pass the psychological evaluation?
"She was so young when this happened, it was a rash singular decision she made, it did not look like a chronic depression," Dr. Gastman said, adding that the psych evaluation was quite intense.
Katie's parents, Alesia and Robb, left their home in Mississippi and everything they knew behind and came to Cleveland to be with their daughter. Initially a friend of the family allowed them to stay in a small apartment in Cleveland Heights, but on August 17th, the family moved into Ronald McDonald House across the street from the Clinic. It would be their home for the next four years and they would become the longest residents ever at the facility.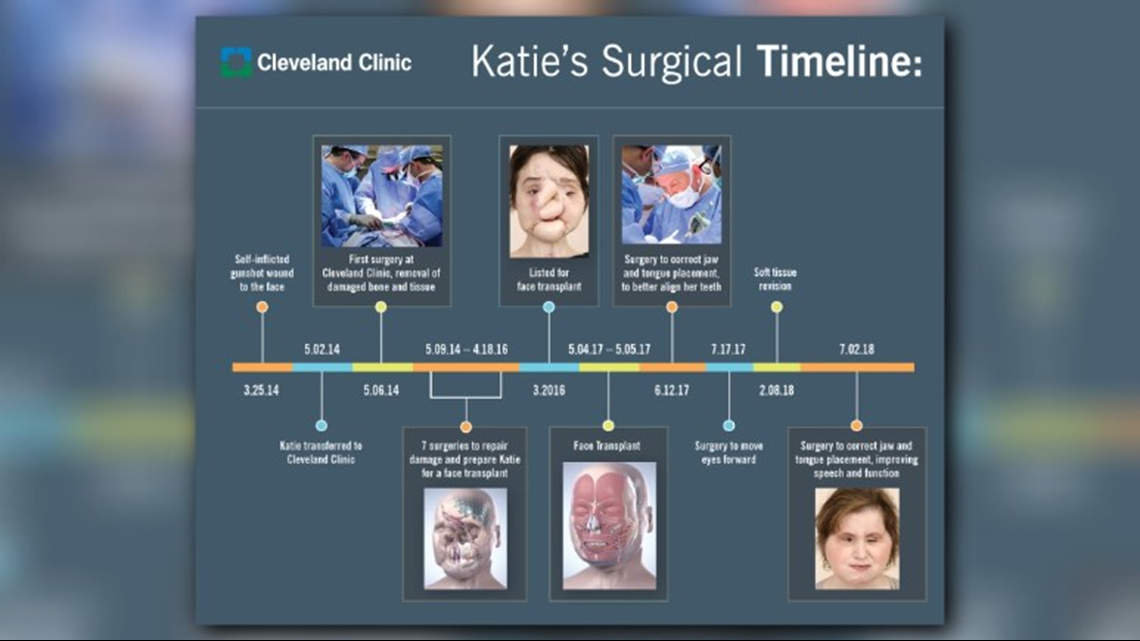 "We would never have been able to make it thru this journey without these guys," Robb Stubblefield says about RMH. But that same sentence can encompass countless of people they've met along the way who've helped them through Katie's journey.
It took fourteen months for a donor to be found that fit the criteria for Katie's needs. In that time, she underwent several surgeries to prepare her face for transplant.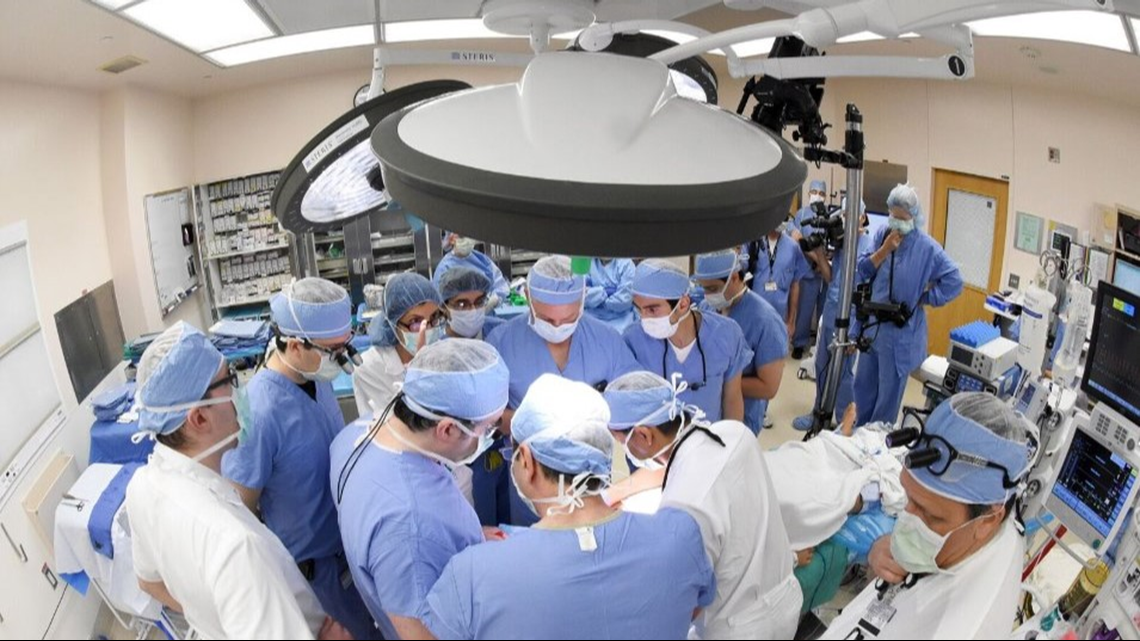 The face was from an organ donor named Adrea Schneider. She was 31 and died from a drug overdose.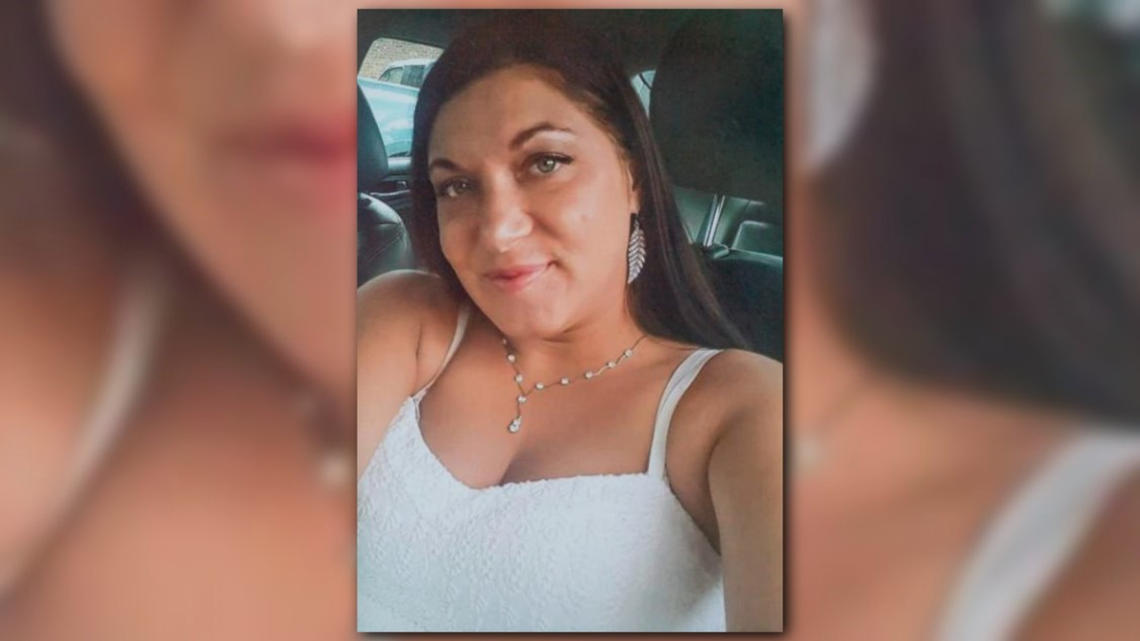 Adrea's grandmother agreed to allow the face to be donated to Katie. They have since met, face to face, but Katie does not resemble Adrea at all.
"Katie is here today because someone gave so unselfishly," said Alesia Stubblefield, Katie's mother.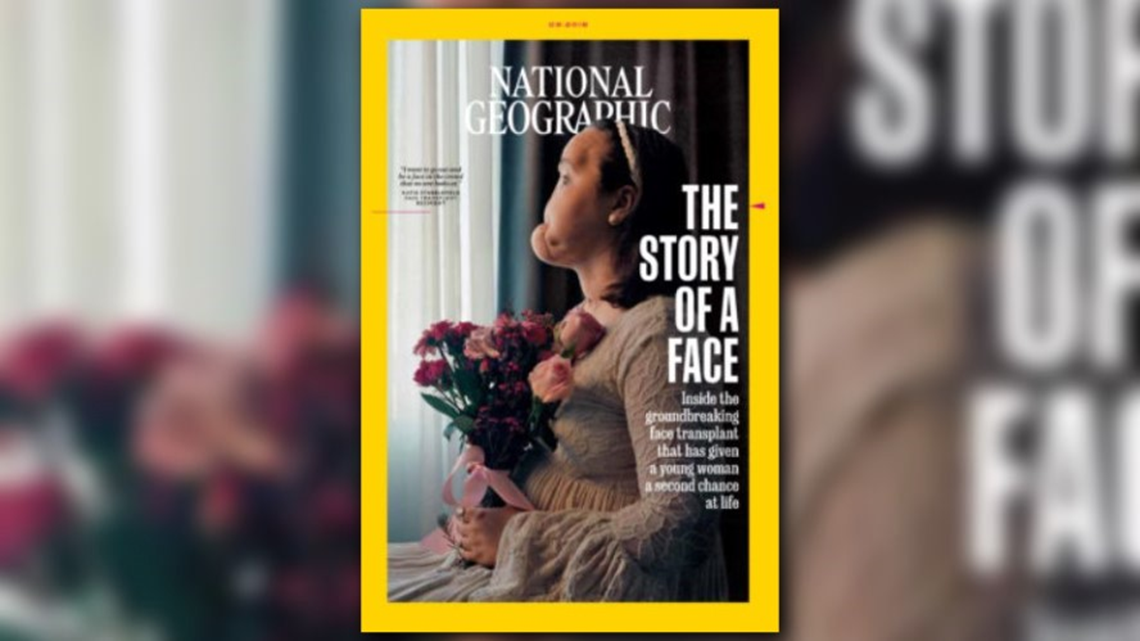 They hope to educate people on a variety of issues. The science of face transplant, the need for organ donors and Katie hopes to counsel kids about suicide someday. She plans to go to college and she's studying braille in between rehabilitation appointments.
The surgery took her vision, which doctors hope may return naturally. She'll also soon receive a prosthetic palate that will help with her speech which currently is difficult to understand. But Katie is young enough to benefit from emerging medical science.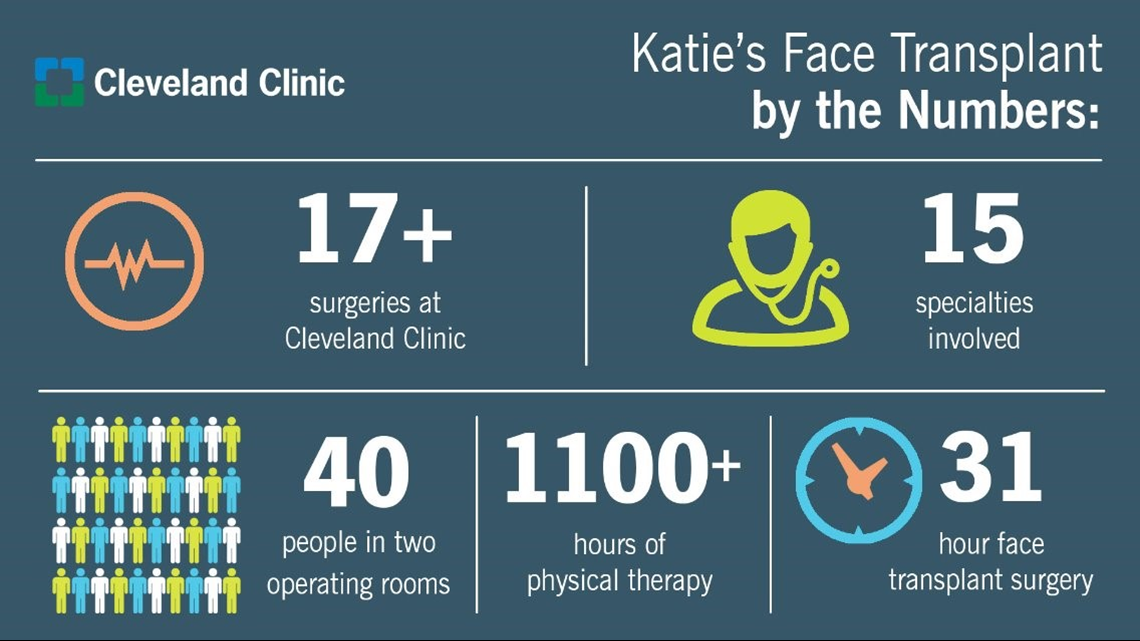 "We know that eye transplantation maybe a thing of the future, tongue transplantation and using fewer immunosuppression drugs are a reality of our future," Dr. Gastman said.
Face transplants are still considered experimental. That's why Katie's surgery was funded by the Department of Defense. Her age and injury gave researchers valuable information that may one day help soldiers on the battlefield.
She's also a role model for survival.
"She exhibits the strength of a person of faith and the strength of a person with a strong human spirit because without either of those she wouldn't be here," Robb said.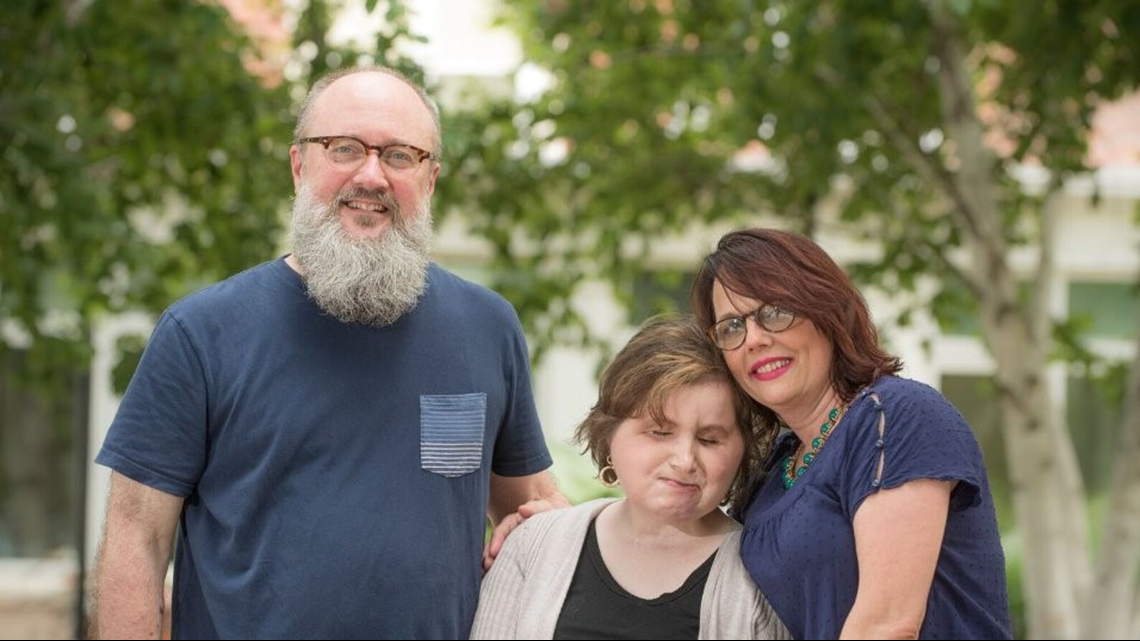 "We're so grateful because Katie is a fighter and she has much to give and I think she'll make a difference in a lot of people's lives," Alesia said.
Katie still has surgeries ahead of her. But she's planning on going to college and eventually wants to be a motivational speaker. What would she say to her younger self?
"Whatever you're going through, trust me it is temporary. Things will get better."
The Stubblefield's are hoping to get on their feet independently so they can soon leave RMH. They plan to remain in Cleveland. If you're interested in helping them you can donate by clicking here.
Frequently asked questions about Cleveland's Ronald McDonald House
The Cleveland Ronald McDonald House is a family oasis in the midst of a medical mecca. Here's the answers to some FAQ:
Who can stay at the Ronald McDonald House® of Cleveland?
Any family whose child (21 years of age or younger) and is receiving active medical treatment in the Cleveland area is welcome to request a room at our House. In addition to parents and patients, we also welcome siblings, grandparents, relatives, and friends – anyone whom the patient needs around them to help in the healing process.
All patients (regardless of age) staying at the House must be accompanied by another adult, guardian or caregiver over the age of 18. Effective May 1, 2016, all adults (18 years or older) are required to pass a criminal background check before being allowed to stay at RMH. See our website for further information about eligibility.
How long do families stay at the Ronald McDonald House of Cleveland?
Families stay as little as one night (for a follow-up appointment or testing) or sometimes months. Families are asked to check out by 3 pm on the day following their last appointment or discharge. The average length of stay in 2017 was 15 nights.
How much does it cost to stay at RMH?
There are no income requirements to stay. The Ronald McDonald House of Cleveland requests a donation of $20 per night per family to help offset the actual cost of $80 per night. If this presents a hardship for the family, it may be reduced or deferred. No family has ever been, or will ever be, turned away due to inability to pay.
How is Ronald McDonald House of Cleveland funded?
Ronald McDonald House of Cleveland is operated with funds raised through donations made by individuals, organizations, and corporations in the communities we serve. The House is not owned or operated by McDonald's or any medical institution in Northeast Ohio.
How can I support the Ronald McDonald House of Cleveland?
By donating and volunteering. They could not operate without generous donations from our community. Click here to donate.
How big is the Ronald McDonald House?
The Ronald McDonald House can accommodate up to 55 families each night in private suites. The House also includes a fully operational kitchen, laundry facilities, recreation room, resource center with computer access (and wireless internet access throughout the House), secured parking, and 2.5 acres of gardens and green space.
What is in the guest room?
All guest rooms have private bathrooms. Most are furnished with two double beds, but some have different configurations. Linens are provided, but guests are responsible for their own laundry and cleaning their own room. Folding beds and cribs are available on a limited basis. Some handicapped-accessible rooms are available.
Are meals provided?
Nearly every night of the year a volunteer group provides dinner for the families staying at the Ronald McDonald House. Occasionally, volunteers will also provide lunch or breakfast. Families are also welcome to prepare their own meals in the kitchen. Donated foods (cereal, soup, pastries, pasta, etc.) are available for families to use.
Is there hospital transportation?
Families whose children are receiving treatment at the Cleveland Clinic's Main Campus or at University Hospitals Rainbow Babies & Children's have free, daily shuttle access to either hospital from RMH. An arrangement for transportation vouchers has been established with MetroHealth Medical Center.
2017 Overall Impact
At the Ronald McDonald House
4146 guests
17 countries, 37 states and 63 counties
45% Ohio, 4% International
15-night average stay
$20/night requested donation, $11.31 average collected, 55% unable to pay
Locations: Cleveland Clinic Children's, Cleveland Clinic Fairview Hospital, MetroHealth Medical Center, University Hospitals Rainbow Babies & Children's
70,936 individual visits
8525 Happy Wheels (Hospitality Cart) servings
5603 gifts distributed
202 meals served
135 overnight families (Oct. – Dec.) at Cleveland Clinic Fairview Hospital
Total Number of Individuals Served: 109,388
Volunteers are the Heart of the House:
324 individual volunteers donated 33,933 hours of time, valuing $819,143
854 volunteer groups contributed meals, activities and chores
Adrea's Gift of Life
In addition to Katie's face, Adrea saved the lives of seven people as she was able to donate:
Liver
Heart
Both lungs (to different people)
Both kidneys (to different people)
Her corneas were also donated and will restore sight to two others
She also donated her uterus, for research.
It's important to know those who register as donors are not providing consent for their face to be given, only their internal organs and other tissues. Adrea's grandmother was approached by one of Lifebanc's family support liaisons about the opportunity to help Katie, which ultimately led to the success of this story.
As of now, there are 2,880 people in Ohio waiting for a life-saving organ. Over half of these people are in Northeast Ohio. Unfortunately, 76 people in Ohio have died just this year because of our nation's organ shortage. One organ donor has the potential to save 8 lives. To register, click here.