The weapon used to kill so many innocent victims in the country's many mass shootings has been the same: the AR-15.
The semi-automatic rifle is what authorities say Nikolas Cruz, 19, used during Wednesday's premeditated killing spree in Parkland, Florida.
The weapon has been used by killers in many recent mass shootings including Aurora, Orlando, Las Vegas, Sandy Hook, San Bernardino, Sutherland Springs and so many more.
The National Rifle Association has called the AR-15 — the semi-automatic, civilian version of the military's M-16 — the "most popular rifle in America" and estimates Americans own more than 8 million of them.
The NRA said "the AR-15 has soared in popularity" because it's "customizable, adaptable, reliable and accurate." It is also versatile and can be used for "sport shooting, hunting and self-defense situations," the NRA said, adding the ability to "personalize" so many of the rifle's components "is one of the things that makes it so unique."
PHOTOS: Deadly Florida high school shooting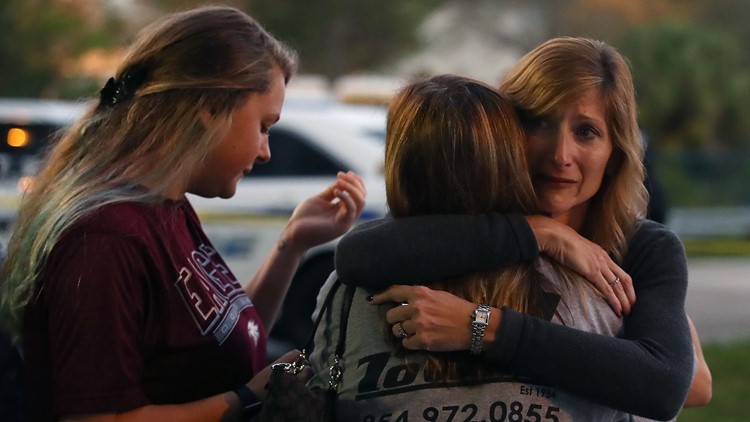 On top of that, the weapon is accurate, relatively lightweight and has low recoil.
Rifle instructors and a local gun-control advocate may not agree on how to solve the problem, but they both agree the type of gun used is not the heart of the issue.
""OK, so we say we're going to get rid of all the AR-15s, any gun that looks like this we're going to take off the tables," said Hot Wells Shooting Range senior instructor Donovan Lamar. "That's not stopping the problem. There are other guns that do the exact same thing, it just doesn't look this way."
Lamar says the capacity and capabilities of the AR-15 can be found in other commercially available rifles. He says the attraction to the weapon is its looks.
"I can pull out a shotgun, a lever action, pistols; they go, 'Oh, that's cool,'" Lamar said. "Then I pull out an AR, and they go, 'Whoa!' And again, I try to explain to them, it does the same thing those other guns do that just don't have that tactical look that people look for."
A volunteer with Texas' chapter of Mother's Demand Action, a gun-control advocacy group agrees. She says stricter laws for purchasing firearms should be the focus of the attention.
"The specific type of gun is not as important as how easy it is for these guns to fall into the wrong hands," said Mother's Demand Action volunteer Alexandra Chasse. "Dangerous individuals, individuals who have red flags for example, individuals who are psychologically ill, who are trying to obtain a firearm through a private sale to avoid a background check. That is where we need to be focusing, not just on the violence perpetrated by these high capacity firearms."
Here is a list of mass shootings in the U.S. that featured AR-15-style rifles during the last 35 years, courtesy of the Stanford Geospatial Center and Stanford Libraries and USA TODAY research:
Feb. 24, 1984: Tyrone Mitchell, 28, used an AR-15, a Stoeger 12-gauge shotgun and a Winchester 12-gauge shotgun to kill two and wound 12 at 49th Street Elementary School in Los Angeles before killing himself.
Oct. 7, 2007: Tyler Peterson, 20, used an AR-15 to kill six and injure one at an apartment in Crandon, Wis., before killing himself.
June 20, 2012: James Eagan Holmes, 24, used an AR-15-style .223-caliber Smith and Wesson rifle with a 100-round magazine, a 12-gauge Remington shotgun and two .40-caliber Glock semi-automatic pistols to kill 12 and injure 58 at a movie theater in Aurora, Colo.
Dec. 14, 2012: Adam Lanza, 20, used an AR-15-style rifle, a .223-caliber Bushmaster, to kill 27 people — his mother, 20 students and six teachers — in Newtown, Conn., before killing himself.
June 7, 2013: John Zawahri, 23, used an AR-15-style .223-caliber rifle and a .44-caliber Remington revolver to kill five and injure three at a home in Santa Monica, Calif., before he was killed.
March 19, 2015: Justin Fowler, 24, used an AR-15 to kill one and injure two on a street in Little Water, N.M., before he was killed.
May 31, 2015: Jeffrey Scott Pitts, 36, used an AR-15 and .45-caliber handgun to kill two and injure two at a store in Conyers, Ga., before he was killed.
Oct. 31, 2015: Noah Jacob Harpham, 33, used an AR-15, a .357-caliber revolver and a 9mm semi-automatic pistol to kill three on a street in Colorado Springs, Colo., before he was killed.
Dec. 2, 2015: Syed Rizwyan Farook and Tashfeen Malik, 28 and 27, used two AR-15-style, .223-caliber Remington rifles and two 9 mm handguns to kill 14 and injure 21 at his workplace in San Bernardino, Calif., before they were killed.
June 12, 2016: Omar Mateen, 29, used an AR-15 style rifle (a Sig Sauer MCX), and a 9mm Glock semi-automatic pistol to kill 49 people and injure 50 at an Orlando nightclub before he was killed.
Oct. 1, 2017: Stephen Paddock, 64, used a stockpile of guns including an AR-15 to kill 58 people and injure hundreds at a music festival in Las Vegas before he killed himself.
Nov. 5, 2017: Devin Kelley, 26, used an AR-15 style Ruger rifle to kill 26 people at a church in Sutherland Springs, Texas, before he was killed.
Feb. 14, 2018: Police say Nikolas Cruz, 19, used an AR-15-style rifle to kill at least 17 people at Marjory Stoneman Douglas High School in Parkland, Fla.
USA Today contributed to this report.