Denver-based modern American steakhouse Guard and Grace has signed a lease in Brookfield Properties' One Allen Center, a downtown Houston tower currently undergoing a multimillion-dollar transformation.
It will be the first venture outside of Denver for chef and owner Troy Guard's TAG Restaurant Group.
Brookfield Properties was represented in the lease by Nick Hernandez, Crystal Allen and Chace Henke of Transwestern's Houston Retail Services Group. Guard represented TAG Restaurant Group.
Click through the slideshow to see where Guard and Grace will open in Houston — along with photos of the restaurant's original location in Denver and some of its food.
Photos: Guard and Grace coming to downtown's Allen Center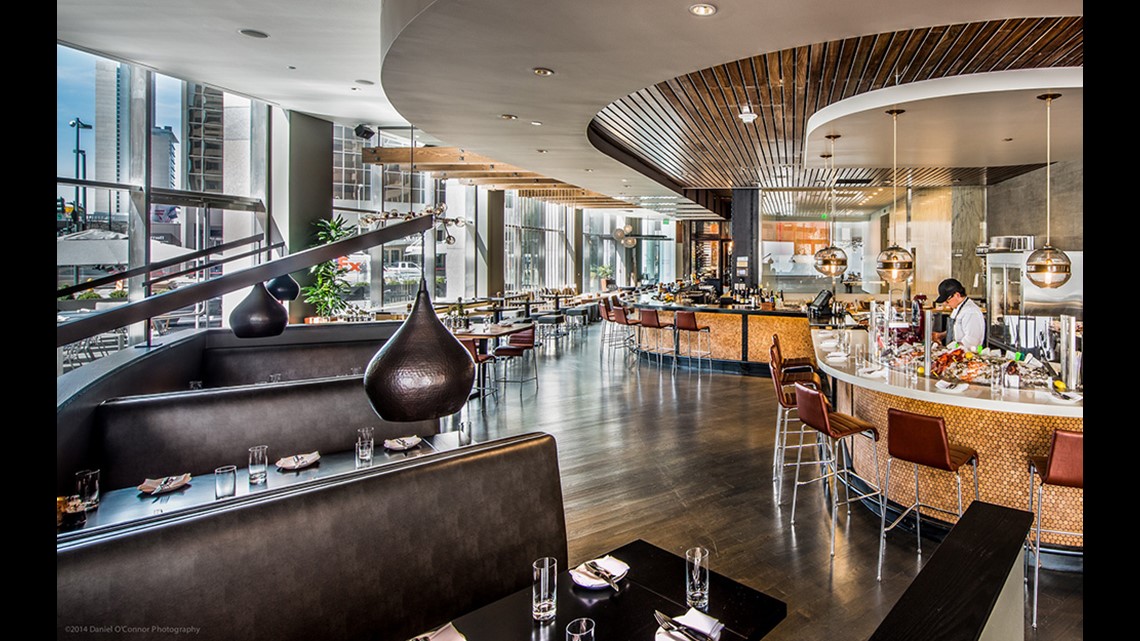 Guard and Grace is expected to open in its 13,000-square-foot bi-level space in One Allen Center next summer, according to a press release. It will be in the tower's new "glass box" and will offer a full bar, multiple private dining rooms and two outdoor seated patios where guests can dine on greenspace, per the release.
"We chose to bring Guard and Grace to Houston because, similarly to Denver when we opened the first location, the city has this passion and energy that's just contagious — we're really excited to become a part of that," Guard said in the release.
The concept, which opened in Denver in 2014, was named the top steakhouse in Colorado, according to Thrillist. The steakhouse's website calls it "Guard's most ambitious restaurant to date." It's described as "a take on the big, fancy, modern steakhouse – miles and miles of fiery grills and charcuterie, oyster bar and bar tops, private rooms, and a posh, walk-in, floor-to-high-ceiling glassed wine cellar" but with a "bright, airy playfulness."
In Denver, Guard and Grace occupies 9,000 square feet in another building owned by Brookfield.
"The decision to bring Guard and Grace to Allen Center speaks to the unprecedented growth and change seen on this side of downtown and at Allen Center, and perfectly aligns with Brookfield's focus on placemaking," Travis Overall, executive vice president and head of the Texas region for Brookfield Properties, said in the release.
Brookfield announced the $48.5 million renovation of downtown Houston's Allen Center in 2016. At the time, plans called for a white-tablecloth restaurant overlooking the central lawn and offering outdoor dining. The restaurant is part of One Allen Center's new two-story, clear glass façade facing Dallas and Smith streets and extending to the south side of the building. The new façade also includes One Allen Center's redesigned lobby, the "symbolic front door for the center."
The new lobby was revealed in October, along with "The Acre," an outdoor lawn space that can accommodate roughly 1,500 visitors at Allen Center.
Dallas-based Morrison Dilworth + Walls was tasked with designing the Allen Center transformation, and the landscape architect is Houston-based The Office of James Burnett. Houston-based D.E. Harvey Builders is the general contractor.
To read more about Guard and Grace coming to downtown Houston, click here.