BAYTOWN, Texas — We're getting the first look at the EF3 tornado as it passed through Baytown, Deer Park and the Houston Ship Channel.
KHOU 11 meteorologists David Paul and Tim Pandajis tracked it as it moved through the southeast and east sides of town.
The National Weather Service said the "large and extremely dangerous tornado" caused "catastrophic damage" along its path.
Survey teams observed a near-continuous path of damage that extended through Pasadena, Deer Park and Baytown.
Most of the damage along the 18-mile path was rated EF0 and EF1. It peaked at an EF3 northeast of Deer Park just before crossing the Houston Ship Channel. The tornado then lifted northwest of Baytown around 2:50 p.m. Tuesday.
A viewer in Baytown shared a video he took from his neighborhood as he watched the tornado pass through.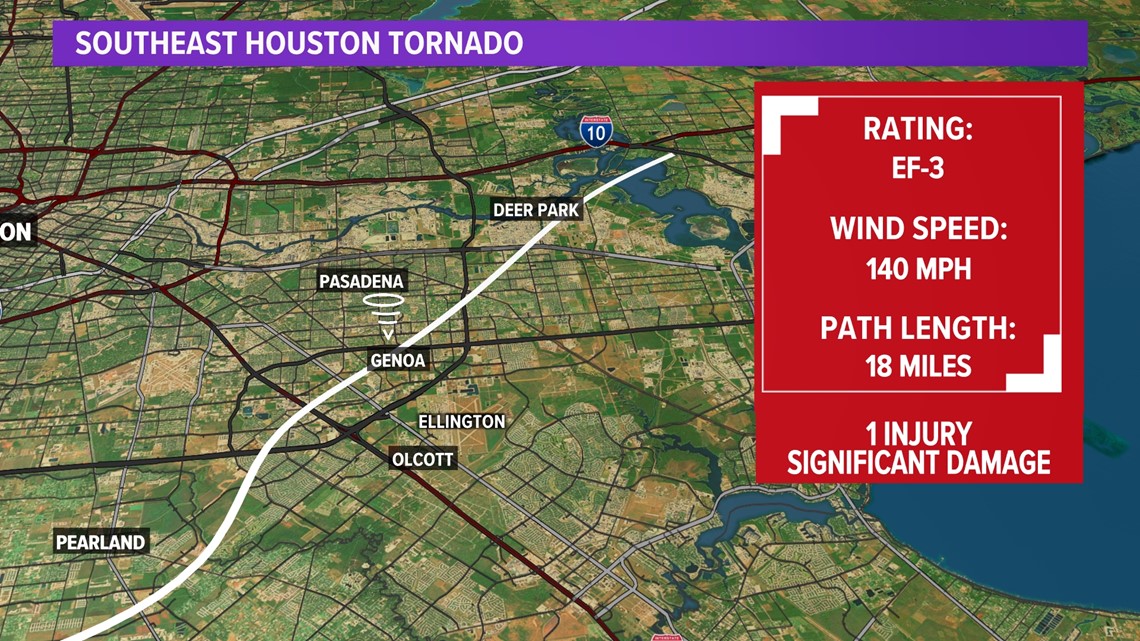 At this point, the video shows a wide darkening wall cloud and a narrowing condensation funnel where the spiraling motion of the supercell storm worked its way to the ground. Though we cannot see the point of contact to the ground, we can clearly make out the rotating downdraft. We're able to see the cloud twisting to the ground as a strong tornado because, at this point, it has picked up dust and debris that, like paint to the paintbrush, illuminates the motion of the storm.
Non-tornadic thunderstorm motion is horizontal, but when the column of rotating air gets pushed up by twisting wind, it flips to the vertical and marches to the ground. The vortex gets stretched out as it descends and in doing so becomes more narrow and more concentrated.
As the National Weather Service damage assessment teams identified, the maximum sustained winds of this powerful tornado reached 140 mph. Simply by looking at this video, aloft we can gauge the spin and magnitude of the strong-end tornado that would come to cause extensive damage.