HOUSTON — The National Weather Service confirms that some of the damage from Sunday's storms was caused by a tornado. The EF-1 tornado touched down in Pasadena.
EF-1 is the second-weakest tornado, according to the enhanced Fujita Scale. It had winds between 86 and 110 miles per hour.
It was part of a line of severe storms that moved through the Houston area bringing with it strong wind and heavy rain. We've seen plenty of damage from around the area, including downed power lines, tree limbs down and trampolines picked up and thrown by the wind.
Tornado warnings and Severe Thunderstorm Warnings were issued for many counties across the Houston area.
And as for power, around 6 a.m. Monday, there were 7,310 customers without it, according to Centerpoint.
Power is still out at South Houston High School due to damaged power lines at the corner of Edgebrook and Shaver. All other Pasadena ISD campuses will be open as usual on Monday.
LIGHTNING SCARE IN DAYTON
During the storm, we got reports of a young girl being struck by lightning. We contacted the Liberty County Sheriff's Office, who first confirmed it and then later clarified to us that the girl was near a well that was struck, and it pushed her back. The girl and her mother refused medial care.
Meanwhile, also in Liberty County, we saw videos and photos of what the storm did, including this clip of a trampoline crossing the street!
Tornado touches down in Pasadena
The National Weather Service confirmed the EF-1 tornado that touched down in the Pasadena area. We're not certain if the damage in this photo, which was taken in Pasadena, was from the tornado, but we did find damage to a wall and downed power lines there.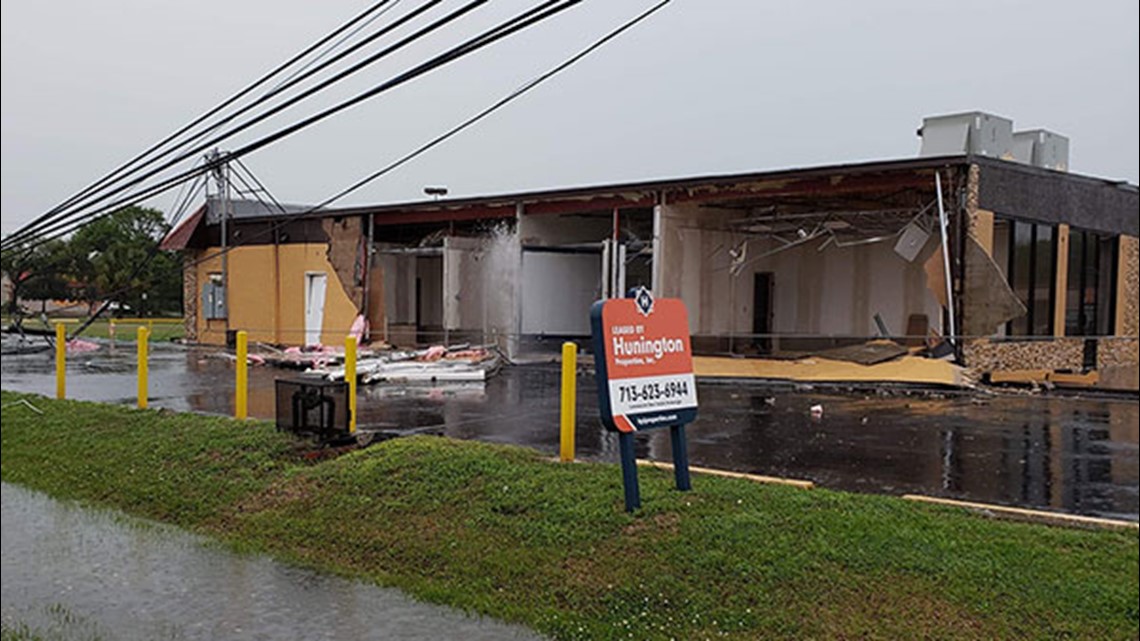 TIME LAPSE OF STORMS ACROSS TEXAS
From flooding to wind damage to tornadoes, it was a wild weather weekend across Texas. The National Weather Service posted a time lapse of storms from early Saturday to Sunday afternoon.
FLIGHTS DELAYED OR CANCELED BY STORMS
The storms had Houston's airports at a complete stop Sunday. They've resumed flights, but some have been canceled and others have been delayed. Your best bet -- check with your carrier before heading to the airport.
POWER LINES DOWN ACROSS EASTEX FREEWAY
As the storm blew through, it knocked a power line down nearly all the way across the Eastex Freeway northbound at Polk. The downed lines caused major delays.
RAINING INSIDE MINUTE MAID PARK
The roof at Minute Maid couldn't keep the rain out on Sunday during the Astros-Athletics game. We saw several videos online showing the rain was making it through. The rainbow at the end of this one, though, was that the Astros won again, sweeping the A's!
The winds caused fences to come down in some neighborhoods. KHOU Assistant News Director Josh Hubbard captured a trampoline in a tree in his Lake Houston neighborhood.
Photos | Sunday's thunderstorms leaves behind a big mess
With the storm system out of the way, we should see a beautiful week ahead.