Nicholas is now a Category 1 hurricane as it approaches the Texas coast. Watches and warnings are in effect all across the Houston area as the threat of heavy rain continues late Today and through Tuesday.
With the 10 p.m. update, Nicholas has maximum sustained winds near 75 mph. The center of Nicholas is expected to make landfall along the Texas coast in a few hours, move over extreme southeastern Texas on Tuesday and early Wednesday, and over southwestern Louisiana later on Wednesday.
Forecast cone and timing for Hurricane Nicholas
The latest forecast cone, which you can see below, shows the storm will come ashore near Matagorda by late Monday. By late Monday night, the Houston area could get wind gusts in excess of 40-50 mph.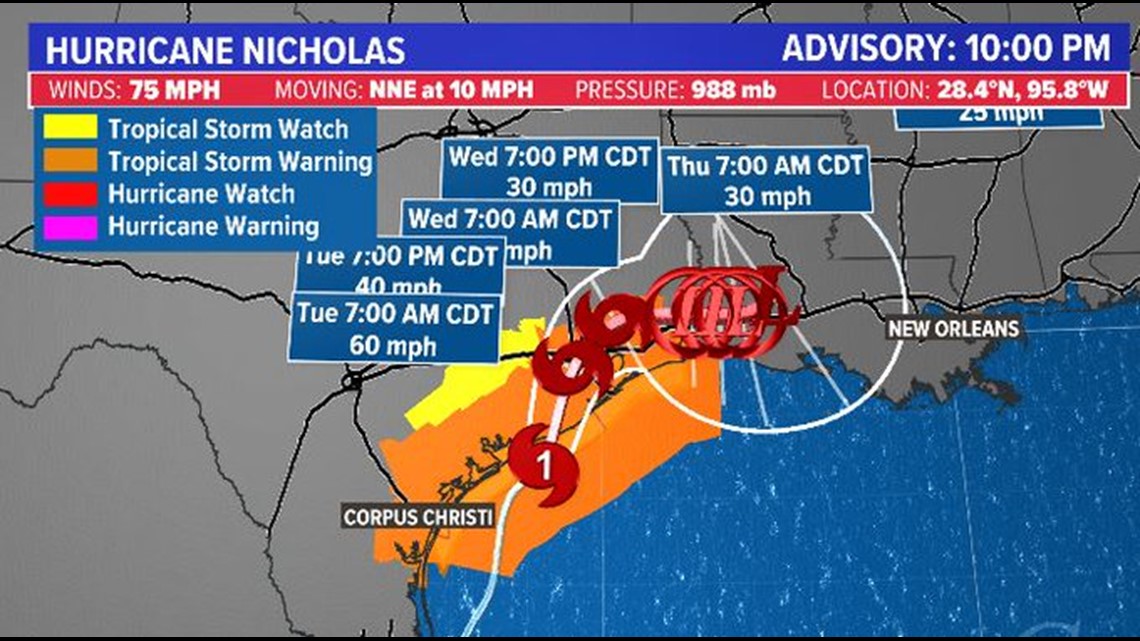 Rainfall expected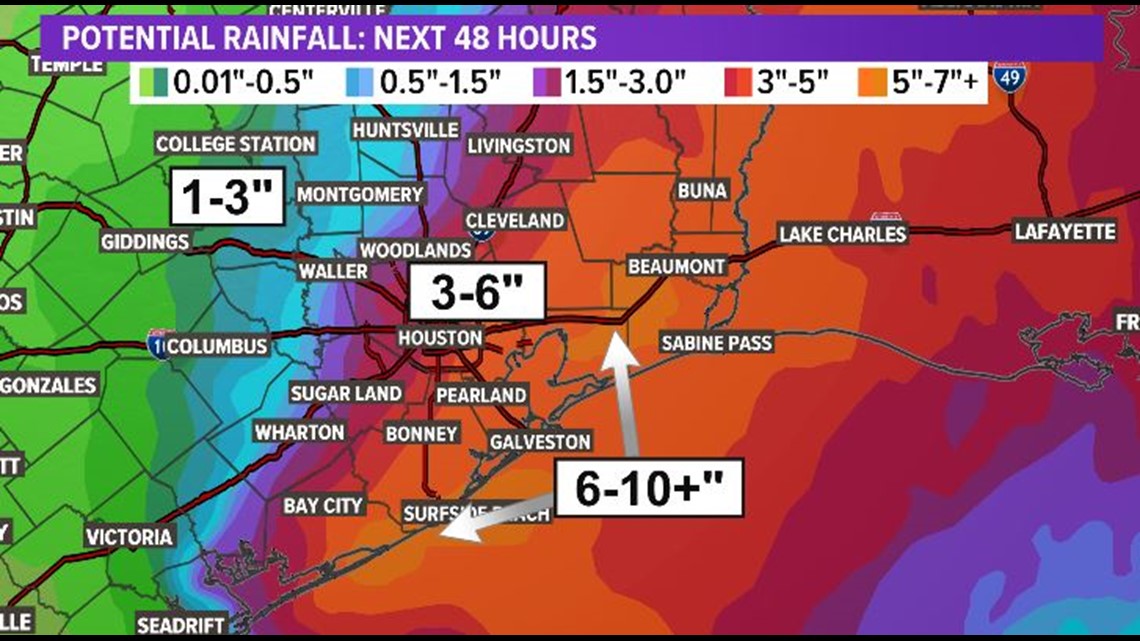 Keeping an eye on bayous and streams
Reporter Chery Mercedes is checking on rivers and streams. She was live for KHOU 11 News Monday near Buffalo Bayou. The Harris County Flood Control District has a map where you can see levels. Brandi Smith explains how to use it.
Key messages from the National Hurricane Center —
10 p.m. Monday
1. Heavy rainfall will impact portions of southeastern Texas, Louisiana, and southern Mississippi through the middle of the week. Significant rainfall amounts are expected, potentially resulting in areas of life-threatening flash and urban flooding, along the eastern Texas coast into southwestern Louisiana. Minor to isolated major river flooding is also possible in smaller river basins and urban areas.
2. There is the danger of life-threatening storm surge inundation along the coast of Texas from Port Aransas to Sabine Pass. Residents in these areas should follow any advice given by local officials.
3. Hurricane conditions are expected within the Hurricane Warning area and Tropical storm conditions are expected with the Tropical Storm Warning area along the Texas coast.
Interactive tropical weather tracker