HOUSTON — Hurricane Delta is expected to make landfall in Louisiana Friday between 5 p.m. and 7 p.m. While it is far east of us, we will still have effects from the storm in Southeast Texas and the Houston area.
Here's a breakdown of what to expect both inland and along the coast on Friday:
Houston/Harris County
We are starting off breezy this morning with winds gusting up to 20 mph.
By noon, the wind out of the northeast will be at around 25 miles per hour.
In the afternoon, we could be seeing a sustained wind out of the north at 25 miles per hour with gusts that could get up to 35 miles per hour. Winds will die down and conditions will improve by 6 or 7 p.m. Friday. We also may have rain from some of the outer bands, although you can see the total rainfall amounts are minimal for our area, less than an inch in most areas with greater rainfall for areas easy of I-45.
Coastal communities
Tropical storm-force winds have already reached the Galveston area and the upper Texas coast as Hurricane Delta approaches landfall. As of 10:30 a.m., Scholes International Airport had winds gusting to 47 mph.
Power outages are possible Friday for residents who live along the Gulf.
Anahuac ISD will be closed on Friday due to possible effects from the hurricane.
Preparing for storm surge
Brazoria County has already decided to close San Luis Pass County Park starting Friday, Oct. 9 and will reopen the park on Friday, Oct. 16 due to Hurricane Delta. They've also closed down county beaches, starting at 5 p.m. Thursday.
Surfside Jetty Park will also be closed Friday and Saturday due to the incoming storm.
"And so it begins. We are already seeing the push from Hurricane Delta on Sargent Beach. Water is rising in some of the lower areas in the ditches. Here are a few pictures from the end of FM 457 at 11:50 PM. High tide is scheduled at 2:36 AM." — Matagorda County Pct. 6 Constable's Office late Thursday night
Along with elevated seas and wave heights, there may be minor coastal flooding.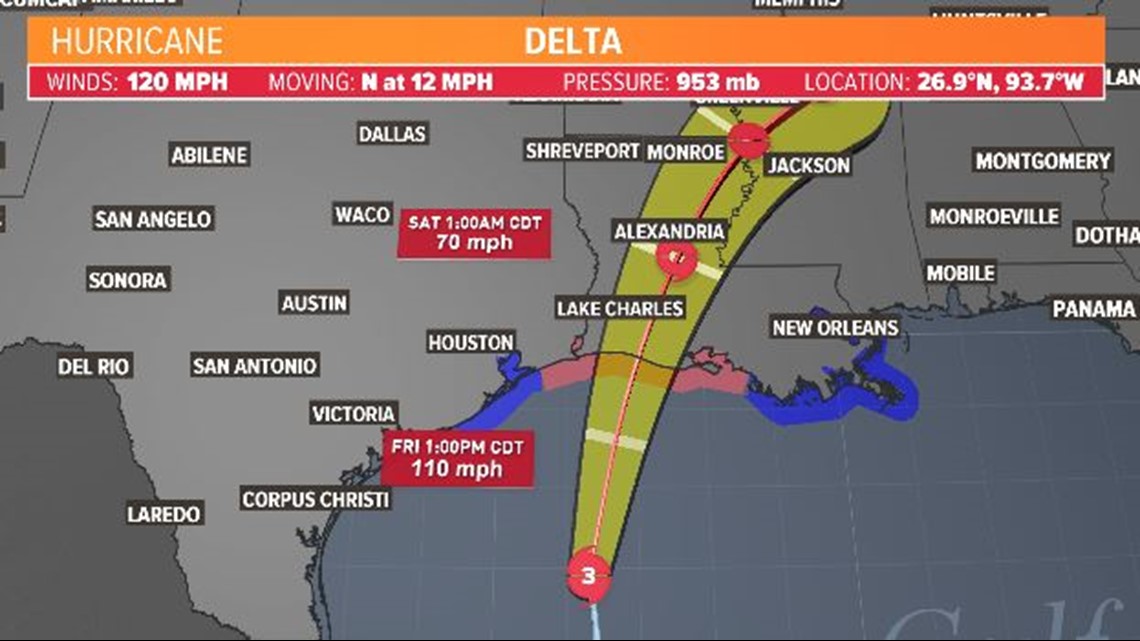 By Saturday, the system will be gone and we should have a nice weekend.
Preparing in Galveston County
Galveston County Judge Mark Henry expects the Bolivar Peninsula to be the only part of the county with any impact. Road and bridge crews are stationed on the peninsula and TxDOT crews are stationed on Highway 87.
Around 2:30, the Galveston Ferry will temporarily suspend service due to current weather conditions for safety. They will resume service once weather conditions improve.
Watches and warnings along the Gulf Coast:
A Storm Surge Warning is in effect for...* High Island Texas to Mouth of the Pearl River Louisiana including Calcasieu Lake, Vermilion Bay, and Lake Borgne
A Hurricane Warning is in effect for... * High Island Texas to Morgan City Louisiana
A Tropical Storm Warning is in effect for... * West of High Island to Sargent Texas * East of Morgan City Louisiana to the mouth of the Pearl River,

including New Orleans Lake Pontchartrain and Lake Maurepas