HARRIS COUNTY, Texas — Life after Hurricane Harvey is finally improving for one Harris County family.
In December 2017, the Gomez family home had a blue tarp up in order to block rain and wind from entering their north Harris County home. The historic hurricane battered the wood-framed three-bedroom house. Holes in the roof and walls allowed water to seep in. Mold grew on the walls. Electrical wires shot out of the ceiling and walls. The Gomez home was unsafe, unhealthy and unlivable.
And yet, the family of seven continued to live in the conditions because FEMA denied their application for financial help. The property wasn't covered by flood insurance either.
So 8-year old Betzabe Gomez used an Aldine ISD writing assignment to ask for a Christmas miracle. Betzabe, who was a third-grader in December 2017, wrote a letter to Santa and asked him to fix the roof of her family's home.
"We don't have no concrete under the carpet," Gomez wrote. "I will leave milk, cookies and carrots and water."
Somehow that letter, written on a piece of notebook paper, made it to state Rep. Armando Walle.
Walle had grew up in the same north Harris County neighborhood. He posted a photo of the letter on Facebook and within days it went viral. Neighbors offered to patch the roof. Donations poured in. Harris County deputies dropped off cakes. Strangers drove in groceries, coats, blankets and Christmas gifts for the family.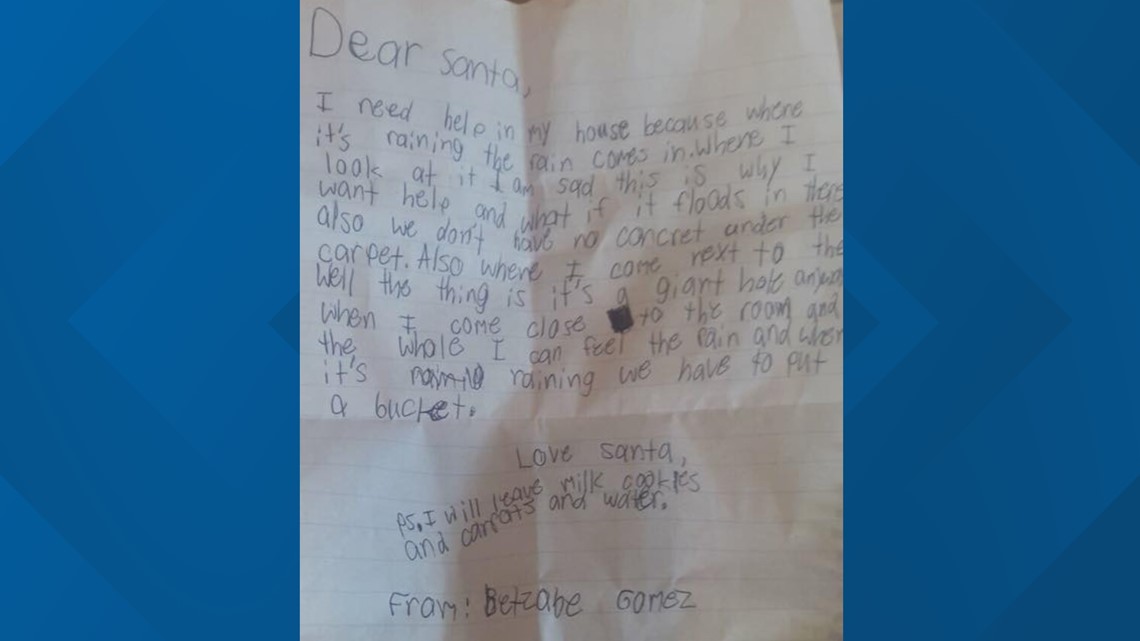 "I just feel really bad for my dad," said Betzabe Gomez during her first interview with KHOU 11 News.
Martin Gomez was in poor health. He was so weak from fighting diabetes, kidney failure, and a list of other health problems, that he couldn't even stand up and shake the hand of the dozens of people who physically showed up to help the family.
Mr. Gomez's failing health was why his youngest daughter wrote the letter. She needed her family's home fixed so that he could have the best chance at regaining strength.
"I think this was much bigger than trying to fix a roof," Walle said.
It's why he called the county.
Ed Emmett, who was the Harris County Judge at the time, stepped in to help. In 2018, the Gomez family began working with Harris County's Community Services Department. The department had access to federal grant money through the U.S. Housing and Urban Development Department.
The process of demolishing and then building a brand new home for the Gomez family took years, even with help from politicians.
"It was a battle. It was a battle," Walle said.
The family owed back taxes. Paperwork had to be signed and approved by the county and the federal government. Mr. Gomez's health continued to fail.
In 2020, Harris County was ready to break ground. The county had secured a contractor and received final approval from the federal government to use grant money for the construction project. The family had to move out of the home in mid-February, just days after Martin Gomez died in a Houston hospital.
Maria Gomez and her children spent seven months living in two motel rooms at an extended stay motel not far from their home.
Walle and Harris County Precinct 2 Commissioner Adrian Garcia were at the home to hand the keys off to the Gomez family on Wednesday.
"So although this is exciting, it shouldn't have to take this long to get it done," Garcia said. "We still need the federal government to ease the regulations so that we can make the families whole again, as quickly as possible."
The brand new four-bedroom, two-bathroom home is raised. No holes in the walls. No mold. No leaks. The front yard features flower beds. Pumpkins are positioned at the front steps.
"This house will always remind me of him," said Betzabe of her father's memory.
The new home is what he prayed for. The Gomez children think Martin Gomez held on until he knew his family was approved for the home.
"It's unreal. It really is unreal to us," Angel Gomez said.
"And I just thank God and everyone who helped and supported us through it all," said Martin Gomez Jr.
KHOU shared details about the Gomez family with Jim "Mattress Mack" McIngvale. He immediately stepped in to help. Gallery Furniture donated new beds, sofas, dressers, and a kitchen table. The family's only furniture, since black mold destroyed their previous belongings.
"It's a miracle. Honestly," said Consuelo Gomez.
"Because I never expected to have this help," said Betzabe Gomez.
The Gomez family believes Martin Gomez is watching over them. They believe he's now their guardian angel. They plan to plant a tree in his honor.
"From one little letter that she wrote for her classmates, for her teacher," said Arlette Gomez, "ended up being able to make all of this happen, it's just an amazing feeling."