Little change in strength is projected through landfall. Once inland, the storm will move along the coast through Wednesday.
The storm still has maximum sustained winds of 60 miles per hour with gusts up to 70. It's moving to the west-northwest at 6 miles per hour. The storm's center is 120 miles southeast of Galveston.
Earlier today, tropical storm warnings were extended further inland for the Houston area, as the center of the forecast cone has the storm passing directly over us.
Heavy rain is expected with the storm. Several inches are expected, beginning today, with higher totals the closer you are to the coast.
Coastal flooding has started locally and is expected to get worse. Residents who live along the coast are urged to move their vehicles to higher ground.
**Text STORM to 713-526-1111 for updates on Tropical Storm Beta**
Key messages from National Hurricane Center (10.m. Sun.)

1. The expected slow motion of Beta will produce a long duration rainfall event from the middle Texas coast to southern Louisiana. Flash, urban, and river flooding is likely. Rainfall will also spread northward into the ArkLaTex region and east into the Lower Mississippi Valley where flash, urban, and river flooding is possible.

2. There is the danger of life-threatening storm surge near times of high tide through Tuesday along portions of the Texas and Louisiana coasts within the storm surge warning areas. Residents in these areas should follow advice given by local officials.

3. Tropical-storm-force winds are occurring along portions of the northwestern Gulf Coast within the tropical storm warning area in Louisiana. These winds will spread westward to the Texas coast overnight and Monday.

Tropical Storm Beta forecast cone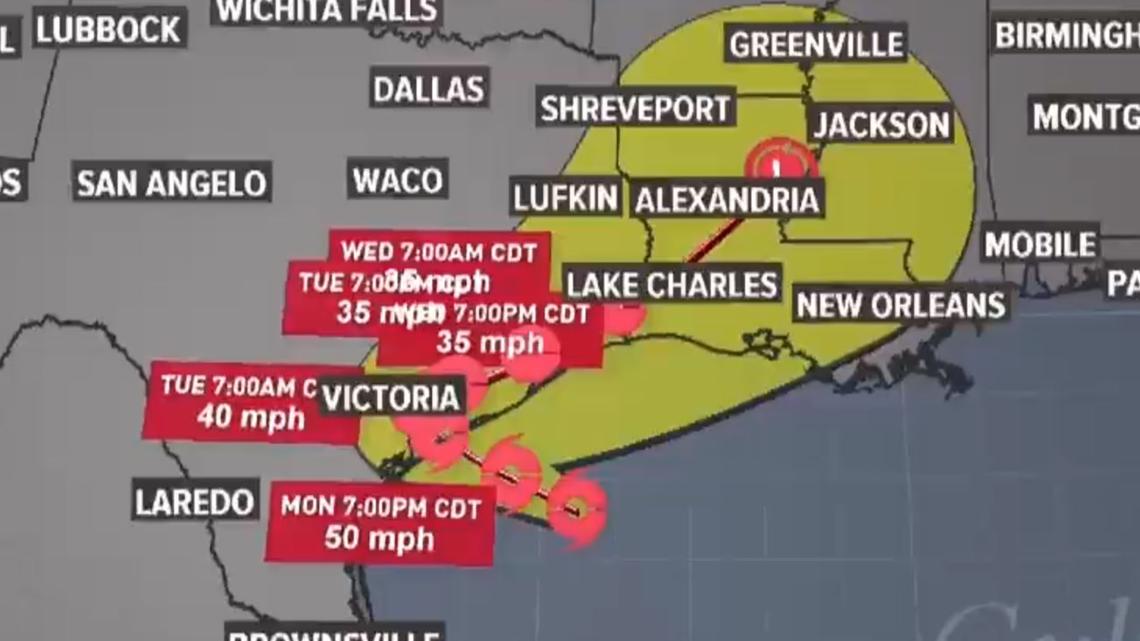 Gulf Coast rainfall forecast estimates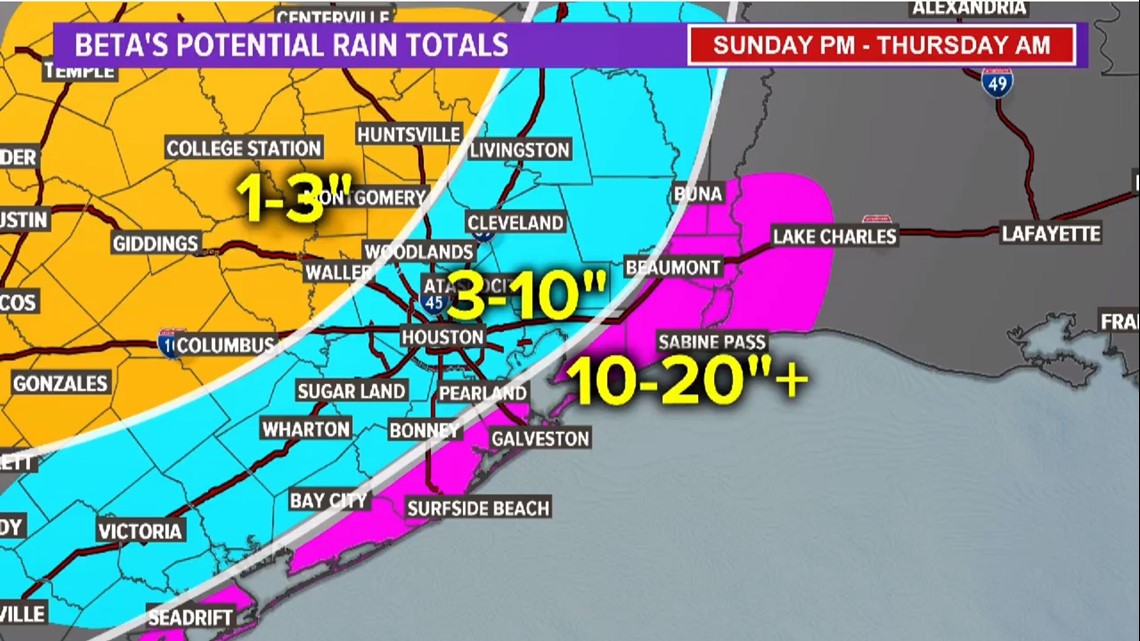 Beta Watches and Warnings
Tropical Storm Warnings are in effect for Brazoria, Chambers, Fort Bend, Galveston, Harris, Jackson, Liberty, Matagorda and Wharton Counties
Flash Flood Watches are in effect for Austin, Brazoria, Chambers, Colorado Fort Bend, Galveston, Harris, Jackson, Liberty and Matagorda Counties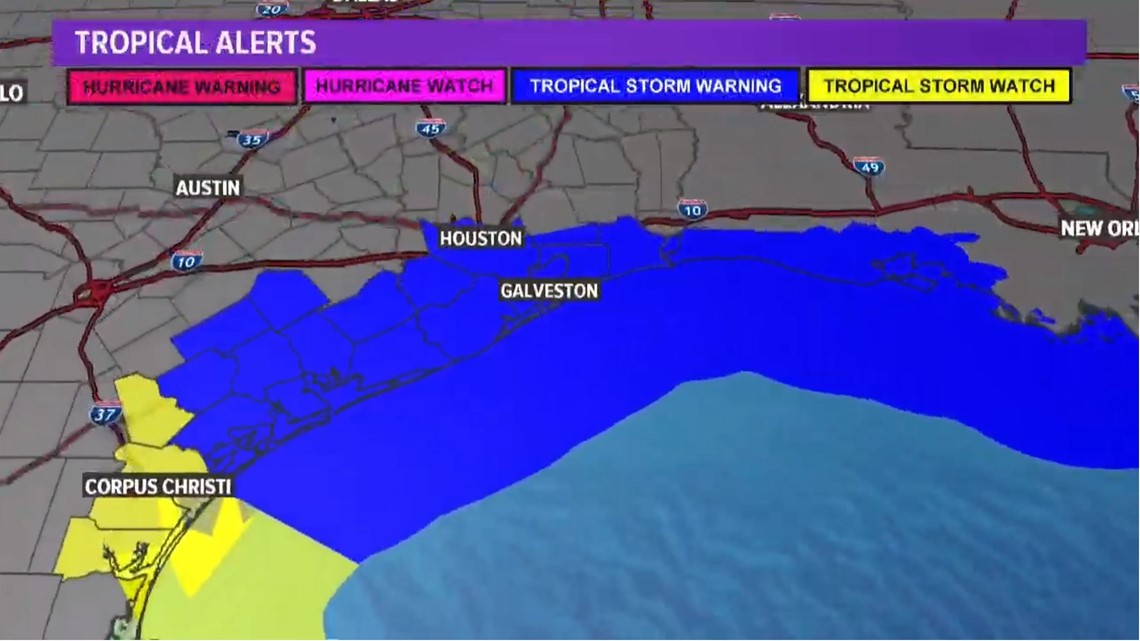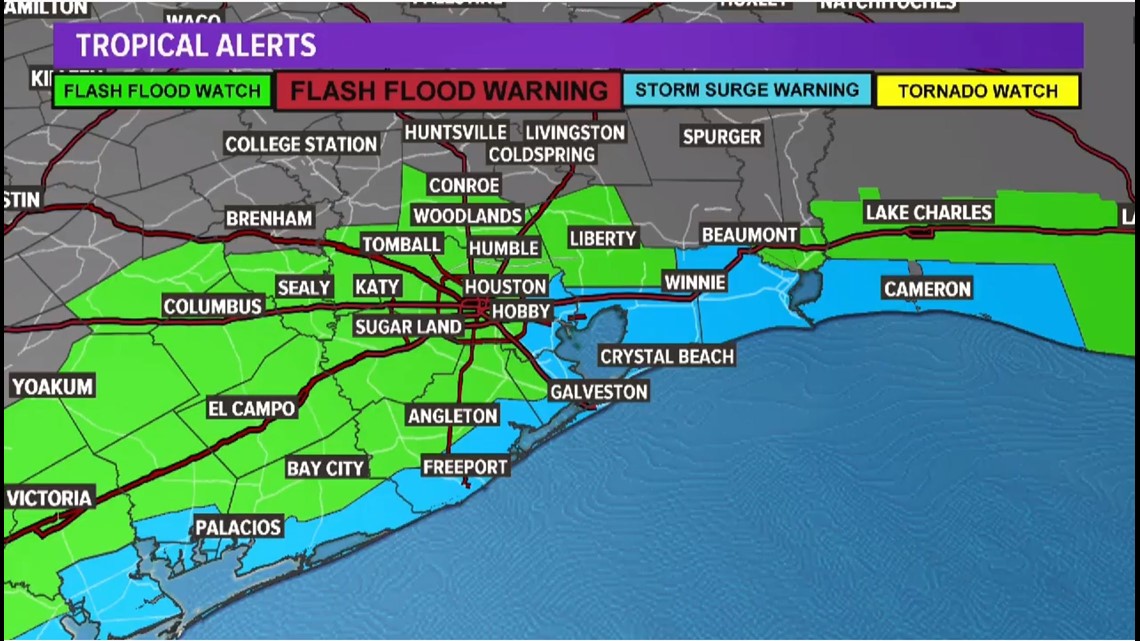 Interactive hurricane and tropical storm tracker


Be prepared if tropical weather does come our way
Make a home inventory
Have a current copy of your declarations page that has your policy number and your agent's number
Review your policy with your insurance agent to determine if you have adequate coverage
Repair loose boards, shingles, shutters and downspouts to prevent them from becoming an issue in high winds or torrential rain
Have an evacuation plan, and include plans for your pets
Make sure your emergency equipment is in working order, including a battery-powered radio, flashlights and extra batteries. Also, make sure to gather all medicine, replenish your first-aid kit and stock a week's worth of non-perishable food and water
Charge your cell phone and fill your car with gas
Program all emergency phone numbers
If you are advised to evacuate, leave as soon as possible. Retain all related receipts - they may be considered in your claim. If you aren't in a recommended evacuation and you plant to stay home, stay informed by listening to weather alerts
Keep windows and doors closed at all time, and, if possible, board them up with wooden or metal shutters
Stay away from the windows and in the center of the room, or, stay in an interior room
Avoid flood water, as it may be electrically charged from downed power lines
Check on family members and friends
Check to be sure your family members are safe
If you did evacuate, wait for official notice that it is safe to re-enter your neighborhood and your house
Document damaged property, and take photos and videos. Don't dispose of any damaged items without approval
Keep a record of any temporary repairs or expenses to prevent further damage to your property