HOUSTON — Dr. Phil Klotzbach and his team of researchers at Colorado State University have unveiled their forecast for the upcoming 2019 Atlantic hurricane season. They're calling for a slightly below-average season in terms of total storms expected.
The forecast calls for 13 named storms, five hurricanes and two major hurricanes. An average hurricane season is 12, 6 and 2 in comparison.
The reason for a slightly below average to near--average season is due to the ongoing effects of El Nino, the anomalous warming of the east Pacific water that causes global shifts in the atmospheric pattern.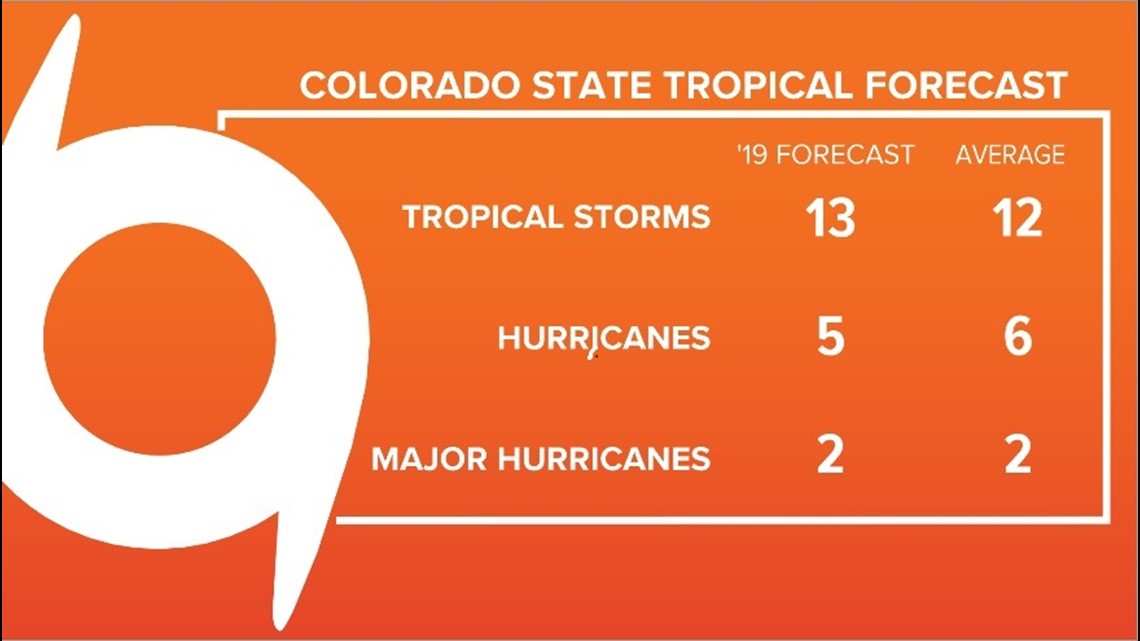 In the case of El Nino, the sub-tropical jet stream lines up over Texas creating wetter and cooler conditions for our area but it also imparts large scale wind shear over the Caribbean Sea and the main development region (MDR) of the Atlantic Ocean. That wind shear would hinder development of organized thunderstorms in the ocean and disrupt any development from occurring.
While it certainly is somewhat comforting to hear the season could be below average, numbers in no way are an indication of impact potential.
Two glaring examples of this were hurricanes Andrew and Alicia. There were only seven named storms in 1992 and in mid August, a wimpy, struggling tropical storm in the open Atlantic powered up into one of the most devastating hurricanes to ever hit the United States and one of only three category 5's to hit the country.
In 1983, that season saw only four named storms and like 1992, the very first storm to develop was Alicia which quickly developed into a category 3 hurricane. That storm scored a direct hit on the Houston/Galveston area causing more than $2 billion in damages and becoming Texas' first billion dollar disaster.
It's important to remember that not all storms have to be a hurricane to inflict catastrophic damages and loss of life. Tropical Storm Allison and the remnants of Hurricane Harvey are also good reminders of that very thing.
Finally, these seasonal forecasts are for entertainment purposes only. While there is some skill in knowing how many storms, within reason, could form, it can't be emphasized enough how dangerous and different each storm can be. Take each one seriously and hope we can skate through another season unscathed.
ALSO POPULAR ON KHOU.COM: