HOUSTON — As Houston prepares to kick off its week with low temperatures, a freeze warning has been issued for most of the Houston area.
It begins Monday at 10 p.m. and excludes coastal areas, including Galveston. It's currently scheduled to end at 8 a.m. Tuesday.
Throughout the weekend, we saw up to eight inches of rain in areas near East Bernard and widespread totals of five inches or more, the rain is finally coming to a close.
On Sunday, we turn our attention to the first possible freeze of the season and the chilliest week we've had since last winter. There will be on and off downpours and then cold air settles in next week.
Here's the timeline:
Sunday - Rain is gone. Cloudy skies will keep the temperatures in the 50s through noon and then the skies begin to clear. Look for a high near 60°F with breezy conditions.
Monday - Sunny but cold. Highs should barely crack 50°F. The clear skies and calm winds will allow temps to dive into the 20s and lower 30s area wide. Expect a widespread freeze by Tuesday morning.
Tuesday - Freezing temps will give way to sunny skies and highs warming into the upper 50s. It'll still be pretty cool by our standards.
Our next cold front is currently penciled in for Wednesday which will reinforce the cool weather we have over the area. Look for temps to be pushed back into the 50s for Thursday, Friday and Saturday.
Track the storms: Houston interactive weather map
Who will freeze and who won't?
As a Canadian high pressure settles in over the top of us, many areas, especially outside the urban core, will likely drop into the upper 20s and lower 30s. If you're north of 1960 and west of Highway 6, it's almost a certainty you'll freeze. We could see those freezing temps drop as far south as Downtown Houston and Sugar Land. This will be the coldest temps of the season.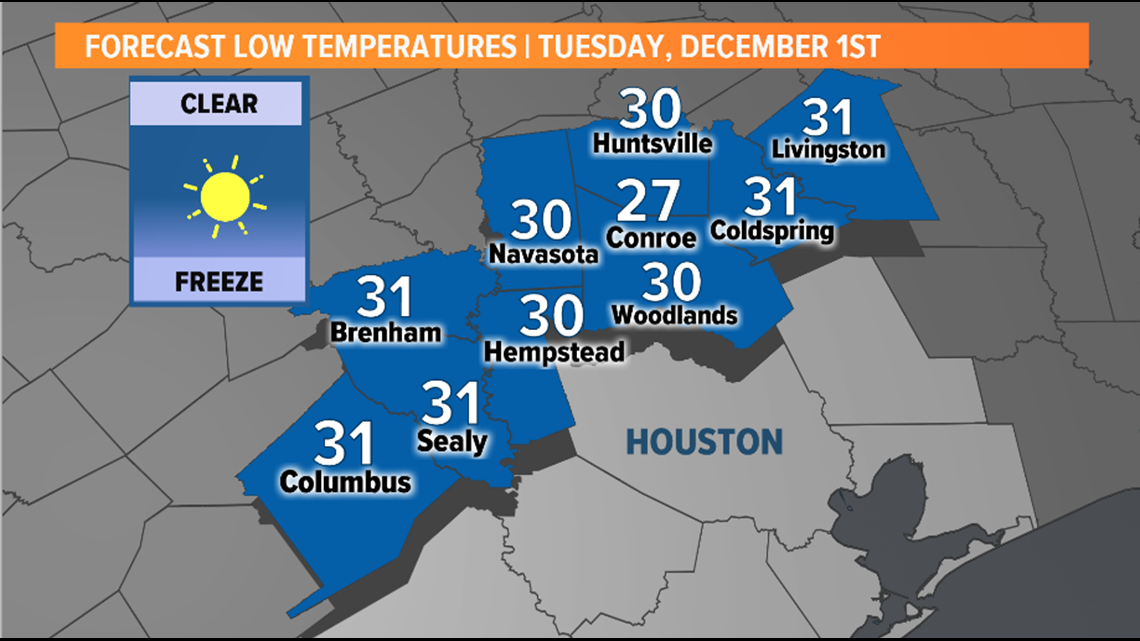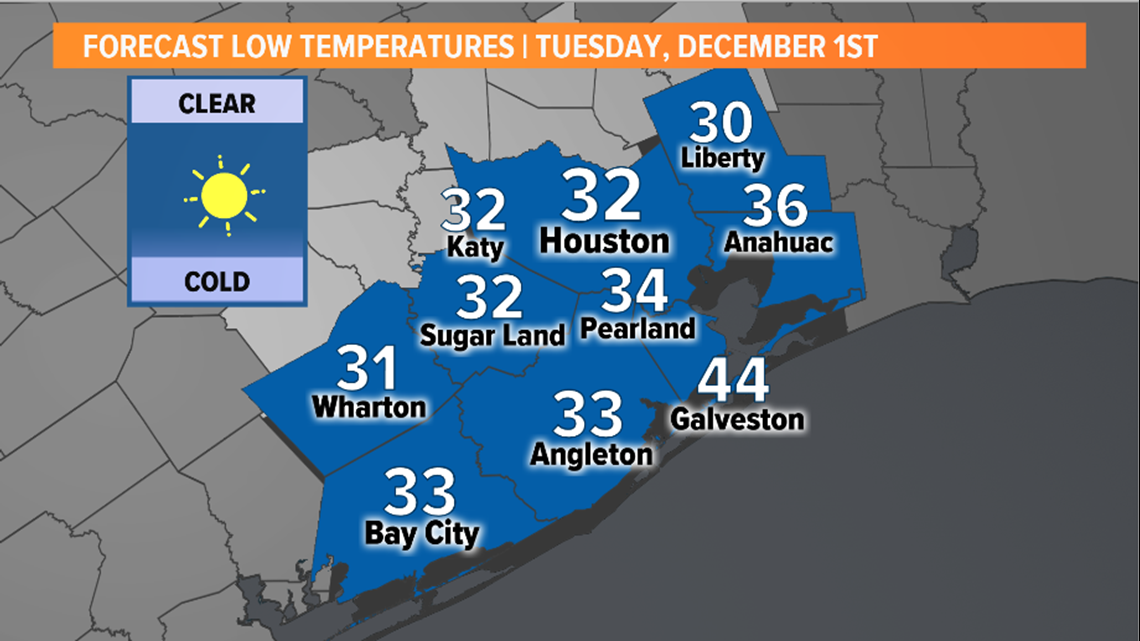 We'll see a slight warm up heading into Wednesday morning before another front brings another round of freezing temperatures to southeast Texas -- this time mainly areas well to the north and west of Houston. The next airmass doesn't look **AS COLD** as Tuesday morning.