HOUSTON — Parking and traffic in downtown Houston can be rough on a regular day. Add the Final Four, the Houston Astros home opener weekend, and a Houston Rockets home game, and well, you get the idea.
"You don't get bigger and better than that is what we've been waiting for for a long time now," Holly Kesterson, president of the 2023 NCAA Men's Final Four Houston local organization committee, said.
However, bigger and better means busier, too. Organizers say they'll close major downtown streets to accommodate the crowds.
You'll lose access to parts of McKinney, La Branch, Lamar, Crawford, and Avenida De Las Americas as the Final Four Fan Fest takes over the GRB and Discovery Green.
Here are the closures for Final Four weekend:
McKinney between LaBranch and Crawford Street
LaBranch between Lamar and McKinney Street
Lamar between LaBranch and Crawford Street
2 lanes on Avenida de las Americas to the George R. Browne Convention Center.
Road closures and crowds mean getting around town will take longer, too.
"I would say the hidden track with any big event is to come early and stay late here so you're not in those crunch windows are you feeling pressure like you might miss something time and pack your patience that's the key for any big event," Kesterson said.
Events are spread out across Houston this weekend. Fan Fest happens downtown but the Final Four games themselves are at NRG Stadium.
The good news is you can ride the METRO rail between the spots and even better, it'll be free.
"You just get on the METRO line whether you have to transfer or not," Kesterson said. "METRO is completely free, so take transfers downtown or out to the stadium easy no problem."
If ride-sharing is your jam, extra Lyft, Uber and taxi drop off, and pick-up locations have been added. There will be six ride-share zones and two designated areas for taxis.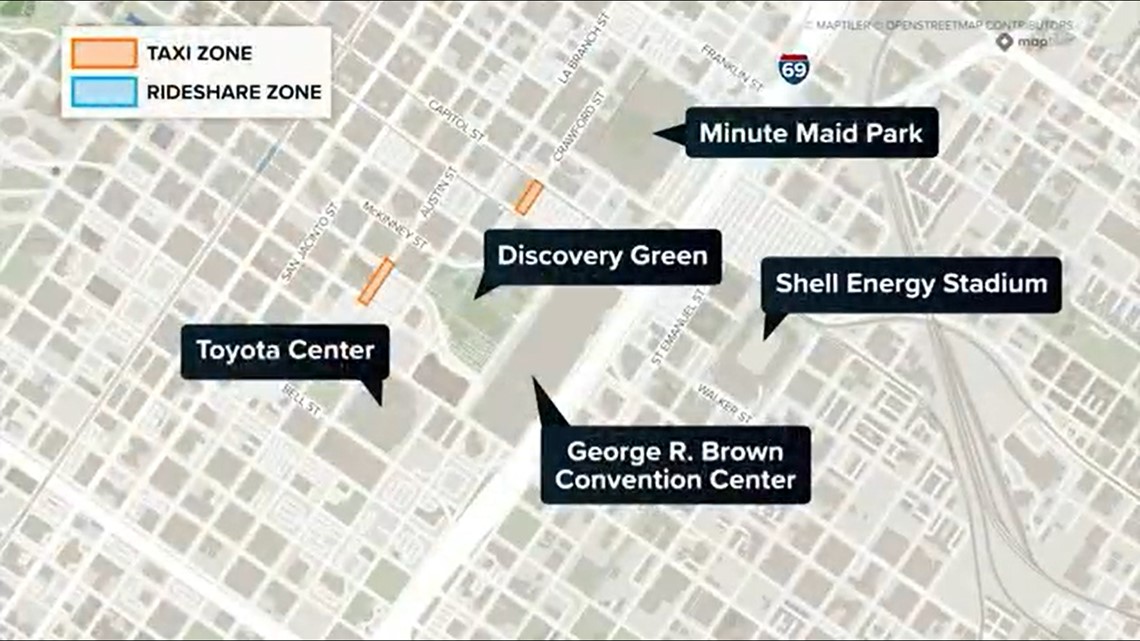 However, you'll have to walk several blocks from the main events and get ready for higher prices during peak hours.
One of your best options is to park here on the north side of downtown in the Theater District, then jump on METRO.
You can also use one of several parking apps like DowntownHouston.org. Just click on the garage or lot icon of your choice. Some apps will allow you to reserve a space now for the Final Four weekend.
Some will even show you how many spaces are available.
Check out our interactive traffic map to see this and other trouble spots across the Houston area:
Watching the games with an antenna? KHOU 11 has upgraded its technology and is broadcasting on both VHF and UHF. Tune in on either 11.1 or 11.11.