CAPE CANAVERAL, Fla. — The world's largest and most powerful space telescope rocketed away Saturday on a high-stakes quest to behold light from the first stars and galaxies and scour the universe for hints of life.
NASA's James Webb Space Telescope soared from French Guiana on South America's northeastern coast, riding a European Ariane rocket into the Christmas morning sky.
The $10 billion observatory hurtled toward its destination 1 million miles (1.6 million kilometers) away, or more than four times beyond the moon. It will take a month to get there and another five months before its infrared eyes are ready to start scanning the cosmos.
First, the telescope's enormous mirror and sunshield need to unfurl; they were folded origami-style to fit into the rocket's nose cone. Otherwise, the observatory won't be able to peer back in time 13.7 billion years as anticipated, within a mere 100 million years of the universe-forming Big Bang.
NASA Administrator Bill Nelson called Webb is a time machine that will provide "a better understanding of our universe and our place in it: who we are, what we are, the search that's eternal."
"We are going to discover incredible things that we never imagined," Nelson said following liftoff, speaking from Florida's Kennedy Space Center. But he cautioned: "There are still innumerable things that have to work and they have to work perfectly ... we know that in great reward there is great risk."
Intended as a successor to the aging Hubble Space Telescope, the long-delayed James Webb is named after NASA's administrator during the 1960s. NASA partnered with the European and Canadian space agencies to build and launch the new 7-ton telescope, with thousands of people from 29 countries working on it since the 1990s.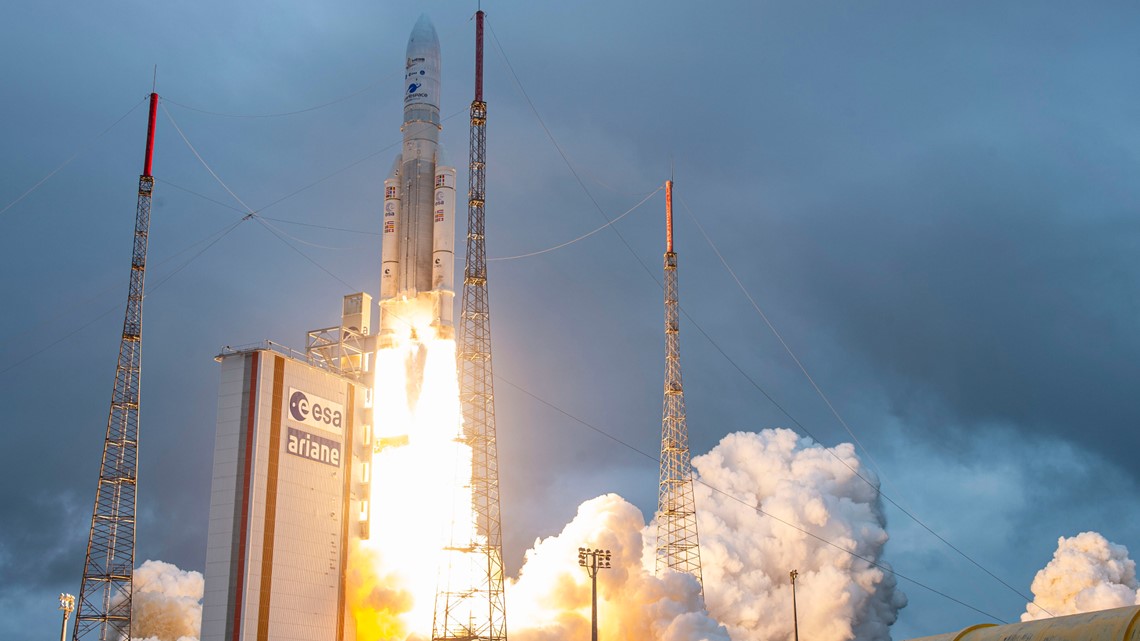 With the launch falling on Christmas and a global surge in COVID-19 cases, there were fewer spectators at the French Guiana launch site than expected. Nelson bowed out along with a congressional delegation and many contractors who worked on the telescope.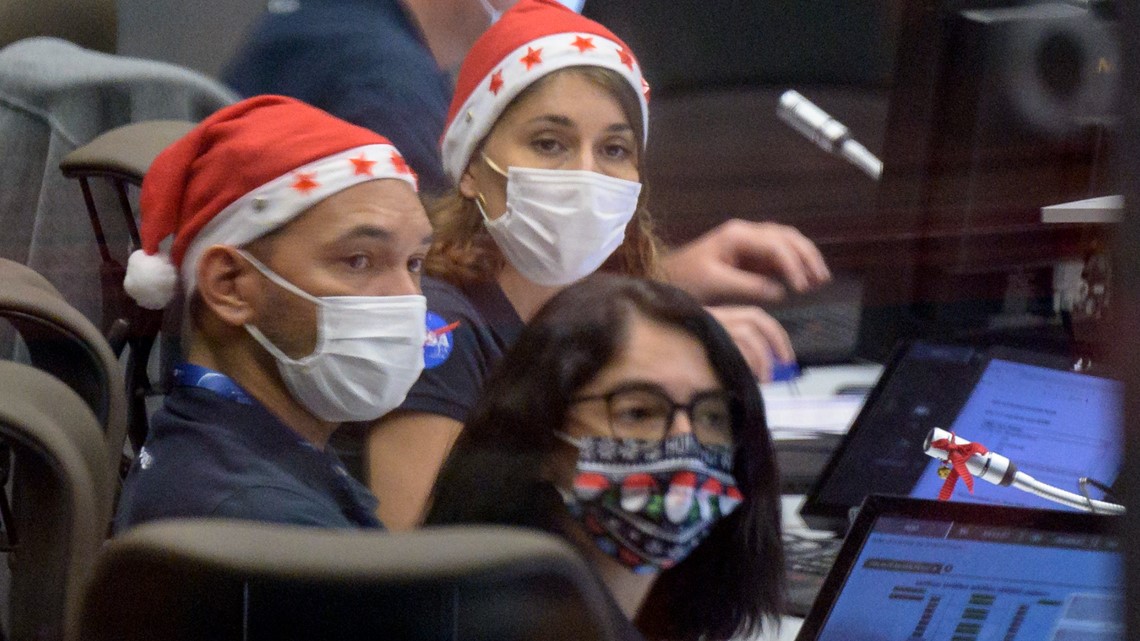 Around the world, astronomers had eagerly waited to see Webb finally taking flight after years of setbacks. Last-minute technical snags bumped the launch nearly a week, then gusty wind pushed it to Christmas. A few of the launch controllers wore Santa caps in celebration.
"We have delivered a Christmas gift today for humanity," said European Space Agency director general Josef Aschbacher. He described it as a special moment, but added: "It's very nerve-racking. I couldn't do launches every single day. This would not be good for my life expectancy."
Cheers and applause erupted in and outside Launch Control following Webb's flawless launch, with jubilant scientists embracing one another amid shouts of "Go Webb!" and signs that read: "Bon Voyage Webb." Cameras on the rocket's upper stage provided one last glimpse of the shimmering telescope, before it sped away.

The telescope's showpiece: a gold-plated mirror more than 21 feet (6.5 meters) across.
Protecting the observatory is a wispy, five-layered sunshield, vital for keeping the light-gathering mirror and heat-sensing infrared detectors at subzero temperatures. At 70 feet by 46 feet (21 meters by 14 meters), it's the size of a tennis court.
If all goes well, the sunshield will be opened three days after liftoff, taking at least five days to unfold and lock into place. Next, the mirror segments should open up like the leaves of a drop-leaf table, 12 days or so into the flight.
In all, hundreds of release mechanisms need to work — perfectly — in order for the telescope to succeed. "Like nothing we've done before," said NASA program director Greg Robinson.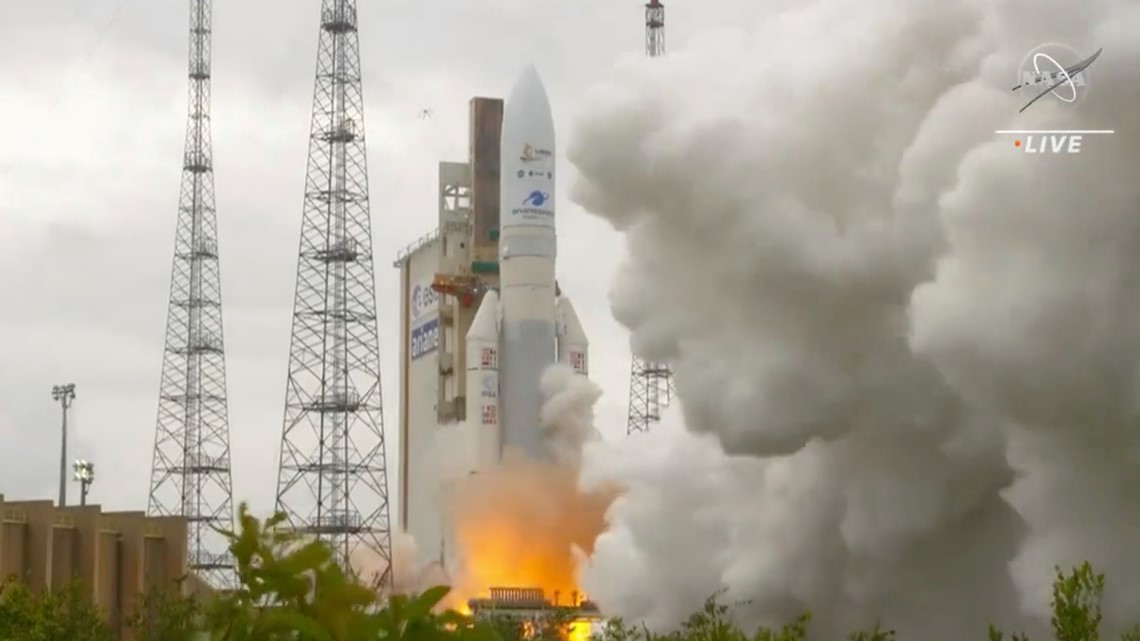 Retired astronaut-astronomer Steven Hawley is more stressed over Webb than he was for Hubble, which he released into orbit from space shuttle Discovery in 1990. That's because Webb will be too far away for rescuing, as was necessary when Hubble turned out to have blurry vision from a defective mirror.
Spacewalking repairs by astronauts transformed Hubble into a beloved marvel that has revolutionized humanity's understanding of the universe, casting its eyes as far back as 13.4 billion years. It's now up to Webb to draw even closer to the Big Bang 13.8 billion years ago, its infrared vision keener and more far-reaching than Hubble's is in the shorter visible and ultraviolet wavelengths.
NASA is shooting for 10 years of operational life from Webb. Engineers deliberately left the fuel tank accessible for a top-off by visiting spacecraft, if and when such technology becomes available.
When he released Hubble, "I never would have believed that it would still be going strong almost 32 years later," Hawley, now professor emeritus at the University of Kansas, said in an email. "I hope that in 32 years we'll be able to say that JWST did as well."
The lowdown on Hubble versus Webb:
ROCKET RIDES
Hubble caught a lift to orbit tucked inside NASA's space shuttle Discovery in 1990. It quickly ran into trouble: one of the telescope's solar wings jammed as it was unfurling. Astronauts suited up for an emergency spacewalk, but commands from Earth freed the panel. Within weeks, Hubble's blurry vision was detected. Spacewalking astronauts fixed it three years later. Soaring from South America on a European Ariane rocket, Webb won't be reachable by astronauts at its destination 1 million miles (1.6 million kilometers) away. Bigger and more intricate than Hubble, Webb will be a goner if its foldout mirror and sunshield snarl.
LET THERE BE LIGHT
Webb is expected to behold light from the universe's first stars and galaxies, beyond Hubble's range. This light will reveal how the original stars looked 13.7 billion years ago. Hubble has stared as far back as 13.4 billion years, disclosing a clumpy runt of a galaxy that is currently the oldest and farthest object ever observed. Astronomers are eager to close the 300 million year gap with Webb and draw ever closer in time to the Big Bang, the moment the universe formed 13.8 billion years ago. "It's like looking at the picture book of my kids and missing the first two years, right? Trying to figure out where they come from," said NASA science chief Thomas Zurbuchen.
INFRARED VISION
Hubble sees what we see — visible light — with a little ultraviolet and infrared thrown in. Webb has infrared vision, allowing it to pierce cosmic clouds of dust. The shorter visible and ultraviolet wavelengths emitted by the first stars and galaxies have been stretched as the universe expands, so Webb will see them in their elongated, heat-emitting infrared form. That's why Webb's detectors need to run at minus 400 degrees Fahrenheit (minus 240 degrees Celsius). To stay chilled, Webb carries a parasol the size of a tennis court. Between each of the sunshield's five layers is a gap so heat can escape out the sides. Multiple layers also better protect against micrometeorite hits.
SIZE MATTERS
To discern the universe's first, faint stars, Webb requires the largest mirror ever launched for astronomy. The mirror spans more than 21 feet (6.5 meters), yet is lighter than Hubble's, which is 8 feet (2.4 meters) across. That's because Webb's mirror is made of beryllium, a strong but lightweight metal. It's also segmented, allowing it to fold like a drop-leaf table for launch. Each of the 18 hexagonal segments are the size of a coffee table and coated with ultra-thin gold, an ideal reflector of infrared light.
LOCATION, LOCATION, LOCATION
Hubble circles 330 miles (530 kilometers) overhead. The altitude was dictated by the capabilities of NASA's space shuttles, which delivered Hubble to orbit and then made five service calls. Webb is bound for more a more distant spot — 1 million miles (1.6 million kilometers) away at what's called the second Lagrange point. This is where the gravitational forces of the Earth and sun balance, requiring minimal fuel for a spacecraft to stay put. Webb will constantly face the nightside of Earth as the spacecraft and planet swoop around the sun in unison.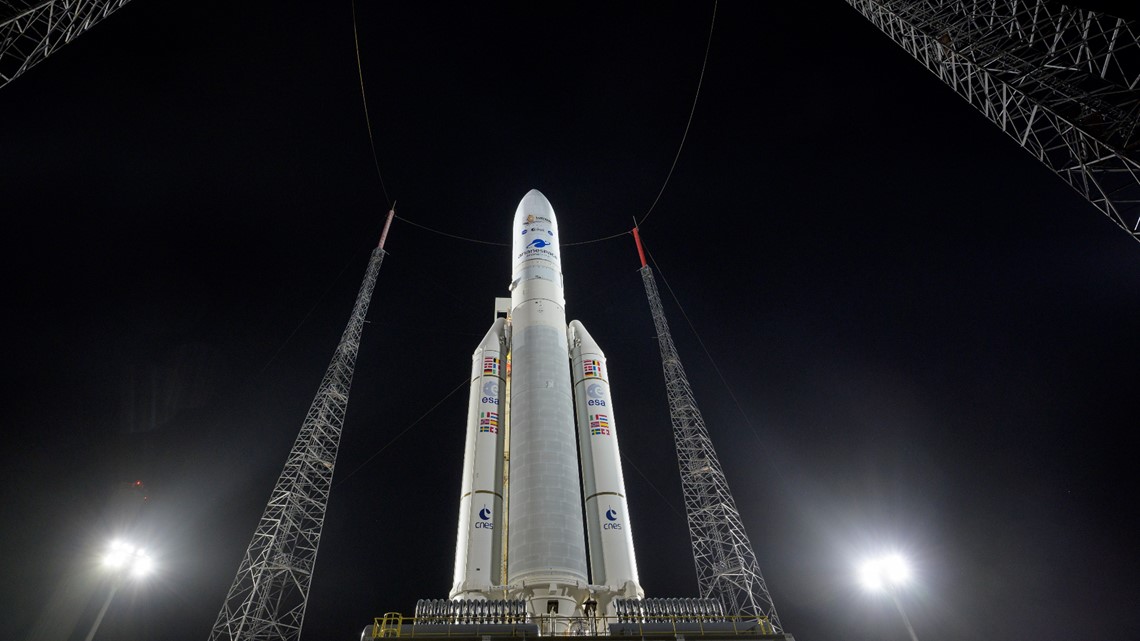 GROWING PAINS
Hubble was years late and millions over budget by the time it rocketed into orbit in 1990. Webb also is years late with huge cost overruns. NASA's tab for Hubble from its 1970s development until now: $16 billion, adjusted for inflation. That doesn't include all the shuttle flights for launch and repairs. Webb's price tag is an estimated $10 billion; that includes the first five years of operation. The European Space Agency is picking up the launch costs, with a French-built Ariane rocket providing Webb's lift from French Guiana.
HUBBLE AND WEBB NAMESAKES:
Astronomer Edwin Hubble confirmed a century ago that countless galaxies exist beyond our Milky Way and the universe is constantly expanding. James Webb led NASA from 1961 to 1968, presiding over Projects Mercury and Gemini, and the early phase of Apollo's moon-landing program. In 2002, a decade after Webb's death, NASA chose his name for the new telescope. But now some scientists and others want a new name, given Webb's State Department and NASA leadership during the Truman administration, when government workers were fired for being gay. NASA's historian conducted an archival search of Webb this year, but found no evidence warranting a name change, said Administrator Bill Nelson.
The Associated Press Health and Science Department receives support from the Howard Hughes Medical Institute's Department of Science Education. The AP is solely responsible for all content.