A first-day-of-school act of kindness is warming hearts across the internet.
In a photo posted on Facebook by mom Courtney Coko Moore, a boy in Wichita, Kan., takes the hand of his classmate who appears distressed. Moore said her son consoled the boy when he became upset on the first day of school at Minneha Core Knowledge Elementary.
"I'm so proud of my son, he seen a kid balled up into a corner crying, so he went to console him, grabbed his hand and walked him inside of the school! It is an honor to raise such a loving, compassionate child! He's a kid with a Big heart, the first day of school started off right," she wrote.
After posting the photo, Moore shared additional photos of comments from people who say they're relatives of her son's new friend, and that the boy has autism.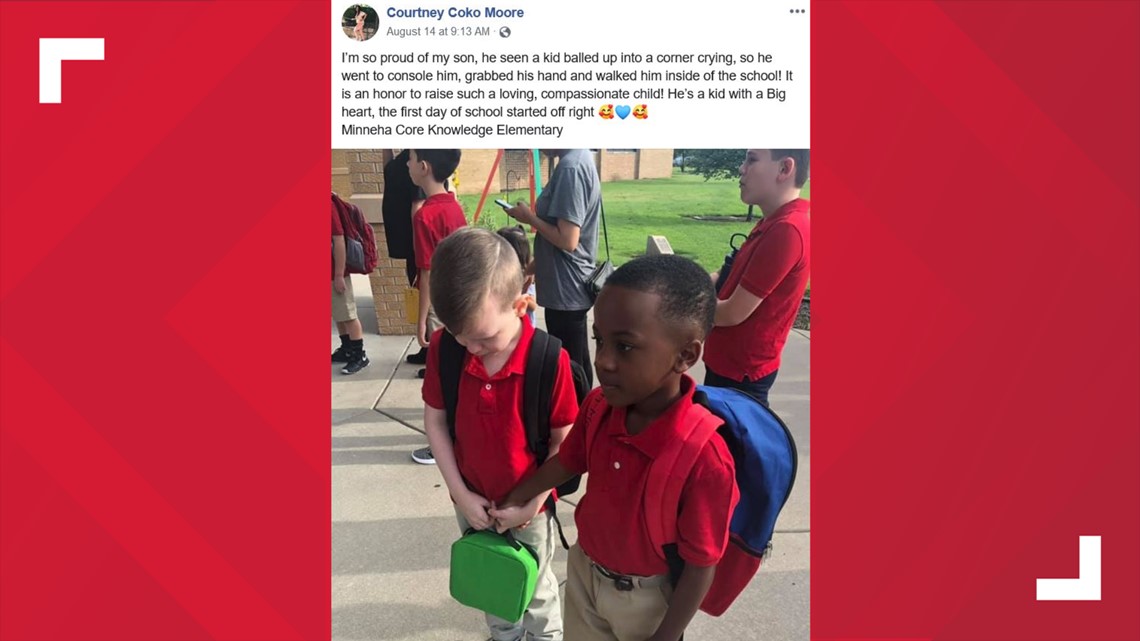 "Tell your son I said thank you so very much! That little boy he helped is my son and is autistic, I worry everyday that he is going to get bullied for being different and your son just absolutely warmed my heart," a commenter named April Crites said.
Moore wrote that the comments made her 'teary eyed."
"You never know how influential one act of kindness can be on someone's life. I give thanks to God for blessing me with wonderful children! Blessings come in many forms and God enables us to be a vessel of love!! More love and less hate," she wrote.
HeartThreads are the best stories about the best of us. Want more? Follow us!