Getting a 17-10 win over the Kansas City Chiefs in preseason is nice for the Houston Texans. However, in the preseason, there is always more than the final score. Here are four takeaways from Thursday night.
1. TE JORDAN AKINS IS FURTHER ALONG THAN WE THOUGHT
The third-round rookie from UCF caught two passes for 20 yards and two touchdowns in his inaugural game with the Texans. Akins is listed as the second-string tight end behind Ryan Griffin on the depth chart on the team's website. But he sure didn't play like it. The touchdown catches prove that Akins can be a red zone threat at 6-3, 237 pounds. With Deshaun Watson under center and the receiving corps of DeAndre Hopkins, Will Fuller, and Braxton Miller, the Texans offense doesn't need a tight end to own the middle of the field. But they do need a red zone threat, and Akins appears he could grow into that role.
TEXANS LIVE BLOG: Houston wins first preseason game against Kansas City Chiefs
2. RB TROYMAINE POPE COULD HAVE PASS-CATCHING UTILITY
The professional practice-squadder caught three passes for 47 yards, tied for a team-high in catches and leading the team in receiving yards. He also carried six times for 18 yards, but the catches Pope had were significant. His first catch helped convert a third-and-3 to keep the Texans' 11-play scoring drive alive that resulted in an Akins touchdown catch to take a 7-0 lead late in the first quarter. The second catch was a 34-yard screen pass that also setup a second Houston touchdown. Pope hasn't seen regular season playing time since his rookie year when he played a game for the New York Jets and three for the Seattle Seahawks. Nonetheless, Pope could make a case to stay with the Texans at least through running back D'Onta Foreman's recovery from his Achilles injury.
3. ROMEO CRENNEL'S COACHING WAS EVIDENT
Dynamic pass-rushers J.J. Watt and Jadeveon Clowney were on the sidelines. The defensive starters hardly made appearances outside of a few snaps. However, the defense still had the fingerprints of Crennel all over it. Fourth-year defensive end Angelo Blackson dropped quarterback Patrick Mahomes on first down to stall out a burgeoning Chiefs drive. Linebacker Duke Ejiofor and defensive end Christian Covington closed in on Mahomes that very third-and-15 to force him to throw incomplete. Linebacker Zach Cunningham picked off backup Chad Henne off of a linebacker Dylan Cole deflection. Second-year cornerback Josh Thornton knocked away Kansas City's fourth down pass in the end zone with the game on the line. The defense showed a promise that it can return to a top-10 level a season after finishing 20th in the NFL.
4. TEXANS STILL TERRIBLE IN SHORT YARDAGE
We may have seen more than five snaps from Watson tonight if the Texans converted a third-and-1 from the 50-yard line. Instead, the Chiefs stuffed Lamar Miller for no gain. Fast forward to the fourth quarter. It's fourth-and-1 from the Chiefs' 3-yard line with 9:38 left. Kansas City stops running back Lavon Coleman for no gain, and the Chiefs take over and nearly go down and win the game on their own (because we all know Chiefs coach Andy Reid was going for two if they scored a touchdown). The scenarios were a flashback to the New England game last season when they couldn't pick up a third-and-1 and had to settle for a field goal, which Tom Brady no doubt overcame. They were also callbacks to the Seattle game when coach Bill O'Brien decided to run it on third-and-4 with Miller rather than put the ball in the hands of his quarterback who had led them to three wins at that point, even if he was a rookie. The short yardage problems Thursday night could be evidence of two lingering issues from last year: the offensive line still can't get a push, and O'Brien still goes conservative when he doesn't have the push up front to be conservative.
PHOTOS: Texans defeat Chiefs 17-10 in 2018 preseason opener
Photos: Texans defeat Chiefs 17-10 in 2018 preseason opener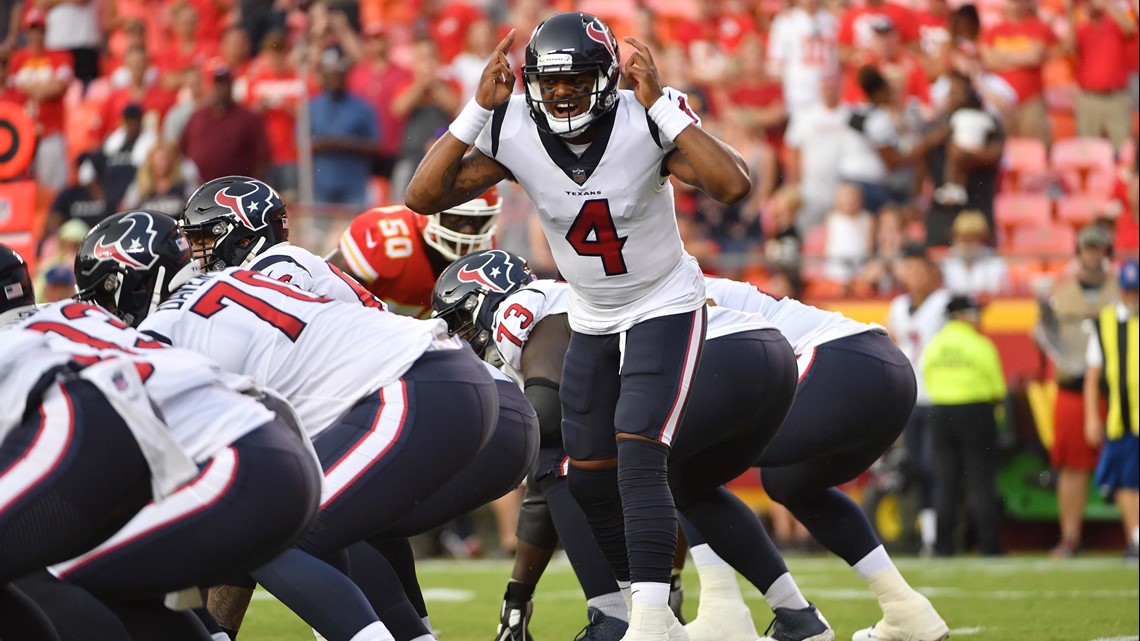 PHOTOS: Texans fans ready for preseason opener vs. Chiefs
Photos: Texans fans ready for preseason opener vs. Chiefs