VALLEY RANCH — Dallas Cowboys defensive tackle Josh Brent is retiring for a second time – and this time it may be for good.
The Cowboys announced Brent's retirement Friday morning.
"It is with careful consideration, much thought and reflection that today I announce my retirement from the NFL," Brent's statement read. "I have not taken this decision lightly, as my time in the NFL and as a member of the Dallas Cowboys has been the opportunity of a lifetime. Two of the greatest institutions in sports are the NFL and the Dallas Cowboys and I am humbled, honored and blessed to have been a part of both.
"I have made the decision that football isn't as much of a priority in my life as other things at this time."
Cowboys head coach Jason Garrett said the decision didn't come as a surprise.
"I had heard some things about this, earlier in the week," Garrett said. "I know he spoke with Mr. Jones, and then we subsequently had a good visit. And I had a very good conversation with him, and continue to stay in touch with him, going forward."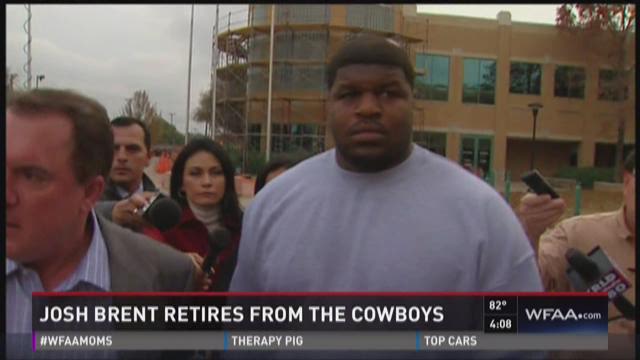 Brent had been working out at Valley Ranch, and putting the effort in to continue his comeback. But clearly things have changed.
Brent was battling back from a life-changing intoxication manslaughter conviction, that followed an accident that claimed the life of his close friend and teammate Jerry Brown.
"I admire Josh in a lot of ways, for coming back from what was really a significant situation in his life," Garrett said. "And it's not easy. And I think he's worked very hard to find some normalcy in his life at this point. I just think he wants to focus on that right now."
Brent is only 27 years old, so it may be too early to rule out football forever for him. But the Cowboys are approaching this with the belief that this is the best thing for Brent right now.
"I wish him the very, very best," Cowboys defensive coordinator Rod Marinelli said. "He came in here and worked. hard. Every day he came in here and worked. I just really admire what he did."