'The rodeo after the rodeo' | Within days, crews transform NRG Park from HLSR to NCAA
This is a whole tear down and rebuild between the final concert of RodeoHouston on March 19 to tip off of Final Four Game 1 on April 1.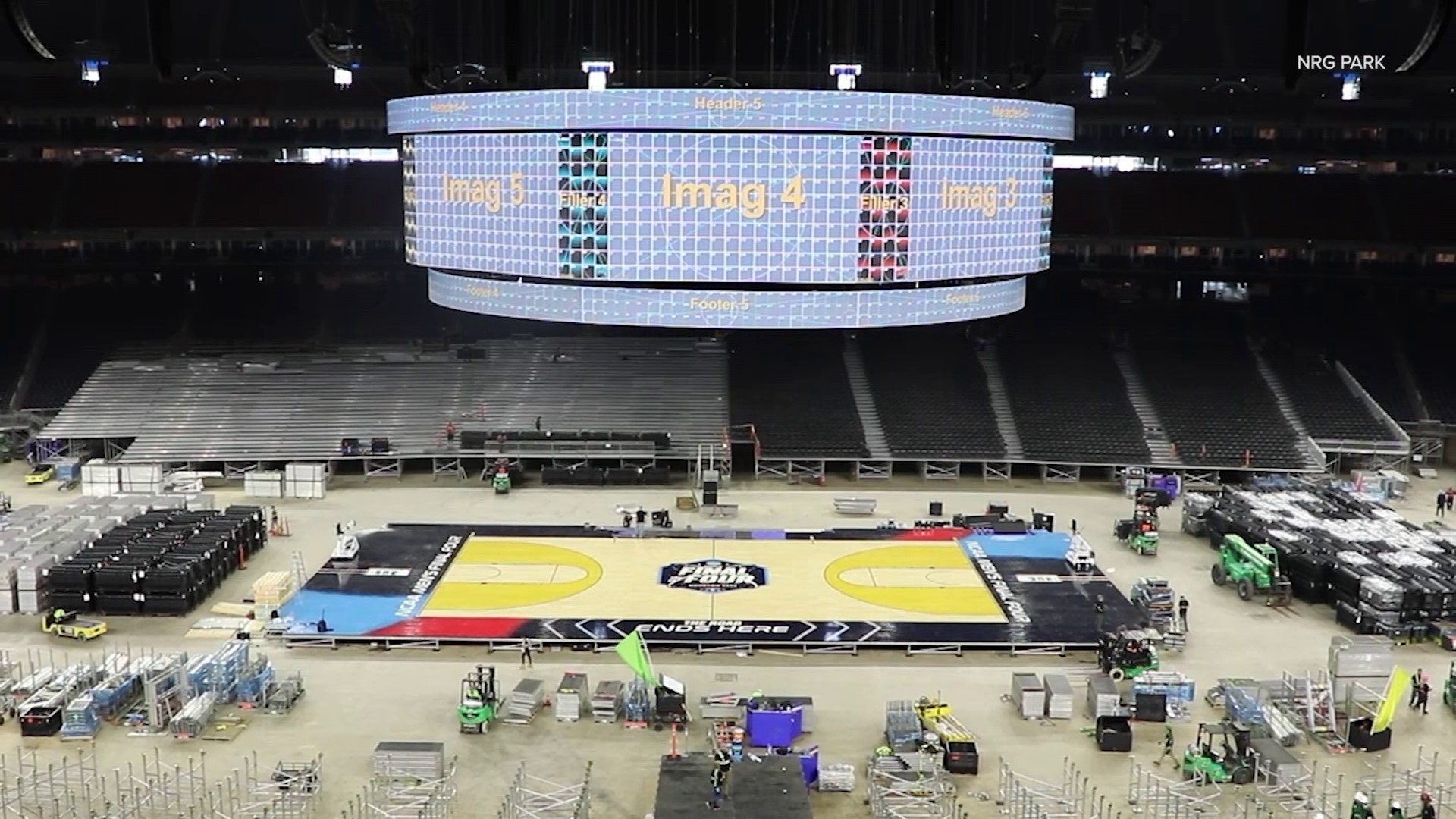 "I always tell people this is the rodeo after the Rodeo," said Mike DeMarco, HLSR Chief Show Operations Officer.
Not unlike the steer wrestling, team roping and barrel racing that happened inside NRG Stadium, this transition is a timed event. The clock starts ticking before the Rodeo wraps.
Ripping out the Rodeo
:
'It's an army of folks who make this happen'
According to DeMarco, crews start tearing down things the public won't notice, such as unused livestock pens, on Saturday before Rodeo wraps up.
His team and Rodeo volunteers build the infrastructure of the rodeo before the three-week event – putting up tents, building livestock pens, creating the arena – a process that takes weeks. They also manage operations during the show's run.
"I tell everyone our job is to turn the lights on and turn the lights off every day," said DeMarco.
"If we do our job right, you'll never see us, you'll never hear about us," added volunteer Justin Chance, HLSR Rodeo Ops Committee Chairman. "It's our responsibility to make sure everything goes smoothly."
While 2.4 million of us went to shows, rode rides and checked out exhibits, operations teams were deep into planning for what comes next: the Final Four.
"As we get ready for the NCAA-Houston Livestock Show & Rodeo transition, we're already meeting and have had several meetings with the park's management company ASM Global, other contractors and vendors, along with the NCAA folks to make sure we can do an expedited move out so we can get in and they can play basketball in a couple weeks," DeMarco explained.
The group is used to quick transitions. For example, in 2022, it converted the Rodeo arena into a concert venue to host George Strait. That, though, was still a Rodeo event. This is a whole tear down and rebuild in the 13 days between the final concert of RodeoHouston on March 19 to tip off of Game 1 on April 1.
"It's a very, very quick transition for us at NRG Stadium," Walsh said. "We've got an entire army of folks from the Final Four folks to the NRG Park staff, the Rodeo staff, the various contractors who come in and help as well, so it's an army of folks who make this happen."
Before Luke Bryan waved goodbye to the crowd Sunday night, crews were already at work in parts of the stadium the public can't see in the North Dock. It's the area where most of the animals involved in the Rodeo are kept during the competition. Pens there are some of the first to come down.
"We will be quietly moving dirt and tearing down things outside – grand entry, wagons, horses, teams of horses – will all be loaded and transported out of here," said DeMarco. "They'll all be gone."
Lights up means it's time for the production teams to move in.
"From the time we end the concert until midnight, they will literally strike the stage, clean all the gear out," DeMarco said.
By this point, the energy of the crowd has been replaced by a different frenzy of activity.
"Communication is a lynchpin to all of this because there are so many different entities involved in actually transitioning something like NRG Stadium from Rodeo into the Final Four," said Chance.
Housekeeping sweeps through the seats as equipment and workers weave around the arena, removing the bucking chutes, roping boxes, action seats and signage.
"We just started our transition from the Rodeo into the NCAA Men's Final Four. We're on hour number two," said NRG Park Assistant General Manager Leah Mastaglio when KHOU 11 caught up with her around 11 p.m. on March 19. "We're hauling all the steel out now and getting the dirt prepped and ready to be hauled."
The dirt is about 18 inches thick across the entire arena floor.
"580 dump truck loads of dirt that have to come out of the stadium to get to a clean floor," DeMarco said.
Front-end loaders and excavators pour the dirt into massive piles before the line of dump trucks – dozens deep outside – can load up. One after the other, they fill up and head out, bound for a Rodeo storage facility off US-288. This process takes hours.
"They work shifts literally through the night to make all this transition happen," said DeMarco.
The grind continues even after the dirt is gone.
"Our housekeeping team will clean the entire floor. Our concessions partner will be restocking all the concession stands," Mastaglio said. "We're cleaning this building head to toe, we're changing out air filters, we're painting walls. We're doing all of the things."
The stage comes back out to be dismantled into its eight separate pieces and about 100 doors and offices in NRG Stadium get re-keyed.
"That little one piece takes 10 volunteers eight hours to knock all that out," said DeMarco. "It's a recipe. When you bake something, you have to go Step 1, Step 2, Step 3 and you can't get ahead of yourself. If you get ahead of yourself, sometimes you cause delays and you have to restart and move forward."
Repeat performance
:
'We have it down'
Though the transition seems like a tight timeline, it's the same one the organizations adhered to in 2016 when Houston hosted the NCAA Men's Final Four, as well as in 2011 before that.
"I think we have it down," Mastaglio smiled, adding that in between NRG Park hosts about 500 events a year. "So we're kind of used to doing these flips, but we've been working on this one in particular for five years since we were awarded this back in 2018."
That five years of planning gets executed over the course of hours. For anyone else, it might be overwhelming.
"This is the fun part of what we do. Most operations people are adrenaline junkies," said DeMarco. "We love this stuff because it's the challenge of running an organization, but cooperatively between the Park, the NCAA folks and our contractors and vendors, our volunteer corps, it doesn't happen."
Fan Fest forms
:
A similar transformation happens at the George R. Brown Convention Center, which is home to the Men's Final Four Fan Fest. Air 11 caught crews hanging signs and banners on the building, while along Avenida Houston, a 3D March Madness bracket was erected.
Across the street at Discovery Green, workers get the stage set for the March Madness Music Festival featuring Megan Thee Stallion, Lil Nas X, Tim McGraw and Keith Urban. They'll work at least 12 hours a day for 14 straight days to build the stage and more.
"You're not seeing the artists compound behind us with trailers," said Andre Plaisance with Warner Bros. Discovery. "You're not seeing the Ferris wheel brought it. You're not seeing all the other tents and activities that will be brought in, video boards being set up. The interactive that AT&T, Coca Cola and Capitol One are going to set up as well."
The buildout at Discovery Green will continue right up until showtime on Friday.
"It's two straight weeks of work for three exciting days over Final Four weekend," Plaisance said.
Full-court press
:
Back at NRG Park, Rodeo reminders are fading, but not completely gone. Some of the 750,000 square feet of tent hasn't been torn down yet. And while most of the 600 trucks of carnival gear has been carted off, a few rides wait for a full breakdown.
Crews here have been busy since Sunday night, clearing out the parking lots, peeling off signs and installing new ones.
"It is truly a cooperative effort," said DeMarco.
A week before tipoff, the court goes in – panel by panel.
"What you're seeing now is the center line is being built out and anchored in. Then the court's going to get installed from there," Connor Sports' Zach Riberdy explained.
His company has been the official hard court supplier for the NCAA Final Four since 2006.
"The process takes place at our mill and production facility in Amasa, Michigan. Small little town of 300 people, but they create the magic that is going on downstairs," said Riberdy. "There are probably more people working in this building right now than there are in the town where the court was created."
"That gave the court the amazing graphics that were provided to us," Riberdy said. "It's about a two-to-three week process to make sure everything settles and then we get the good graces of the NCAA team in Indianapolis and we get rolling."
What took weeks to perfect gets installed in mere hours.
"There's nothing that makes it more real that the road ends here to really see where the road will end, which is the basketball court right below us," Carla Gomez, one of the members of the 2023 NCAA Men's Final Four Local Organizing Committee, gestured.
There is still work to do.
"They literally go in from where the floor is at, from the concrete wall up, they will start removing seats," DeMarco. said. "Then they'll come right behind them and build seats because they create a different seating bowl for the basketball game."
Gomez added that will be a work in progress all the way until March 31.