HOUSTON — There's H-E-B and then there's the Astros. Two iconic Houston brands. But what do you get when you pair them together?
Starting Tuesday, all H-E-B Houston-area locations will be selling both half-gallon and pint-sizes of its new Creamy Creations ice cream flavor dedicated to the 2022 World Series Champs.
The "triple-play flavor" is made up of peanut butter ice cream with peanut brittle pieces and caramel swirl.
For each ice cream carton purchased, 5% of the price will be donated to the Astros Foundation, which is the charitable organization of the Houston Astros that supports youth baseball and softball programs, amongst other things.
"We are excited to work with our longstanding partner H-E-B to bring this sweet treat to Houstonians," said Senior Vice President of Corporate Partnerships, Matt Brand. "Both H-E-B and the Astros are iconic brands in Houston and to be able to also use this project to give back to our Houston community through donation to the Astros Foundation, something we both are so passionate about makes it even more exciting."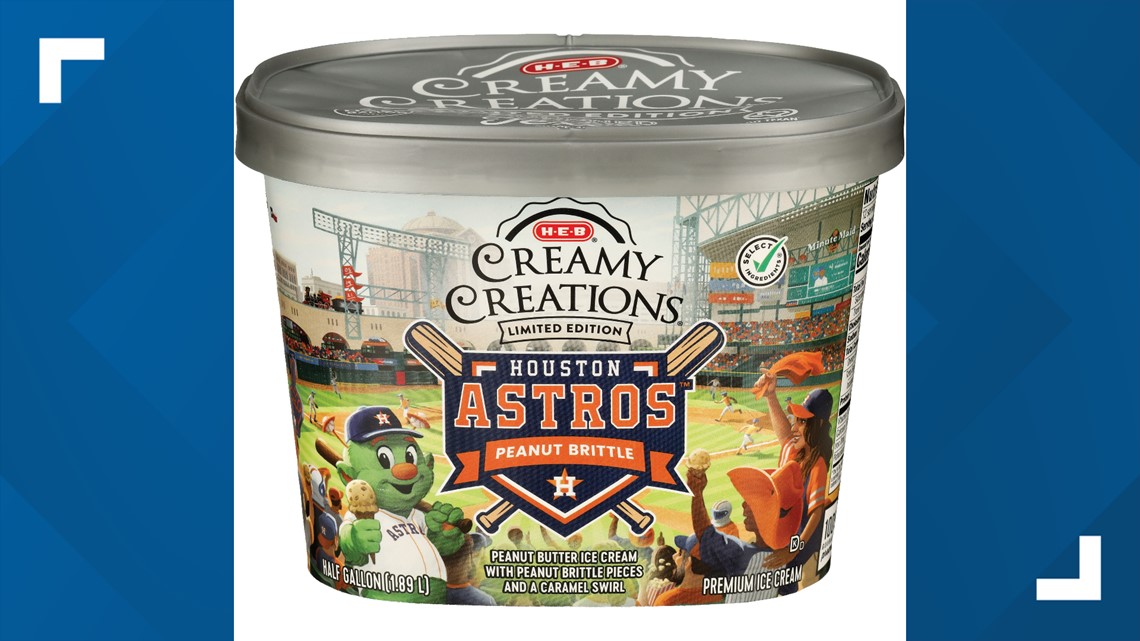 The carton's label features views inside Minute Maid Park with an open roof. You can see Astros fans, young and old, enjoying a bases-loaded view of the park. And don't worry, H-E-B didn't forget about Orbit, who you can see holding an ice cream cone of the sweet Astros-themed treat.
This ice cream will only be available for a limited time so don't be the last one in line.
It's gold season!
The team store at Union Station will be open for 24 hours straight to lets fans get what they want, including jerseys, T-shirts, hats and more.
Fans who go to the store during the "gold rush" will also be allowed to sit on a special throne and take photos. There will be special appearances by Orbit, the Shooting Stars and the 2017 and 2022 World Series trophies.
The Astros will wear the special edition uniforms during the first two games of the season against the Chicago White Sox on March 30 and March 31.