It was a statement nonetheless.
Correa opted to spend the day sending supplies to his native Puerto Rico, which continues to struggle in the aftermath of Hurricane Maria six months after the powerful storm tore through the island from east to west.
In carefully chosen words, Correa later thanked Donald Trump for all the help the federal government supplied to Houston, which was also devastated in September by Hurricane Harvey, and "some of the help that he's provided to Puerto Rico.''
Considering the Trump administration response to the disaster in Puerto Rico, and his comments about its residents, were widely criticized both in the island and mainland, Correa struck a delicate balance. He was appreciative while still highlighting that his home country of 3.3 million American citizens continues to endure a humanitarian crisis and needs further aid.
Maintaining such an equilibrium required rare skills for a 23-year-old, one tugged by the needs at home but also mindful of his national profile as an spokesman for brands like Adidas.
And yet, Correa has increasingly displayed them in embracing his responsibilities as one of Puerto Rico's most prominent figures. Correa, Francisco Lindor and Javier Baez have emerged as the leaders of a young wave of Puerto Rican standouts, all three bilingual and articulate.
As the only one to combine a World Series title with All-Star status, Correa has the highest profile. Asked how tough a call it was to stay in Florida or join his teammates in Washington, Correa said:
"It was a difficult decision because it's an invitation to the White House to meet the president of the United States. As I've said before, it's an honor to be invited to such a historic place. But I also had my people in Puerto Rico who are in need and suffering and dying because they don't have food on the table, so I decided to go that way.''
Correa said he learned several lessons from the venerable Carlos Beltran, who retired after earning his first championship ring with the Astros last fall, about representing their homeland in a dignified manner. It might be no coincidence that Beltran also chose to pass on the White House visit after earlier expressing his disappointment with the federal relief efforts.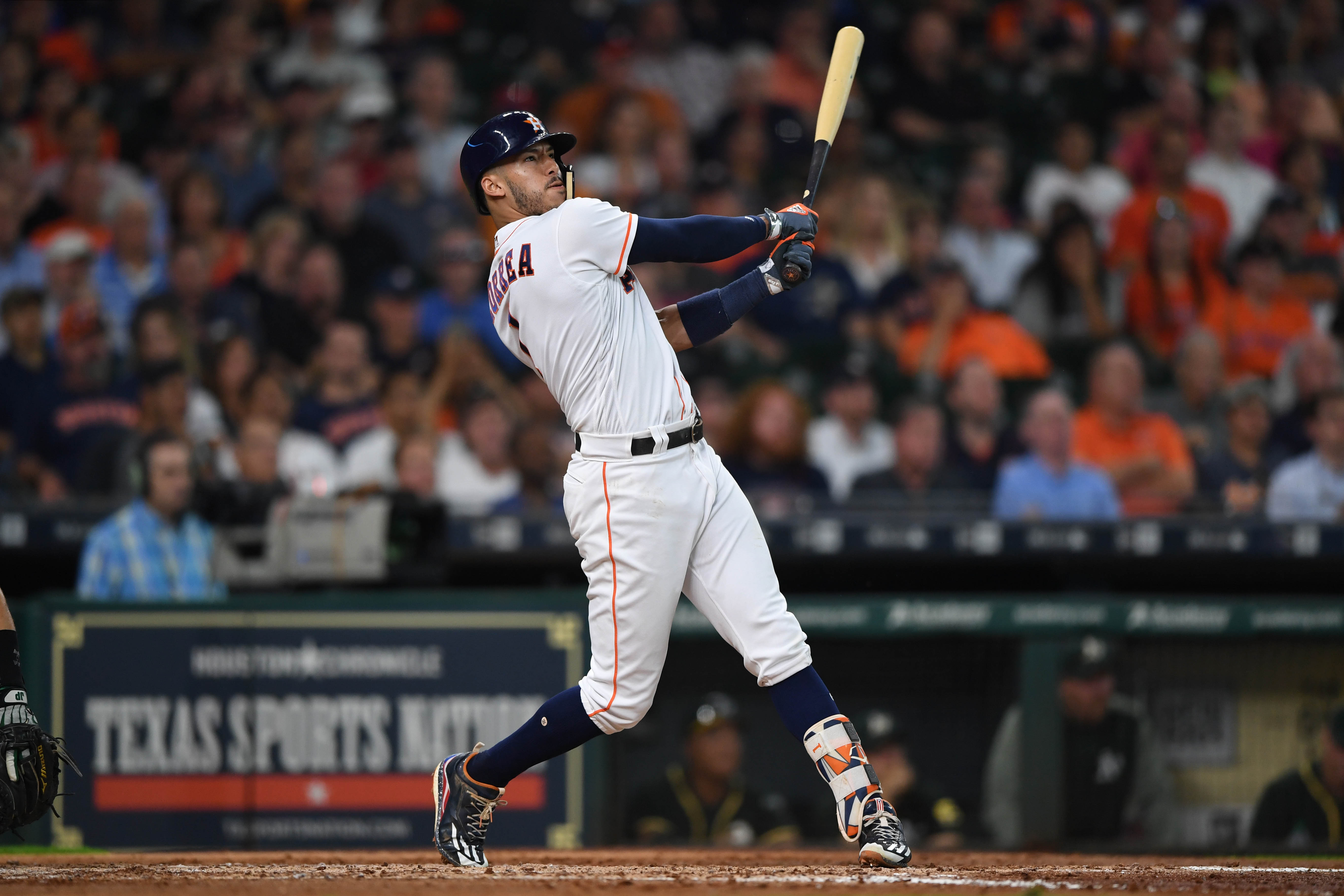 But as a player with MVP potential and most of his career ahead of him, Correa will have to set his own path. He makes his living representing a city in a conservative state and was aware there would be some backlash for declining the trip to the White House.
"I knew the Trump supporters would be all over me, but once I provided my explanation for not going and they realized it wasn't political, I felt they would understand,'' said Correa, adding the social media feedback he got was mostly positive. "When it's not about politics but about human lives dying and being in need, people understand.''
His teammates certainly did. Correa addressed them when they returned from Washington and explained his rationale.
Pitcher Dallas Keuchel, who wishes those celebratory visits had not become so politicized, said Correa didn't have to do that.
"It was an off-day and nobody had to go,'' Keuchel said. "I commend him for keeping his home country on his mind and helping them out. Whether you went or not didn't really matter. He could have been sleeping in for all I know. That doesn't bother me one bit.''
Correa and Beltran, who donated $1 million, were among numerous Puerto Rican players who launched campaigns to aid their countrymen after Maria, which left them disconnected from their relatives for several days just as the Astros were heading to the playoffs.
St. Louis Cardinals catcher Yadier Molina, an eight-time All-Star and the island's most decorated player in the wake of Beltran's retirement, helped raise funds and personally delivered provisions around the northern town where he grew up.
Correa focused his efforts in his southern hometown of Santa Isabel and its surroundings, where he has a team of 30 volunteers reaching out to communities that still lack bare necessities. He said sometimes he receives videos of thankful beneficiaries in tears, which he finds deeply touching.
The instinct to help those in need is almost ingrained in Puerto Rican players, who grow up hearing about Roberto Clemente's generous spirit. The Hall of Fame outfielder died in a plane crash on New Year's Eve 1972 while taking supplies to earthquake-ravaged Nicaragua.
Still, manager A.J. Hinch said he has been impressed to see such a young player take on that role.
"One of the things we've known more and more about Carlos as he's gotten more exposure is how philanthropic he is and how much he cares about kids, how much he cares about his community back in Puerto Rico,'' Hinch said. "The way he gives his time, the way he gives his money, the way he brings attention to all the topics that are important to him, it's a rare breed.''
And Hinch expresses no concern over those endeavors taking away from Correa's baseball duties.
Last season he was on an MVP pace, with a .320 batting average, 20 homers and 67 RBI through July 17, when he sustained a thumb injury that sidelined him for a month and a half. Correa still finished tied for second on the team in home runs (24) and third in RBI (84).
In the postseason, while still getting frequent reports of the hardships his friends and relatives were experiencing back home, he batted .288 and homered five times – including twice in the World Series – as the Astros claimed the first championship in their 55-year history.
Topping off the greatest night of his life, after the Game 7 victory over the Los Angeles Dodgers, Correa proposed to his girlfriend, Daniella Rodriguez, in front of a national TV audience. She broke down in tears and said yes.
If anybody wondered about Correa's willingness to step onto a big stage, that should answer any questions.
"Carlos Correa is already a big Puerto Rican figure who everybody follows,'' said Molina, who's more the reticent type. "He's got great potential and he has shown a lot, being a winner, the way he has played, the way he represents us. Right now, Carlitos, (Francisco) Lindor and Javy Baez project a great image for Puerto Rico. I'm really happy for each of them.''