The Astros won the World Series, 6-2, after crushing the Philadelphia Phillies Saturday night, 4-1, in Game 6 at Minute Maid Park. Now, it's time for the city and fans to celebrate them.
What channel is the Astros parade on?
Coverage of the Astros victory parade will be on KHOU 11, KHOU 11+ on Roku and FireTV, the KHOU 11 app, Facebook and YouTube, starting at 10 a.m., before the parade kicks off.
More than a million people are expected to fill the streets of downtown Houston. Several school districts and colleges canceled classes today
Programming note
Due to our awesome Astros Parade coverage today from 10 a.m. to 2 p.m. the following programs will not be aired on KHOU 11:
The full episode of today's Young & Restless can be found on www.cbs.com later tonight.
The full episode of today's Bold & Beautiful can be found on www.cbs.com later tonight.
Start point
The parade route is longer and more linear compared to 2017. It will be 1.7 miles long with fans along both sides of the streets.
The parade will start at Smith and Preston streets and will go down to Smith and Tuam streets.
Finner said paradegoers shouldn't just go to the start point or end point.
Map of route
How to get there
Turner said using METRO will be a good way to get downtown. All rides on transit systems will be free, including METRORail, Park and Ride, bus and METRO Lift services.
The METRO Red Line will operate as long as possible.
A special train will be wrapped with the Astros logo.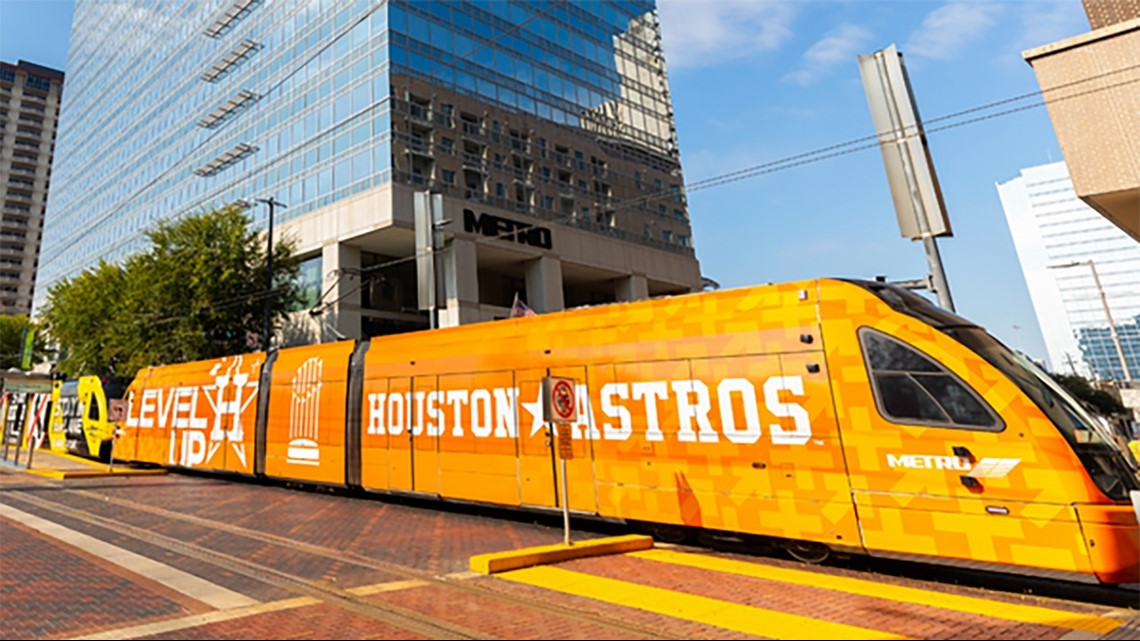 Rideshare dropoff points
Taking rideshares to several dropoff and pickup spots around downtown is another option. There will be several points around town to get dropped off and picked up from:
Root Square Memorial Park at 1400 Clay St.
Allen's Landing at 1019 Commerce St.
Eleanor Tinsley Park parking lanes at 3600 Allen Parkway
Co-Cathedral of the Sacred Heart at 1111 St. Joseph Parkway
Safety
Houston Police Chief Troy Finner said hundreds of officers from several agencies will be on the streets.
Finner said visitors should not park on Smith, Louisiana or Bagby near the start point of the parade starting at 4 a.m.
Astros headlines
Live updates
Follow along for all of the big moments from today's celebration:
1:35 PM - What a showing Houston!
1:20 PM - Check out the aerial view of the celebration!
12:45 PM - WHOSE HOUSE? COOGS HOUSE!
12:35 PM - Orbit, the Astros mascot, is in the house!
Yuli Gurriel said the team's greatest strength is the support they get from their families.
12:25 PM - "We want Houston!" chants fill the air as fans watch the parade go by in downtown. Yankees and Phillies fans famously chanted that before being eliminated by the now World Champs!
12:10 PM - Check out these two-time World Champs!
NOON - Astros star Jose Altuve is ready for this parade to get started.
11:15 AM - King of the Trill! Check out what Bun B had to say ahead of today's parade.
11:10 AM - If you're still contemplating heading out to the World Series Parade, here's your sign. Jeremy Peña said he hopes the entire city is downtown and he's looking forward to seeing all the fans!
11:00 AM - Google 'Astros' for a cool surprise! The World Series schedule and scores appear and then celebratory fireworks to showing across the screen.
10:57 AM - The buses are loaded and heading for the start of the parade route.
10:55 AM - Before boarding the Astros World Series victory bus, Trey Mancini, who overcame cancer to continue his baseball career, says, "I had so many trials that I went through…to make it this far, it's just incredible.
10:50 AM - Astros fans are decked out for today's celebration. We want to see your best fan pics and videos! Send them to 713-526-11 and we may use them on air.
10:35 AM - The Astros team and personnel continue to file and board charter buses this morning before the parade.
10:25 AM - Houston Texans legend Andre Johnson will be taking part in the Astros victory parade.
10:20 AM - What a view for these fans ready for today's parade!
10:00 AM - If you can't be at the parade, join our live stream.
9:30 AM - Astros fans showed up early to grab their spots for today's celebration.