'Just mayhem': An oral history of one of the greatest Texas high school football games ever
30 years ago, two North Texas schools faced off in one of the best high school football games ever. And those who played it still remember it like it was yesterday.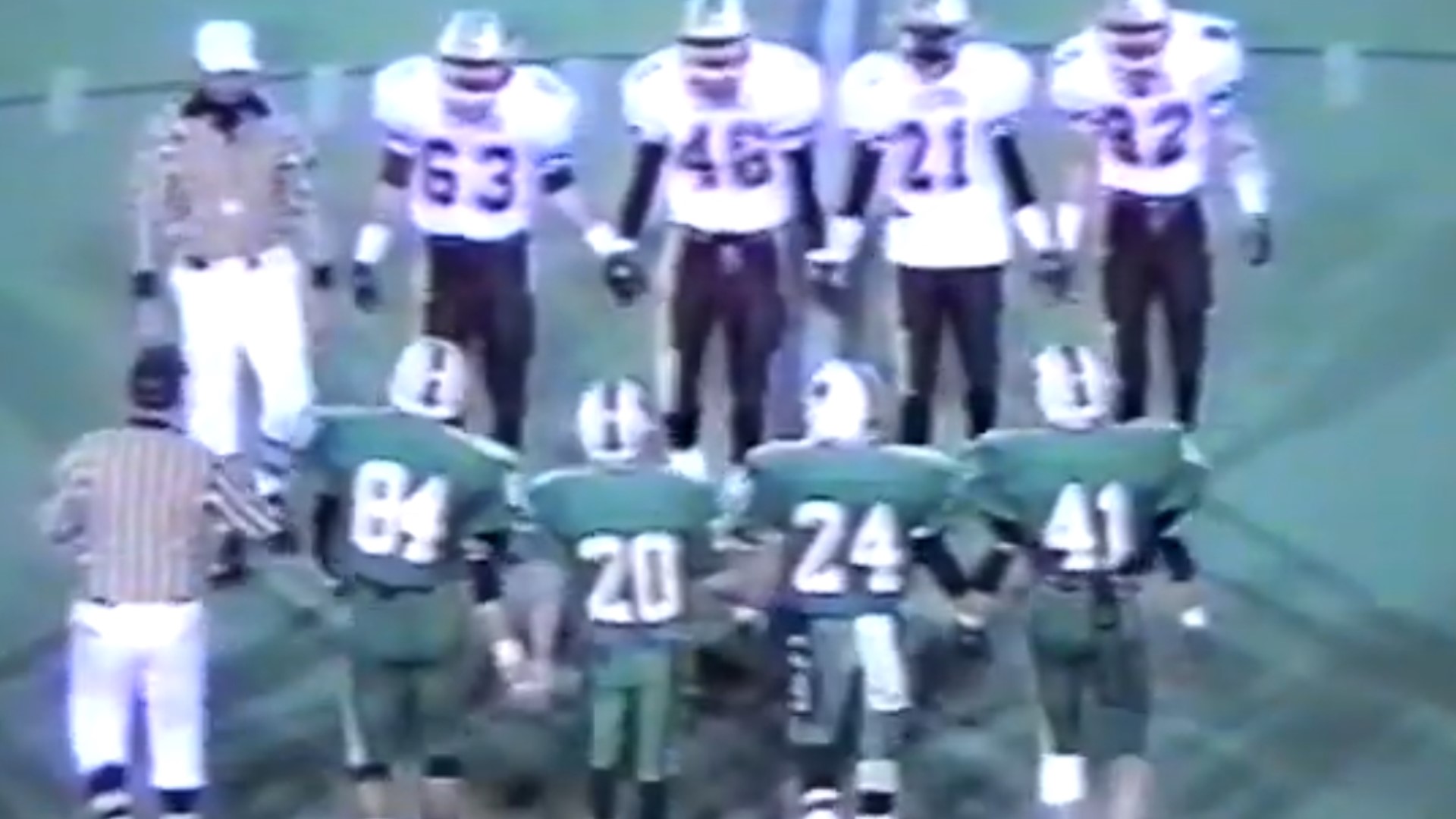 They hold their own memories of the same story.
But 30 years later, when the conversation turns to the night of Nov. 27, 1992, it almost always begins with the same thing.
That wall, and all the fans climbing over it.
"I had never experienced anything like that," said Jeff Croy, the safety and co-captain for the 1992 Southlake Carroll High School football team. "You didn't know what was about to happen -- but it was probably going to be special, whatever it was."
Back then, Bedford's spacious Pennington Field was still freshly built with its 12,500 seats. But that night, there wasn't enough room for everyone wanting to watch Carroll play Vernon High School as the two schools squared off in the third round of the Class 3A football playoffs.
So fans poured over the walls and onto the sidelines, fully surrounding the endzones. But even the ones who paid for a ticket got their money's worth. Carroll battled Vernon to a 39-35 win on that night, surviving a heavyweight fight between two teams that rarely caught a punch all season.
There was no Hail Mary winner in this game. No improbable onside kick recovery, either. And certainly no walk-off hook-and-ladder.
Still, the game has become something of a Texas high school football legend over the years, even in a sport filled with them.
"Just two great teams going after it," said Will Mantooth, the Carroll quarterback.
In the years since, the Carroll school district grew larger and larger. And Southlake, then a sleepy country town near the Dallas-Fort Worth airport, became a booming suburb.
But Vernon, in many ways, has stayed the same. It remains a town of around 12,000 people, located about two hours northwest of the Metroplex.
What they share still is the fact that one night, 30 years ago, the two schools – the two towns – went toe-to-toe as equals.
That's why they're still talking about it.
Two Programs On The Rise
:
How Vernon-Carroll became an all-time game didn't start on the night of the game in Bedford. The story actually began more than a decade earlier, when Bob Ledbetter was coaching at Frisco High School in Collin County. Carroll, another small 2A school at the time, had an opening for a football coaching position, and Ledbetter got a call.
Bob Ledbetter (Carroll head football coach, 1979-1996): The superintendent then was Jack Johnson, and Mr. Johnson called me. And I came over here and interviewed with him and John Lowrey, who was the principal.
And I remember we were sitting in his office, and he said, "Coach, I will tell you one thing," he said. "We're going to offer you the job here at Southlake." But he said, "I want you to understand one thing: You'll never win a state football championship here at Southlake Carroll."
He said, "Well, we've got great kids. But we don't have great athletes. Our kids aren't bigger, faster and stronger." But he said that we've got great parents and our kids are great students. And I remember looking at him – and this was probably in 1979 or somewhere in there – and I said, 'Mr. Johnson, you don't win state championships with great athletes. You win with great kids. And you win with kids that believe in themselves and believe in each other and believe in the program."
Ledbetter accepted the job and, through the 1980s, built Carroll into a winner. The school district kept growing, and Carroll jumped from Class 2A to 3A. In 1988, the Dragons won their first state championship.
Meanwhile, 160 miles away in Vernon, Coach Leo Brittain was building a culture of his own. And every kid in Vernon waited their turn to play for the Lions.
Benny Cherry (Vernon defensive back, 1990-1992): Back then we didn't have Peewee League football in Vernon. So all of us started playing football, for the most part, in seventh grade. And as I played in seventh grade, I initially played running back. I was the backup. That's why my number was 21. And Dexter was No. 20.
Dexter Butler (Vernon running back, 1990-1992): When I was in seventh grade, every track meet, I came home with five gold medals. That's when I realized I was a lot faster than a bunch of kids.
Willie Cherry (Vernon defensive back, 1991-1993): It was our sixth-grade year going to seventh-grade summer. It was like Christmas Day. I mean, we lined up for football and couldn't wait. I was like a kid on Christmas Day.
Butler: In the seventh and eighth grade, I only weighed 89 pounds. I was real small. Going into my freshman year, that's when me, Benny Cherry, Willie Cherry, a bunch of the guys, we started working out that summer with Coach Brittain in the weight room. I went from weighing 89 pounds – I was up to 195 by my freshman year.
Benny Cherry: Coach Brittain, he didn't care who you were. And it gives you a lot of confidence whenever you know you're in a system that's not run by booster clubs. Brittain's motto was, if you can play, you're gonna play. You do something wrong, you're gonna pay.
By the late '80s, Carroll and Vernon were annual contenders in Class 3A. Carroll won the 1988 title. Then Vernon won in 1990, beating Carroll 11-6 in the playoffs. In 1991, the two schools seemed destined to face each other again -- but it didn't happen. Vernon tied Burnet in the third round, but Burnet advanced by a tiebreaker of having more first downs. Burnet then faced Carroll – and, again, they tied. And, again, Burnet advanced -- that time on a tiebreaker of having more penetrations inside Carroll's 20-yard-line. In those days, there was no overtime in Texas high school football. And, on technicalities, Carroll and Vernon were sent home early.
Brian Nimphius (Carroll wide receiver/cornerback, 1990-1992): We were in shock for a variety of reasons. And then we just kind of clicked and we said, "This will never happen again. We're not going through this. We'll never lose again."
Dane Johnson (Carroll running back/linebacker, 1991-1993): We carried that with us. We had a lot of kids returning, we were young. And so that was fresh in our mind. We weren't going to let that happen again.
Ledbetter: That one, we didn't have to talk about it. These kids were so close with each other. We didn't have to do a lot to motivate them from that standpoint.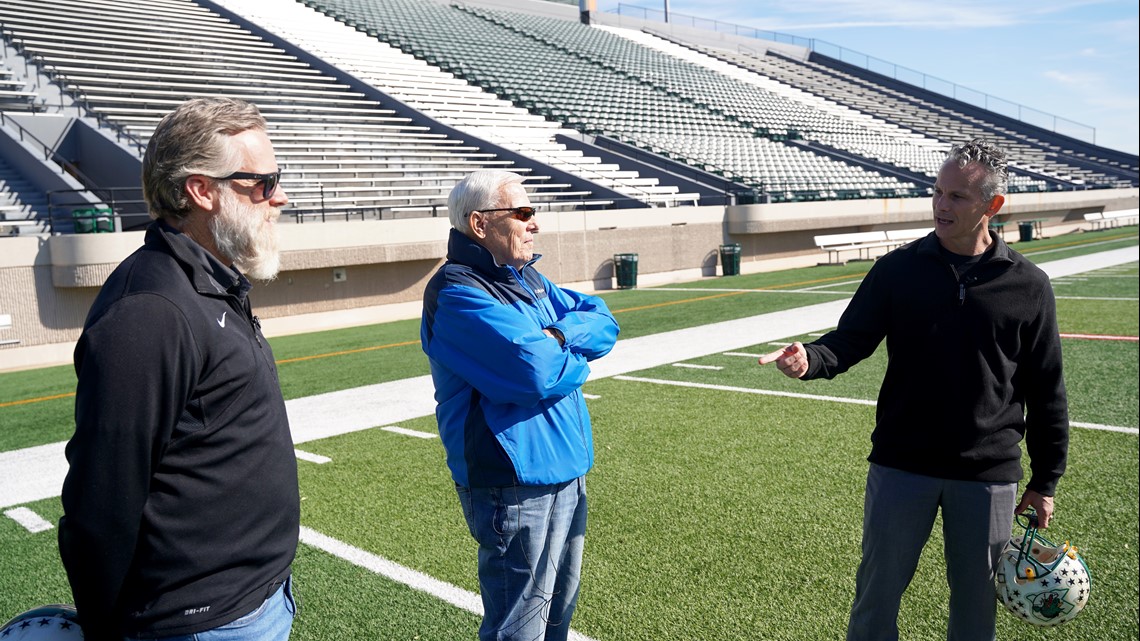 Carroll returned in 1992 on a mission – and a motto of "GIOI: Get In On It." Leading the Dragons was an undersized, yet speedy, quarterback in Will Mantooth. Standing around 5-foot-6 and weighing 140 pounds, Mantooth might have been an unlikely candidate for a starting quarterback on one of the state's best teams. But he mastered Carroll's wishbone offense just the same -- and was fast enough to run it effectively.
Will Mantooth (Carroll quarterback, 1991-1992): Growing up, ever since I was little, I was riding horses and roping and all that. As soon as I could walk, that's what I was doing.
Ledbetter: He was an ol' cowboy. Will was just as country [as you could be], for a Southlake kid. He rode bulls. He roped. Mom and dad had a place here and he roped every Sunday. And I said, "Will, do not ever during football season be roping out there.' And I know he was out there roping. But the thing about Will was he was the toughest kid I've ever been around in my life.
Johnson: He hated somebody getting the better of him. Which is exactly what you want in a wishbone offense. In a wishbone offense, your quarterback is like the point guard in basketball. He's gotta make the right reads when it's the right situation and get the ball to everybody else.
Nimphius: I can't remember who we were playing, but nobody could tackle [Mantooth]. There were five guys draped on him. And I distinctly remember their linebacker, who was their main guy, he said, 'He's only 135! Why can't we get him down?" And we looked at him after the play, and I'm like, "Yeah, we don't know either."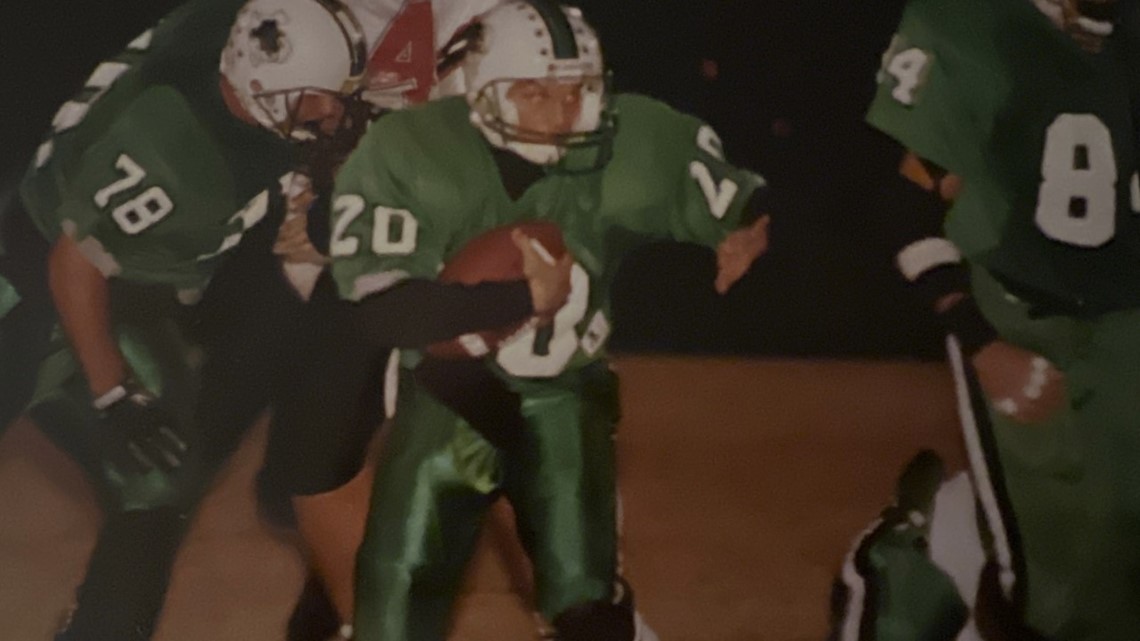 Ledbetter: When he was a freshman, he'd say, "Coach, I wanna play quarterback." I said, "Will, you'll never play quarterback for us. I'm telling you, we need to move you to a receiver. You got a chance to play." JV year, I told him the same thing. We need to move you.
For some reason, I let that kid stay at quarterback. I don't even know why. I told him one time, "Will, the chances of you ever playing quarterback at Southlake are slim and none." And he just kind of looked at me and said, "Coach I'll take slim."
A Back And Forth Battle
:
Carroll, led by Mantooth and Johnson, and Vernon, led by Butler and quarterback Chris Enloe, stayed undefeated through the regular season. And neither team was challenged in the first two rounds of the playoffs. So the date was set: Carroll and Vernon would play on the Friday after Thanksgiving at Pennington Field in Bedford. The stadium was the site of several Carroll playoff wins, and Vernon's 1990 state championship victory, too. But none of those earlier games matched the atmosphere both teams found in 1992.
Butler: We pulled up and there might have been four or five guys charging people like five or six bucks to put them over the wall so they could get in and watch the game. Because it was sold out.
Ledbetter: And I was really a little bit concerned because they were allowing people to stand in the endzone. We were in the dressing room, and when we came back out, we couldn't get out of the dressing room. We couldn't get down the ramp because people were up in there. And I ended up having to get the police to escort us out of the dressing room.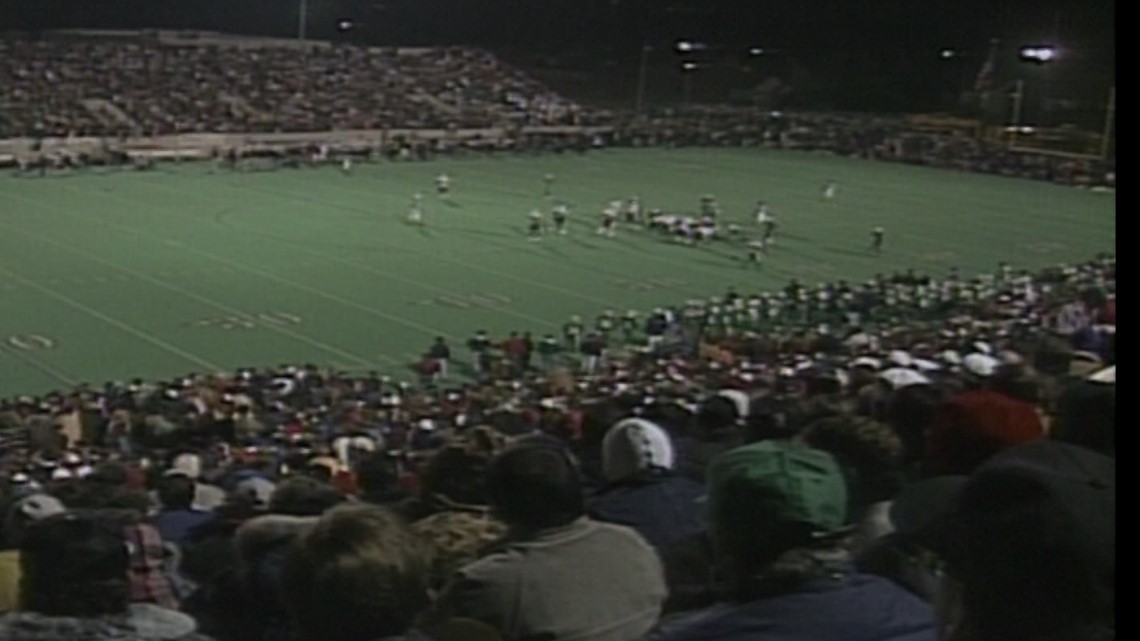 Willie Cherry: We were used to big crowds, but that was kind of amazing seeing guys standing up on your sideline -- fans on the sideline next to you that you didn't even know.
Jeff Croy (Carroll safety, 1990-1992): In pregame, the stadium was full, but we went back into the locker room. Coming back out, it was just mayhem. People everywhere, in the endzones, jumping over the walls. It was a very specific feeling. It was electric.
Eddie Robertson (Carroll Booster Club videographer for the game): One of the things I wished I had done before that game was over with -- I didn't pan the stands. But you can see it during the game. People were standing on the sidelines around all the way around. They were standing five or six deep, watching the game.
Mantooth: People everywhere. That was unreal. It was just this game. All the hype of it. Everybody's nerves were going. It's something where you want to play at, just looking at people flowing everywhere.
Carroll struck first, and often, flashing the speed of its wishbone scheme and powerful blocking. Dane Johnson scored on a long run on the first play from scrimmage. Then Mantooth showed why he had so much success as Carroll's quarterback.
On 2nd down from the Vernon 25, Mantooth took the snap and ran an option play to the right side. Johnson followed as the tailback, but Mantooth kept it and turned up the middle. Five Vernon players swarmed him, and Mantooth hurdled as he was hit. Somehow, he squeezed through the other side, put a hand on the ground to keep his balance before scampering another 20 yards into the endzone.
Butler: Benny played safety, and Willie played D-end some. They said they ain't seen a quarterback that fast. They said, "We think we break down to make the tackle, and next thing you know he's already gone around us."
Benny Cherry: They shocked us on some plays. It's like, "OK, this isn't what we saw on film. They can run this option like it's the back of their hand."
Butler: That was the first time our defense ever let anyone score on them that fast. Dane Johnson was a freak of nature at running back. That boy was a beast.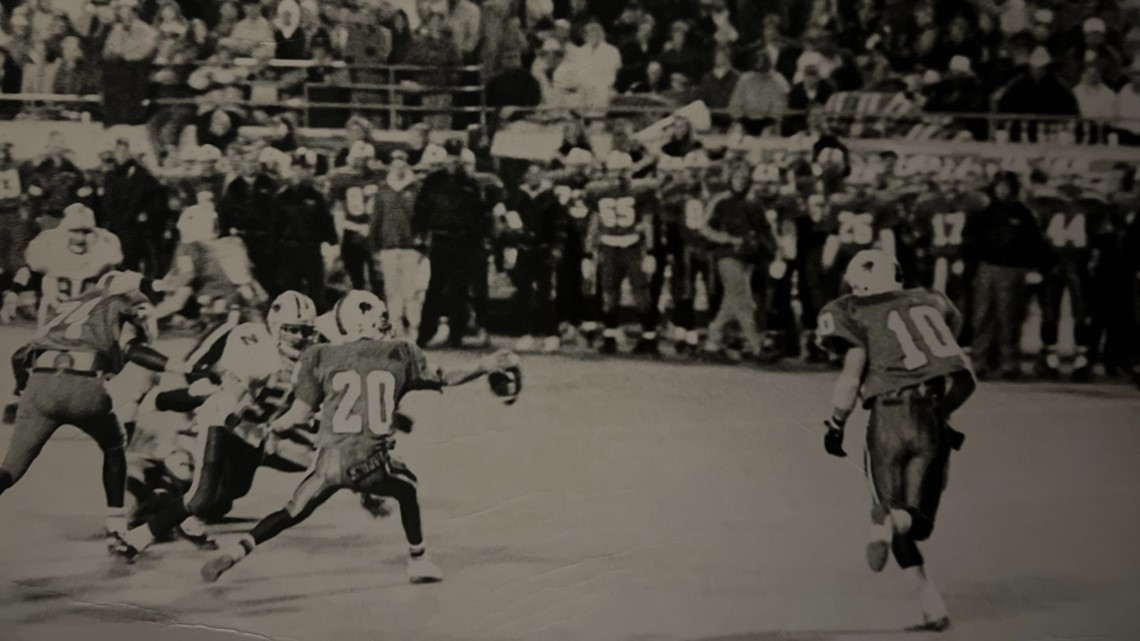 But Vernon struck back. Enloe scored on a run to the corner, and Butler took a short pass 41 yards for a touchdown, giving Vernon a 14-12 lead. The play was Butler's game in a nutshell: Using power to shed tackles, agility to stay inbounds and speed to outrun the Carroll secondary.
Croy: If [Butler] turned the corner and started running downhill... y'know, he outweighed me quite a bit. I had to hit him pretty well just to keep from getting flattened.
Johnson: You had to stop him. He was the key to all of it. So our scheme was to stop him, and to learn how to tackle a guy like that. And we probably didn't tackle him very much because they kept on scoring. Like we did, too.
Another Butler touchdown extended Vernon's lead to 21-12, but Carroll responded with a long touchdown pass from Mantooth to Scott Bratcher. At halftime, Vernon led 21-18.
Mantooth: I guess it kind of shocked us. But we knew we could come back. After halftime, I guess we got all of our big nerves out.
Benny Cherry: Yeah, we were leading at half. But we had never had a team that season that was doing the things they were doing. The big plays they were having on us? We didn't give up those kind of plays.
They were looking at it like, "Hey, we're down at half." We were looking at it like, "How the hell did they score?"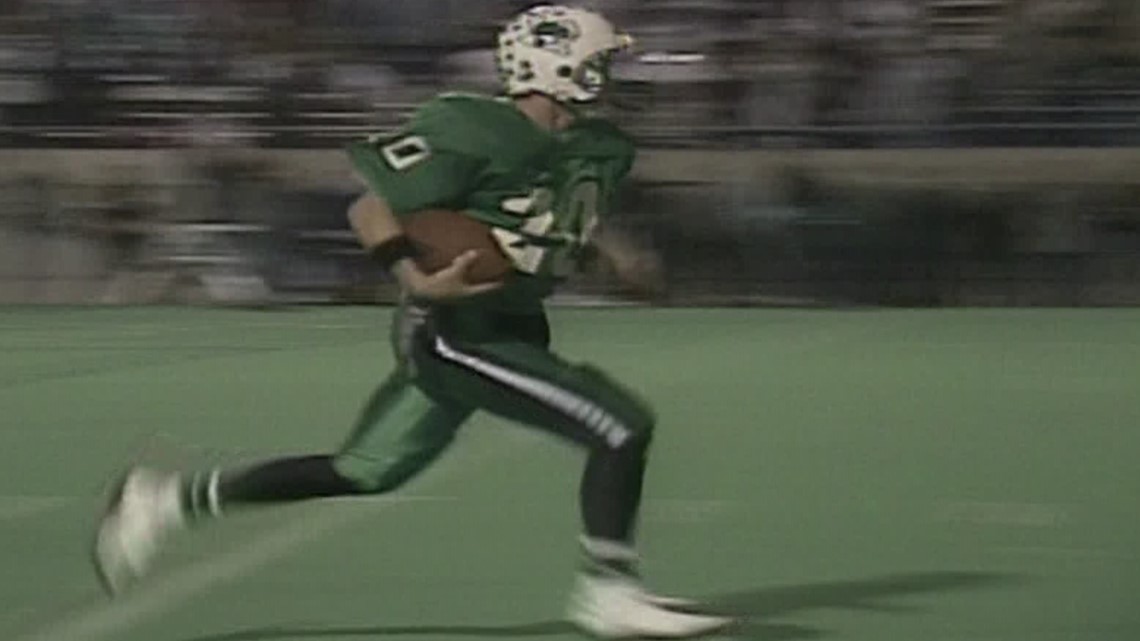 Carroll scored twice in the third quarter to take a 31-21 lead. Then Willie Cherry scored on a 10-yard run for Vernon, and Benny Cherry picked off Mantooth.
Butler scored another touchdown with 6:09 left in the game, giving Vernon a 33-31 lead. Mantooth then connected with Johnson for a 40-yard touchdown pass over the middle. After a two-point conversion, Carroll led 39-33 with 5:08 remaining. Vernon began driving. It didn't look like they'd stop.
How The Game Was Won
:
Nimphius: They were marching down the field. And you could just tell – they're gonna score.
Mantooth: I just know I'm glad I wasn't out there trying to tackle them.
Nimphius: Craig Frost twisted his ankle, and I was Frost's backup. So I went in when Frost got hurt. And I remember thinking as the game went on, Vernon had two other running backs, the Cherry [cousins]. Those guys were easier to tackle, but shiftier than Dexter Butler.
And I remember thinking, "My God, they're gonna start turning these guys loose and then we're screwed, right?" When these guys got the ball, they were electric. I just kept waiting and waiting, and they never used them.
I go in and I immediately think they're going to come right to me. And that's exactly what they did. So I went in there and tried to make a play, and they pitched it out to Butler.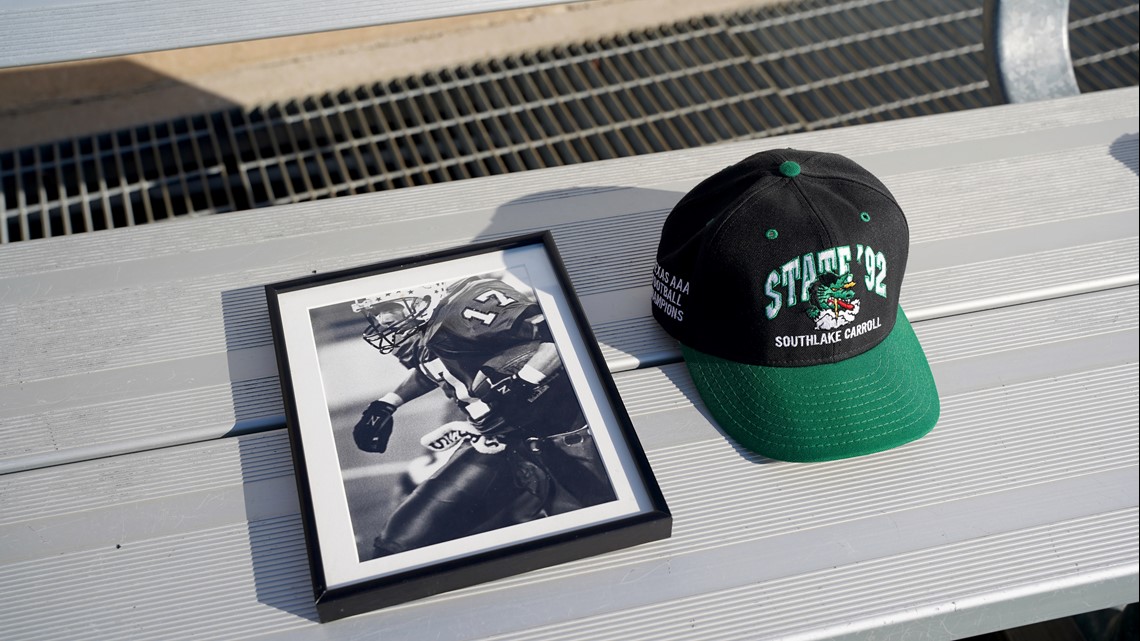 Butler: I wanna say it was 58 Sweep, or it might have been 56 scoop draw. I can't remember. But I broke up the middle, and they gang-tackled me.
I was going down. I was down on one knee. And one of them had me by the shoulder pads, pulling me back.
Croy: I was playing on that left side at safety, and Brian was at corner. We were both going to Dexter Butler. He was bouncing outside. And I just remember getting in a pile somewhere and hitting him.
Nimphius: I ran up there from the corner, darted in and stripped him. And as I'm stripping him, Dane [Johnson] hits him and the ball's on the ground. Then I pick it up. I'm like, 'Holy s---, this might just be the game.'
Benny Cherry: There was just so many green jerseys around him, and I feel like their whole entire goal was to strip the ball.
Johnson: There's probably three or four of five us, and he's pushing against us and we're pushing against him. I thought I knocked it out. Nimphius recovered it, but he says he knocked it out. So we'll argue back and forth on that. I can't remember -- that's 30 years ago now. I just remember seeing him there, and in my mind, I'm thinking, "Hey there's the ball!"
Croy: They were driving to score. And if they would have scored, they would have gone ahead and who knows what would have happened?
Carroll took possession on the fumble, but was stopped on third down. Instead of punting, the Dragons took a safety, bringing the score to 39-35. Vernon then tried a final drive to take the lead, but Carroll stopped the Lions' last-ditch effort, ending the hard-fought game.
Willie Cherry: That's one of the things that you wouldn't wish on your worst enemy. But it happens. There's gotta be a winner. That one play [the fumble] didn't lose us the game, so we really don't talk about it in depth. [But] it took me years to even watch the game again. When I say years, I mean 15 years to even watch it. We know at the end of the day, we played our butts off. And, for us, we thought we were the better team even after that fumble.
Benny Cherry: It was heartbreaking. I think that's the only time I've ever cried after a football game.
Butler: We all cried. We shook their hands and wished them luck. Whoever was going to win that game was going to win state regardless.
Ledbetter: I remember walking across that field at Pennington and almost feeling sorry for Coach Brittain, and for Vernon. It was just one of those situations where there two great teams and somebody had to lose.
Nimphius: This is gonna sound weird 30 years later, but it kind of bothers me. After the game Dexter Butler was sitting on the field. Head down. I don't know if he was crying, but he was upset. And I didn't go over there and console him. I didn't tell him great game. I just let him sit there to himself. And years later, that's always stuck with me, because that would have been the perfect opportunity to tell a guy, "Great game."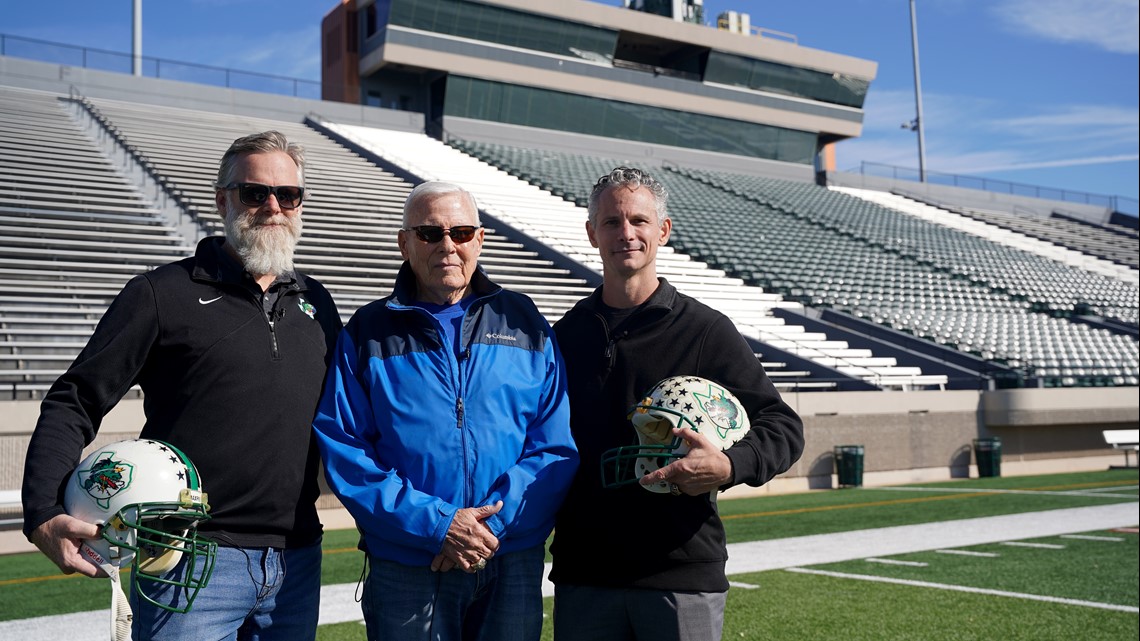 What Happened Next?
:
Butler was right. Carroll outscored their next three opponents 172-7, including a 48-0 win over Coldspring in the state championship game. Take Vernon out of the equation, and the 1992 Carroll team outscored their opponents 764-87 on the season. The Lions were their only challenge.
Ledbetter: You don't realize that during the game, but you realize that afterwards, and you play another year or two in different ballgames. Then you look back at this game, and you realize how good actually that football team was, and how good Vernon was.
Johnson: A whole generation don't have a clue what that game was like. But I do run into people who were at that game, constantly.
Butler: It's 30 years later, and we're talking about it! To me, that game feels like it was just yesterday. When something is that big, you can't forget that. It's just something you will never forget in your life. When it's time for them to put dirt on top of me, I'll still remember that game until the day I die.
After the season, Ledbetter spoke with each outgoing senior in his office. He saved Mantooth for last. The quarterback Ledbetter never thought would play for him had become the state player of the year. When Mantooth arrived to the office, Ledbetter offered to put in a few calls to smaller schools who might be interested in taking him on if Mantooth wanted to play in college.
Ledbetter: He said, "Coach, I'm done. I've done what I wanted to do. I wanted to be the quarterback for Carroll Dragons, and I'm through playing football." And I said, "Well, OK, if you want to play or you want to walk on, let me know."
Well, he gets up, and he starts to walk out of my office. Then, he turned around. He looks at me. And he just says, "Slim and none, huh, coach?" And then he just takes off out of the office. I holler at him, and he comes back in there. I say, "Mantooth, why?"
And he said, "Coach, you remember when you told me that?" And I said, "Yeah, I remember when I told you that -- and you said you'd take slim."
He said, "I'll still take slim, coach."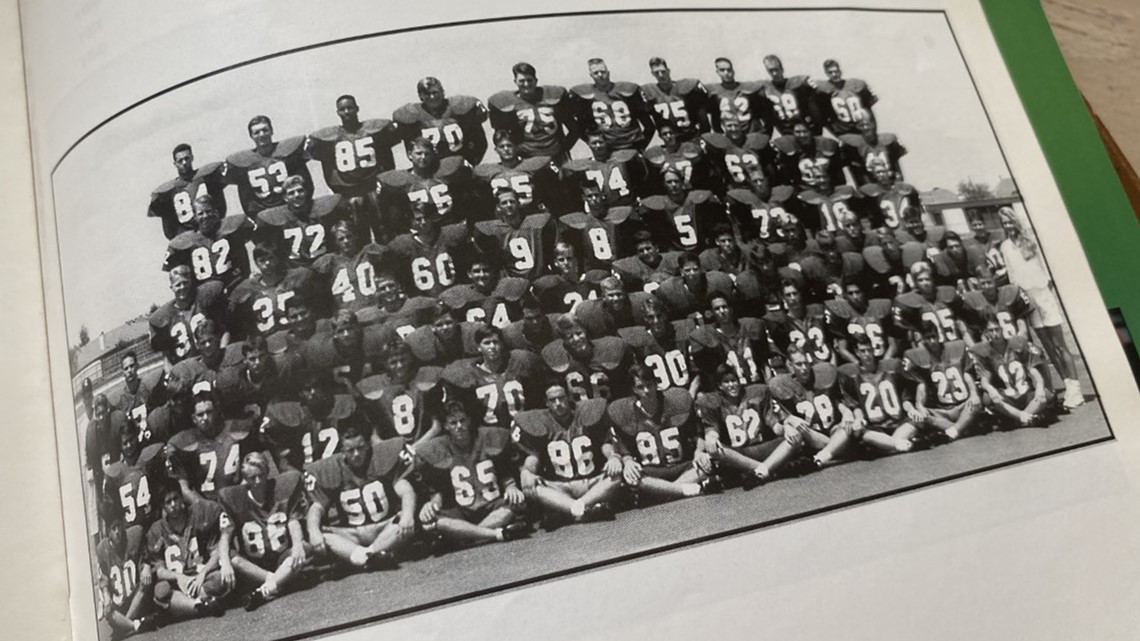 Where are they now?
:
Bob Ledbetter retired from coaching in 1996 and became the Carroll district's athletic director. Since he joined Carroll in 1979, the school has won eight state championships and appeared in two other title games. Ledbetter still lives in Southlake, across the street from Carroll High School.
Will Mantooth went into his family's excavation business, which he still runs today. He lives in Decatur with his family.
Dane Johnson played college football at Texas Tech, where he earned All-Big 12 honors. He's now the head football coach at Coram Deo Academy in Flower Mound.
Jeff Croy played college football at Midwestern State University in Wichita Falls. Today, he lives in Southlake and has a daughter who attends Carroll Middle School.
Brian Nimphius attended college on a track scholarship. He later became a chiropractor, and he lives in Trophy Club.
Dexter Butler briefly attended Ranger College after high school, but then moved back home. He later played semi-pro football in Vernon, where he still lives today, working as a technician for a wind energy company.
Willie Cherry lives in Wichita Falls and works at a state hospital. His son, Willie Cherry Jr., played football at Ohio University.
Benny Cherry played college football at the University of North Texas, where he graduated with a business degree. He's currently a vice president of a loan servicing company in North Texas.
Eddie Robertson is retired and living in Trophy Club. He drives a school bus part-time for the Argyle school district. He says Argyle reminds him of Southlake in the 1990s.