HOUSTON — What was Tropical Depression No. 2 in the Gulf of Mexico has strengthened to become the first named storm of the Atlantic Hurricane Season.
It's formation on June 2nd marks an earlier start to the season when compared with last year. However, the previous 5 years all had named storms well before the official start of the season.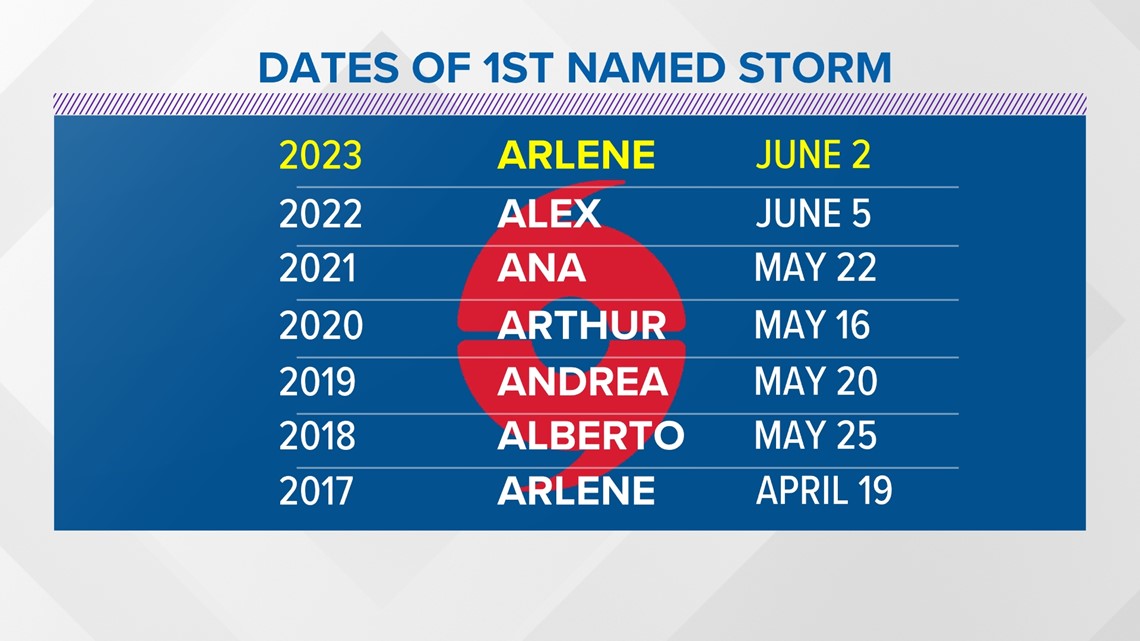 Tropical Storm Arlene is no threat to Texas, according to KHOU 11 meteorologist Kim Castro. Right now, it has maximum sustained winds of 40 miles per hour and is moving to the south-southeast at 7 miles per hour.
Castro says it is going to have an impact on Florida as it spins off moisture to the southern part of the state. There are parts of South Florida under a flood watch. Some areas may see upwards of five inches of rain.
You can watch her report in the video window above.
Because it's dealing with dry air, Arlene is not expected to develop into anything stronger. It's expected to continue moving south and reach Cuba by Saturday evening as a remnant low.
You can track Tropical Storm Arlene here
Wind shear is courtesy of an active Pacific Jet Stream, something typical for an El Niño season, which we're about to enter this summer.
Despite the wind sear, water temperatures in this part of the world are sufficiently above the 80-degree threshold for tropical development. In fact, most water temperatures are running above normal in the mid-80s.
Arlene is now the first named storm of the season. It's unlikely to bring much of an impact to the U.S. or any populated area for that matter. That's good news!
While Arlene isn't expected to affect our weather, we're just at the start of the Atlantic Hurricane Season. The KHOU 11 weather team has everything you need to stay safe if a tropical storm or hurricane were to approach the Houston area. Here's where you can download our Hurricane Guide.