AUSTIN, Texas — The impeachment trial for suspended Texas Attorney General begins on Sept. 5 and there are plenty of ways you can follow along. KHOU 11 will have LIVE team coverage on-air, online and on KHOU 11+ on September 5 at 8:55 a.m.
How to watch the impeachment trial online
KHOU 11 will stream gavel-to-gavel coverage of the impeachment trial. You can watch it live on KHOU 11+ on Roku, FireTV or AppleTV for free. You can also download the free KHOU 11 app to watch it there. And we'll be streaming the trial live each day on KHOU.com and will have full coverage every day on KHOU 11.
How to watch the impeachment trial in person
If you want to see it in person, there will be access on a first-come, first-served basis. To get into the Texas Senate gallery, you have to have a ticket. Those tickets will be handed out on the third floor outside the Senate gallery for the morning and afternoon sessions of the impeachment trial.
For the morning session, tickets will be handed out beginning at 7:30 a.m. and will end when all tickets are gone. For the afternoon session, tickets will be handed out 45 minutes before the Senate gallery reopens.
Doors to the Senate gallery open up at 8 a.m. each day with open seating for the public. There are some spots that are off-limits – two press sections and the Senate section.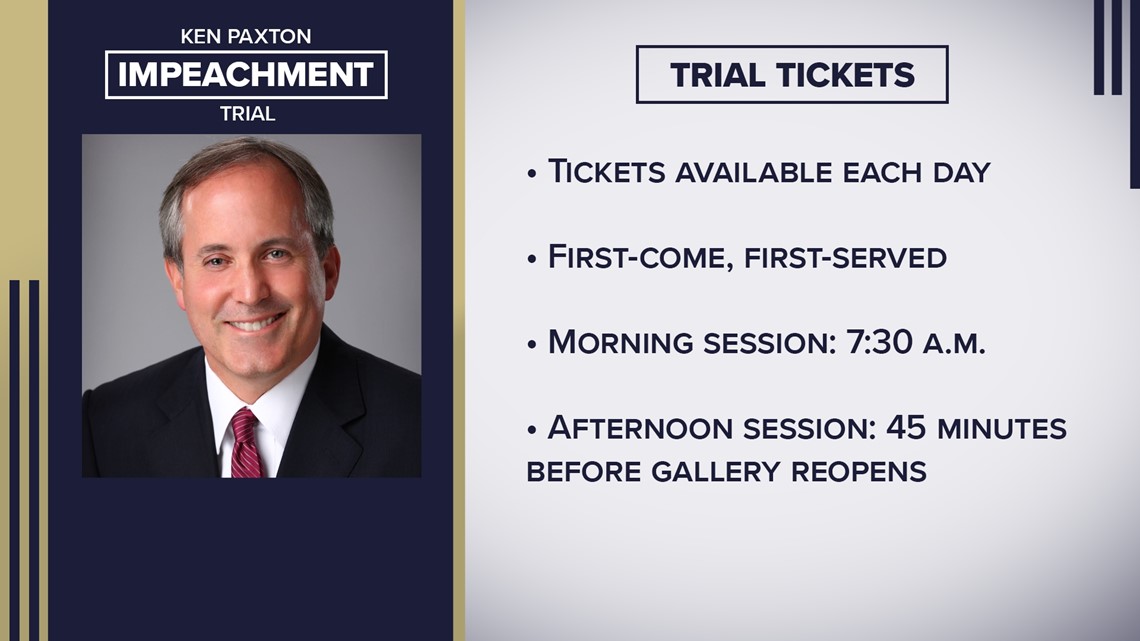 If you leave the gallery for any reason, you need a ticket to get back in. So if you get a ticket, make sure to hold onto it.
There are rules once you're in the gallery. There's no food or drink allowed and all cell phones, PDAs and other electronic devices have to be turned off or set to vibrate. There are also no cameras allowed and you can't talk, clap or demonstrate. You can't bring your electronic music devices or games and you must be seated the entire time.
If anyone in the gallery violates the rules, they'll be removed from the and won't be able to return that day. The guidelines above are in addition to any other rules that may be in effect.