HOUSTON -- Former president George H.W. Bush remained in Houston Methodist Hospital on Tuesday, two days after he was taken there for an infection.
He's said to be "responding and recovering," according to the last update from family spokesman Jim McGrath. CNN reported the president was alert and talking but still in intensive care.
Bush was taken to the hospital the day after attending the funeral for his wife of 73 years. Doctors say Bush has an infection that spread to his blood.
Photos: Funeral service for former First Lady Barbara Bush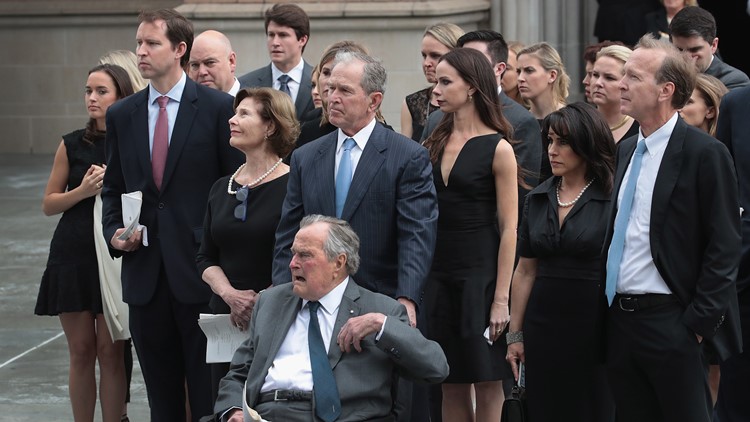 He is "responding to treatments and appears to be recovering," McGrath said Monday.
When asked about his recovery, McGrath said, "The 41st President wants to go to Maine this summer. He's the most goal-oriented person on the planet, and I would not bet against him."
On Tuesday, U.S. Representative Ted Poe of Texas released the following statement: "Former WWII Navy fighter pilot George H.W. Bush has been admitted to Houston Methodist Hospital. President H.W. Bush is a tenacious individual, who is loved and adored by Houstonians. We pray for his quick recovery so he can make his annual summer trip to Kennebunkport, Maine this year!"
Bush was hospitalized three times last year for pneumonia, the flu and chronic bronchitis. He also went to a Maine hospital with a broken bone in his neck after falling at his home in Kennebunkport in 2015.
In 2014, Bush spent a week in the hospital after being admitted for shortness of breath.
A form of Parkinson's disease has left Bush dependent on a wheelchair and scooter for mobility in recent years.
The Massachusetts native served as president from 1989 to 1993 and was defeated in the 1992 election by Clinton. He also served as President Reagan's vice president, the director of the CIA, GOP chairman, the United Nations ambassador and was twice elected to the House of Representatives.
(USA TODAY contributed to this report.)