Bush 41 loved to laugh and his life was full of funny stories that will be passed on to generations for years to come. "Never take yourself too seriously," he told his grandchildren. So it was only fitting Tuesday that eulogists shared lighter moments that brought laughter from the mourners.
George W. Bush delivered a eulogy from the heart that was sprinkled with humorous anecdotes about his dad.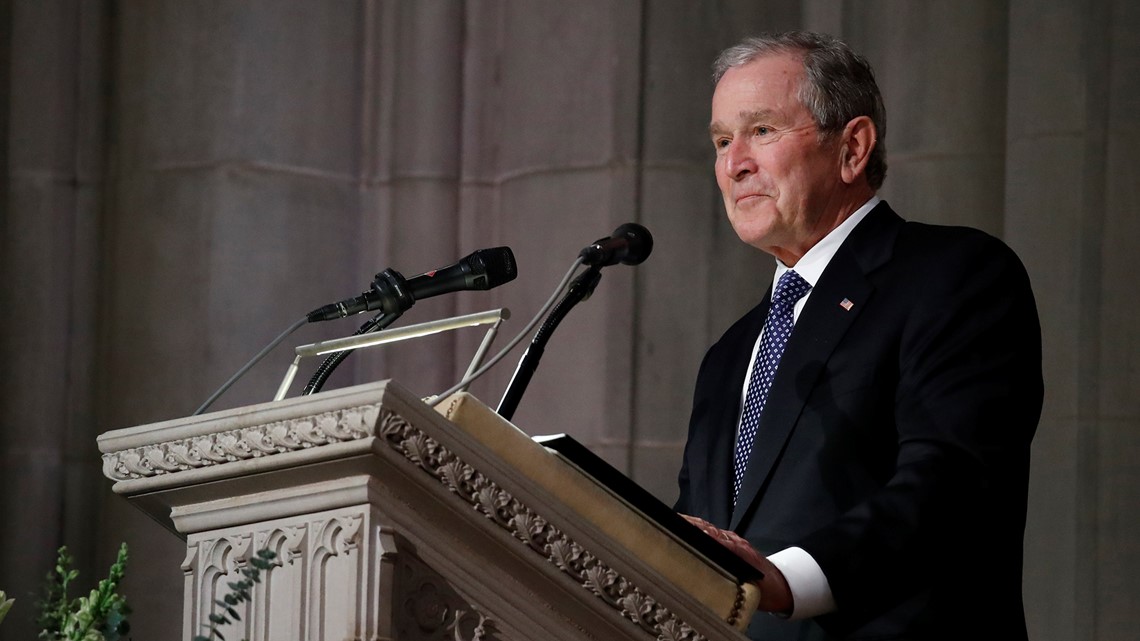 Golf, dancing and broccoli
"His short game (in golf) was lousy. He wasn't exactly Fred Astaire on the dance floor,'' 43 said. "The man couldn't stomach vegetables, especially broccoli. And by the way, he passed these genetic defects along to us."
Grey Goose delivery
With a twinkle in his eye, 43 told about a special delivery for his father when he was in the hospital years ago.
"In his 90s, he took great delight when his closest pal, James A. Baker, smuggled a bottle of Grey Goose vodka into his hospital room. Apparently,it paired well with the steak he had delivered from Morton's," the 43rd president said.
Ladies of the night
George W. Bush was just a boy when his father made the "audacious decision" to move the young family from the comforts of the East Coast to Odessa.
"He and Mom adjusted to their arid surroundings quickly. He was a tolerant man. After all, he was kind and neighborly to the women with whom he, Mom, and I shared a bathroom in our small duplex. Even after he learned their profession, ladies of the night."
Just in case ...
Bush 43 also drew laughs when he remembered mother Barbara's dry wit.
"At age 90, George H.W. Bush parachuted out of an aircraft and landed on the grounds of Saint Anne's by the sea in Kennebunkport, Maine, the church where his mom was married and where he worshiped often. Mother liked to say he chose the location just in case the chute didn't open."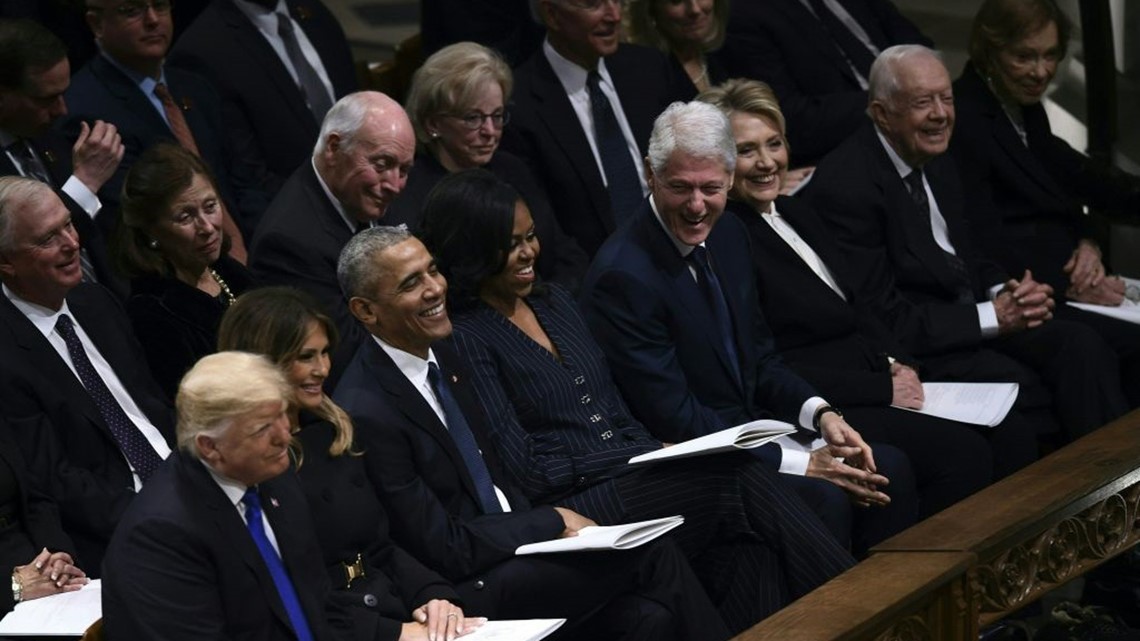 Just joking
Bush 41 loved jokes — "most of 'em off color" — Bush 43 said. "He could tease and needle but never out of malice."
Former Sen. Alan Simpson also mentioned Bush's fondness for jokes, but Simpson said his friend had one flaw: "He never, ever remembered a punchline. I mean never."
Simpson also told the audience when 41 asked him to deliver a eulogy, he warned him he only had 10 minutes.
The Candidate and the mannequin
Presidential biographer Jon Meacham recalled with humor the time Bush 41 shook a mannequin's hand when looking for votes on the campaign trail. He soon realized his mistake.
"On the primary campaign trail in New Hampshire once, he grabbed the hand of a department store mannequin asking for votes. When he realized his mistake, he said, 'Never know. Gotta ask,'" Meacham remembered, using his best Bush impression.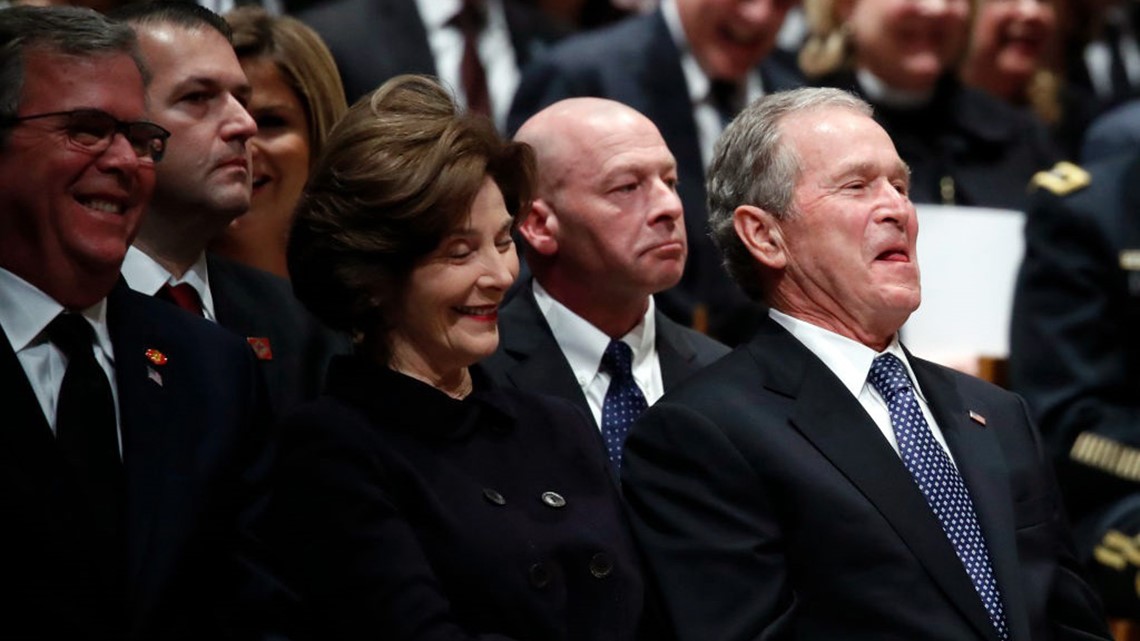 Meacham recounted how comedian Dana Carvey once said that the key to doing a perfect impersonation of the 41st president was "Mr. Rogers trying to be John Wayne."
Looking ahead to the 1988 election, Bush once said: "It's no exaggeration to say that the undecideds could go one way or the other."
And Meacham said that late in his presidency, Bush's tongue ran amok when he said: "We are enjoying sluggish times, but we're not enjoying them very much."
Foreign affairs
Former Canadian Prime Minister Brian Mulroney also shared a few examples of Bush's humor. After a painfully long speech from the prime minister of Iceland, Bush told Mulroney: "Brian, I've just learned the fundamental principle of foreign affairs."
"What's that, George?" Mulroney responded.
"The smaller the country, the longer the speech," Bush said.
Sully in the spotlight
Rev. Russell Levenson of St. Martin's Episcopal Church in Houston drew laughter when he joked that Sully, Bush 41's service dog, "has gotten more press than the president in recent days."
Rev. Levenson also mentioned how former first lady Barbara Bush, who passed away in April, sometimes reminded him that his sermons would go on just a bit too long.
Sweet exchange
Before President George W. Bush and wife Laura were seated in The National Cathedral, he shook the hands of President Donald Trump and First Lady Melania Trump. He then took something out of his pocket and handed it to former first lady Michelle Obama, bringing a big smile to her face. It was a piece of candy, a nod to the mint he passed her as they sat side by side during Senator John McCain's funeral.