HOUSTON — Long lines and troubles with voting machines were reported during the first primary election this year in the United States, which happens to be the 2022 Texas Primary Election.
How was your voting experience? KHOU 11 News wants to hear from you. Just text us at 713-526-1111.
In Harris County, a variety of issues were reported by voters on Election Day, including people who were turned away due to technical issues.
Below is a compilation of reports from KHOU 11 News staff as they check on polling locations.
Aside from problems reported at multiple polling sites during the day, the lines were long in several locations by the afternoon, according to KHOU's Matt Musil.
Earlier in the day, KHOU's Jeremy Rogalski checked on issues that kept some voters away from one polling location.
Abbott told a reporter that he would not reveal his secret ballot. When asked whether he wanted to say anything about his support for Paxton, Abbott replied, "I'm going to let the voters decide."
Abbott was at the Governor's Mansion on Tuesday to announce that Texas had won an economic development award from an industry magazine. — Eleanor Kilbanoff, The Texas Tribune
Voters at First Congregational Church of Houston in Hunters Creek Village tell KHOU 11 Investigative Reporter Jeremy Rogalski of hour-plus wait times in the GOP line.
A polling judge then told him that 1 of 8 voting machines is down due to a bad cord.
The interactive map that shows voting locations and wait times seems to be working as normal after the site received a surge of traffic as polls opened around 7 a.m.
The deputy director elections outreach coordinator for Harris County says they are running into problems with their voting machines at a few of their sites, including West Gray and Palm Center. Some voting locations are getting backed up.
The West Gray Republican line is running okay, but the Democrat side had lots of issues this morning. They've doubled up on tech support to help get the machines up and running again.
Officials also said even with providing more resources and opening all 375 polling sites to everyone, people are still going to their usual voting locations.
Election officials said they were hoping people would spread out, but that's not the case.
Officials also confirmed that the interactive map on HarrisVotes.com was down after then saw a surge of people visit the site juts before 7 a.m.
The voting locations and wait times are not loading on the HarrisVotes.com.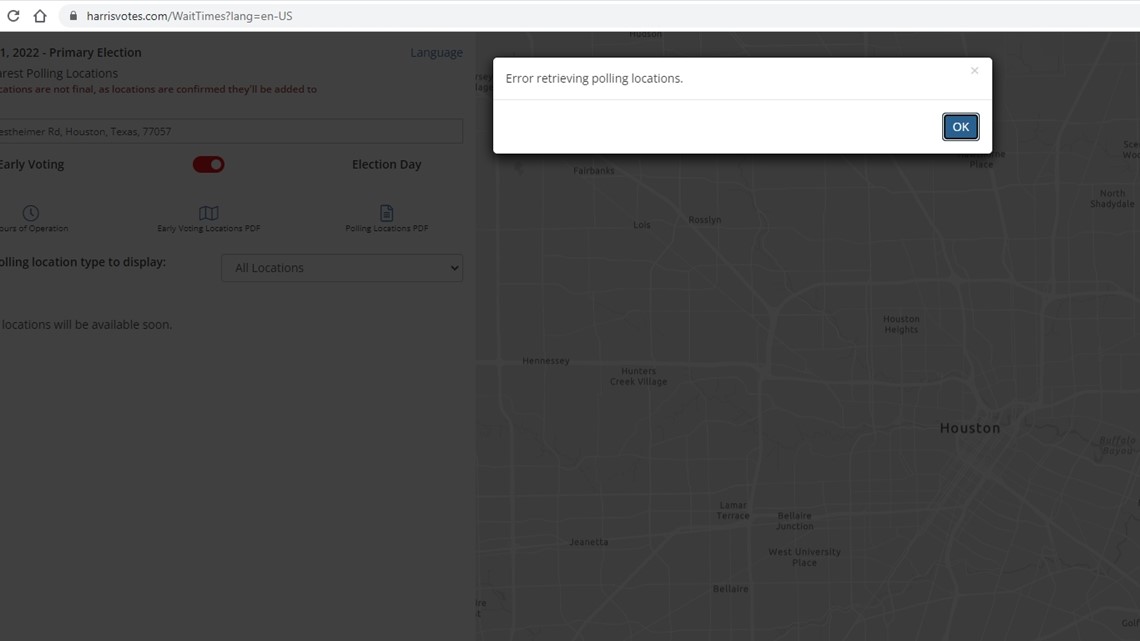 Polls open across the state for the first primary of the year in the U.S.