The Invisible Project
There are many perceptions and misconceptions of women in the military. Here are some of their stories.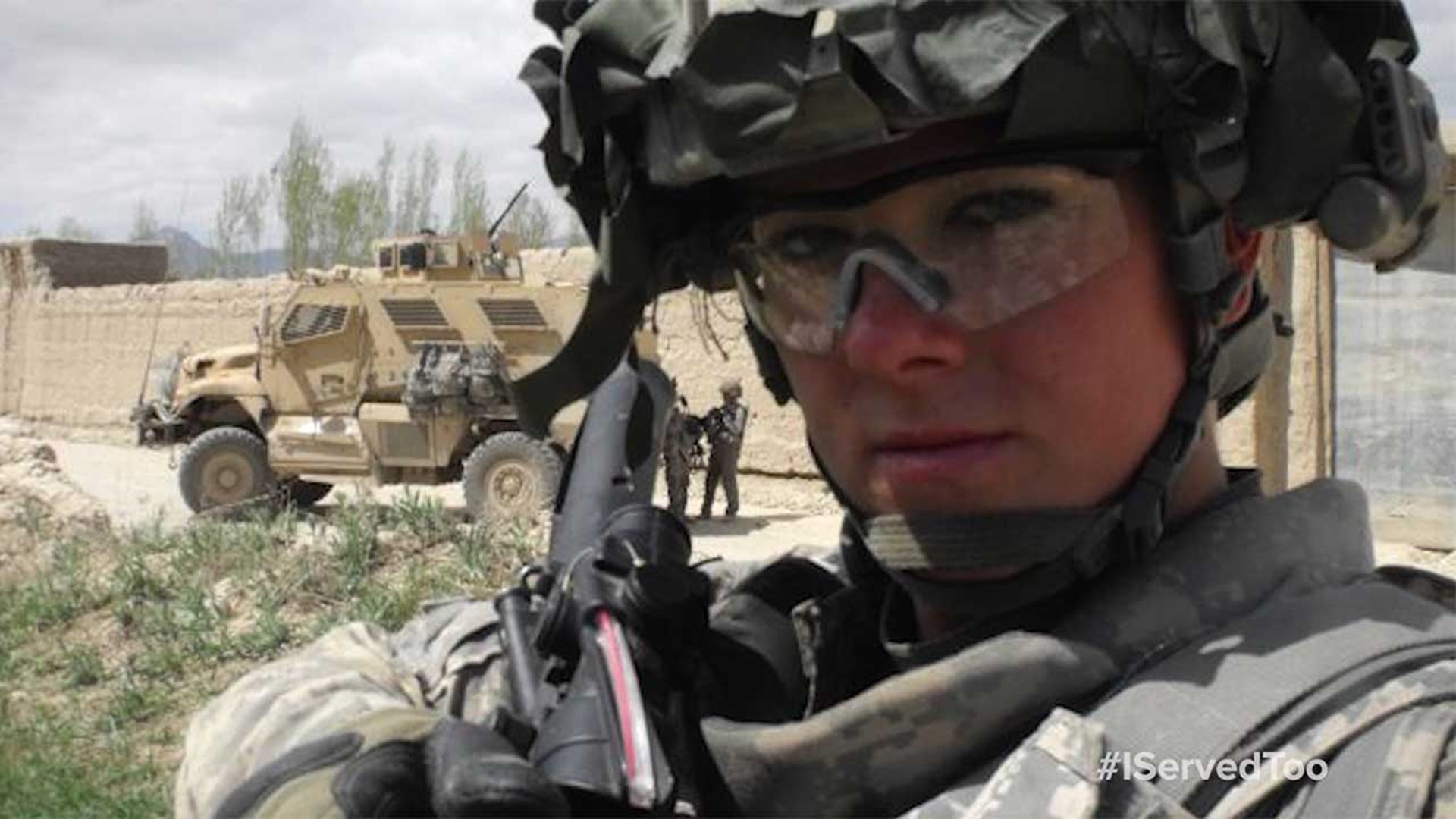 The Invisible Project is a documentary that takes a look at women in the military; the common misconceptions of their roles and the challenges many of them face. This is the documentary and below are extended versions of their stories.
Below are the stories of the service women in our documentary
Chapter 1
:
Kendra Lou Garza
SGT (Ret) Kendra Lou Garza joined the Army when she was 19 years old, in 2007, and went to basic training at Fort Leonard Wood, Missouri. She had always known she wanted to join the military, but September 11th solidified her decision. In training as a military police paratrooper, she learned how to overcome mental obstacles she had set for herself, and in the Army, she experienced life beyond the small town in Georgia where she grew up. Her strong will and perseverance paid off, and she began serving her country overseas in Germany, awaiting further assignment.
Kendra deployed to Charkh, Afghanistan, in November 2009 with her unit and began regular patrols.
"It was hell 24/7," she said.
There was not a lot of down time, so work was fast and furious. There were four different teams in the platoon. They took turns on the missions - one squad would go one day and the next day, another squad would go. This day, May 10, 2010, was her off-day.
"My squad leader came up to me and said, 'Hey, we're going to go on this mission, but you don't have to go, it's just going to be a small missionm'" to which, Kendra said, "No, if my team's going, then I'm going to go, too."
She suited up and prepared to go with the rest of her team.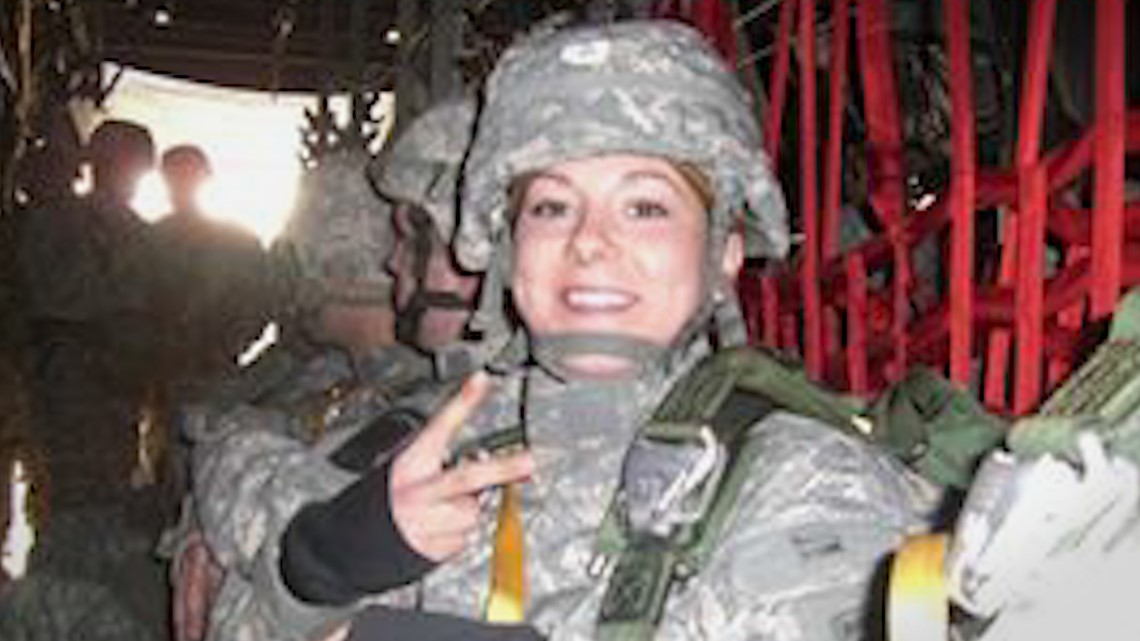 The mission led them along Route New York to a bazaar. Normally a bazaar is full of people. It's where locals buy and sell in the marketplace. But on this day, it was completely empty. The team was walking in a diagonal formation, and Kendra was the second man back on the left. Approaching an alley to her left, she got up and hugged the building. That's where she noticed a pile of random tires. She was stepping forward with her right leg when the explosion went off.
"Everything slowed down and paused and the next thing you know, I was falling to the ground. My ears were ringing and my first thought was that one of my battle buddies was hit."
Kendra reached for a tourniquet she kept in her left pants pocket. She felt down. Her leg was gone. What happened next would ultimately save her life. Kendra was able to remain calm, and apply pressure to the artery in her leg, enabling her teammates to get her on a Blackhawk helicopter and fly her to treatment. In and out of consciousness, she survived the trip out of Afghanistan, to Germany, and finally stateside to Walter Reed Medical Center, where she spent several months. While lying in a hospital bed, beat up and blown up from war, her father brought her attention to a news broadcast, where it was announced that women could finally serve on the front lines.
"I wasn't paying any attention and my dad was the one who told me, he said, 'Kendra, women can finally fight on the front lines. And I thought, well, if women are just now allowed to fight on the front lines, what I was doing then? It felt like what I did wasn't recognized."
Kendra endured dozens of surgeries, and suffered shrapnel injuries, traumatic brain injury, and injuries to her bladder. She was retired from the Army with several medals, including two Purple Hearts, an Army Achievement Medal and a Combat Action Badge.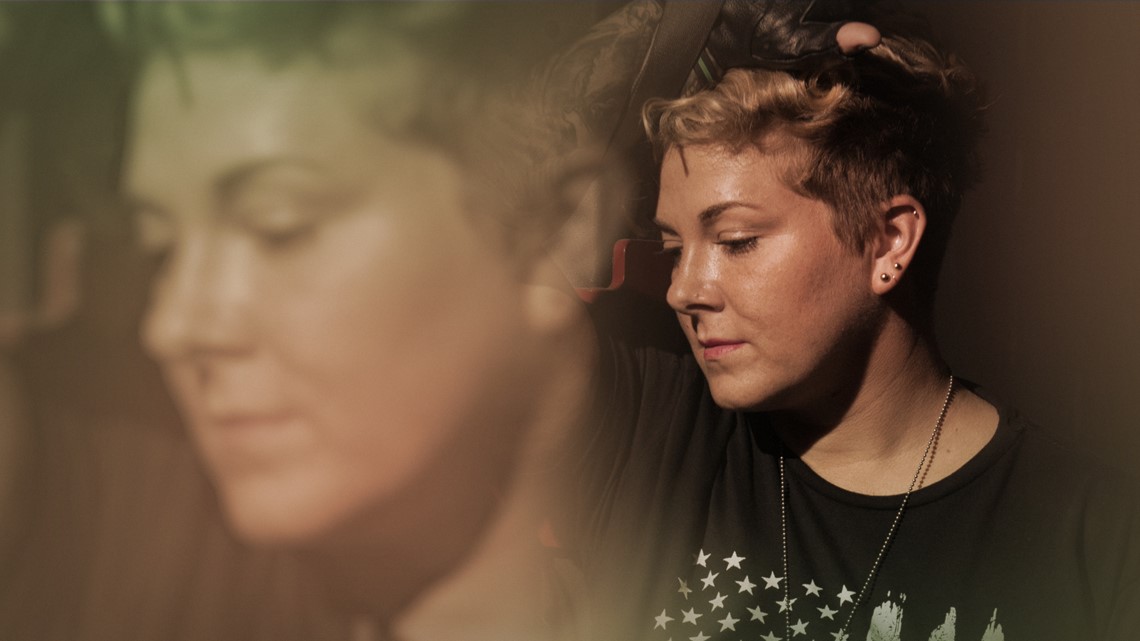 "I was not prepared for what was going to happen next."
Kendra went home, isolated from everybody, and became addicted to her pain medication. Time went by, and she realized that she had a problem, so she went to the VA. They took the medication away, but the support she needed to overcome the addiction just wasn't there. She went to the streets looking for pain medications. When the expense became unbearable and pills became harder to find, an acquaintance introduced her to heroin. It was cheaper. And she was hooked.
Time eventually caught up with Kendra, and she ended up arrested, sitting in jail, facing certain prison time.
"I used to be a strong soldier, and now I'm sitting in jail as a heroin addict. And I didn't know how to come back from that."
Kendra took the initiative and wrote her congressman, Jody Hice, who helped her get into treatment court instead of going to prison. She made the change and took charge of her life.
As an amputee, Kendra had accepted the fact that she would live life uncomfortable and in pain. Her injuries were complex and fitting her with a traditional prosthetic proved difficult if not impossible. The hard socket was impossible to sit in- it cut off her circulation. Losing suction and staying fit was a constant daily fight, and the pain it caused her was unbearable. She slowly stopped walking, limiting herself to using crutches full time. Women Veteran's Day was being signed into law in Texas June 2018, and Kendra was invited for a photoshoot at Combined Arms. Before leaving town to go home to Georgia, she found a company while surfing on the internet, MartinBionics, a company that specializes in "socket-less socket technology." This new technology was exciting for her, and she remembers mentioning it to her mom.
"I've got to get one of these sockets- it will change my life."
On her way home, as she was saying goodbye to her friends, Valerie James, Military Peer Veteran Services Coordinator at Mental Health America of Greater Houston, asked her what she was doing next. Kendra told her she was going to contact MartinBionics and see what she had to do to get one of their sockets. Valerie asked for the information, and Kendra gave it to her. She went home to Georgia without thinking of it again and went on living her life.
Valerie was able to make the connection at MartinBionics, and within a couple of months, they gifted Kendra the new socket on KHOU 11's Great Day Houston in late August 2018. The presentation caught Kendra by surprise, but she was very pleased. In early December 2018, she had her appointment for the fitting, and in only a few days, she was walking on two feet, with a level of comfort she had never experienced using a prosthetic. Her experience with MartinBionics was some of the best after-care she has received. Kendra returned home to Georgia with the ability to walk hand-in-hand with her children, something not possible while walking with crutches. The freedom and independence of walking unassisted has changed her life, as she can accomplish tasks that were very difficult and consuming before the new socket.
Kendra graduated from the Adult Treatment Court Collaborative in Madison, Georgia in July of 2019. Now, she is excited to begin a life free to pursue her goals, armed with the tools she needs to maintain her mental health and care for her family. Currently she is sorting out the future, inspired to inspire others with her story. Losing her leg in war and surviving the tumultuous aftermath has given her life an intense perspective, her tenacity and determination hardened by overcoming impossible odds.
"I'm standing up for female Veterans. We do just as much as the males, plus hold down a house and care for our families. There are some hard-core females out there."
Kendra is very active in the veteran community, and works tirelessly to create more awareness and compassion for Veterans of every era. Her proud legacy of service and sacrifice will undoubtedly be passed on through her children, who are blessed to witness her diligence and faith daily. If you asked her today if she would do it all again, she would come back with a resounding "Yes!" After everything she's been through and the journey to grace, Kendra believes with all her heart her service was worth the sacrifice, a stunning example of the valor and fearlessness of our American Women.
Chapter 2
:
Dr. Rhonda Dula
Rhonda's family moved to Miami from the Caribbean looking for work during World War II. She grew up on family property, where they had a farm, and the extended family had built their homes. She was 10 years old, and living with her grandparents, when she was adopted by a gentleman who was also a Marine on temporary duty in Florida but would soon be returning to the Marine barracks at the White House. He befriended her family, and before she knew what was happening, was whisked off to Washington D.C.
"That kind of planted the seeds of what our country and our government was all about. It was something that I was living."
Rhonda grew up traveling the country and participating in Girl Scouts. Her first project in the Girl Scouts was candle making, but it soon evolved into hiking and camping. The Girl Scout thing really caught on and it was something that shaped the rest of her life. She was an athlete growing up, and she trained with some of the best track athletes in the U.S. JFK was president. The CIA was just established. The Beatles invaded America. Dr. Martin Luther King, Jr. did his "I Have a Dream" speech. Governor George Wallace of Alabama declared segregation for the whole state of Alabama. There was a lot going on at that time, in 1963. Rhonda was in the best shape of her life and studying medicine at UCLA.
"I was in my fifth year of med school when the recruiters, female recruiters, came to our campus. They were interviewing a lot of the female students, and they had a list of names, and my name was on that list. Most of us on that list were in med school. I'm thinking that they had me on a list because of my academics in med school, but I later found out it was for my athletic abilities. They had been watching me."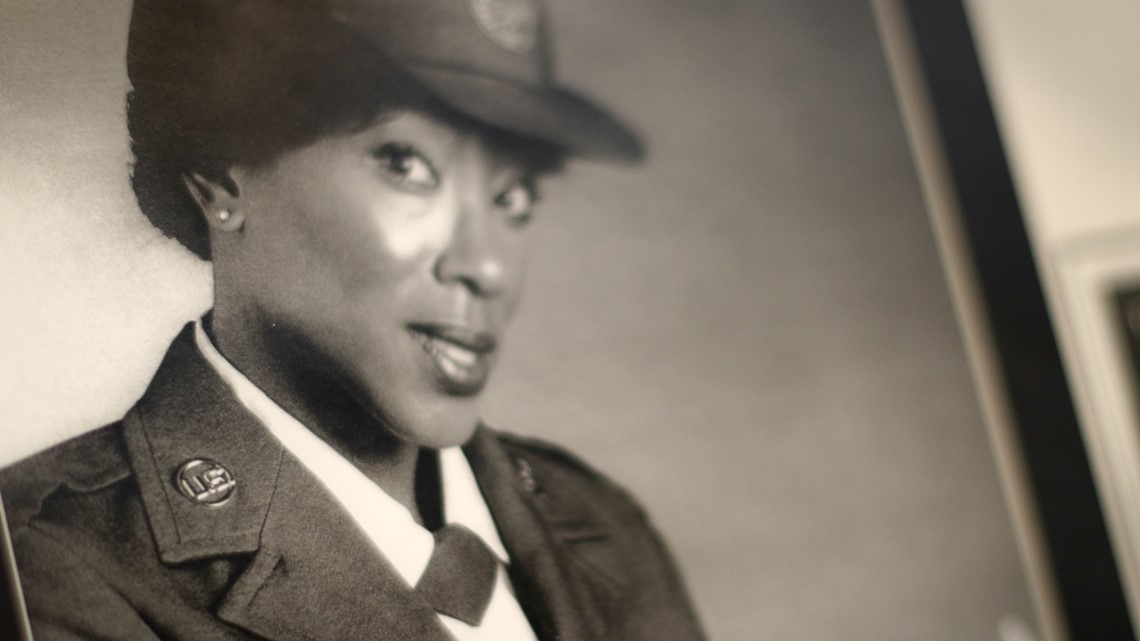 It was nine months up the road, when the recruiters sent a bus to campus to pick them up and take them to MEPS, the Military Processing Center. The Vietnam War was going on at the time, but Rhonda was not overly concerned with the war, thousands of miles away.
"It just didn't occur, that was why we were being recruited, because they needed women."
At the time, women were either nurses or administrators. They weren't allowed many other positions. In the Air Force, they were called WAFs, the Women's Air Force. The WAFs and the WACs, were actually fully enlisted. Female officers were in the Reserves actually and female pilots in the Reserves were classified as federal civilian employees, not active military personnel. They didn't distinguish anything different, like they do today.
Rhonda's first assignment was 99th Combat Support Hospital in Westover Air Force Base, Springfield, Mass. Living quarters was also headquarters. It was a self-contained unit and they did everything there. They ate and slept, and assignments were given out from what they called WAF Unit.
"All the men are at war, and they're waking us up, telling us that we had snow removal detail, and we had to go plow the city. But these are the things that we women did. We actually ran the bases and supported the cities. The cities actually depended on us, because all the men were at war. It was a lot of pressure on us to keep things going," she said.
As the U.S. involvement in the Vietnam War escalated and casualties mounted, the supply of male nurses to meet theater requirements in some specialties was soon exhausted and the female nurses began getting their marching orders. The Air Force was rotating women at the Combat Support Hospital, and Rhonda didn't know when her time was going to come, but it did. Her first deployment was to Korat Air Base in Thailand. She soon learned how medical operations were conducted in the field. The wounded, the dead, and the dying were brought from the field to the MASH unit, and from the MASH unit to different hospitals in Thailand.
"When there was a call for us to take the medevac ... To go into the combat zone to actually pick up the wounded, pick up the dying and the dead ... we took turns on the flights to and from. It was always about 12-hour shifts."
Even though they were non-combatants and were generally confined to a well-protected area, Air Force women in-country were as much at risk of enemy fire as their male comrades in the same units. Certainly, gender was no protection when the Viet Cong launched a coordinated attack on U.S. installations in January 1968 at the outset of the Tet offensive. The mortar rounds, rockets and sniper fire that came in did not discriminate by occupation or sex. The conduct and performance of the women were attested to by many observers, male and female. A male senior master sergeant reported to the Chief Master Sergeant of the Air Force: "What impressed me the most, with respect to the conduct of our personnel during the Tet offensive was the calm [with which] female service members went about their duties. That belief that the frail (or fair) sex will tremble at the first sign of trouble is not true," he wrote. "I observed female military members performing their duties no different than anyone else. If they had fears...they did a terrific job of concealing them," adding that "Air Force women are doing an outstanding job here."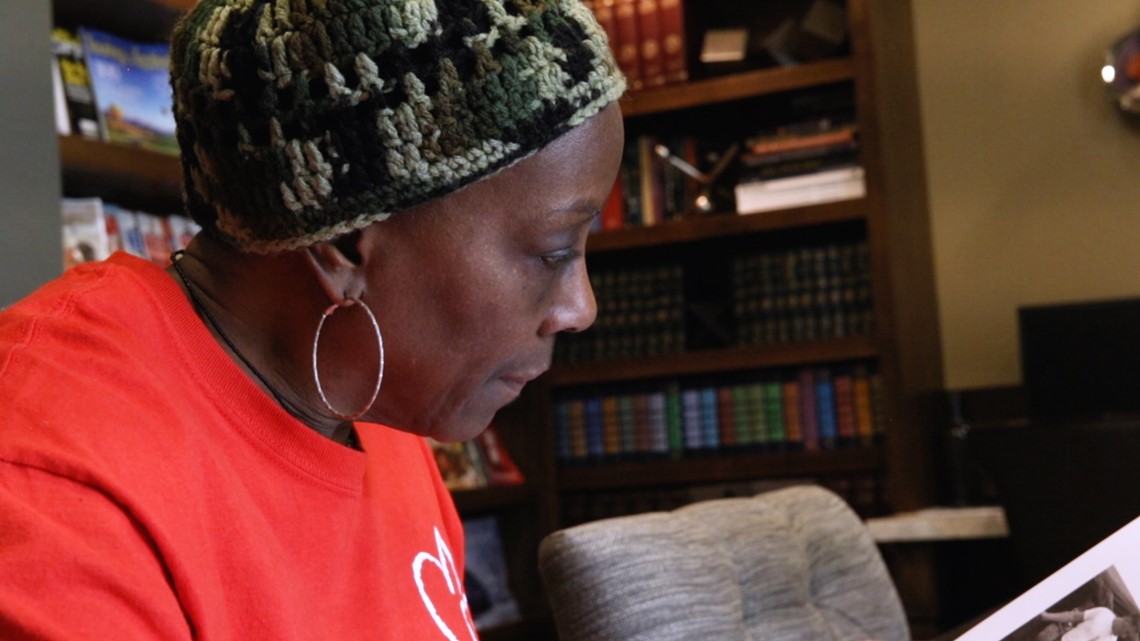 When asked about her specific duties, Rhonda looks far off into space. "I actually did a lot of... When I say bagging and tagging, you know what I mean. It's something you never get out of your head, the things that you see, you hear, you smell."
Whatever originally motivated women to volunteer for duty in Southeast Asia during the Vietnam War, they had very little idea of what they would experience or how profound an impact it would have on the rest of their lives. The war experiences left an indelible imprint on each of their lives; they would never be the same again. And they would always carry a special private grief for those who did not make it home alive.
"I had the heart for it, but not the stomach. I kind of left the medical field after Vietnam."
The last six months of Rhonda's combat tour was when the war was coming to an end. She was actually there a year and two months because of the hospital duty rotation. A lot of the women were disappearing, and she didn't understand. After asking about a few of her friends, she later found out that a lot of them had left the military. There were several who had been assaulted and become pregnant. The silence on the issue unnerved Rhonda, and she returned home from Vietnam broken-hearted. There were rarely repercussions for acts against women. But there were larger challenges ahead for women in the Air Force. At the end of Vietnam, the Department of Defense disassembled the women's military forces. DOD consolidated it all and put the women and men all under one commander.
"So, it was a little different, a little chaotic," she said. "Because now, we had no more female commanders. We had no more female first sergeants."
"We had no other females looking after other females."
Rhonda remembers meeting the challenge of her new role head on. It was these lessons in leadership that would direct the rest of her life. Her perseverance led to a 20-year career in the Air Force. Then the incident that would ultimately test her courage and will, shook her world. At first, she was going to leave to Air Force. "I went and sought some assistance on a sexual harassment situation, and I was going to leave, like most of the women. But I said, you know, I'm going to stand and fight. Because if this is happening to me and other women, and we don't fight it, it won't ever stop."
Rhonda transferred from the Air Force to the Army. She transferred branches in order to fight the case against the Air Force. It took five years, but she did win the case, setting precedent for other women to also fight their cases. Rhonda left the military with 25 years of service - 5 years Army, 20 years Air Force.
Her transition lead her into federal law enforcement, where she would continue to develop as a leader. At this time, the launch of the Women's Vietnam Memorial was in full swing, and she missed the inaugural ceremony in 1993. "They started talking about doing a memorial in the '80s. The few of us who did go to combat, and who were out in the field, got together and started doing fundraisers and asking for help in doing a memorial."
The Vietnam Women's Memorial depicts three uniformed women with a wounded soldier.
"They actually used images of a lot of us. I was notified that they wanted to use my image as one of the faces in the memorial," she said. "I'm the one that's looking up to Heaven."
"I think when we planted that seed, in doing the Women's Vietnam Memorial, we took the leadership role, hoping that others will follow."
Rhonda has lost contact with any of the women that she knew from Vietnam. Over the years, she has periodically returned to Southeast Asia to continue helping the people there. She has developed a leadership development program that is used in corporate America and she hopes to deploy to the community. "We female veterans have a gift. Don't hide that gift. Don't shy away. We need to unite to make us strong. Once women get together and unite and stand firm and they surround themselves with female veterans, they can elevate us. And that's what we need- we need to be elevated."
"We've been invisible too long."
Chapter 3
:
Becky Curry
Rebecca Curry was raised in a military family, and she moved around all of her life. Her father served in the Coast Guard. She went to so many schools she couldn't count them, and three of them were in Europe. The military service didn't end with her father, however, as Becky's mother had been a truck driver in the Women's Army Corps at a German Prisoner of war camp in Nebraska. Back in those days, women were not allowed to be pregnant or have families while serving, so when she learned she was pregnant with Becky, she was discharged. She accepted it and devoted her life to raising a family. Life moved young Becky all over the United States, and she loved it.
In high school, Becky was living in Fort Leavenworth, Kansas, and she was a typical 1960s teenager. She enjoyed listening to music on the radio, going to school and hanging out at the dances. At the time, she was studying accounting, and she enjoyed that, but when Vietnam ramped up, she went out to go speak to a recruiter.
"I volunteered for Vietnam, but because I was a woman, I had to be a nurse, and I wasn't a nurse."
Becky wasn't even finished with high school, in fact. To enlist, she required a high school diploma or GED, so went out and took the GED, and passed it in one try. Her Army job was in logistics, playing war games at home.
"I enjoyed it! The discipline- I liked it. Took it as an advantage to learn and meet people, but I've always been adaptable."
One person she remembers with a broad smile was Elizabeth P. Hoisington, director of the Women's Army Corps. She expressed that yes, the women were soldiers, but first and foremost, they were ladies, and they were expected to act like it.

"She made us proud of ourselves," Becky recalls. "The things they taught me, I still carry, and I'm proud of it."
Becky was in about a year when she went to the clinic because she was not feeling well. Turns out she was pregnant. Her service was terminated, and she was immediately discharged, despite the fact that she did not want to leave. There was nothing to be done, so she went home and had her son. Some time passed and Becky soon realized that she wasn't satisfied with being a housewife and mother, so she went back to school and studied computer programming and accounting. Finding a job she liked helped fill her purpose, but soon she would have to retire for medical reasons.
Becky moved in with her daughters to offer them the support she thought they needed, but there was some friction there. One of her daughters is a drug addict, and Becky found herself powerless in the struggle of her daughter's condition. The conflict tore her apart, and she thought she still deserved a quality of life complete with love and companionship, so she left to find a new life. She got on the bus and decided to come to Houston, a place she had never been. On August 4th, a hot day in the south, she stepped off the bus and got her first look.
"It was bigger than I thought," she recalls. "I was wondering what I was going to do, but I wasn't scared. I knew I would make it. My faith in God is that strong."
Becky stayed in a hotel for a little while, until she ran out of money. She went to the VA to find out where some of the shelters were, and she needed a place to go in case she ran into issues with her medical problems. That day she decided to stay at the VA, because she had nowhere else to go. That night, she was ushered out the door by security, unable to stay in the lobby past closing time. With her luggage in tow, Becky began the long journey down the sidewalk away from the hospital. Exhausted and unsure of what the night would bring, she looked around, and found a hiding place in some bushes, not far from where she had stayed during the day.
"It's frightening. You don't know what's going to happen. You don't know who to trust. But you have to trust your instincts."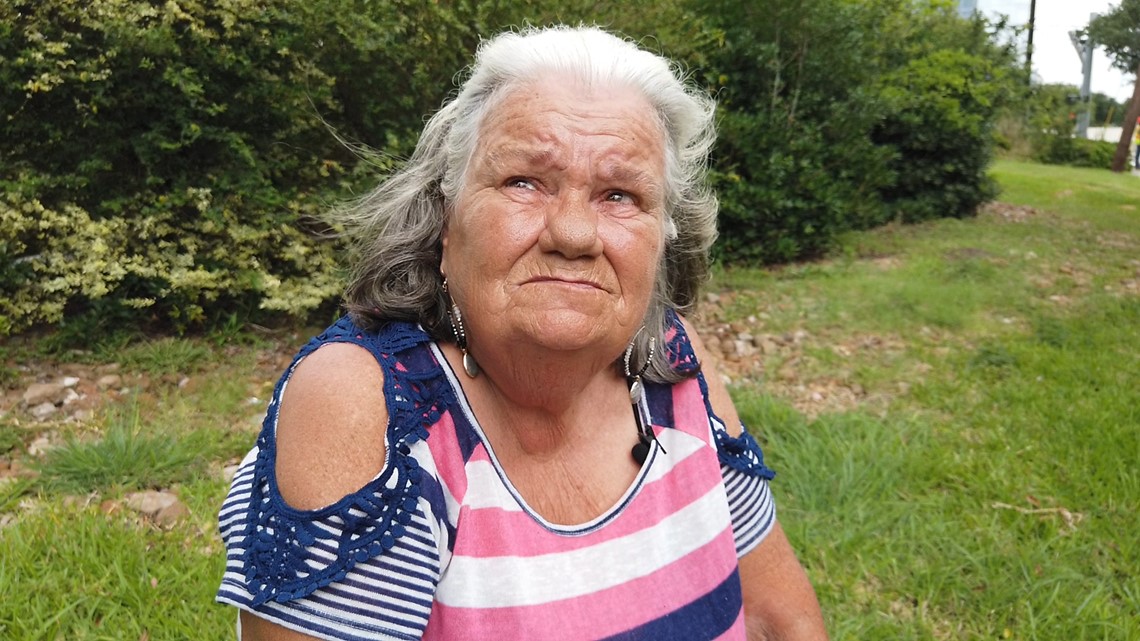 The bush that Becky chose was large and tall, part of some shrubbery that aligned the street in front of some apartments. After some trepidation, she found an opening in the foliage and crawled into the center. Her luggage was black, and in her mind, offered some concealment, so she stacked them up in front of the "entrance" to the bush. Since they were black, she thought at night someone could look in and not see anything. Becky made a little campsite in the bush, and spent her first night outdoors completely exposed to the elements. Ants tortured her as she slept. The heat, the wind, and the rain were constant reminders of what used to be the good life for her. When the sun came up, she collected her things and went back to the VA, to sit in a controlled environment and charge her phone. The phone, her only lifeline, needed to be charged before she went out for the night. She never went out without her phone being charged. It wasn't long before people at the VA discovered that she was living outside in the bushes. Some caring people gave her some sheets to lay on, and still others gave her money for random nights in a hostel or shelter, but when she ran out of money, she was back at the VA, spending the night outdoors in the bushes.
At night, she would lay in the bushes and look up at the stars and find reasons to be grateful. Her nights dreaming of a better situation kept her sane. There were counselors working through this time with her trying to find a more permanent housing solution for her, and some places would pan out for a night or two, a week sometimes, but incredibly, the cycle turned into a vicious pattern of hardship. Becky was on the streets for a while, but nothing ever happened to her, and she survived it. One day she got the call that would change her life: They had a bed available for her at Santa Maria Hostel in The VIEWS program.
The VIEWS program requires a referral from the Veterans Administration. It is described as transitional supportive housing to help homeless female veterans achieve stability and recovery in the areas of education and employment, permanent housing, mental, behavioral and physical health, and self-determination. In addition, each VIEWS client has access to a Recovery Coach to serve as a mentor and guide her through many of life's challenges. Becky loaded her luggage up and waited patiently at the bus stop for the first of three buses she would have to take to the shelter. Half of the day had passed when she arrived at the location on Jacquelyn Dr. When she got up to go inside, two young ladies who were also going to Santa Maria helped her with her luggage. They welcomed her inside where she had a place to sleep, to shower, and food to eat.
"It's a safe place to be and you're off the streets."
Becky takes part in the counseling and group meetings that take place at Santa Maria. A women veteran's group, Grace After Fire, has regular Table Talk Color Me Camo at the shelter. Table Talk Color Me Camo is a veteran support group for women. There are also counselors that guide the residents through filing claims, finding permanent housing, and navigating a career. One of the most beneficial parts of the program for Becky is good comradeship.
"You meet people you never thought you'd be friends with," she says with a grin.
The other women in the VIEWS program at Santa Maria challenge each other to live better lives. The companionship and group support has meant the world to Becky. Working through her issues with other women with similar experiences has given her a new sense of empowerment.
"I've had people call me Mom- or just a friend. I never knew I had so many friends, until I came here."
Her experiences with the other women at Santa Maria are opening new opportunities for Becky. She has begun speaking to others about her life and how she has overcome hardship. She desperately wants to help her fellow man, abused spouses and the addicts especially. As she learns to use her voice, she has discovered new pride in being a veteran.
"Used to be, a woman would be ashamed to call herself a veteran, because people didn't look too highly on women veterans. But we're a tough breed. We make it. And we learn to adapt."
She looks off beyond the studio and says, "Most of all I'm a second generation. My mother was a veteran, and she made it possible for me to be. I tell people I'm a veteran…and I'm proud of it."
Becky has been recently hospitalized with pneumonia but is doing much better now. She is still living at Santa Maria, where she is working with counselors to find permanent housing, and a stable income. Finding her voice in the world has given her a new hope for the future, one in which she hopes to find quality and love, simple things that everyone wants in their lives. Sharing her story has given Becky purpose, and she hopes that she can make a difference in the life of at least one person.
"If I can do that, then nothing's going to stop me."
Chapter 4
:
Dorothy Stroud
In 1942, Dorothy Stroud was thinking of joining the Army. She had seen an advertisement, and was mulling it over with her family. The youngest of seven children, Dorothy's father died when she was very young, and she was raised through the depression by her single mother. Going to college was out of the question, and opportunities for women during that time were limited. At the age of 21, she was old enough to join the Women's Army Corps. Her brother and sisters told her, "Don't do it, don't do it, don't do it." But her mother said, "Go for it."
"I feel like a pioneer, because it was all so new."
After a physical evaluation, she left Boston to begin training in Des Moines, Iowa. Part of the training, at that time, was done with men. There just weren't enough women yet available to fill the billets. Their living quarters were cleared out horse stables. The stalls had been removed to reveal just the open space and it was converted into a barracks of sorts. Everything had been removed, and it was just bedding. Everything was very, very, very strict. "I learned to really be organized. Believe me. And I still am. I'm still organized." In the first few days at training, they received their standard issue, which included men's overcoats, because their uniforms hadn't come in yet.
"The quartermaster set us up with the quantities of things that men used. But we were women, you know, and it became a problem. Especially toilet paper. We were always running out of it. Finally, they had to go to the headquarters and raise a lot fuss that we needed more supplies."
After finishing basic training, Dorothy was sent back to Boston, where they set up a system of aircraft warning. There were big charts, big tables, and every time an airplane came in the area, they plotted it. She stayed there for about six months and helped train civilians to do this. From Boston, she was sent to a small airbase in Orlando, Fla.
"At that time, the Air Force was part of the Army, so I was in the Air Force part of the Army. It was great. I loved it there. But I decided I wanted to go overseas, so I volunteered for Europe and I got it."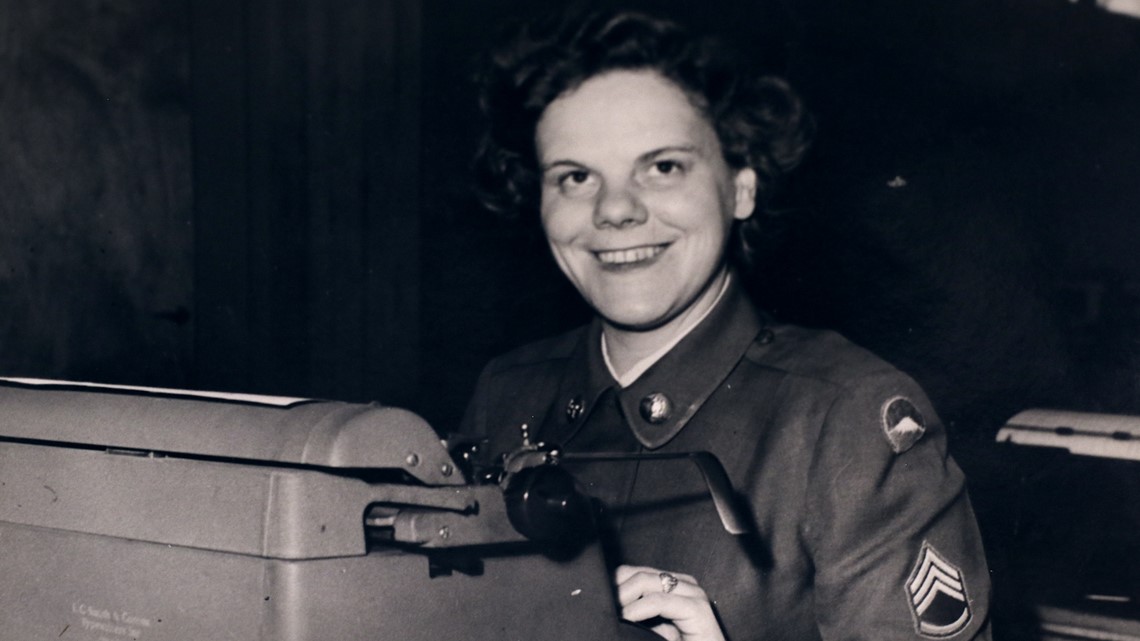 Before she could go overseas, Dorothy was sent for additional training, to learn how to shoot, strip a rifle down and put it together again, and other things she had not needed to know because she worked in headquarters. When she reported to overseas training, her orders were cut early, and she arrived before her start date. That is when she met one of her best friends in the service, a woman named Gates. Dorothy called her Gatesie, and Gates called her Dreiden (that was Dorothy's last name at the time). Dorothy and Gates became fast friends, and they ended up on the ship together to cross the Atlantic Ocean for their assignment in Europe.
They crossed the Atlantic Ocean in 1944, on the Queen Elizabeth, she's the sister ship to the Queen Mary. The ship was unescorted, and they zigzagged across the ocean to miss the U-boats. It was five days and five nights of terror. Dorothy recalled that they played cards to pass the time, and she spoke of the food with disgust. The food came in cans, and she remembers much of what she ate was like canned tomatoes. They landed in Scotland and traveled by rail into some place in the Midlands of England. During the war, England had removed any references of street names and county town signs, to make it more difficult for Germany to navigate if they ever invaded. Everything was so restricted, Dorothy was unsure of where they stayed in England, but they were there for two or three weeks, waiting for transportation to France.
The secrecy behind moving in the channel was absolute. No one knew where they would be leaving, and they did not know the date or the hour. One day, they boarded a ship and they crossed the Channel overnight.
"The English Channel was rough. It was very rough."
Upon their arrival in France, they lined up on the weather decks to disembark to shore. It was about 2 months after D-Day, and Paris had been freed from the German Army.
"I had a backpack on. I had a helmet on, and boots. I had to climb down the side of a ship on a rope ladder, and I landed down into one of these little landing ships, that took me into the shore, the front lent down, just like they did on D-Day with the men. I did that. And when I got there, I realized where I was. It was Omaha Beach. I looked around, and all the bunkers were still up there, and I thought, "How in Heaven's name did these men do it?" You know, there was such a little shoreline. It was very short. Thousands got killed. It was awful."
Their arrival on Normandy was unexpected, and when they arrived on the beach head, they worked tirelessly to create a place to sleep at night in the rain and cold. The never took their boots off and it was muddy. Dorothy recalls sleeping between two wool blankets shivering into the night on the ground. One afternoon, they were taken to a small kitchen for a hot meal, and she was offered a helmet of hot water.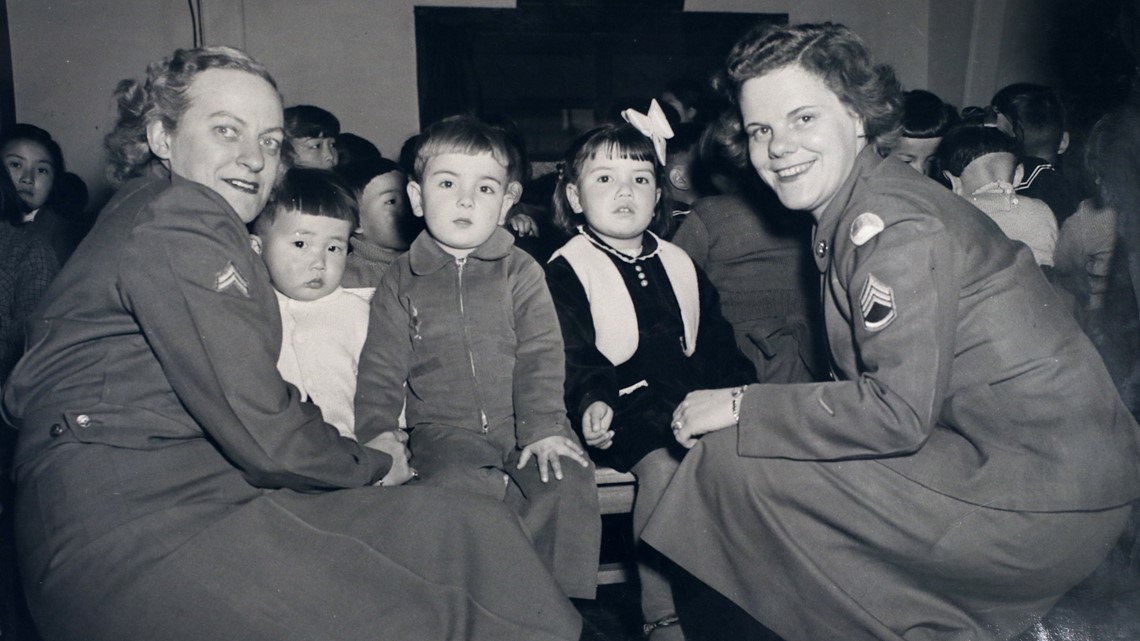 "I'd rather have the hot water than the food," she said. She and Gates each got a helmet of hot water, and they were able to scrub up a bit. This was the beginning of her time in Paris.
During the war, all the coal mines were behind enemy lines, so there was no electricity, and no heat. The United States was feeding Europe also, so the food that came over in cans was notoriously terrible. Though later she would move from the beach-front to a hotel, creature comforts were limited.
Dorothy worked in the headquarters for the depots that were spread out in France and Belgium, and they provided ammunition and weaponry to the troops. She was there for the Battle of the Bulge and was awarded the Croix de Guerre avec Etoile de Bronze from the French government.
"The war had just ended. The whole town was open. The lights were on. The fountains were back on. It was a gala time, you know? It was wonderful. The war was over. It was over."
Before she left Europe for home, she had one more important task. She and her colleagues were asked to view pictures sent back from the Signal Corps who had entered the death camps throughout Germany and Poland.
"They asked us to see those pictures, so we would never forget, and not to let anybody else forget what happened over there. We did. I'll never forget it. It was awful. Can you imagine?"
After the war, she returned home, and went to school for two years under the GI Bill. She went to work at an advertising agency, and she loved it. After a couple of years, she got a letter from the Army. They wanted her to return to service for the Korean Campaign. Dorothy returned to the Army for her second enlistment and was sent first to Okinawa. The island was very primitive and still very beat up from the war. She worked in G-2, which is intelligence. After a little while there, Dorothy felt like she was just sitting around, and was not happy with her job. When the WAC staff advisor came for an inspection, Dorothy told her that she wasn't happy with her job, but if she could go to Japan, she'd fill a whole tour.
"Two weeks later, she called me and said, 'Pack your bags. I got a job for you.'"
Dorothy put five years on her second enlistment in Japan, working in a building that was a replica of the Pentagon. She became a master sergeant there and was a valuable member of her team. "It was fabulous, and it was loaded with generals. Believe me, it was loaded with generals. Every department had a general head, even mine."
After her service, Dorothy didn't talk about her experience until she saw a television program celebrating the 50th Anniversary of the D-Day landing. She had begun to think that so much time had passed that her service didn't matter, but at 98, she is telling her story, so that others do not forget. Service matters.
Chapter 5
:
Romaine Barnett
Romaine Barnett was a junior in high school when a friend told her about joining the Navy.
"I saw her white uniform laying on the bed, and I was sold… and I went home and told my mom I was joining the Navy because I liked their uniforms." She didn't need anything else.
Life was already in full swing when Romaine joined the Navy in 1988. Raised in North Carolina, she grew up around mostly women. She lived with her mother, but she was very close to her grandmother. Romaine was tomboy, spending most of her childhood running around barefoot playing, running around in the country. Later, she became a teen mom, and she wanted to take care of her baby, so when she realized she wasn't necessarily interested in going to college right away, joining the Navy provided real opportunity.
Boot camp proved easy for Romaine, and she was given an opening to go to Air Traffic Control school, to be a part of the Naval Aviation community. She arrived at the Norfolk Naval Shipyard and began meeting people right away, who introduced her to others on air station in Penn Hall. Being from the county, Romaine was excited to try new things and meet people, and she quickly made friends with some of the sailors and Marines already there. But it wouldn't be long before her first major trauma happened.
"The experience of being in the military itself, what I had to do was easy for me. Dealing with some of the things that came into my life that were experiences I had to endure was not always easy."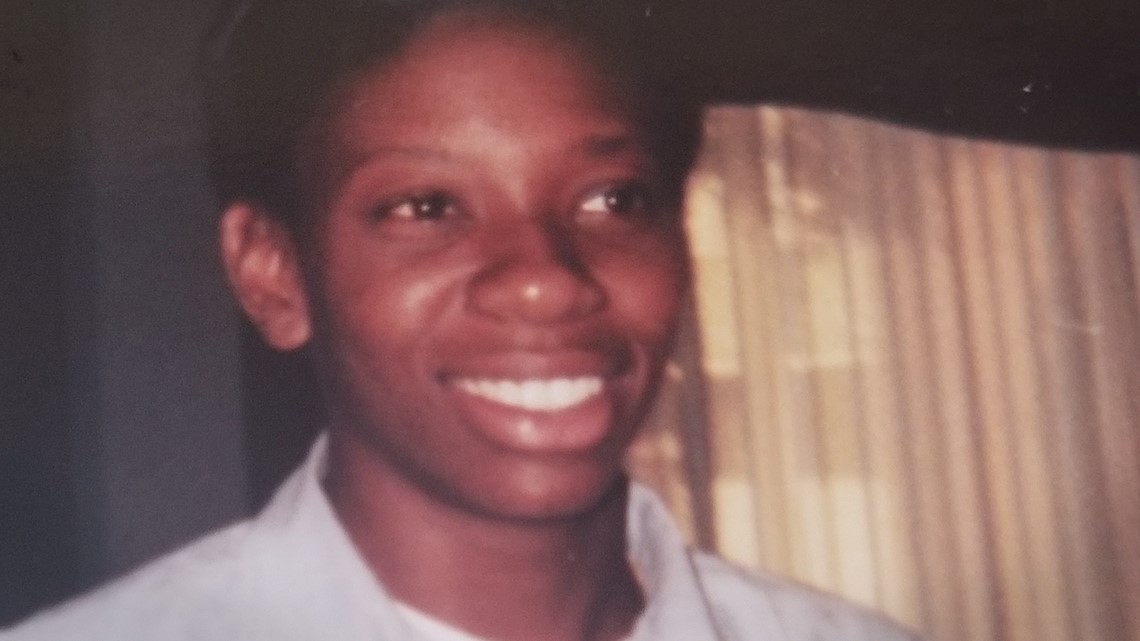 She met a Marine, who was stationed with the Fast Company Marines across the street from her barracks, and she thought they were dating, getting to know each other. They had gone out once or twice to eat and hang out, and she thought she liked him, though it was still early in their relationship. This particular night, they were going to meet at a friend's house and go on a date.
That's when it turned ugly.
"He got very aggressive with me and decided he wanted to have relations with me physically and I didn't want to. And you know, he forced me... Once it happened and it was kind of over with, he was very apologetic, as if he had been in a trance or something. It was weird because it was like he had clicked off and then clicked back on. He left that night and he literally didn't contact me anymore until I contacted him about two months later because I found out when my period didn't come. And he's like, "Well, I'll take care of it."
Two or three weeks later, he takes her to his duty station. They enter a room where five men were sitting. Standing at attention, in front of them, the situation unfolded.
"They tell me, you know, how dare I be pregnant, that I'm trying to ruin his career. And then they weren't even entertaining conversation. They pretty much said, "You will have an abortion." And then I was like, "Have an abortion?" So of course, I burst into tears. I'm like, "What do you mean? What do you mean have an abortion?"
She got increasingly more hysterical to the point that they told her to leave. A week passed and instructions were passed to her, with a date and time for the procedure. Romaine looks back to this time through tears- she didn't know who to tell, how to tell, or if she should tell. They told her that this was not something she should share with anybody. A few months went by because at that time abortions weren't performed before a certain amount of gestation. When the day came, they picked her up in a government car, and took her to the clinic on Little Creek Road.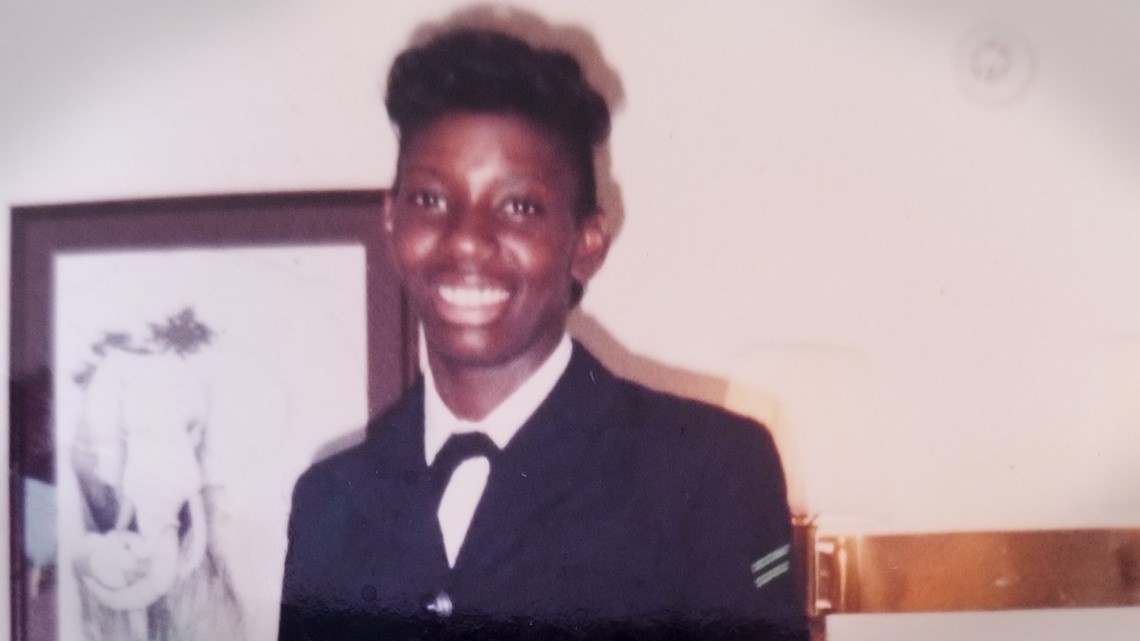 Romaine was devastated. The emotional wear began to bleed into her work. She began sassing people, getting in all kinds of trouble. It wasn't long before she dropped her rate just to leave that base. The Gulf War was just beginning, and she was transferred to a ship already in Bahrain. The new atmosphere helped her put some of the past behind, and she was able to adapt to life on board ship. It gave her the sense that she could continue in the military a bit longer.
"Those were the better years for me as far as my ... They were the hardest because the lifestyle on the ship is very different than being on land, but they were better in that I had relational benefits of having people I thought I believed cared about me."
11 years passed, and her time in the Navy came to an end. She started several businesses and was successful in civilian life. The leadership experience and work ethic she developed in the Navy was paying off. There was only one problem. She was completely cut off from herself. She had no tears, no emotion about anything. It was happening on the inside, but there was no outward display, nowhere to process her feelings.
"I just didn't have anything to share, you know? Because I was isolated in my own head, in my own way of coping what all of my life has been."
Like a drug addict, she began searching for a way to fill the void in her life, to recapture what she had lost. Her head reeled from trying to accept decisions that were not hers, consequences that she accepted that were not hers. It made it impossible for her heart to be available to her husband at the time, and she found it difficult to be vulnerable with anyone. Even if she wanted to, she couldn't trust him, because she didn't know how. She lost her marriage. There was nothing left but to tell the truth about her feelings. It was 10 years after she got out of the Navy that she sought help from a counselor at the VA. From the first day that they spoke, he pushed her to start working on her issues. There was an exchange that brought Romaine to tears. Her strong woman ideal was crumbling before her. She was crying.
"So, he says some words to me that I will never forget. He said, 'Romaine, just because you need support does not mean you're weak.' And that made it okay for me to let him talk to me about my life. It just made it okay. Because I'm not weak. I'm not. I just been through some things that I didn't do to myself. Somebody else did it. I've had to pay for it for a long time."
Romaine was diagnosed with Military Sexual Trauma and Post Traumatic Stress Disorder. Her counseling continued, she graduated from college, and got a job assisting with claims at the Disabled American Veterans (DAV). She found that helping other women with their claims was therapy for her. It motivated her to continue going to counseling, so she could prepare herself to help others. As she met other women in Texas, she discovered that there were other needs in the community that she could fill. When the opportunity came to be involved in the Women Veteran's Day, she jumped all over it. Veterans from all over Texas collaborated to petition the State legislature to set aside a day for recognition of women's service in the military. They chose June 12th to celebrate the day President Truman signed the Women's Armed Services Integration Act. The law enabled women to serve as permanent, regular members of not only the Army but also the Navy, Marine Corps, and the recently formed Air Force. The experience changed her entire outlook on being a woman veteran.
"I didn't even know I needed this in my life, that there's other women that think like me, that just get me, and I don't have to be anything different. That's huge to me. When I'm able to just be here with you, I'm able to just be here with you, and that means I'm gaining something and you're gaining something."
The camaraderie, she says, is what we're missing when we come home. It is the camaraderie that keeps her coming back and staying involved. Her involvement in the I Am Not Invisible campaign, a national effort to highlight the service of women in the military, reiterated her need to stay active with like-minded people. Through connections she makes with other women, she has found that she is able to heal beyond counseling. Feeling that you fit in somewhere, says Romaine, is part of the process of being able to heal.
"I think we'll find our best self if we can incorporate who we really are as women into being veterans. And I think all that we've done together has helped me understand that."