WARNING: The details in this story are deeply disturbing. Reader discretion is advised.
TEXAS CITY, Texas – The Galveston County Medical Examiner believes the body found in Texas City is that of 2-year-old Hazana Anderson.
Tiaundra Christon, Hazana's mother, admitted to keeping the child's body in her car for three days, according to probable cause statements obtained by KHOU Friday evening.
Christon and her boyfriend, Kenny D'Shawn Hewett are both charged with tampering with physical evidence with the intent to impair a human corpse.
On Friday, the office said the autopsy report is still pending at this time but they do believe it is Hazana.
Multiple agencies found the body near State Highway 146 in Texas City on Wednesday.
The 2-year-old had been missing since Sunday. Christon, 21, was arrested and charged with child endangerment for allegedly leaving the child alone near a pond and giving a false report to police, according to the Brazos County Jail.
In statements from the Department of Public Safety, Christon told detectives she and Hewett were at a hotel in Houston from Oct. 17th through Oct. 20. On Oct. 19, Christon said Hewett left the hotel with the child to get food, according to the affidavit.
When he returned with the toddler 30 minutes later, she was crying and Hewett began beating her with a belt, the affidavit says. Hewett also allegedly told Christon to hit the child with the belt, but said she wasn't hitting her hard enough, so he began beating the child again.
Christon said the child was going in and out of consciousness, so she and Hewett put her in the bath tub to attempt to revive her, according to the document.
As Christon was removing the child from the tub, she said she noticed signs of sexual assault on the child.
That night, she said, the child died.
Christon told police the child was cold to the touch, so she and Hewett tried to use a hair dryer to warm her up, and while doing so, the hair dryer began burning the child's skin.
She also said she kept the body in the backseat of her car for three days, inside a plastic trash bag, according to the affidavit. On Oct. 23, Christon said she and Hewett wrapped the bag with the body inside with rope, and tied a heavy rock to it.
They then tossed the body into a body of water near Moses Bayou and Texas 146 in Galveston County, the affidavit states.
Probable cause affidavit in arrest of Tiaundra Kae Christon
Probable cause affidavit in arrest of Kenny Hewett
PHOTOS: Multiple agencies find child's body in Texas City in search of Hazana Anderson
PHOTOS | Multiple agencies find child's body in Texas City in search of Hazana Anderson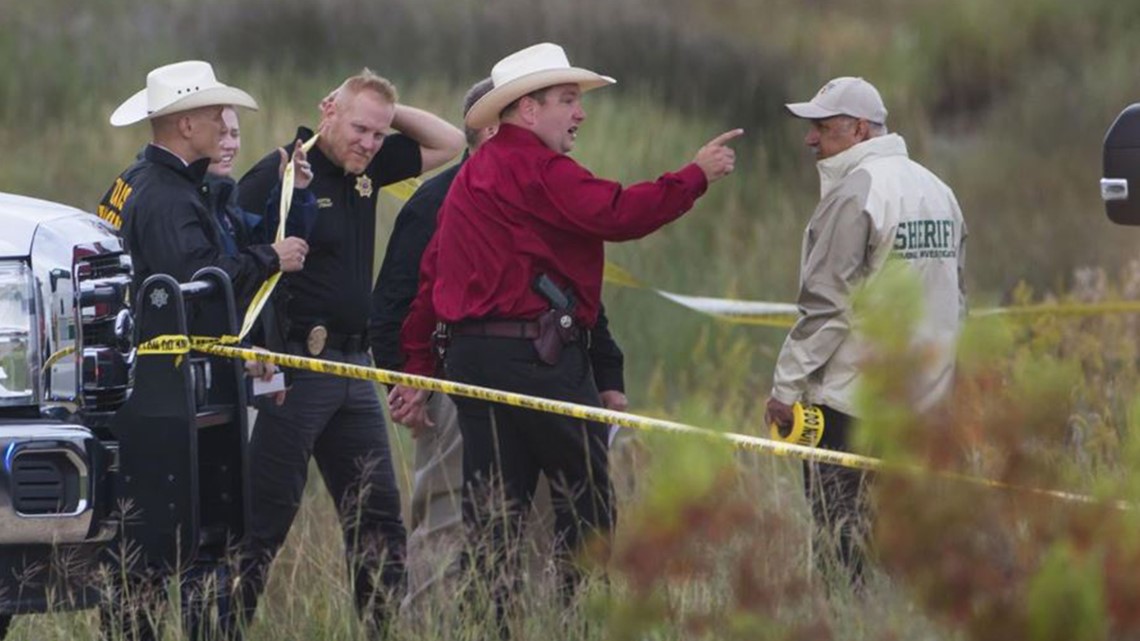 The 2-year-old was last seen at Gabbard Park in College Station around 8 a.m. Sunday. Hazana's mother told police she was with her daughter at the park and went back to her vehicle to get a bottle. She said when she returned, the girl was missing from her stroller. Officers arrived on scene and searched nearby roadways and homes.
READ:
Missing 2-year-old's clothes were found in dumpster near park
Mom arrested, charged as search continues for missing girl in College Station
Boyfriend of mother in missing toddler case arrested, charged
WATCH: Search for missing girl expands to Houston
Hazana's clothes were found in a dumpster the morning she went missing, according to College Station police.
Multiple agencies, including the Texas Department of Public Safety, College Station Police Department Houston Police Department and more are working together on this investigation.