HOUSTON — Former First Lady Barbara Bush, the wife and mother of two presidents, has decided to end medical treatment for a life-threatening illness.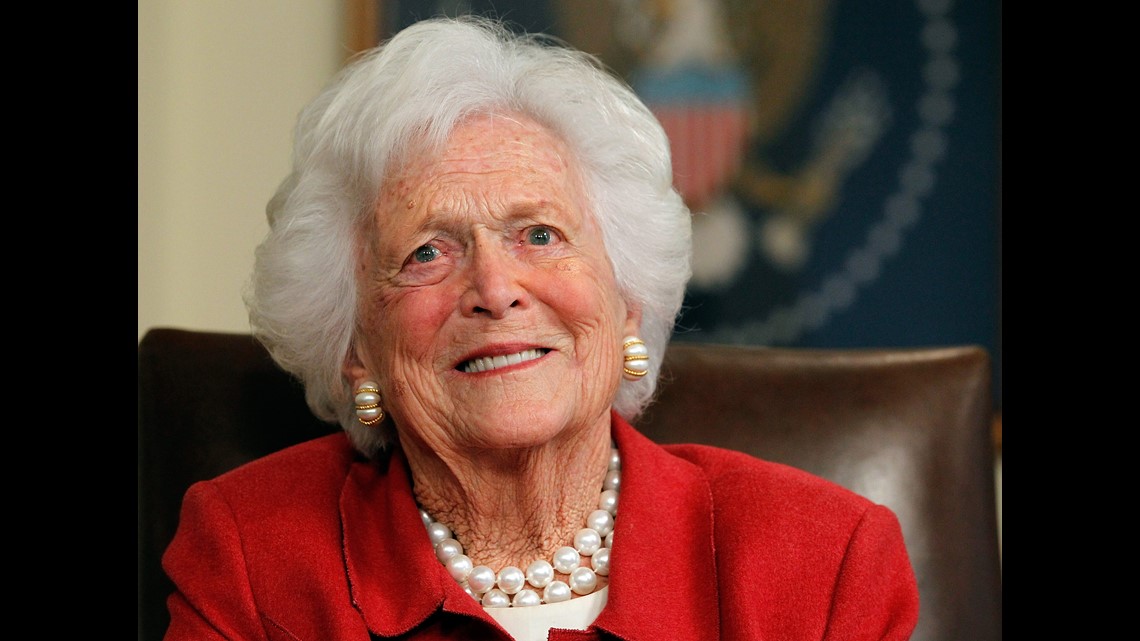 Family spokesman Jim McGrath announced on Twitter Sunday that Bush, 92, made the decision after consulting with her family and friends:
"Following a recent series of hospitalizations, and after consulting her family and doctors, Mrs. Bush, now age 92, has decided not to seek additional medical treatment and will instead focus on comfort care.
McGrath did not elaborate as to the nature of Bush's health problems. She has been treated for decades for Graves' disease, which is a thyroid condition, had heart surgery in 2009 for a severe narrowing of her main heart valve and was hospitalized a year before that for surgery on a perforated ulcer.
Photos: Wedding of George H.W. Bush, Barbara Bush
"It will not surprise those who know her that Barbara Bush has been a rock in the face of her failing health, worrying not for herself - thanks to her abiding faith - but for others," McGrath said. "She is surrounded by a family she adores, and appreciates the many kind messages and especially the prayers she is receiving."
McGrath said Mrs. Bush spent two days at Methodist Hospital earlier this month but decided not to return there when her health began to deteriorate.
Husband George H.W. Bush is at her bedside and holding her hand, McGrath said.
Sons Neil and Marvin and daughter Doro are also by their mother's side at the Bush residence.
Sons George and Jeb have visited her in the past week. McGrath said both are "calling constantly" for updates.
Photos: Bush family album
Mrs.Bush is one of only two first ladies who was also the mother of a president. The other was Abigail Adams, wife of John Adams, the nation's second president, and mother of John Quincy Adams, the sixth president.
Husband George, the nation's 41st president, is now 93 years old and struggling with a Parkinson's-like disease that forces him to use a wheelchair and makes it difficult for him to speak. But he has been well enough to make recent public appearances,including RodeoHouston.
George W. Bush, now 71 and the nation's 43rd president, served from 2001-09 and retired to Dallas.
Throughout a long life in the public eye, Bush was a fierce advocate for her husband and sons, including former Florida governor and presidential candidate Jeb Bush.
Earlier this year, the former first lady wrote about her husband in a note for the spring edition of Smith College's alumnae magazine.
"I am still old and still in love with the man I married 72 years ago," she wrote in the life updates section for the magazine.
Photos: The Bushes in recent years
Bush also revealed her secret for a long life: medical attention.
"I have had great medical care and more operations than you would believe," she told the magazine. "I'm not sure God will recognize me; I have so many new body parts!"
She continued: "Also, George Bush has given me the world. He is the best — thoughtful and loving."
Photos: First Lady Barbara Bush through the years
The couple met at a Christmas dance in 1941, when Barbara Pierce was 16 and George Bush was 17. They got engaged right before he left to fight in World War II as a Navy pilot. After he returned on leave, she dropped out of Smith College, and the two married in January 1945.
The Bushes have been married longer than any presidential couple in American history.
They had six children but daughter Robin died of leukemia at the age of 4.
The couple also has 17 grandchildren.
Granddaughter Jenna Bush Hager posted a photo to Instagram earlier this week showing the four generations of Bush women.
Mrs. Bush is known for her white hair and her triple-strand fake pearl necklace. Her brown hair began to gray in the 1950s when Robin became ill. She later said dyed hair didn't look good on her and credited the color to the public's perception of her as "everybody's grandmother." Her pearls sparked a national fashion trend when she wore them to her husband's inauguration in 1989. The pearls became synonymous with Bush, who later said she selected them to hide the wrinkles in her neck. The candid admission only bolstered her common sense and down-to-earth public image.
Along with her memoirs, she's the author of "C. Fred's Story" and "Millie's Book," based on the lives of her dogs. Proceeds from the books benefited adult and family literacy programs.
The Barbara Bush Foundation for Family Literacy began during her White House years with the goal of improving the lives of disadvantaged Americans by boosting literacy among parents and their children. The foundation partners with local programs and has awarded more than $40 million to create or expand more than 1,500 literacy programs nationwide.