ROUND ROCK, Texas -- Austin police say they have obtained a cell phone recording from the Central Texas serial bomb suspect describing the seven devices he built.
Mark Conditt, the 23-year-old suspect accused of setting off a string of violent devices in the Austin-area, is dead after detonating a device and killing himself, Austin police have confirmed.
Austin Police Chief Brian Manley said Conditt, of Pflugerville, was identified by KVUE sources in the past 24 hours as a person of interest. The man then became a suspect.
In a news conference Wednesday evening, Austin police said they obtained a recording from Conditt in which he described the seven devices he made. Police say in that recording, Conditt did not mention terrorism nor hate, but he did mention challenges in his personal life. They say the recording indicated future actions from Conditt, and he stated he knew authorities were moving in on him.
Ausin police say they recovered the seven devices mentioned on the recording. The seventh device was the one that ended his life, police said.
Photos: Raw look at the scene where bomber killed himself
Photos: Scene where Austin bomber killed self Wednesday morning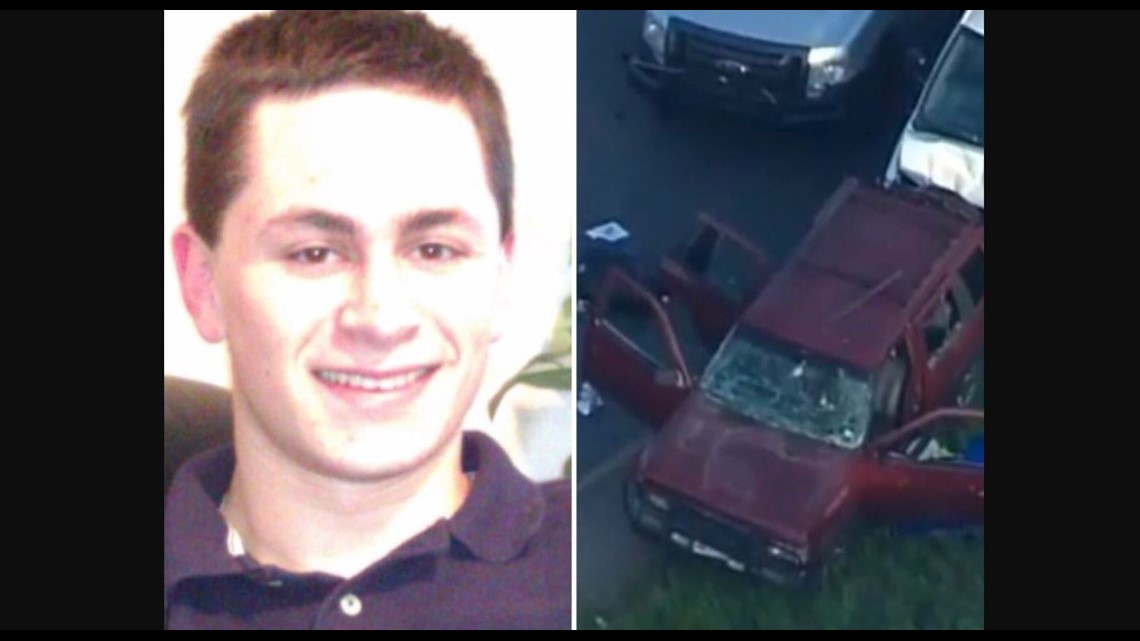 Authorities said they used surveillance video from the FedEx store on Brodie Lane in South Austin to lead them to the Conditt, according to KVUE's Tony Plohetski. Authorities also got information from Google and from the Conditt's computer history that confirmed that he was looking at information on where to go to ship devices, according to Plohetski's sources.
Watch: What we know about Austin bombing suspect Mark Conditt
Investigators also learned that Conditt planned on doing more damage in the area. His Google search records revealed that he was researching addresses in Cedar Park and Austin, according to sources close to the investigation. Agents with the FBI and ATF are working to remove and dispose of homemade explosives that were found at his home located at 403 Second Street in Pflugerville, authorities said.
Related: Homemade explosives found inside Austin bomb suspect's house: Authorities
WFAA's Jason Whitely said law enforcement had identified the Conditt at approximately 9 p.m. Tuesday and were closing in on him based on packages he sent from FedEx. Whitely added that police wanted to surprise the man.
Authorities located the vehicle Conditt was known to be driving, and found it at a hotel in Round Rock, Manley said.
Multiple officers from the Austin Police Department and federal agencies took positions around the hotel as they awaited the arrival of tactical teams, Manley said.
The vehicle started to drive away, and authorities followed Conditt. Manley said his vehicle stopped in a ditch on the side of the road. As a SWAT team approached the vehicle, Conditt detonated a device, Manley said. The explosion knocked an officer back, causing the officer to suffer minor injuries. Another officer who Manley said has been with the department for 11 years then fired at the vehicle.
Conditt was then confirmed dead. Austin police say the final explosion sent officers flying backward. It is not determined at this time whether suspect died from an officer-involved shooting or from that explosion.
Police do not have a motive yet and do not know if Conditt was planning on delivering another bomb at the time of his death.
Manley said at a press conference shortly after the Conditt's death that "it's been a long almost three weeks," and this is the culmination of the hard work of multiple agencies.
Chief Manley said they "don't know where the suspect has been the past 24 hours," and that there may be other devices out there. The public must remain vigilant and call 911 if they see anything suspicious.
According to the Associated Press, an ATF agent said investigators think the suspect built all of the bombs, but they haven't ruled out that he had help.
Round Rock police said all lanes of southbound Interstate 35 from FM 3406 and Old Settlers Road to U.S. 79 and Sam Bass Road would be closed Wednesday morning while police investigate. Round Rock ISD said classes would run as scheduled but added that they would accept late arrivals due to traffic.
An investigator on the scene told ABC News "the hunt for the bomber was a race against time as law enforcement feared additional devices would continue to be exploded."
"In the law enforcement mantra of 'stop the killing,' investigators paid less attention to why or how the suspected bomber was doing his work and instead put all of their efforts and resources into finding him and 'neutralizing the threat,'" the investigator said.
The investigation continues, though. Austin police are warning the public that there may be other devices out there and to remain vigilant.
"Now we have to go and work backward to figure everything else out," the investigator told ABC News.
KVUE has confirmed that Conditt had worked at a "turnkey manufacturing solutions company" called Crux Manufacturing, according to a staff member there. The staff member said Conditt was hired at the company when he was 19 and that he was let go last August due to the fact that he wasn't meeting expectations. Conditt worked in purchasing and sales at the company, the staff member said.
The staff member described Conditt as "quiet, introverted and reserved."
President Donald Trump, who previously said "these are sick people" in regard to the Austin bombings, congratulated law enforcement on their work Wednesday morning via Twitter.
Family of the Austin bombing suspect released a statement Wednesday to KHOU's sister station 9NEWS:
"We are devastated and broken at the news that our family member could be involved in such an awful way. We had no idea of the darkness that Mark must have been in. Our family is a normal family in every way. We love, we pray, and we try to inspire and serve others. Right now our prayers are for the families who lost loved ones, for those impacted in any way, and for the soul of our Mark. We are grieving and in shock. Please respect our privacy as we deal with this terrible, terrible knowledge and try to support each other at this time."